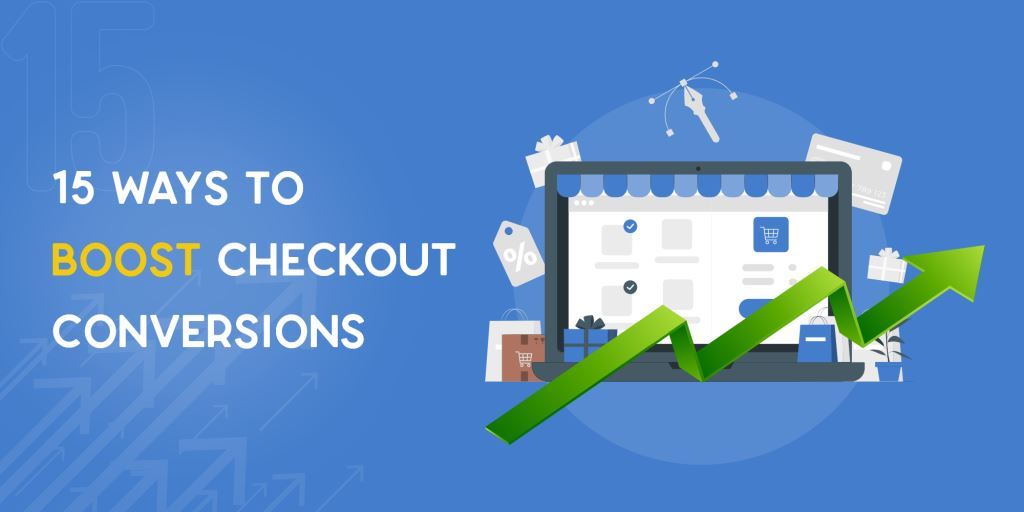 It's no secret that generating a sale is the primary goal for every business owner. After all, generating constant revenue is what keeps businesses growing.
But, how to generate constant revenue from your checkout page?
What are the ways to boost checkout conversions for your business?
Refer to this article to know the best ways to improve the checkout conversion rate for your business.
Proven Ways To Increase Checkout Conversions
1. Checkout Design and Layout
Checkout design and layout play a vital role in improving the checkout conversion rate. To improve checkout design and layout, you need to provide users with visual checkout. It is advisable to design a single-page checkout. By having a single-page checkout, you'll find all the information right there. So, you don't need to bother about what information will come next.
Also, be sure to add checkout buttons at the top and bottom of your website. Along with this, you need to design reliable payment settings such as security certificates and credit card logos.
2. Maintain Brand Image
Maintaining your brand consistency across the business experience is important to boost conversion rates on your checkout page. If you offer a pleasant experience to customers from start to finish, they will be able to trust your brand.
To preserve the brand image, make sure that you use your brand's recognizable voice to keep up your client's confidence. Also, have a consistent color scheme to make your brand more recognizable. Also, make sure that your company logo is transparent. Doing this will help you increase the conversion rate for your business.
3. Use Mobile-First Design
It's no secret that mobile is now the default platform for shopping online. So, it is important to focus on improving your mobile site conversion rate.
Here is what you should do to increase your mobile site conversion rate:
Use larger buttons to tap
Remove complex multi-step checkouts
Use less number of images and videos to speed up the loading time of your website
Ensure navigation across the mobile site is not complex
Use mobile UI elements rather than a drop-down menu to choose the quantity
4. Provide Multiple Payment Options
Imagine this situation. You've been looking for the perfect kitchen rack and you've finally found it and added it to your cart. Then, you proceed to checkout.
But faced a problem. The website doesn't accept your card and you are unable to find any other way to pay. So, this situation will leave you disappointed, forcing you to abandon your cart checkout.
That is a common scenario. The lack of multiple payment methods is one of the most common reasons for cart abandonment. The only solution to this problem is to offer various payment options.
When it comes to having a high conversion rate, providing multiple payment methods is important. There are several payment methods that exist for online shopping such as bank transfers, credit/debit card options, mobile payments, etc. It is advisable to use an effective drop-down menu to allow users to choose their preferred payment method.
Don't forget that new payment methods have been introduced in the market with the advancement of cryptocurrency. Be sure to check for new payment methods so that you can add them to your checkout page. Adding multiple payment methods leads to a better shopping experience and a higher checkout conversion rate.
5. Keep the Checkout Process Brief
More than 76.9% of site visitors leave checkout forms as they are too long.  The perfect checkout process should be brief. If you keep it clunky, users may abandon your website. It is advisable to optimize your checkout process to improve the user experience which will increase conversion rates.
A typical checkout process includes adding products to the cart, billing information, shipping info, shipping method, payment, and confirmation. To boost conversion rates, make sure that you optimize all the checkout steps.
6. Value Proposition
Do you know what encourages customers to shop from your website? Though there are numerous items in the market, then why should customers buy from you? What makes your brand stand out from other businesses or brands? The value proposition is the answer to all these questions. A value proposition highlights the benefits that your customers will get from your brand.
Here are the elements that must be present in the value proposition:
Describe how your product resolves your customer's concerns
Describe the advantages of the products to them in detail
Tell your clients what makes you stand out from the competitors
7. Offer Promotions and Discounts
Who doesn't love special offers? Make sure that you use promotions to boost conversion rates. One of the most effective methods is through exit pop-ups. These pop-ups appear if a customer leaves the checkout page and can show all kinds of promotions and discounts. Offering promotions and discounts will help you optimize the checkout page efficiently.
8. Provide Free Shipping and Returns
The most common reason for shopping cart abandonment is high shipping charges. The majority of customers prefer to not pay for shipping. When an online store clearly highlights that shipping and returns are free, it can ultimately boost conversion rates. By doing so, customers will feel more confident when making a purchase.
9. Shopping Cart Recovery Emails
A cart abandonment email sequence is one of the most powerful ways to bring customers back to your website. If you have a customer's email address stored in your database, you can send them a few personalized emails that might include special offers and discounts. Be sure to add relevant content for the users. You should show them what they are missing and give them a strong reason to come back to your website to make an online purchase.
10. Eliminate Distractions From Checkout
Have you heard already that "less is more"? And yes it works when it comes to optimizing the checkout process. To boost your checkout conversion rate, make sure that you don't divert users with links to offer a streamlined experience. If the checkout page is bombarded with unwanted information, it can force customers to leave their shopping cart and choose another shopping website.
11. Provide Live Chat Assistance
Live chat is also a feature that can help you increase conversions for your eCommerce website. If a shopper has doubts about a particular purchase you need to be able to answer them in no time. Live chat can help you respond to them quickly.
Over the last few years, chatbots and live chats have noticed tremendous growth in adoption. Do you know why customers prefer live chat? It is because of the instant response it offers. Chatbots and live chats allow customers to get their inquiries answered quickly, helping them to make decisions faster.
12. Shorten the Length of the Checkout Form
No doubt, the checkout form is an important part of your website. It will encourage your customers to make their decision on whether to shop from your website. The most effective approach is to reduce the length of your checkout form.
You can lessen the number of fields in your checkout form to boost the conversion rate.
Here are a few effective ways to reduce the number of fields in the cart checkout form:
Avoid using multiple "Name" fields
Use a single "Address Line" field rather than multiple fields to enter the address
Leave space for automated promo codes
Use automatic detection of ZIP code
Have an autofill check-out form
13. Display the Total Cost Clearly
No customer wants to see hidden charges once they are about to reach the final step of the checkout process. It is advisable to show the total cost from the start.
Imagine a situation where your customer has found the perfect dress at $60. Suddenly, the price rises to $80 adding VAT or shipping charges. Then, the customer is more likely to move to another shopping website.
So, don't let this happen! It is better to show the total cost clearly from the start so that the customer can make the final decision right away.
14. Offer limited-Time Deals
People are more likely to buy if they feel that they will miss out on their favorite products. You can offer limited-time offers or promote one-off products as this will influence customers to act immediately to grab time-sensitive deals.
15. Add Reviews
Before finalizing a purchasing choice, the majority of customers check out online reviews as they believe reviews are personal suggestions. So, it is advisable to include your customer feedback on your product pages.
In case you receive any negative feedback, add that too as it will increase the trustworthiness of your brand. In the end, positive feedback will outnumber negative comments.
Final Words
Applying the above-mentioned practices to boost conversion rates on your checkout page has provided you with enough ideas to turn a customer's visit into a purchase. A well-optimized cart checkout process increases the likelihood of an online purchase. And remember the golden rule- as long as shoppers are satisfied, conversion rates will increase. Now, what are you waiting for? Let's start implementing these tips for your online store!s
Chris Mcdonald has been the lead news writer at complete connection. His passion for helping people in all aspects of online marketing flows through in the expert industry coverage he provides. Chris is also an author of tech blog Area19delegate. He likes spending his time with family, studying martial arts and plucking fat bass guitar strings.