Introduction
E-commerce keeps evolving and creating opportunities for sellers to reach more and more buyers all over the world. This results in a growing number of small businesses venturing to sell their products on the online market. Online space offers sellers many different options: from building their own website tailored to their specific business needs, to creating a website on Shopify, to opening a shop on various platforms, such as Etsy or Amazon.
Each of these options has its advantages and disadvantages and can be the most appropriate way forward depending on your type of business and the stage of its development. When it comes to small businesses, and especially those trading in handmade products, there is no better place than the Etsy market. In this blog post we will talk about some of the reasons why this is so.
Are there any alternatives to Etsy?
If you have a small business built around crafting handmade products, and your goal is to sell online, you have a few options to choose from.
You can create your own website (or pay someone to do it for you)

This is the scenario in which you will have the most freedom when it comes to website design and everything else connected with your business in the future. However, this is also the most difficult and, to a large extent, the most expensive scenario, especially if you're planning on hitting to the global market. Reaching out to a big enough number of prospective clients on your own will be an onerous task.

You can create an online shop with the help of a platform

Popular platforms include Shopify and Squarespace, which are used by all kinds of sellers, as well as Big Cartel and Indie Made, which specifically target artisans and crafters. In this scenario, you will still have significant control over the design of your website, but you will once again face the issue of generating customer traffic. It will be hard to make yourself visible to clients within the ocean of online shops out there, and even harder to gain their trust.

You can use one of the readily available online marketplaces

Some of these marketplaces, including eBay and Amazon, are suitable for all kinds of sellers. Others are especially catered to handmade products. There is no doubt that Etsy reigns supreme in this last group. Amazon Handmade is another alternative. If you choose this option, you will struggle more with establishing your brand and shop identity, but will gain easy access to a huge number of prospective customers.

You can use one of the smaller marketplaces

Platforms in this group include Storenvy and Bonanza. However, their customer traffic is not comparable to Etsy's. This means that your growth and sales opportunities will be limited. One of the most famous such platforms — ArtFire — is not in business anymore.
What are Etsy's advantages
1. Opening and maintaining a shop on Etsy is easy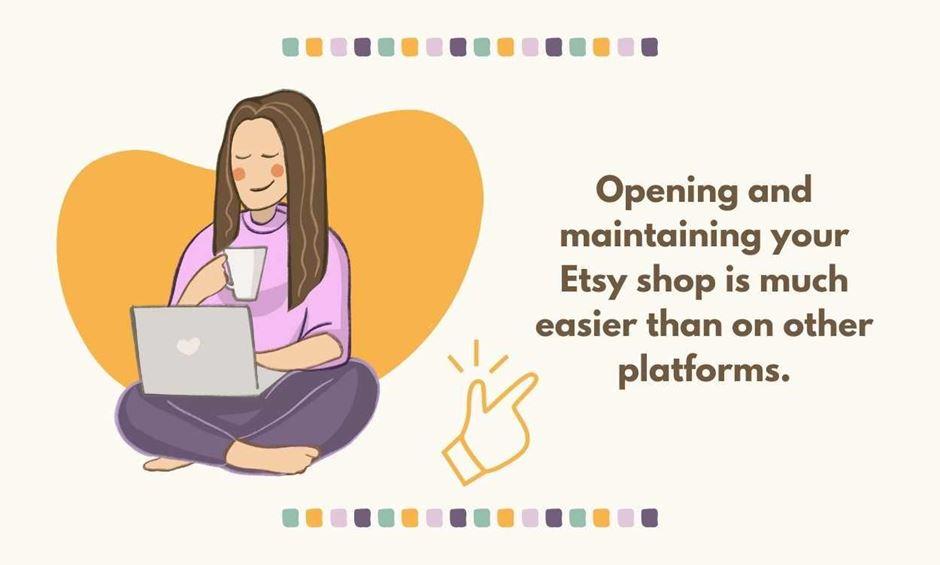 Establishing your Etsy shop is extremely easy. All you need to do is follow the on-screen steps, without any special skills, and the shop will be fully operational after several hours. It is not necessary to have any technical or special skills, or to hire a professional to open the shop for you.
Maintaining your Etsy shop is also very simple, especially considering the alternatives. Of course, this doesn't mean that it won't take time. Before opening their Etsy shops, many people have the misconception that 1-2 hours of work a week would be sufficient to develop and keep their business running. Unfortunately, the reality is completely different.
Running an Etsy shop can be done as a second job or during maternity leave, but it still requires time and effort. On the positive side, everyone can do it by themselves, which is a considerable advantage compared to the option of creating your own website.
Maintaining your Etsy shop is much easier than maintaining shops on other platforms, such as Amazon Handmade and eBay.
2. Etsy has a huge number of users
The customer traffic on Etsy is impressive. The number of users visiting the platform and purchasing products keeps growing. In 2021, the platform hosted over 90 million buyers. This is an exceptional opportunity for small businesses to reach out to an enormous number of prospective clients. It would be impossible to achieve this kind of exposure with an independent shop, without using the functionalities of a fully-fledged platform, such as Etsy. Finding prospective clients through an own website takes a long time and requires vast resources.
In this respect, Etsy is also superior to smaller platforms tailored to handmade sellers. When it comes to handmade items, Etsy is the absolute market leader in the eyes of customers, which is the most important factor in deciding where to focus your efforts.
And let's not forget that Etsy is the go-to place not just of millions of buyers, but specifically of buyers looking for handmade items that cannot be found on AliExpress.
3. Etsy is a global platform
Etsy is not just a big platform, but a global one. While it is true that the bulk of Etsy buyers are based in the US, this doesn't prevent artists from all over the world to fight for a share of its customer base. The statistic shows that shops from China, South Korea, Hong Kong, Ukraine, Bulgaria, Lithuania, Thailand, Israel, Taiwan and Philippines are doing extremely well.
Moreover, the Etsy leadership is making efforts to reinforce the global reach of the platform. Etsy as a company has made serious efforts to further penetrate the European market. This is evident from key business decisions, such as the deal with Dawanda in Germany (2018) and the acquisition of Depop in the UK in 2021. And we can all see the aggressive sales campaigns in European countries, such as Summer Sales 2022 in France.
4. Etsy trains and supports sellers on the platform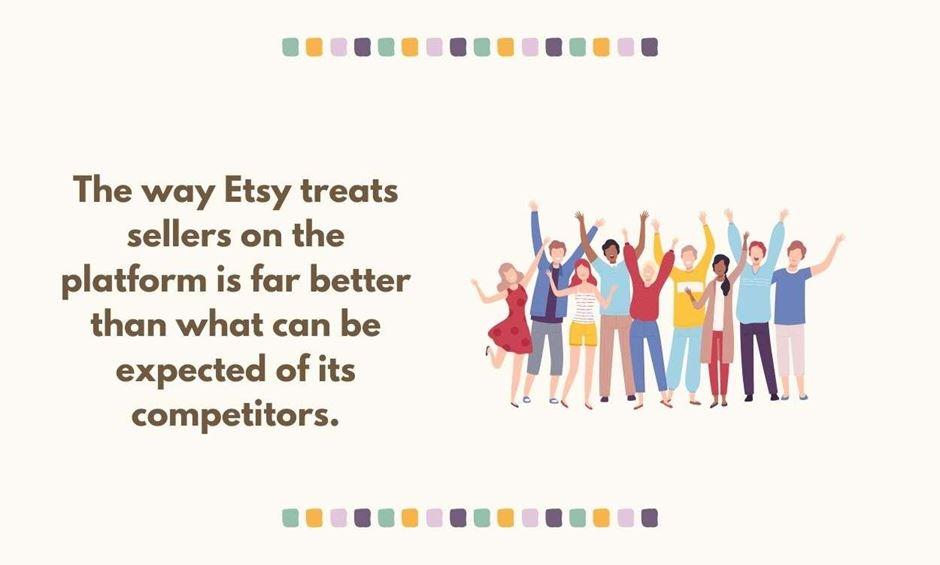 Despite the criticisms that follow every fee increase or change to Etsy's search engine algorithm, it is undeniable that Etsy strives to provide information to all sellers. The Etsy Seller Handbook is an exceptional guide for every seller that is always kept up-to-date by the Etsy Team. The Handbook is an absolute must-read for beginner sellers, as well as for artists wondering whether Etsy is the right platform for them.
While it may not always be at the level desired by many sellers, the Etsy support is definitely one of its advantages over other similar platforms. Following the rise in transaction fees last April, the Etsy leadership made a promise to invest in multiple benefits for sellers, including to increase the support team personnel by at least 20%.
Moreover, the Purchase Protection Program for Sellers is in place as of 1 August, 2022. This program allows sellers to claim a refund of up to USD 250 from Etsy in cases where their shipment never reaches the buyer.
The way Etsy treats sellers on the platform is far better than what can be expected of its competitors, such as Amazon for instance. This is evident not only from the policies directly addressing sellers, but also from certain questionable practices of Amazon, such as their recent bid to make sellers reduce prices.
5. Etsy sellers can rely on existing data and tools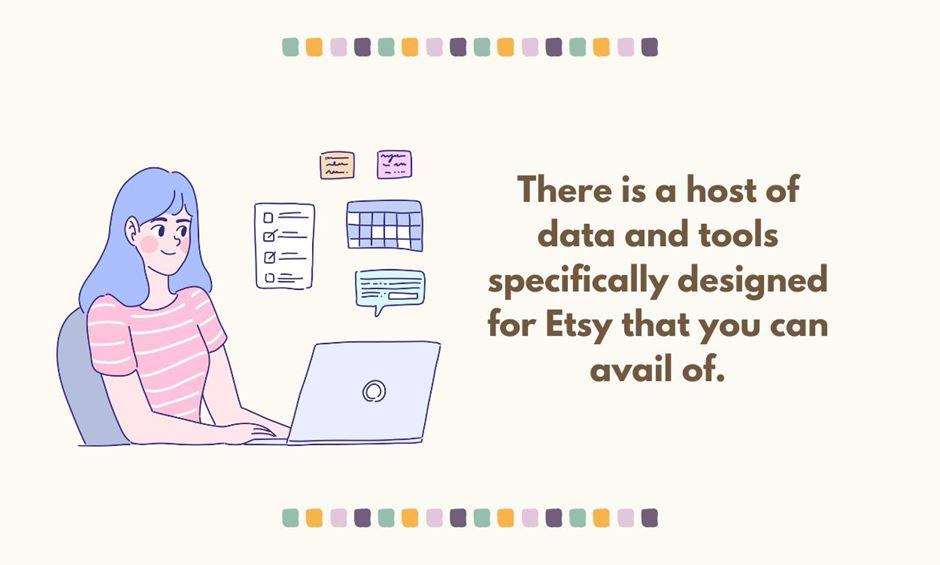 Every business decision should be taken on the basis of hard data as opposed to intuition. One of Etsy's huge advantages compared to smaller platforms is that there is a host of data and tools specifically designed for Etsy that you can avail of. This is crucial, because these tools will help you optimize your listings in a better, faster, and easier way.
Some of the tools out there can be extremely useful to you, especially at the beginning of your journey on Etsy. Koalanda is one of the platforms that offers the biggest variety of tools for Etsy sellers and at a very affordable price (between $5.99 and $11.99 depending on the chosen plan). With the help of such a tool, you will be able to easily identify the best keywords to use as tags. In addition, you will have the opportunity to assess your competitors by monitoring the sales their shops are making. One of Koalanda's main advantages is that it doesn't impose search quotas or quotas for the shops you can monitor. What's more, Koalanda offers a free trial, so we encourage you to give it a go.
We recommend using tools at every stage of development of your Etsy shop, as they offer you information that can't be found anywhere else. This is especially important when it comes to keywords. Keywords are the most difficult — and also the most important — element of SEO optimization. If your listings are not optimized, your products will never be discovered by prospective clients, no matter how amazing they are.
6. Sellers on Etsy support each other
Despite Etsy's continuing growth, the spirit of the platform has remained the same as it was at the very beginning. Etsy sellers are, of course, competitive, but that doesn't prevent them from helping each other and exchanging information. In fact, there are numerous social media groups where sellers support each other in one way or another. Thus, there is an established community that you won't find if you decide to start selling on eBay or Amazon Handmade. The same holds true if you choose to build your own website (even through platforms such as Shopify).
In addition — don't underestimate the help that you can get from coaches! In most cases these coaches are experienced Etsy sellers that know the platform inside and out, including all the crucial marketing tricks. They have turned these skills into a business that could be extremely useful to you. Many coaches maintain their own social media pages/groups that you can visit at any point when you feel insecure during your adventures on Etsy.
7. Owning an Etsy shop is cheap
Of course, Etsy collects fees for all the services it offers. The main fees collected by Etsy are the following:
listing fees – $0.20 is the fee owed for each uploaded listing. The fee has to be paid at least once in 4 months if the product doesn't sell, or upon every sale or updating of the listing.
transaction fees – following the April 2022 increase, the transaction fee is now 6.5% of the order value. This fee used to be 5%. Regardless of the increase, Etsy's rates are still competitive and attract many new sellers.
payment processing fees – this fee depends on the country where the seller resides and represents a flat fee combined with a percentage of the total order value. For instance, the fee for US sellers is 3% + $0.25. For UK shops the fee is 4% + £0.20. The fees are similar across all countries. In addition, if the seller's bank account is in a different currency than the currency of the sales (usually that would be USD), then a 2.5% markup on the exchange rate will be applied.
There may be additional fees if you want to post advertisements on or off the platform. The Offside Ads fee can reach up to 15%. That may sound like a lot to you, but be sure that Google ads are far more expensive.
However, if we exclude ads, the fees on Etsy can hardly exceed 12% of the value of the products you are selling. And that includes listing fees.
At first glance, these fees might seem excessive. But when assessing whether it's cost-efficient to sell on Etsy, consider what exactly is included in that price. Etsy offers you a complete technical solution, a developed platform with a pool of clients who trust the platform, and also trust you as a seller due to the guarantees provided by that platform. Only the making of your own website, excluding its maintenance, will cost more than keeping an Etsy shop for 2-3 years. If you opt for platforms, such as Shopify, it will be easier and cheaper at the beginning, but you will have to invest in advertisements in order to generate traffic for your shop. And these ads definitely won't be cheaper than ads on Etsy, especially when we talk about highly competitive products.
At the same time, if you compare the Etsy fees with those of Amazon Handmade, you will find out that they're not half bad. Having a profile on Amazon Handmade alone will cost $39,99 a month, and you will also have to pay 15% of the value of each purchase.
And if you're wondering whether to go on eBay, be sure that it won't be cheaper than Etsy. The algorithm for determining the eBay fees is even more complicated and mainly depends on the category of your products. But in any case, when you add the international fee (1.65%) and the Seller currency conversion charge (3%), the total percentage won't fall under 15% for the most popular categories.
The greatest shortcoming of the Etsy fees' structure is that it seems complicated, since it's composed of different elements, each of which can vary depending on the respective country (payment processing fees) or the personal choice of the seller (regarding ads, for instance). However, this is precisely what makes the Etsy system more flexible and fairer than simple solutions, such as a flat monthly fee based on number of listings, irrespective of whether the products sell or not.
Conclusion
Perhaps the greatest advantage of Etsy compared to other platforms is that it keeps growing and developing. You will probably hear many people saying that the Etsy market is too competitive, and it's better to look for a smaller platform. But the truth is that every business is competitive. The sellers on Etsy are many and competitive, because there are also many buyers on the platform who are willing to pay a fair price for the products found on there.
So, instead of being afraid of competition, make an effort to get to know the platform and start your business on Etsy. This is the place where you'll be able to stay even when your business grows beyond the confines of a second work-from-home job.
Chris Mcdonald has been the lead news writer at complete connection. His passion for helping people in all aspects of online marketing flows through in the expert industry coverage he provides. Chris is also an author of tech blog Area19delegate. He likes spending his time with family, studying martial arts and plucking fat bass guitar strings.