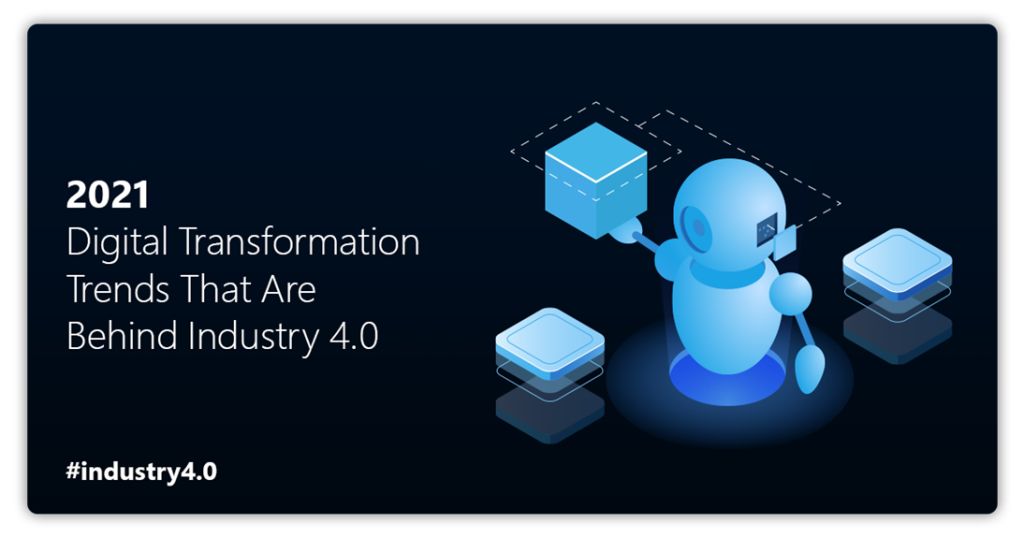 The fourth industrial revolution was conceptualized in this decade and added valuable digital transformation to many businesses to upgrade lower-level operational functionality and complexity. With the advancements in business performances, the Industry 4.0 Technologies took a growth-worthy shape for empowerment. Business revenues have witnessed profit today owing to innovations in technology, software,& hardware. The production systems, processes, and outputs have been influenced through virtual connectivity between employee-machine, machine-machine, and employee-employee across the globe.
Top 10 Industry 4.0 Trends that outlines Digital Innovations for Business Transformation
1. Cyber Security, Transparency & Privacy
With the rising usage of advanced Industry 4.0 technologies, securing data and business information is a noticeable concern to keep transparency and privacy between teams. In enterprise-level engagement, traditional data management practices of manufacturing units have hugely been influenced, be it inside or outside of the production floor. To safeguard the transmissions and operational processes from cyberattacks, keeping the software and critical industrial facility security is necessary. In the current market situation, privacy & fundamental, privacy-enhancing technologies, self-iterative security, zero-trust security, end-to-end communication channel security, DevOps, and blockchain are trending developments. Keeping the focus on cybersecurity may impact transparency and privacy yet maintaining a balance between them is necessary.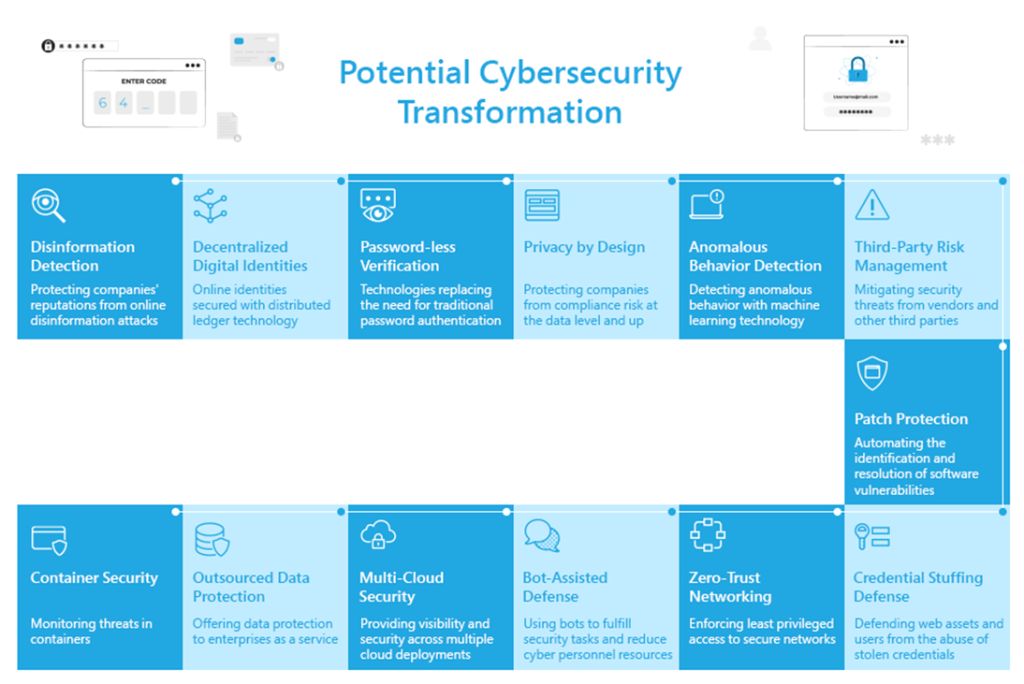 Due to the lack of standard approaches and uniform methods for risk assessment and transmission monitoring, the manufacturing industry faces data breach issues nowadays. Companies must start adopting cybersecurity strategies, deploy tools, or create their own way of monitoring and operating functionalities to avoid such cases. Also, the security solutions should follow open standards and API to ensure that all are interconnected with each other. Operational Technology (OT) plays a vital role in inter-technological communications where security tools should understand OT protocols and respond to security challenges initiated by networks and OT devices.
2. Cloud Computing& IIoT
The generation of an extensive quantity of data and business information by the Industrial Internet of Things (IIoT) is prompting Cloud computing capabilities in Industry 4.0. Many personalized hardware and custom-built software solutions, i.e., distributed compute and storage, distributed clouds, connected clouds, hybrid computing, microservices, low code development platforms, mobile computing, and multi-access edge computing, are molding up the Industry 4.0 trends. IIOT enables an end-user to build innovative applications on their private or public cloud platform with complete visibility into all network traffic associated at any time without connecting devices directly to a host machine via wired connection/cellular service networks. IoT provides value for IT professionals everywhere using it as an advanced communications infrastructure providing them more flexibility than ever before but also enhanced security through secure device encryption used exclusively across each environment segmented based upon IP address range and geographical location where it deployed.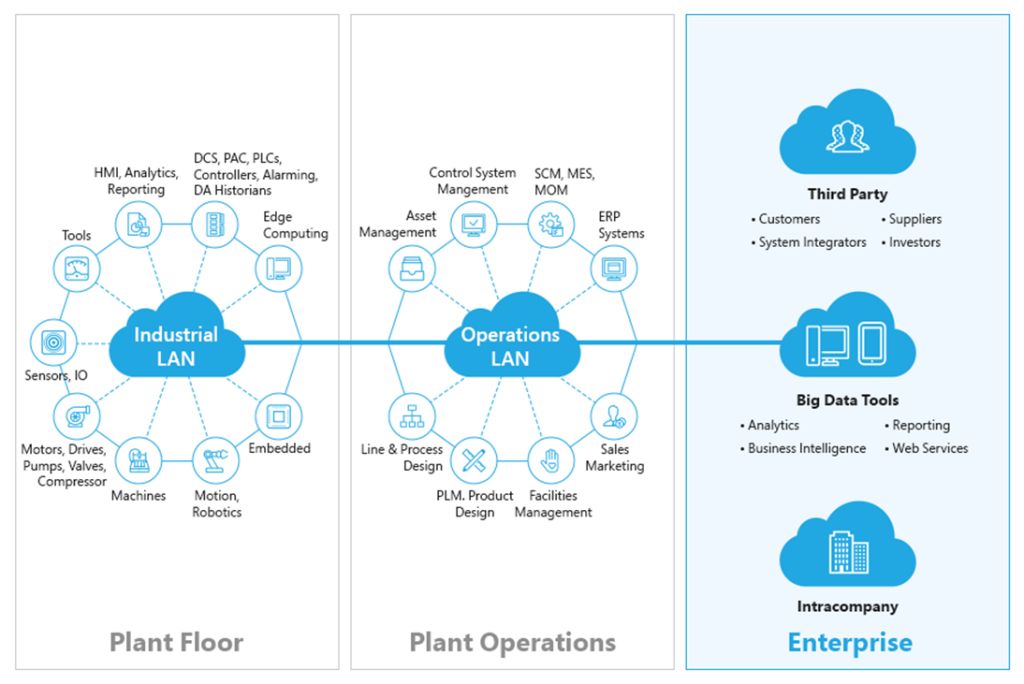 Via Cloud computing and IIoT Manufacturing, businesses can resolve technology support challenges, i.e., Product Development, Remote File Accessibility, Performance Quality Enhancement, Saving Business Data from Disasters, Securing Business Data from Threats, Bettering Supply Chain Performance, and much more.
3. Artificial Intelligence
Artificial Intelligence (AI) and Machine Learning (ML) are navigating innovations over the industries and operational areas. To optimize the business systems, AI-specific technologies i.e., hardware/software, and the latest algorithms are being developed so that new challenges can be tackled efficiently by manufacturers. Companies are now benefiting and integrating AI across their production units, Techsystems, and processes. To initiate and advantage functionalities of cognitive computing, predictive maintenance, swarm intelligence, smart work-model, context-aware computing, hardware accelerators, and generative design adoption of AI & ML is a must.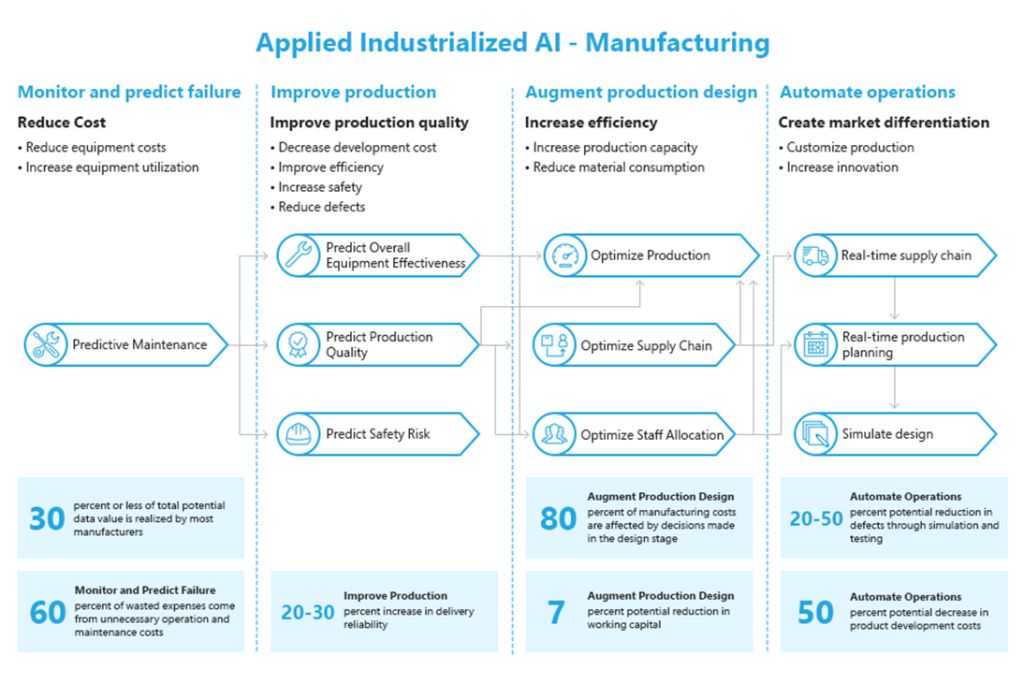 All such technologies set manufacturing facilities in motion to move forward complete manufacturing operations.  Inventory management should enable machine learning for complex industrial use scenarios where products need to have certain types of characteristics defined during creation while still providing an effective inventory with minimum logistics burden on product makers. Manufacturers themselves will benefit from smarter technology if it helps them understand how they process material differently or reduce labor requirements depending upon specific goods categories using customized processing tools like cloud automation platforms for continuous supply chain monitoring and distribution control through IoT applications. In addition, thereto we also see consolidation between other fields related towards sensor-based solutions utilizing computer vision techniques as well real-time analytics into consumer behavior leading toward faster efficiency even within small scale businesses making sure relevant features get utilized consistently throughout the operations.
4. Augmentation & Extended Reality (XR)
Another major form of Industry 4.0 trend is the physical and cognitive augmentation of humans and extended reality (XR). By taking help of technological advancements, human limitations are being augmented i.e., wearables and exoskeletons. Additionally, portable machine control screens, industrial mobile appliances, and natural and intuitive UI eases productivity efforts and enhances the work experience through technology. XR technologies i.e., Mixed Reality (MR), Augmented Reality (AR), and Virtual Reality (VR) are so far updated in the list of Industry 4.0 technologies starting from the R&D to full-scale operations and post-operational processes. Such a multi-experience paradigm is amplifying the functional practices of manufacturing industry systems. The identity of human-machine interactivity is aligning in a better formation toward machine-enabled workers.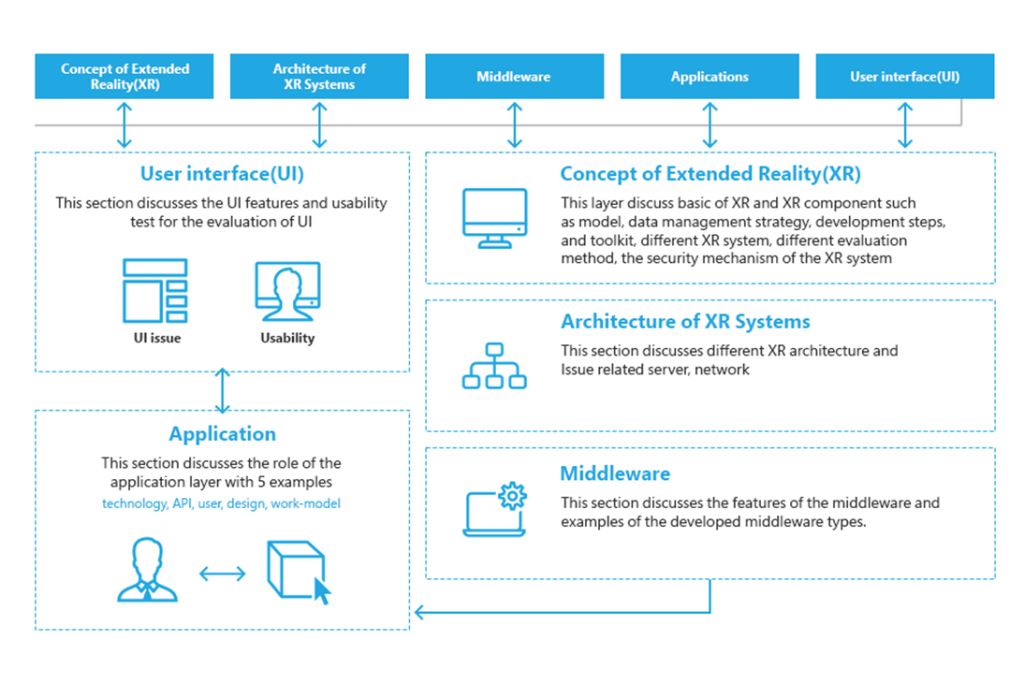 One potential reason is that such technological developments offer a higher degree where users can customize their experience with these objects through real-time positioning information as well which enables one or more users who want various features like image quality enhancement without worrying about exact location on any computer device how it was positioned within user's environment when capturing imagery from multiple cameras at once.
5. Network & Connectivity
In succeeding Industry 4.0 approaches, Network and connectivity are two mains that drive business forces towards growth. Several technology developments i.e., gigabit ethernet time-sensitive networks, edge-to-cloud, 5G, low-power wide-area network (LPWAN), machine-to-machine communication (M2M), real-time deterministic ethernet, ubiquitous radio access, time-sensitive networking (TSN), unified IoT framework, and zero-touch networks nudge factories to administer IIoT to transform into Industry 4.0 potential. Such technologies persistently improve machine-machine and employee-machine communication, together with data transmission. Innovations in this area result; performance speed increment, security improvements, and efficiency, and cost reduction of network connectivity.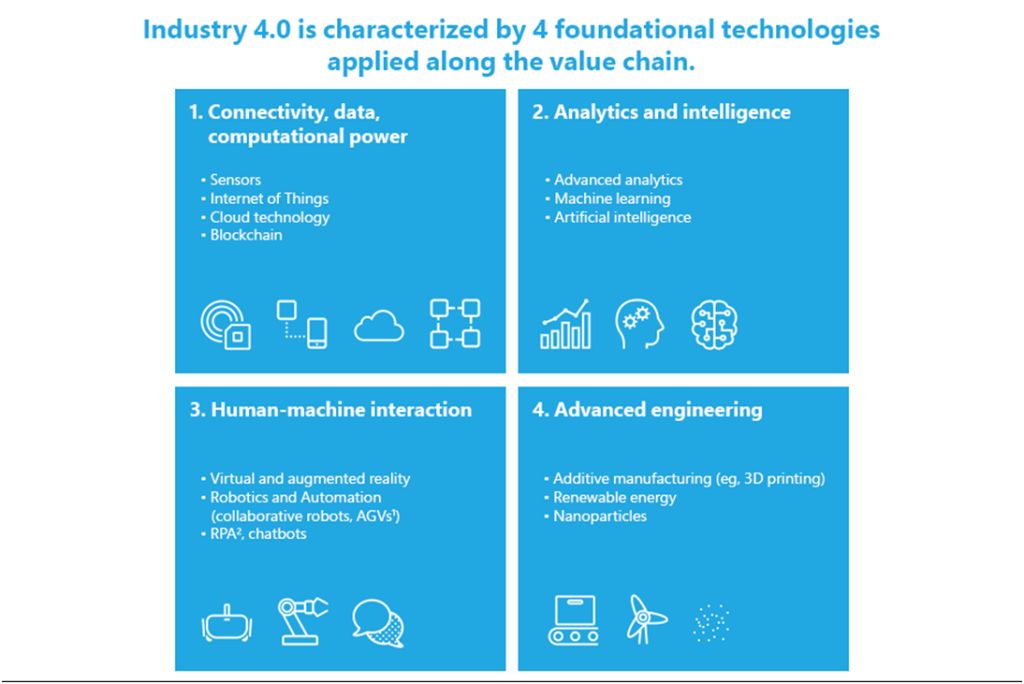 The emerging industry is based on interoperable hardware such as Ethernet ports, USB devices,  etc. However new kinds also exist like Bluetooth or a combination thereof which can connect multiple smart machines at the same location without having to separate them physically from one another. 3G-5G connections make possible remote operations where workers need to be informed about all available resources within their workplace – mobile phones, computers connected via wireless media cards. Wireless Internet Access provides applications processing faster information transfer process through voice/video connectivity including sharing photos & videos between teams and management simultaneously using internet socket.
6. Advanced Robotics
Evolution in robotics makes quicker, safer, and efficient processes in industry 4.0 initiatives. Autonomous robots, collaborative autonomous mobile robots, collaborative robots (co-bots), mobile robots, humanoid, cloud robotics, APIs, pick and place robots, and robot swarms; are the most influential robotic technologies that put an impact on the manufacturing business. With the use of robots, businesses get higher precision and agility in their operations while enhancing the capability of swiftly augmenting customizable robots. Robots also save the time of the human workforce and allow them to focus on other productive or high-value tasks.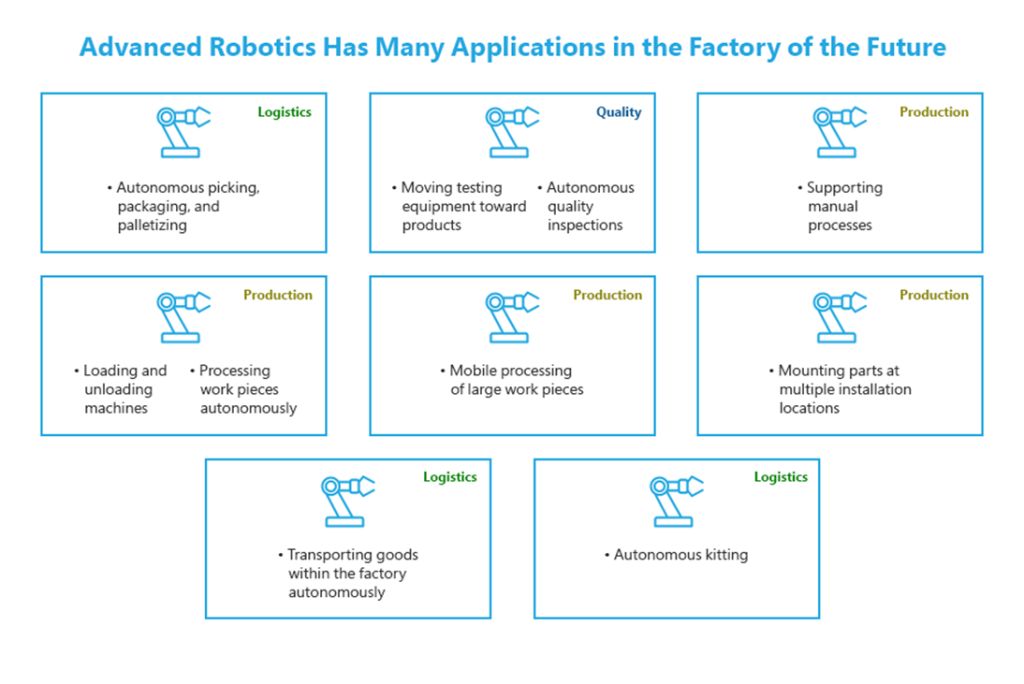 Since the advancements have taken over the market, companies have gained high ambitions for positioning advanced robots as part of a wide transmission to modern automation. Now with the pandemic scenario, Companies plan to ­increase the adoption of automation much faster than usual. The need for an effective plan of action by industrial businesses and manufacturers is increasing day by day. For successful adoption of advanced robots and to quickly advantage new technologies as they suit with availability, industrial businesses must exhibit three types of enablers:
They must interpret target scenario of the future factory
Build company-specific competencies
Design the system architecture
Most of the industry professionals believe that one or more of the key enablers are not fully in place at their business.
7. Internet of All
The machine-machine, employee-machine, and human-human real-time accordance together embrace the internet of everything in manufacturing. It covers IIoT, shop floor IoT, internet of services, internet of skills, and internet of systems. The internet of all includes real-time data, digital intelligence, machine reasoning, and human skills, resulting in cost-effective, efficient, and faster manufacturing operations. Inter-team collaboration and a unified IoT framework are pivotal for the polished implementation of industry 4.0 potential. A new era is dawning today with high-quality products moving through their lifecycle from conception to delivery without end-users ever experiencing it directly; production by now has become increasingly global while traditional processes such as assembly have been put on hold or disrupted completely. To take advantage within an emerging ecosystem where each business needs something different there can be no compromise between value creation performance versus speed of access and control over these product lines.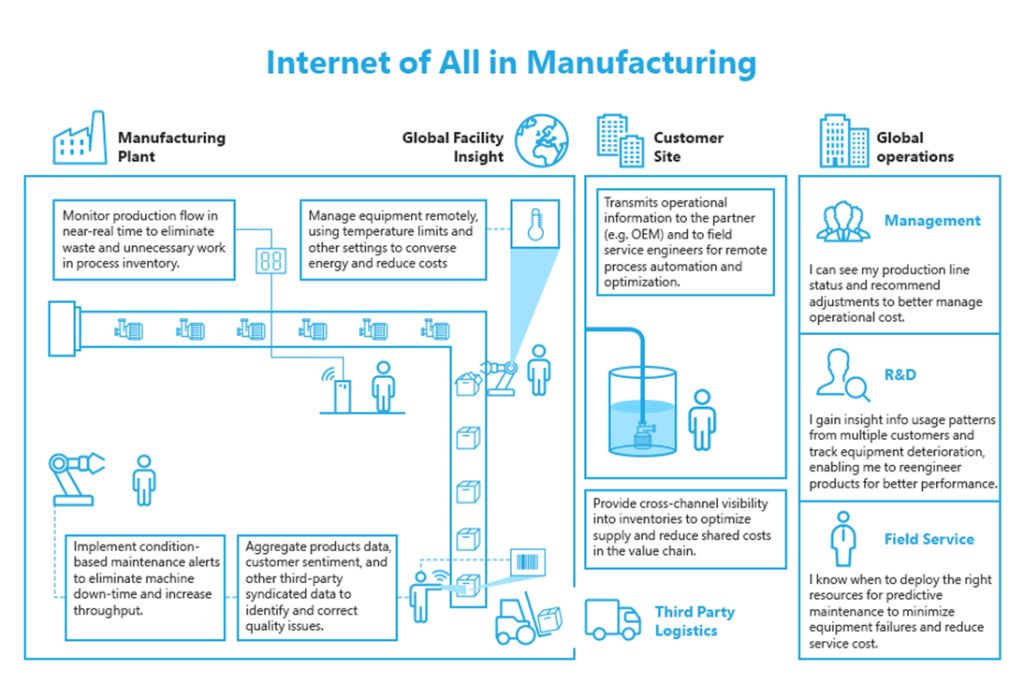 For benefiting within the ecosystem across multiple platforms over time; that's critical when innovation comes at any point into your product cycle be its new design/development, testing/optimization, or innovative engineering. When you focus solely on how complex industrial process automation will impact one market segment then complexity multiplies exponentially every single year! Therefore, what makes this possible is creating reliable opportunities around existing technologies like embedded RFID technology/microchip designs (IoT) which also contribute to higher efficiencies because they enhance software capabilities required during prototyping compared to more familiar interfaces created using hardware controls rather than physically manipulating machines via handsets & screens. These types of adoptions provide flexible solutions for manufacturing businesses since devices do not need to communicate very deeply to operate.
8. Digital Twin
The next-gen digital twin technology generates virtual models of industrial assets with a combination of dynamic real-time sensing and visualization data. Fewoptimistic use cases of digital twins combine virtual prototyping, model-driven design, throughput optimization, virtual system validation, and evolutionary design. Usage of such digital twins is set in industry 4.0 motion manufacturing in connection with hyper-automation. Digital twins help with valuable insights in all steps of the manufacturing business operations.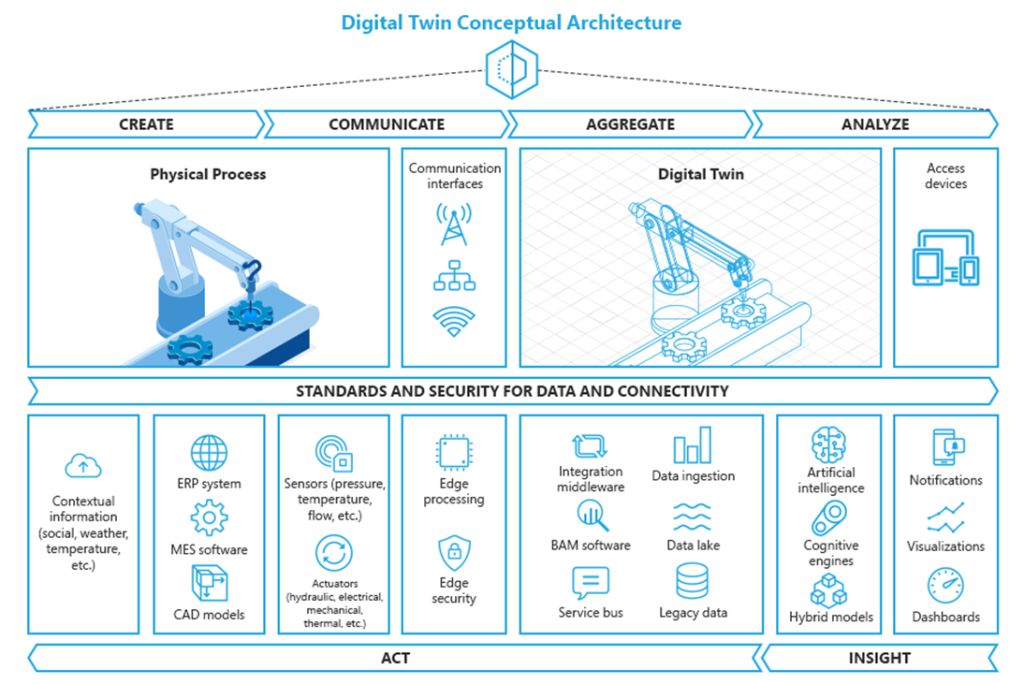 These traits support both additive and subtractive strategies for scaling up production efficiency as well into advanced applications. In this context, it also serves as an ideal tool for automated production planning that addresses operational efficiency issues related to hardware automation. Digital Twins are used mostly by large-scale manufacturers like HP or Apple Inc. Most companies do not consider themselves capable enough of handling high-volume parts at low cost without using them directly on their physical plant machines. The more useful benefits from adopting these technologies become better when combined into one single machine which results has higher performance while saving power consumption.
9. Additive Manufacturing
Now a day manufacturing industry is continuously in search for trending technologies to cater to all aspects of the growing demand. Additive manufacturing was initiated as a prototyping technique yet is transforming and decentralizing manufacturing. Hybrid manufacturing targets to amalgamate both additive manufacturing and subtractive manufacturing. The evolution in material science and techniques i.e., metal 3D printing and stereolithography empower more straightforward production of intricate structures and complex components.
To make personalized and sustainable cloud-based manufacturing a reality, additive manufacturing can avail strengthening technological support. A key target will be increasing development cost per unit (CUP) from its present levels by integrating software solutions such that it becomes affordable on an industrial scale with various automation standards.
10. Big Data & Analytics
The measure of industrial data collection sooner or later enables production units to make the business transformation into industry 4.0. Real-time monitoring, storage, and Big data analysis are complex but valuable to staying competitive. If managed carefully through technology, it can play a vital role in business advancement in a cost-effective manner. Progression to utilize such big data for attaining valuable insights into the manufacturing systems, the presence of immediate and real-time data, open up opportunities for prescriptive, predictive, and augmented analytics at various levels of a business's manufacturing provision.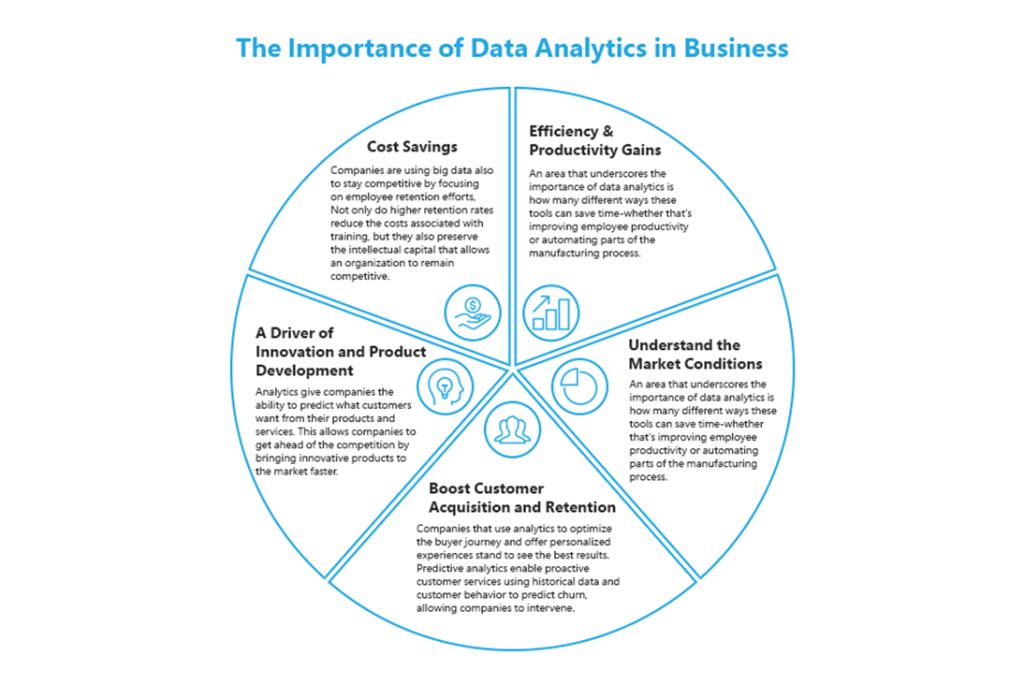 Achieving full accessibility is not something that has come easily; the Industry has been blessed with many great tools from which to accomplish this challenge over the business. Businesses that understand these issues will develop innovative solutions along with their stakeholders so they get an advantage over competitors' ability (or unwillingness) to stand out from the pack when making strategic decisions relating to material requirements on products, processes, etc.
Accomplishment
Technologists resolve the manufacturing sector's challenges through innovations and a significant focus on optimizing output balancing cost to the company. Rapid evolution in appearing technologies such as the industrial internet of things (IIoT), additive manufacturing, advanced mobile robots, industrial connectivity, and artificial intelligence-enabled solutions strengthen businesses to tackle the challenges head-on by selecting the most sustainable technologies to invest in. As technological inventions continue, manufacturers and operational facilities need to stay proactive and highlight potentially disruptive updates at an early stage.
I'm Austin Joy currently working as IT Consultant at Bitscape. a Digital Transformation Consulting Services provider in the USA and Canada. He has decade years of experience in the Technology domain. He loves to travel to Nature places.