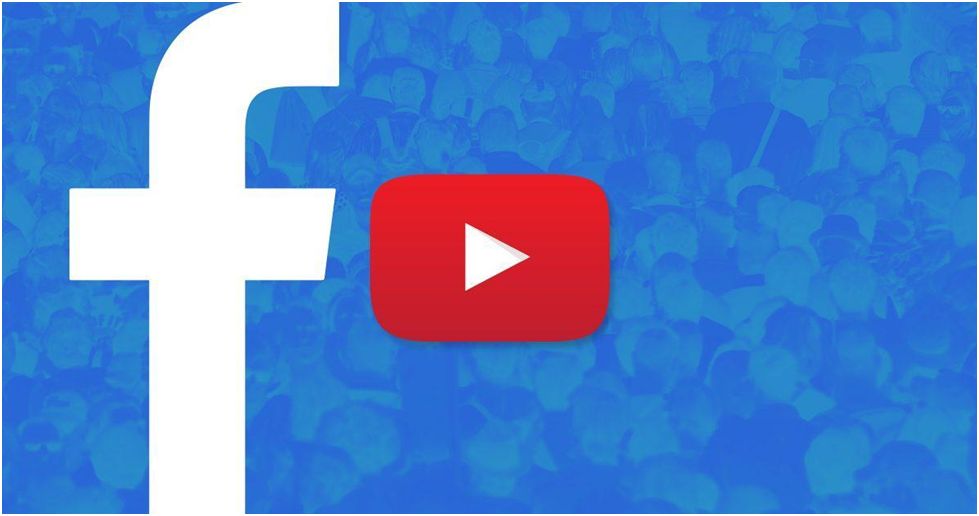 Iron Man had the nitinol suit, Mister Fantastic had his wit, but what do entrepreneurs have? – I'll tell you; it's an astonishing online presence.
Social media has become a worldwide phenomenon; millions and millions of people are engrossed in its use. Ever since the advent of Facebook, the largest social networking site in the world, communication has become faster, simpler, and useful.
Facebook is quite a powerful tool to market your business to the global audience. On the business page, a Facebook cover video acts as a prime piece of assets. Having some gorgeous moving images attract the customers more as compared to great artwork with a Facebook cover photo.
What is the Need for a Facebook Cover Video?
The Facebook cover video, more than a Facebook cover photo, is the first thing that users notice when they land on your page. Videos will help portray your business story to the new visitors within a few seconds.
Gaining the Limelight
As compared to a still photo, a short video is highly beneficial in grabbing the immediate attention of users. Generally, the length of a video varies from 20 to 90 seconds. It is similar to playing a mini-advert on a loop continuously.
Make sure to use a bright color, clean lines, and white space so that every shot looks visually appealing, and make your page look professional.
Keep Users On-Page For a Prolonged Period
If you want to increase the engagement and keep visitors on your Facebook page, consider adding a Facebook cover video that will play automatically every time a user will visit the page.
As compared to a static image, cover video helpsvisitors stick for a more extended period. It has been observed that 88% of visitors stay longer on Facebook pages with cover videos than those without videos.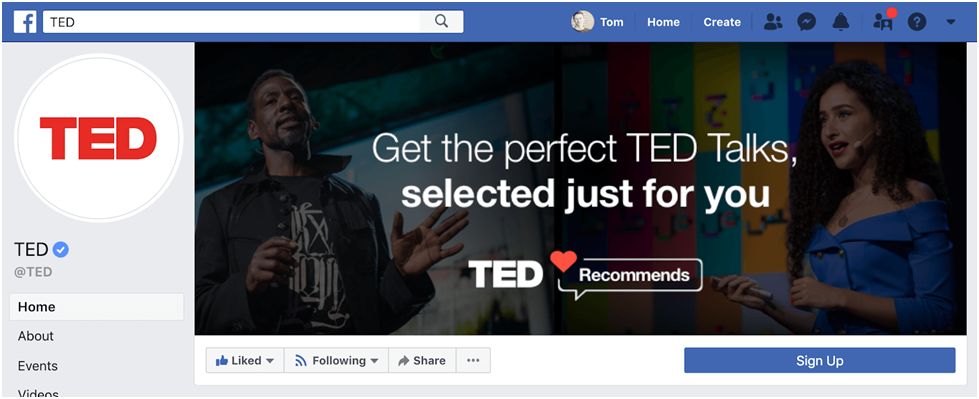 Display the Products and Services
Do you want to give an insight into your products and services to new users? Putting them at the front and center of the Facebook page is a quick way to let users know what you have to offer.
So, have you featured the covered video on your Facebook page? If no, you will likely get it soon. Generally, newer pages with fewer followers get access to the latest features at last.
What are the Specifications of Facebook Cover Video?
Since Facebook is public, anyone can view the Facebook cover page of a company. It is often said that first impressions have a lasting impact. Any business can impress potential customers by adding an attractive cover video to the Facebook page.
In the past two years, some cover video specifications have changed. So, let's have a quick rundown to help you make an engaging Facebook business page.
Size
There is no set guideline for Facebook cover video size. However, videos need to be less than 1.75GB when it comes to the overall size. Business owners are always suggested to keep the file size small because it helps users with slower browsing speed to watch the video without much hassle.
Dimension
The ideal dimensions of a cover video should be at least 820 x 312 pixels. Adding a video with 820 x 462 pixels is best for optimum results. While uploading the cover, it changes to 16:9 aspect ratios automatically. The sides of the cover need to be cut off to 640 pixels wide by 360 pixels tall in case of the Facebook mobile app. So, make sure to center the text in order to make it look good on mobile phones.
Format (File Type)
The resolution of a cover video should be a maximum of 1080p. Though you can use any format, Facebook suggests uploading the cover video in mp4 or .mov format. In case you have a different file type, use a free online file converter to convert your Facebook video to mp4.
Easy-Peasy Steps to Uploading a Cover Video to the Facebook
Facebook has always been on the top when it comes to promoting business with global reach. Now that you have gotten the idea of correct size, dimension, and format, it is time to explore how to set up a cover video of Facebook.
Step 1: Create a Video with Right Size and Specs
Firstly, you will have to make sure that your video meets the technical requirements. As discussed above, keep the length of the video between 20 to 90 seconds. Besides, your video dimension needs to be at least 820 x 312 pixels. In case your video is too long, cut it before setting it up to Facebook.
Step 2: Upload the Video
Uploading a video is similar to uploading the cover photo. After visiting the Facebook business page, hover over the cover image of your Facebook page and click on the "Change Cover" button. Now, upload the video by choosing the file from your system.
Step 3: Make Necessary Adjustments
Once you have selected the video you want to choose, it is time to reposition Facebook video format by dragging it up and down. When everything is set, click on the "Next" button and then "Publish" button. Voila! Now you can let the visitors see a new side of your business.
A Pro Tip: Choose a thumbnail image that encourages people to click and play the video.
What are the Best Facebook Cover Video Examples?
Facebook Cover videos are effective in catching attention on the newsfeed because of the auto-loop and an autoplay feature. If you want to maintain an active social media presence, adding a cover video is of great advantage to your business. Let's have a look at the top Facebook cover video examples.
Planable
When it comes to Facebook cover video, Planable is on the top spot.  The social media tool uses a short video with a minimalist approach to gain the attention of the users. The video focuses on letting users understand an easy-peasy way to create great content.  The bright colors, along with stand-out imagery and audio capture hearts and interests of visitors.

National Geographic
One of the great examples of Facebook to mp4 cover video is National Geographic's Facebook page. Their cover video gained an edge over others because it captures the simplicity of the beauty of nature. With an amazing combination of stirring music and visuals, the video makes people look at it repeatedly. National Geographic showcases the beauty of everything the photographers capture in their camera.
Ferrari
When it comes to displaying a new range of cars in epic style, Ferrari is the name that pops up in mind at first. Ferrari's cover video excites the visitors because of trance-like music, fast-paced imagery, and teaser close-ups of the vehicles. The video tells almost everything about what the company has to offer to the customers.

Australia
Australia has done a remarkable job of uploading a Facebook cover video that displays cute animals. With an impressive mix of hyper-lapse and regular video, they have successfully created a video that makes people fall in love with animals. This page always comes up with something unique when it comes to tourism and destination marketing.
Kinobody
It is incredible to see how Kinobody's Facebook video encourages people to take care of their health. The video is a series of clips combined to make a moving slideshow of sorts. The video starts with a person with a perfect physique type, and the motivational voice helps drive action.  It is quite impressive to see the way the story is presented in the video.
Easil
Easil is widely preferred for creating visuals. The company's Facebook cover video helps users to create a massive impact without going over the top. The Facebook video dimensions, size, and format are perfect. The video lets people know how to change design templates without much hassle.
One look at the video, and you will understand how easy it is to use the Easil for designing templates. Moreover, we all want to leave an everlasting impact on our Facebook fans, don't we? Incorporating their technique can help you show the way your products can solve specific problems.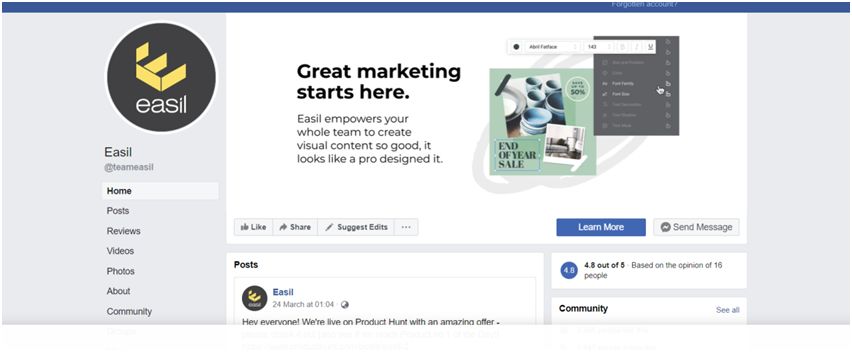 Animatron
Various tools are available online for creating social videos. Animatron has gained goodwill for letting people do it quickly and easily. Its Facebook cover video shows an effective way to create beautiful videos within a few minutes, use videos to generate lead & revenue, and create a website for the video.
What makes the video stand out is the way the company has displayed the benefits of products as compared to just features.

Animal Asia
Another best name for creating an awe-inspiring Facebook cover video is Animal Asia. The company has been creating emotional pull worldwide by saving cute bears. In the Facebook video, it has used powerful imagery along with touching music. You can use a Facebook cover video maker to create such a stunning video. The video begins with introducing the brand and then displaying the most significant achievements.
University of Michigan
The video is on our list because it puts you in the shoes of the student immediately. The beautifully shot video starts with a person walking the halls in the excitement of new learning. The idea of what "could be" puts users in a zone where they think themselves to be a student and capture what could be to be a student there.

Things to Keep in Mind When Uploading the Video on Social Media
In the process of uploading a video, you may encounter a few roadblocks.  So, here is the complete solution to make it a trouble-free process.
Facebook Video Fails to Play on Mobile
If such an issue arises, make sure you have an updated browser installed and using the latest operating system. If not, it is high time to download it and then continue with the uploading process.
Furthermore, you ought to consider the Facebook banner size to fit the right dimensions. The recommended, (820 x 462 pixels), ensure to display the video on the mobile correctly.
360-degree video
Similar to the regular video, you can upload a 360° video to your social media page. The only condition is to record the video with a 360° or spherical camera system to add significant ° metadata to the video.
Facebook has introduced this funky new feature to help you make a unique Facebook presence. Experts highly recommend business owners to use 360° video in their social media accounts.  Facebook presents you with details regarding changing the online photo editor when it is not encoded into the file automatically.
Audio
Have you ever observed that audio on Facebook videos is muted by default? Well, you can also include it, but don't make it critical to what you want to show to the audience. Around 85% of the total watched videos on Facebook are without sound.
Video Fails to Upload
In case the video fails to upload, it is highly likely that something is wrong with the file size and specification. So, that is generally the reason people face issues while uploading the video on social media. Apart from the Facebook video size, you need to check the speed of the browser you are using to upload the video. If the issue still remains, report the problem by contacting Facebook
Tips To Make Your Cover Video Stand Out From The Competition
Since cover videos are adverts, it is necessary to keep them clear, concise, and simple.  The primary objective is to display your brand and logo to a broad audience, but you need not distract users too much from the main aim of the Facebook page. Here we will shed light on the top tips to help you engage the audience with your content and call to action.
Unique but Professional
It is acceptable to try out different things while crafting a video. However, it is always suggested not to go crazy or off-brand while having fun with your videos on social media.
Video Should Start and End with a Natural Loop
Another tip to consider is setting your video to autoplay so that everyone can see it.
Size of the Video
Making your video to the correct size needs cropping and dragging.  In order to avoid the mistake of getting images or text cut off, try to reposition them in the center.
Though Facebook supports a variety of Facebook video formats, experts suggest keeping your video in mp4 or .mov format.
The Epilogue
In the digital landscape, social media has become omnipresent. Right from rural areas to big metropolitan cities, its presence is everywhere. With 2.45 billion monthly active users, Facebook has taken the lead in this age of social media. Consider the above information about the Facebook cover video to stay ahead in the game.