SEO is the most talked about and most confusing topic in the digital marketing industry. Every SEO expert has a different opinion on the specific set of SEO tactics that are extremely fruitful for online businesses. With such different perspectives, it often becomes difficult for companies/ beginners to understand or pinpoint the selected few techniques that drive the most effective results, in terms of high organic traffic, greater business leads, higher conversion rate etc.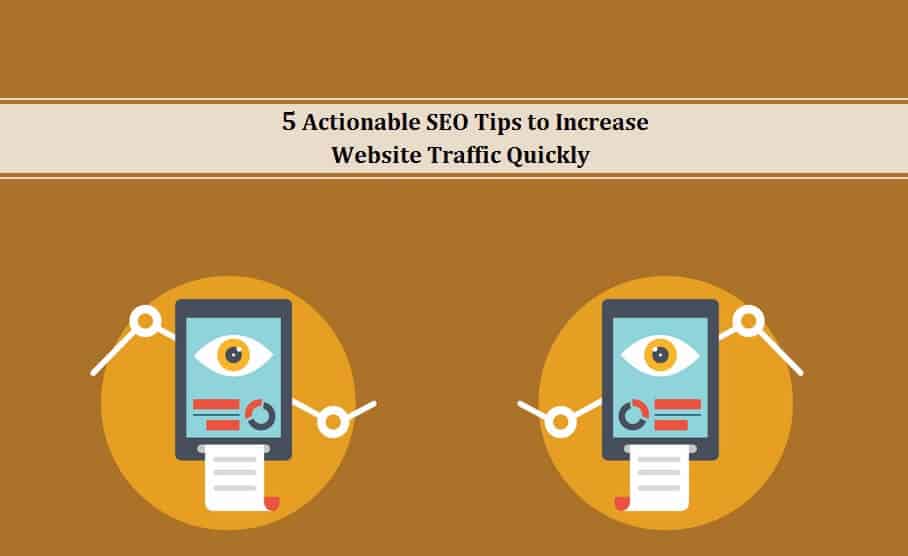 Hence, if you too are looking for some actionable SEO Tips For Startups, MNCs or small businesses, here is a complete list of SEO practices that are very easy to implement and guarantee sure shot results –
1) Website Acquisition
You might have not heard about this technique, as it is one of the least covered SEO topics of all. People have a misconception that website acquisition means spending huge amount of cash. However, this is not true. Thereare a number of websites that acquire an already existing website and combinethe same with their own site. Using this technique, you can also have access to a number of benefits, such as the ones mentioned under –
You will get access to all the organic traffic of the acquired website.
You can easily take over the mailing list subscribers and social media accounts of the acquired website.
Their keyword rankings will transform into yours.
You will get access to an entirely new content.
You will also have a bag full backlinks that the acquired website had.
2) Refresh Under performing Content
Content plays a major role in boosting your website's organic traffic and attracting genuine business leads. Hence, content should be given the maximumpriority, while performing SEO on the website. Apart from creating new content, you should focus over underperforming content, i.e. the content ranking on second or third page of Google. Such types of content are referred to as 'Low-Hanging Fruit' projects.
If you do not know How to Search SEO Keywords, you can useGoogle Search Console, as it will help you find keywords ranking between position 10 and 25. Work on these keywords would help you boost traffic.
You will also need to look for pages, where you can add internal links to the low ranking content or 'Low-Hanging Fruit'.
Finally, using a keyword tracking tool, you can track the Results
3) Use Google's Featured Snippet to Rank Your Content
Many a times, you might have observed featured snippets appearing in the search results for a particular keyword. Generally, they appear for some question based keywords, for example, how to work in Microsoft excel. Hence, if your content appears in the featured snippet on the first page of Google, the average CTR will get boosted by more than 100%. Here are some of the factors that help your content rank within the Featured Snippet –
Target search keyword should be present in the HTML headers.
The content that begins as an answer receives more preference by Google than any other content.
If your website ranks on the first page of Google, links don't matter that much.
The answer should be present within 54 to 58 words, right beneath the target keyword header.
4) Link Reclamation
This technique varies as per the type of your business. Generally, Dedicated SEO Services InPuneor anywhere across India is outsourced by large, renowned brands, as link reclamation works the best for them. This technique involves finding mentions of your brand names, products or services in someone else's article. While writing content, people often quote the thoughts of a big brand or mention brand names, without actually linking to them. You need to find such articles, wherein your brand is mentioned, but is not linked to. Here is how you can get started with the activity –
Monitor your brand mentions using tools, like Mention or BuzzSumo
Set up daily email alerts
Perform a bulk check for links using SEO plugins
Once you find mention of your brand, reach the website owner via contact details
You can even send a pitching mail to add a link on your mention
5) Competitor Link Analysis
Analyzing the competitor links and activities is the most important thing that every business owner should be serious about. Most of the business owners understand that they should invest their time in this activity. But, due to lack of resources, knowledge and other factors, they fail to do so. Make sure that you do not commit this mistake again and again.
If you are planning to launch a new campaign, you should definitely get started with competitor link analysis. Here is, how it goes –
Make a complete list of your competitors.
Check out all the webpages and websites that are linking to them.
Look out for opportunities to get same or similar links.
The best advantage to use this technique is that you get access to high quality links hyper-relevant to your particular business.There are different tools for link analysis, like Ahrefsor Open Site Explorer, using which you can instantly discover your competitors' backlinks. Once you are aware of the sites linking to your competitors' site or webpages, you can use relationship building strategies to acquire a similar link.
Conclusion
Gaining an edge over your competition and persuading global customers is not an easy task. However, with proper implementation of advanced SEO techniques, you can easily find your path to success. So, simply hire an in-house team or outsource one, to get started right away!!
Hello readers..!! Myself Soniya Basera, an experienced blogger and currently I am working at Linkbuildingcorp.com I bring out the fascinating trendiest happening and marketing situation through blogs that provide proper understanding and guidance to most of the start-ups.