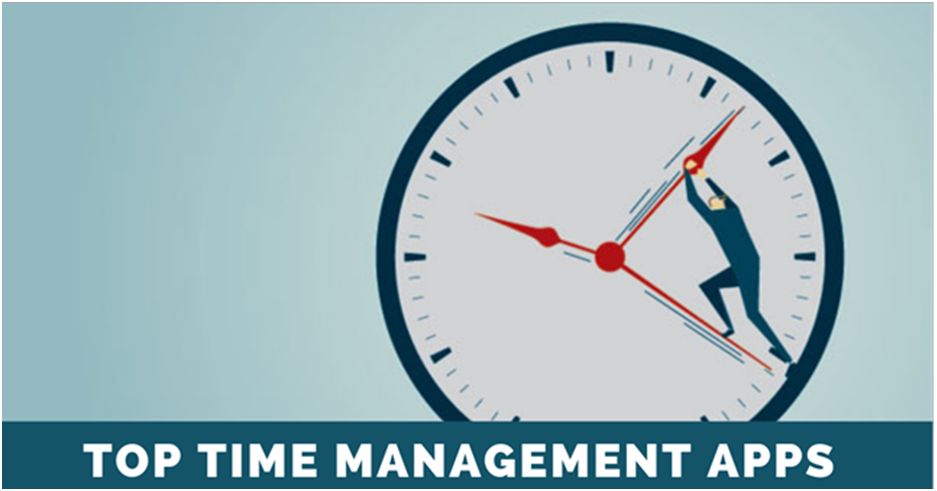 In today's competitive world, companies are obsessed with delivering consistent quality to clients. But, how many organizations make sure that their workforce is meeting the desired targets?
The answer is not many. It has been observed that a majority of employers and managers fail to manage employee time and productivity. A significant amount of time is misspent by employees due to meetings, emails, and internal organization tasks.
Everyone in today's generation knows the importance of tracking business performance. But there is often no proper monitoring system, or not all necessary information is being tracked. The result? Inefficiency and lack of productivity.
In this post, you will come across the best options for managing your time without breaking the bank. You'll be able to learn about how the employee time tracker app works and which ones might be a good fit for you! Read on below if you're interested in learning more!
Future Market Overview
According to introspective Market Research, the global time tracking software market was valued at USD 425.32 billion in 2019 and is expected to reach USD 1785.36billion by 2026, at a CAGR of 22.36%.
The time tracking market size is expected to be USD 2043.83 billion by the end of 2027. This growth is due to improved inventory management, asset tracking, and consumer goods usage in North America.
Why is employee time tracker software inevitable for seamless growth?
To overcome Inefficiency and lack of productivity, many companies are turning to time tracking software. The Time tracking tool is a web-based solution, which makes it accessible from any device or platform.
Companies use time trackers to improve their performance by making the most of employee time and providing better quality services to clients. It will also help companies to increase profits by increasing efficiency and enabling more robust workflows.
In the following ways, time tracking software tools are helping businesses across the globe in saving companies from massive losses and expenses which are being incurred due to untimely work done by employees-
Monitoring attendance of employees.
Quantifying time spent on each task.
Control over working hours and the performance of an employee.
Saving salary expenditure by analyzing the amount of work done by employees etc.
Manage projects effectively.
We are now on an excellent platform to explore the best time management apps below-
15 Great Time Management Apps for 2022
1. WorkStatus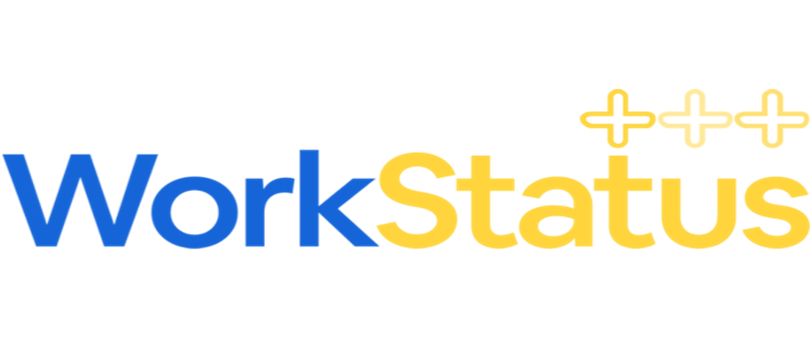 WorkStatus is a time tracking app that allows you to control your employee's work performance in real-time. Work status reports help track their working hours, productivity, and even vacation days. You can view the reports anytime from anywhere through mobile or PC. You can also add due dates, set recurring tasks, or add notes and comments to each task.
What to look for?
It has automatic task recognition, so you can automatically track the working hours of your employees.
Live reports and statistics to manage your projects efficiently.
Simple desktop app to install on your computer to start tracking right away.
Easily integrates with other software.
Request a demo for the best employee time tracking app here-
2. Todoist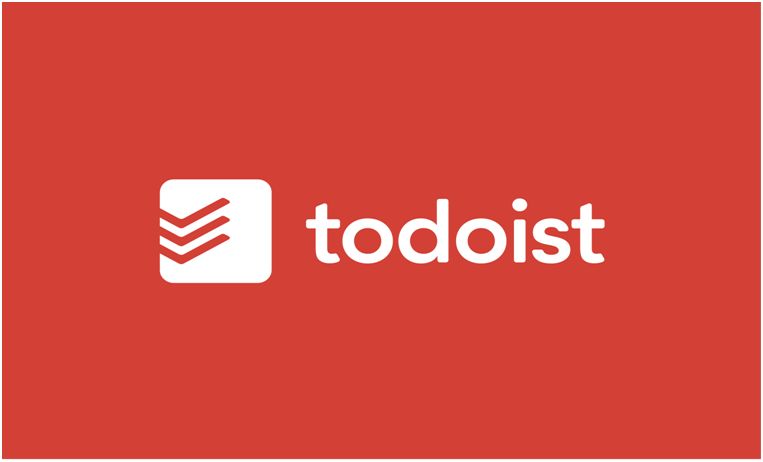 Todoist is an intuitive task management app that helps you manage your daily tasks, projects, and all the things that need to get done. The app keeps track of your productivity and offers reminders and notifications.
What to look for?
Calendar notifications for pending appointments.
Labels and filters.
Task reminders at specific intervals.
Work together with colleagues on the same project.
3. TimeTree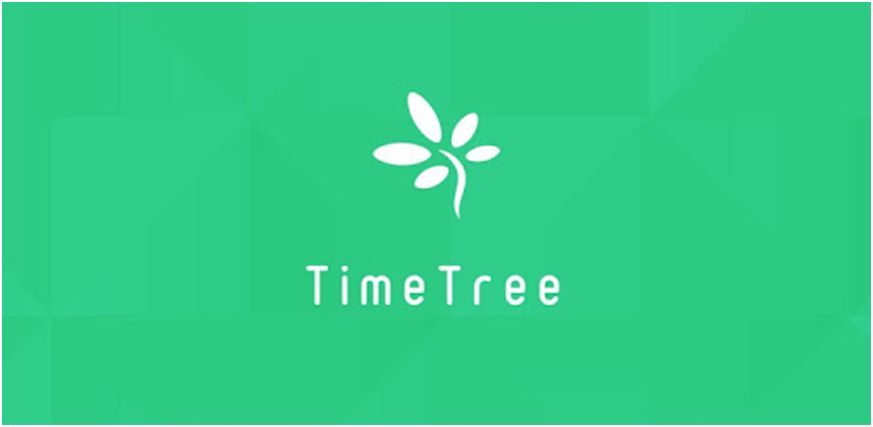 TimeTree is the employee time tracking app that provides complete visibility into how you and your team spend your days. It offers a comprehensive yet simple way to track what matters – from billable hours to daily work habits – in one place.
What to look for?
Employee shift scheduling.
Time off and absence management system.
Flexible employee attendance workflow.
Mobile employee time tracking.
4. Toggl Track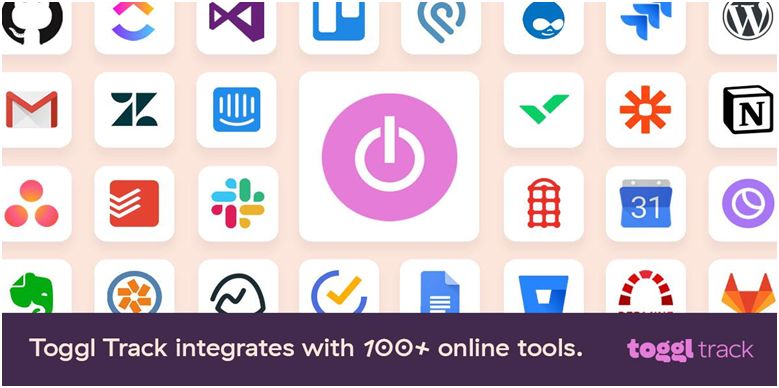 Toggl Track is a remote worker time tracker thatallows you to track employee hours efficiently and effectively. Quickly log your working hours in real-time, manage remote teams, and stop wasting time on paperwork.
What to look for?
Real-Time Time Tracking
Track Anything
Shared Dashboards
Calendar Integrations
5. TimeCamp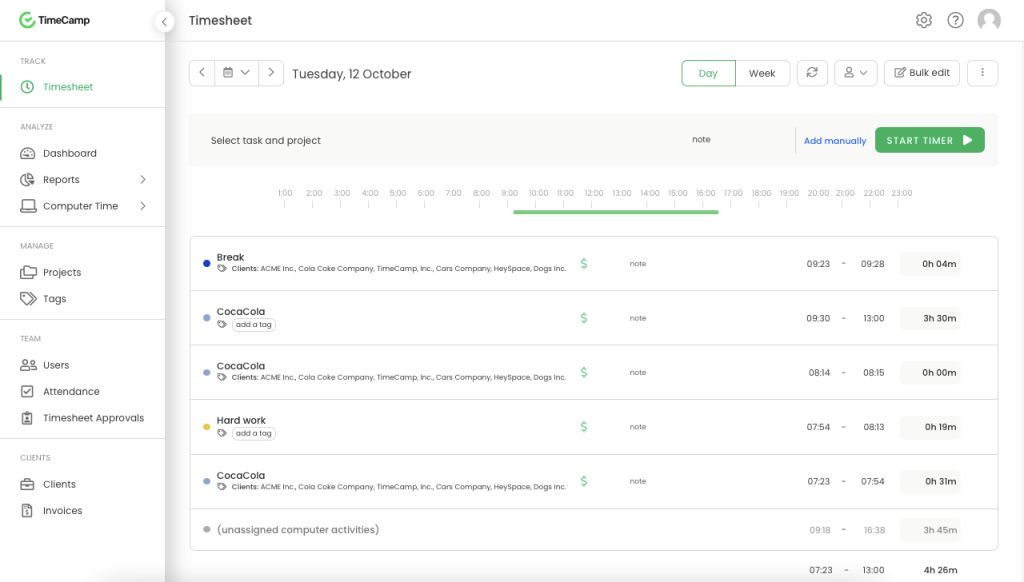 If you're looking for a reliable time management timer app for teams and freelancers, TimeCamp is a perfect solution. It tracks time automatically in the background or allows you to fill timesheets manually (with just a few clicks you can fill them with computer activities tracked during working hours).
What to look for?
Free plan for unlimited users and with unlimited projects and tasks,
Automatic time tracking available as web timer, desktop, and mobile app as well as a Chrome extension,
A project tree structure with tags for better organization and transparency.
6. Trello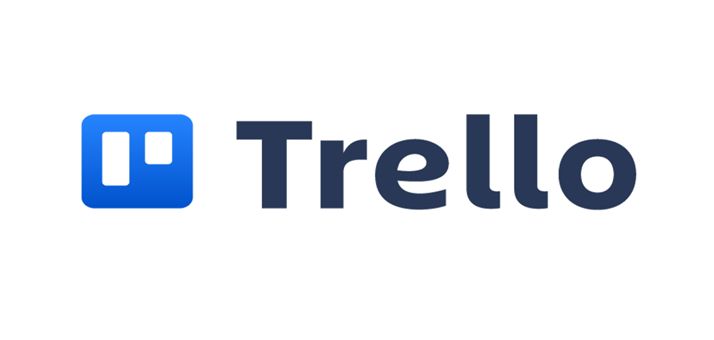 Trello is a free time clock app that allows you to create checklists, set deadlines, and get notifications on your activities. It also supports two-way sync with desktop clients. It provides you the freedom to work wherever you want as it is available everywhere.
What to look for?
Free time management software for individual users.
Manage tasks from all projects on one board.
View charts and export reports.
It makes collaboration between teams faster, easier, and more efficient than ever before.
7. Calendar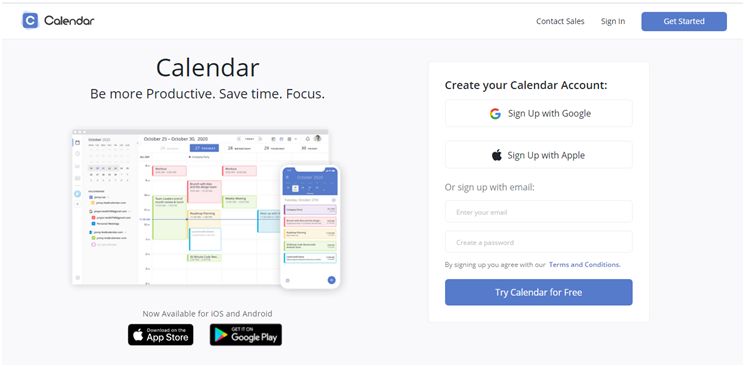 Calendar, as the name implies, allows you to keep a tab on your dates. It's slightly different from any other calendar app available in the market right now because it can be easily integrated with your Gmail account to manage your events and meetings in one place.
What to look for?
Detailed analytics to help you see where your attention is focused.
As soon as you install the app, it will instantly sync with your other calendars.
Wide range of users from individual freelancers to large teams.
8. Rescue Time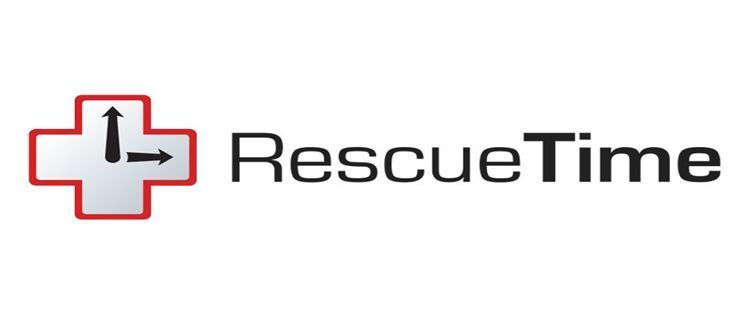 Rescue Time is an employee time tracker software management tool proved to increase productivity and well-being in businesses of all sizes. It is one of the best remote employee monitoring software for remote workers and virtual teams that provides reports and insights on what program, website, or app employees use the most, etc.
What to look for?
It allows you to focus daily on your work goals.
It analyzes your meeting schedule throughout the day.
It blocks the sites that have a negative impact on your focus.
9. Remember the Milk

Remember the Milk is free time management and a to-do list software tool. It has a unique approach of combining both a task manager and task scheduler in one application. Another helpful thing about Remember the Milk is that you can share your tasks with colleagues.
What to look for?
It is compatible with your computer, mobile, outlook, Gmail, etc.
Easy to sync all your devices.
It provides easier time management.
Easy to manage multiple tasks.
10. Monday.com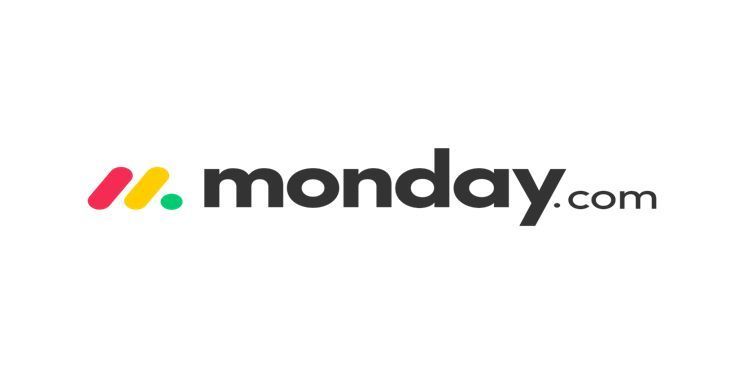 Monday.com is a web-based task manager that offers both individual and team sharing. Professionals widely use it for managing time, tasks, clients, and budgets. This tool helps you to get rid of the usual inbox overflow with emails and manage all projects in one place.
What to look for?
Easy to manage and track time at one place.
Integrate with the tool of your choice.
A mobile app to track time anywhere.
11. Buddy Punch
Buddy Punch is an employee time monitoring software that enables remote employees to track and report their work times. You can also easily manage your company's payroll with thistime tracking tool.
What to look for?
It gives you the facility of sick, PTO, and vacation tracking.
It provides GPS tracking.
It automatically split the time into several categories.
12. Nifty
Nifty Time Clock is a free online employee time tracking software that you can log your employees' working hours. It has no restrictions on employees, but it is meant to be used by small businesses with a few remote workers.
What to look for?
It gives you reports by date ranges.
Easy to export timesheets as a .cvs file.
Download PDF of the timesheet.
13. Clockify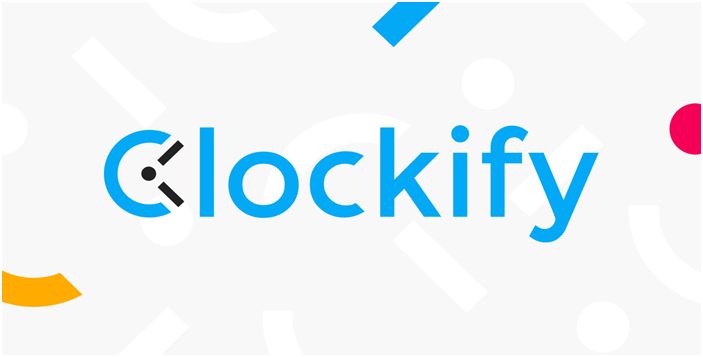 Clockify is a time tracking app designed specifically for remote teams. It is easy to keep a record of the attendance of your employees when they are on leave or working from home. Employees can clock in for their shifts using the GPS location.
What to look for?
It provides multiple workspaces or accounts.
It allows you to track any number of projects.
Get detailed reports about employees and their work.
14. Wrike
Wrike is an excellent remote project management software that projects to enhance productivity. It helps users in managing tasks and projects efficiently. Wrike is a cloud-based software that allows you to create private workspaces. You can also invite your co-workers, team members, subordinates, or customers to work on the project with you.
What to look for?
Integrates with other tools like Slack, Google, Salesforce, etc.
It can be used across the globe for task management.
It gives a scalable solution.
15. Time Doctor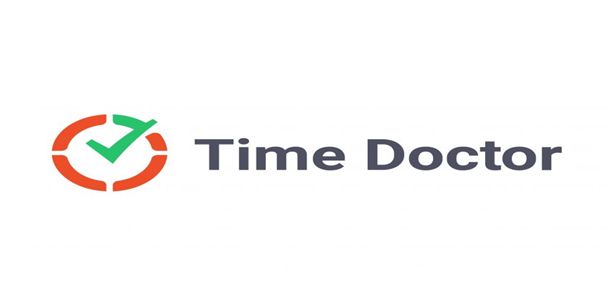 Time Doctor is a time tracking software that can be used to track your work and non-work-related tasks. There is a time management algorithm by which you will adjust your working hours based on how productive you are.
What to look for?
It provides summary reports.
Easy to manage projects.
Integrate with other tools easily.
16. Focus@will
Focus@will is a music service designed to boost your productivity. It is practical, scientifically proven brainwave entrainment technology that helps you earn more points by focusing on your work without getting distracted.
What to look for?
Enhance productivity by listening to music.
It has a built-in productivity timer.
Improves efficiency and concentration.
Comparison Report
Time Tracking Apps
Key Features
Platforms
Pricing
WorkStatus
●       GPS Tracking

●       Geofence

●      Detailed Reporting

●       Online Timesheets

●       Productivity Measurement

●       Time Tracking

●       Notifications

●      Activity history and Screenshots

All devices.
Free Forever

Starter Package: $4.99/user/month

Scale Package: $9.99/user/month

Enterprise Package: $18/user/month

Todoist
●      Priority Plan

●      Reminders

●       Delegate Tasks

●       Productivity Visualizations

●       Activity History

iOS, Android, macOS, Windows, Web, and Apple Watch
Free Trial

Pro- $3

Business- $5

TimeTree
●      Smart Calendar sharing.

●      Record and share your objectives.

●      Share schedules easily.

iOS, Android, macOS, Windows, and Web
Free
Toggl Track
●      One-click timers

●      Background tracking

●      Auto tracker

iOS, Android, macOS, Windows, and Web
Free Trial

Starter- $9

Premium- $18

Enterprise- Contact for pricing

Trello

●       Highly Customizable

●       Easy to integrate with other tools

●      Additional dashboardsCalendars

iOS, Android, macOS, Windows, and Web
Free Trial

Business-class- $10

Enterprise- $17.5

Calendar
●      Productivity tool

●       Scheduling Software

●      Calendar analytics

iOS, Android, and Web
Free Trial

Contact for paid versions

Rescue Time
●      Excellent Customization

●       Smart Coaching

●       Focus Sessions

●      Measure focus

Windows, Mac, Android, and Linux.
Free Trial

Contact for paid versions

Remember the Milk
●       Reminders

●      Create unlimited lists

●       Colorful tags

●       Search Wizard

iOS, Android, macOS, Blackberry, Windows, Web, and Apple Watch
 Free Trial

Pro:$39.99/year

Monday.com
●       Mobile app is available.

●       Easy to turn on or off the timer.

●       Enter time manually.

Windows, Mac, Android, iPhone/iPad.
Free Trial

Basic- $17/month

Standard-$26/month

Pro- $39/month

Enterprise- Get a quote.

Buddy Punch

●       Vacation Tracking

●       GPS Tracking

●       Overtime Calculations

●      Automatic Breaks

Windows, Mac, iOS, Android
Free Trial

Starts at $25/month

Nifty
●       Detailed breakdown

●       Reports across projects

●      Time tracking on tasks & projects

Windows, Mac, iOS, and Android.
Free Trial

Starter:$39/month

Pro: $79/month

Business:$124/month

Enterprise: Get a quote

Clockify
●       Project tracking

●       Unlimited users

●      Easy user management

Web, Android, iPhone, iPad, Mac, and Windows.

Works with all popular browsers.

Free

Wrike

●      Task time tracking

●      Easy to use

●      Play & Pause button

Windows, Mac, Linux, Android, and iOS.
Free Trial for 5 users

Business: $24.80/user/month

Enterprise: Get a quote

Time Doctor
●       Tracks web usage

●       Time tracking

●      Payroll

●       Screenshots

Windows, Mac, Linux, iOS, Android, & Chrome.
Free Trial

It starts at $7/user/month

Focus@will
●       Built-in productivity tracker

●      More than 50 music channels

●      Improves Concentration

All devices.
 Free Trial

2-5 users: $9.95/user/month

6-50 users: $8.95/user/month.

51 to 150 users: $6.95/user/month.

151 to 250 users: $4.95 /user/month.
Final Verdict 
The future of the business is changing, and we are all adapting. New technologies such as employee time tracker software will be inevitable for companies that want to continue growing seamlessly. This blog has provided the list of fifteen excellent time management apps you may want to consider using in 2022 if you haven't already started implementing them into your business process.
If you're looking to find new ways to increase productivity or need an organizational app, this list can be beneficial when it comes time to decide what tools will work best in 2022.
We have selected WorkStatus and Monday.com as the best employee time tracking app.
Have Questions on Mind? We've got answers.
Get in touch with the employee time tracker software company now.
What are some other good ones? Please let us know below in the comment section!
Thank you for reading!
Peter Bennet is an Online Marketing Associate & Consultant working with WorkStatus. In his 9 years of experience in the field of workforce management, he has been helping businesses to manage employee productivity, timesheets, and project budgeting to ensure businesses increase profits by enabling more robust workflows.