Your system disk space gets fragmented over time when you keep on adding & deleting programs & files. For example, if you have deleted 50MB program and installed 80 MB program, then the program will be saved into two fragments for 50MB & 30MB respectively. Thus, it will increase the file search time and affects system performance.
While fragmentation is a serious issue that affects your PC performance negatively, the best way to defrag your disk space is to use the best disk defrag tools. Let's discuss some of these best tools and what they have to offer.
Best Disk Defragmentation Software
Advanced System Optimizer: Advanced System Optimizer is a smart disk cleaning & optimization software that offers tons of useful features. This state-of-the-art disk defrags tool could be used every few weeks to keep your hard drive performance intact. By defragmenting your disk space, it reduces crashes and disk failures for more reliable performance.
Features of Advanced System Optimizer
Works on smart algorithms to effectively defrag disk space
Works as a system protector tool to find & remove malware threats
Helps you update drivers automatically
Offers distraction-free gaming experience by blocking all annoyances like messages, notifications, etc.
Works as a system cleaner to deep clean system storage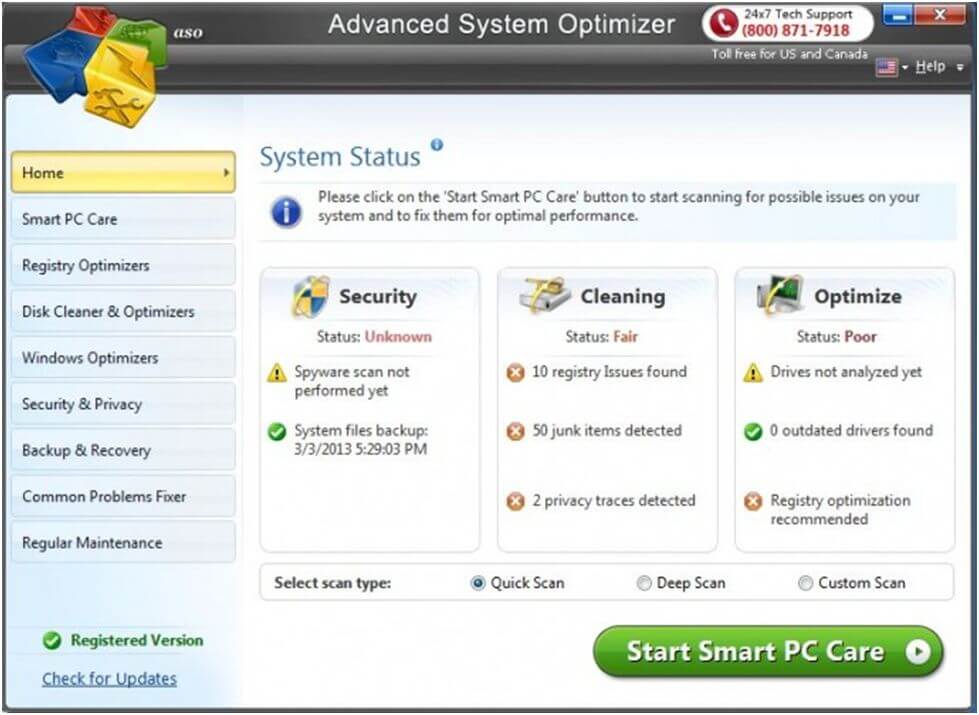 https://www.systweak.com/advanced-system-optimizer/
GlarySoft Disk Speedup: Another powerful disk defrag tool is Disk Speedup that works extensively to defrag your disk space. This fast & efficient tool works on a user-friendly interface to offer seamless user experience. It defrags your disk space automatically and intelligently for effective results.
Features of Disk Speedup
Colorful results display for easy understanding and defragmentation process
Allows you to schedule disk defrag process
Offers customized presets to save your time
Safe & secure disk defragmentation process with smart techniques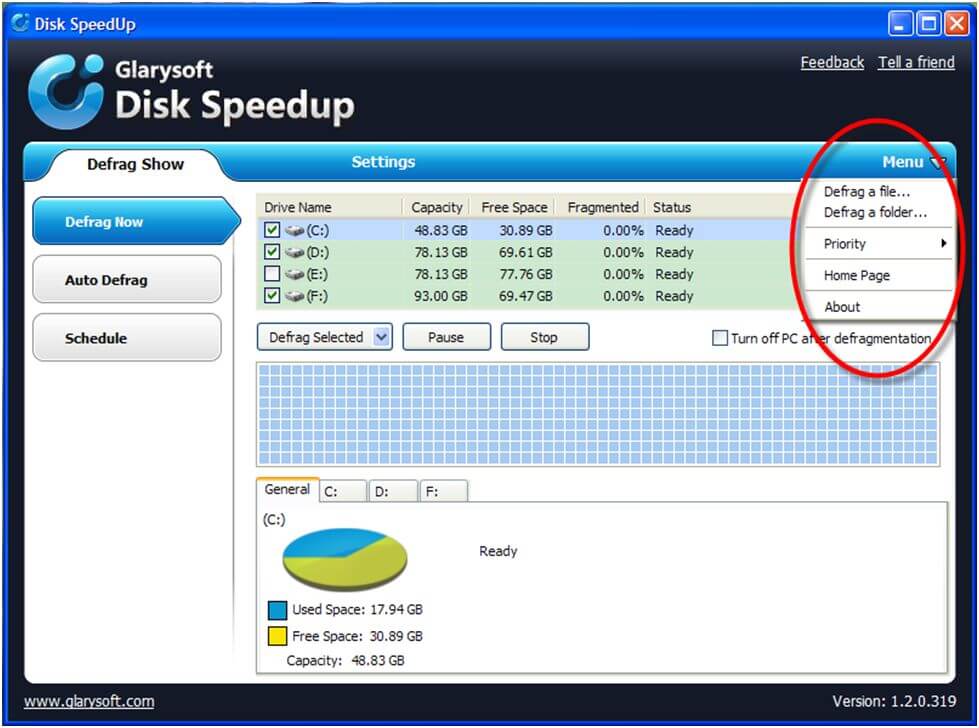 https://www.glarysoft.com/disk-speedup/
Iobit Smart Defrag 6: Smart Defrag 6 offers fast & deep defrag to help you optimize hard drive and improve PC performance. Its smart multi-threading defrag engine helps you instantly defrag your disk space and offers faster data access.
Features of Iobit Smart Defrag 6
Supports all Windows versions
Its smart configuring boot time defrag feature helps you defrag all files that can't be moved from HDD while the system is running.
It allows you to defrag games on your PC to offer you enhanced gaming experience.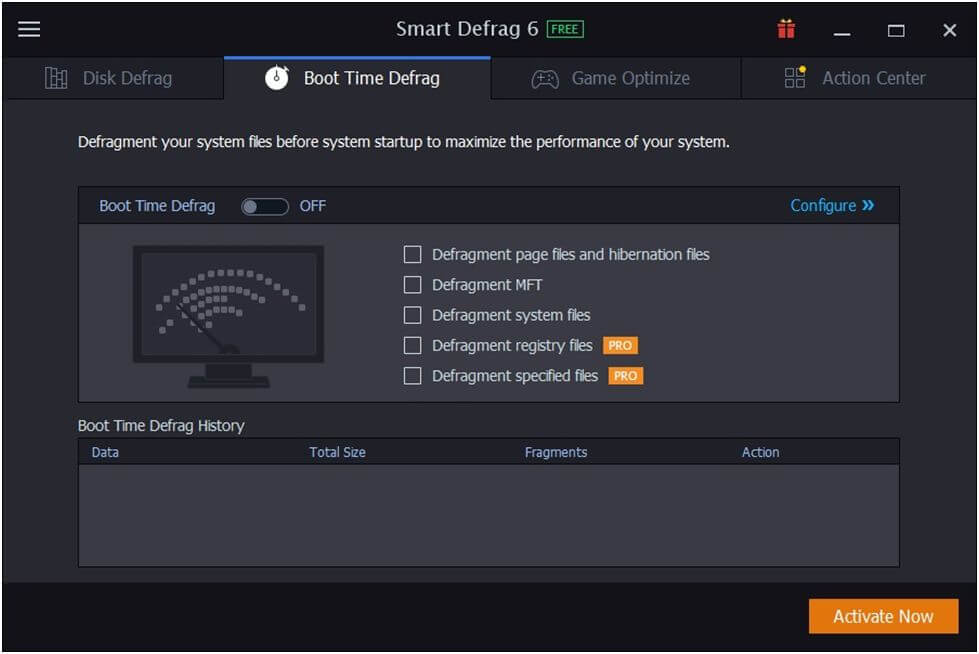 https://www.iobit.com/en/iobitsmartdefrag.php?AFF=1896&__c=1
UltraDefrag 8:UltraDefrag defrags your disk space and optimizes it for better performance. You can use this tool for faster access to files, better gaming experience, quickly access application & programs, and more. It works on smart algorithms and ultrafast operations to save your time & efforts.
Features of UltraDefrag 8
Allows you to defrag all locked files
Full customization options where you can defrag individual file or folders, or the entire disk.
It defrags your disk space automatically when your system is idle.
It offers unlimited free updates to keep your system up & running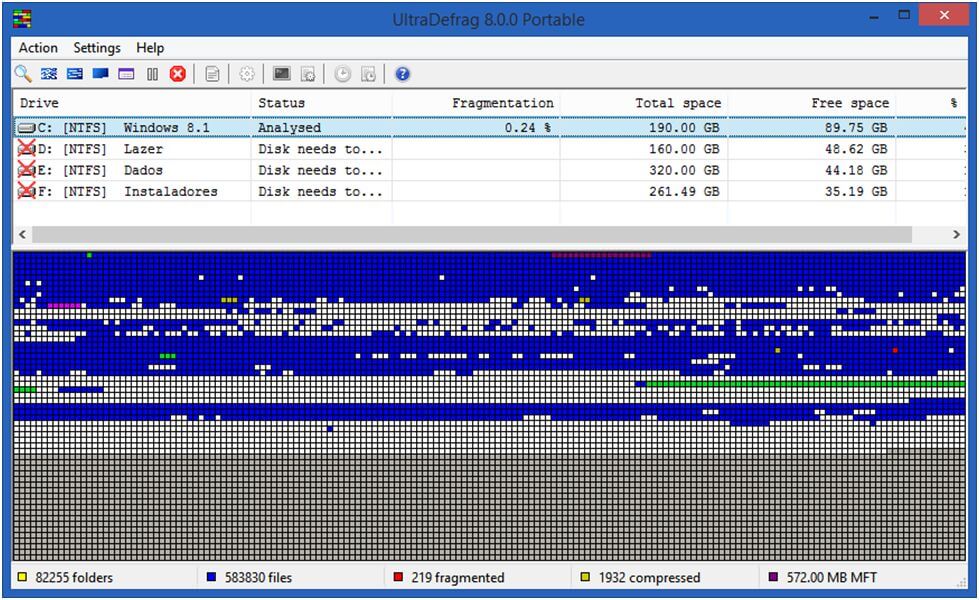 https://ultradefrag.net/en/index.shtml
Condusiv Diskeeper: Use Diskeeper to keep your Windows PCs and physical servers running faster like new. It delivers accelerated I/O performance for Windows systems. It defrags & cleans ever the worst performing systems for better performance.
Features of Condusiv Diskeeper
Diskeeper 18s patented engine ensures faster & safer disk defragmentation
Caches hot reads from idle, available DRAM
Offers central management console to help you deploy easily across the network
Improves system performance multifold using smart defrag techniques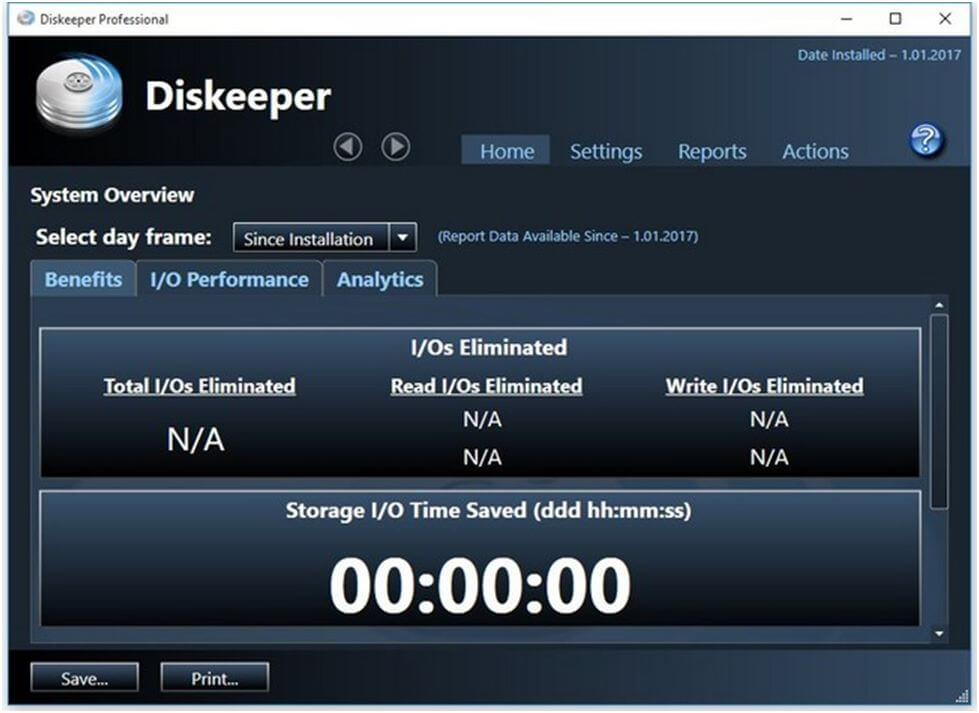 https://www.condusiv.com/products/diskeeper/
CCleaner Defraggler: Use this smart solution to speed up your system with instant and easy defragmentation. Use this nifty disk defrag tool to defrag individual files or entire hard drive easily. It works seamlessly with SSD and HDD. It supports various file systems including NTFS and FAT32. Use Defraggler to speed up your PC performance by assembling fragmented files on your system and organizing them efficiently.
Features of Defraggler
Defraggler uses the same techniques to read and write files as Windows does.
It defrags files and free space both to organize disk space effectively.
Full customization features to give you full control over the defrag process.
Schedule the defrag process on a daily, weekly, or monthly basis.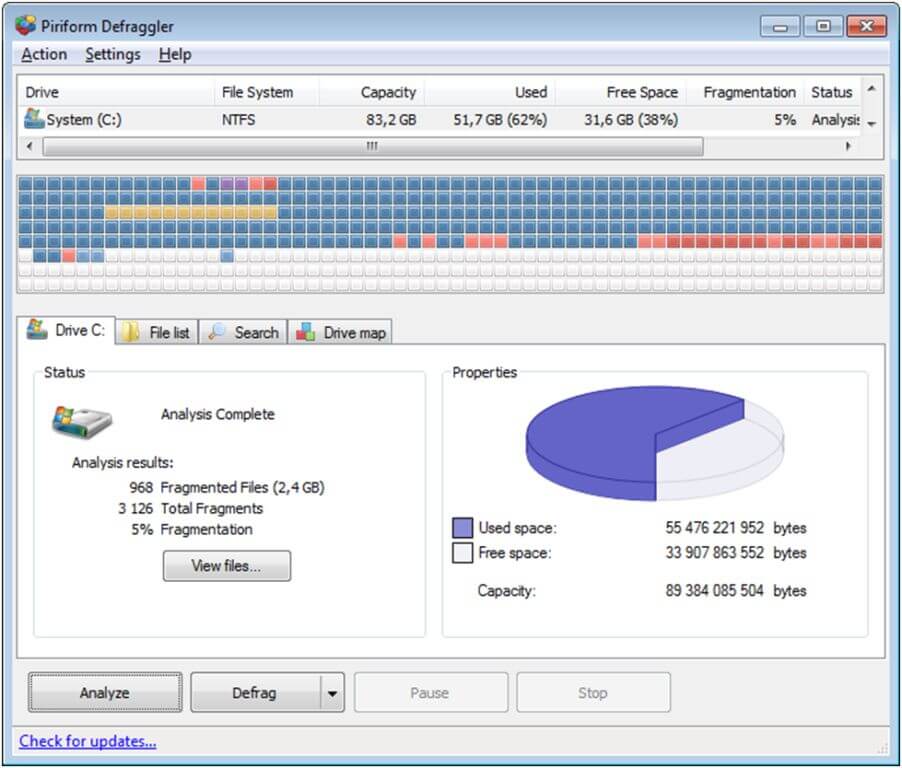 https://www.ccleaner.com/defraggler
Auslogics Disk Defrag: This fast & compact defrag tool is trusted by millions of users around the world. It helps you defrag & re-arrange files to speed up system performance. Use this tool to optimize file placement, defrag files on the hard drive, consolidate free space, and more.
Features of Auslogics Disk Defrag Free
Ultra-fast disk defrags engines to offer instant and effective results.
Free to use the tool.
Customization features to control disk defrag process
Works on proprietary Auslogics technology to deliver highly effective results.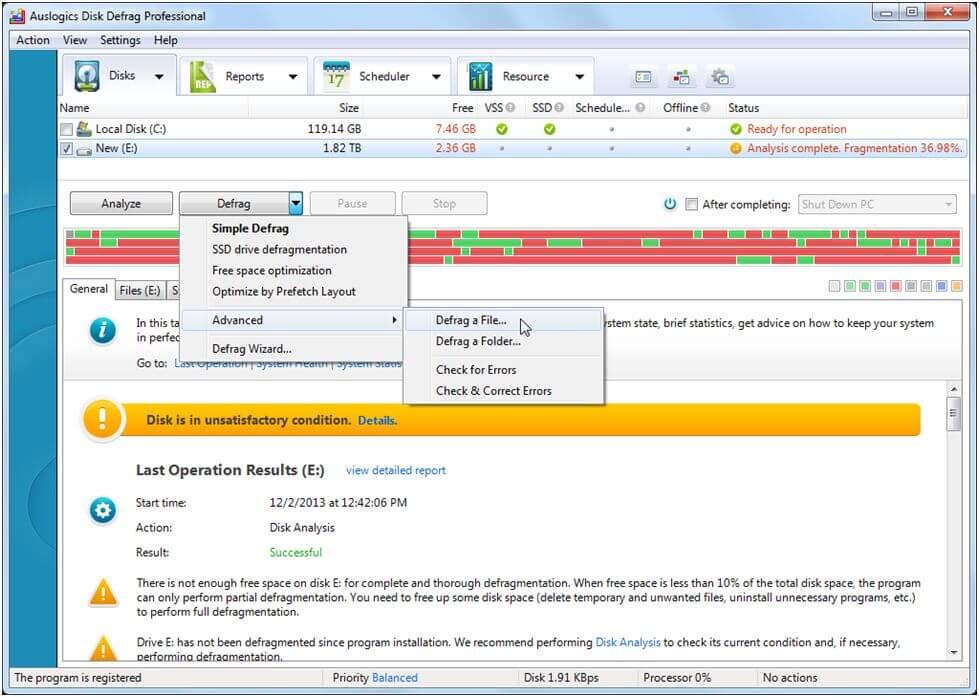 https://www.auslogics.com/en/software/disk-defrag/
Max Disk Defrag: Use this one of the most effective disk defragmentation tools to defrag system hard drive, external flash drives, removable drives, and more. It enables defragmentation threshold % for easy check and review. This powerful tool is trusted by small businesses, home consumers, and more.
Features of Max Disk Defrag
Supports defragmentation of internal hard drive, on flash drives, removable drives, and more.
Improves system stability working on smart defrag process
Supports various Windows versions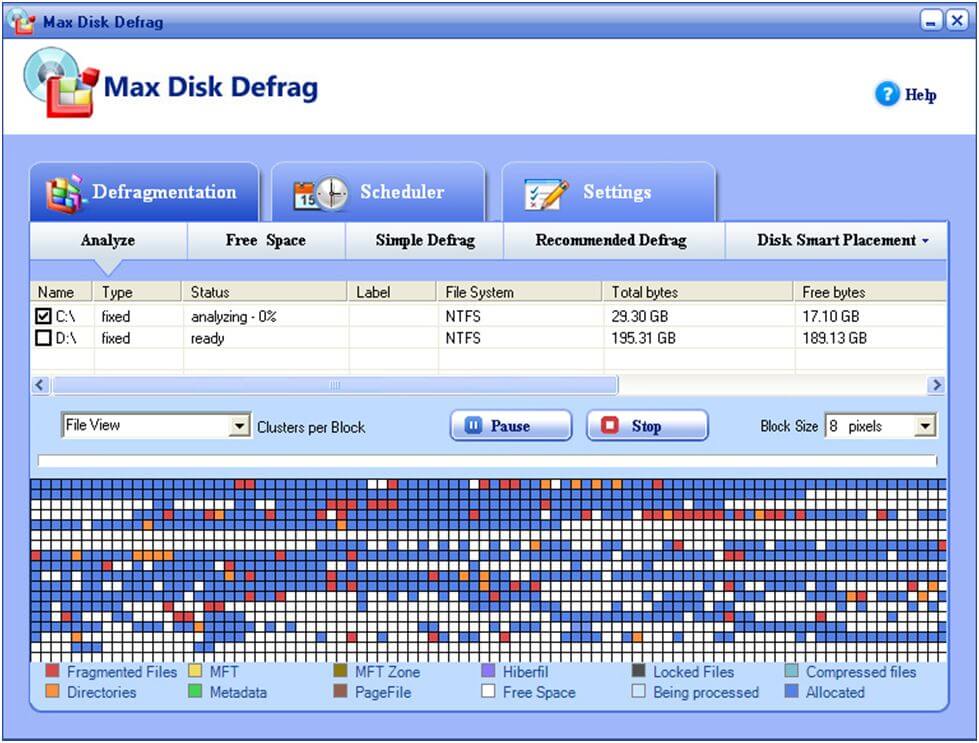 https://www.maxpcsecure.com/maxdefrag.htm
O&O Defrag 22: Use O&O Defrag to optimize your system hard drive and boost your PC performance. It works on new solid defragmentation process where it helps you defrag both HDD and SSD drives. It prevents the premature wear of SSD by reducing disk fragmentation.
Features of O&O Defrag 22
O&O DiskStat helps you analyze used space on your hard drive with the help of charts.
O&O DiskCleaner helps you clean your disk space for improved performance
Performs automatic background defrag process to save your time & reduce manual efforts
Easy to use with lifetime performance statistics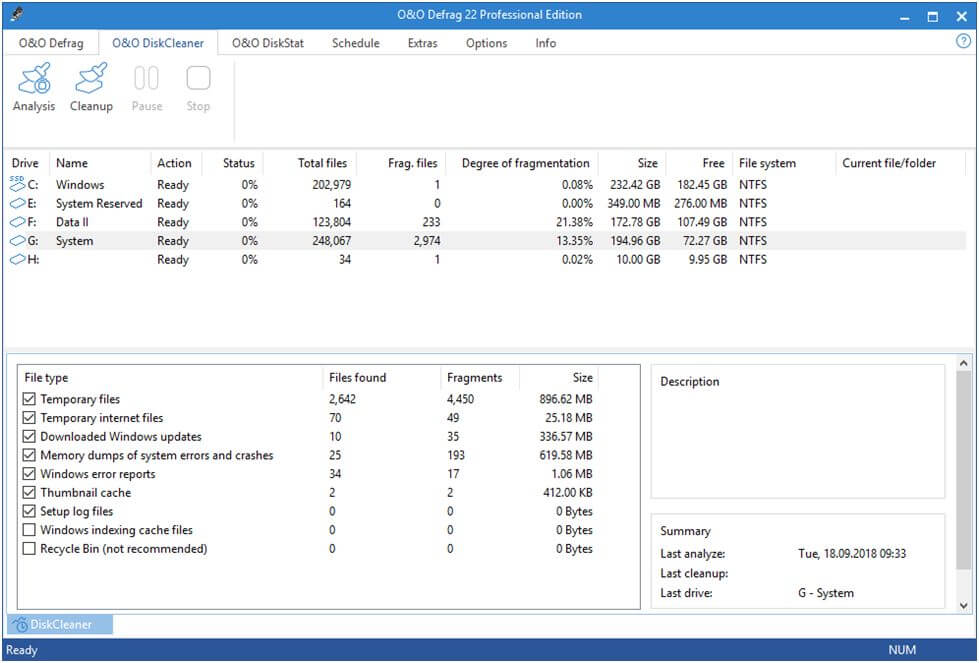 https://www.oo-software.com/en/products/oodefrag
Puran Defrag: Puran Drag is simple yet most powerful disk defragmentation tool that helps you defrag and optimize your disk space. It helps you collect and manage all fragments on your disk space to reduce wear and tear.
Features of Puran Defrag
It offers boot time defrag for system files like MFT
Directories consolidation for a speed boost
It helps you automatically defrag system hard drive to save time
It allows you to defrag individual file/folders or an entire drive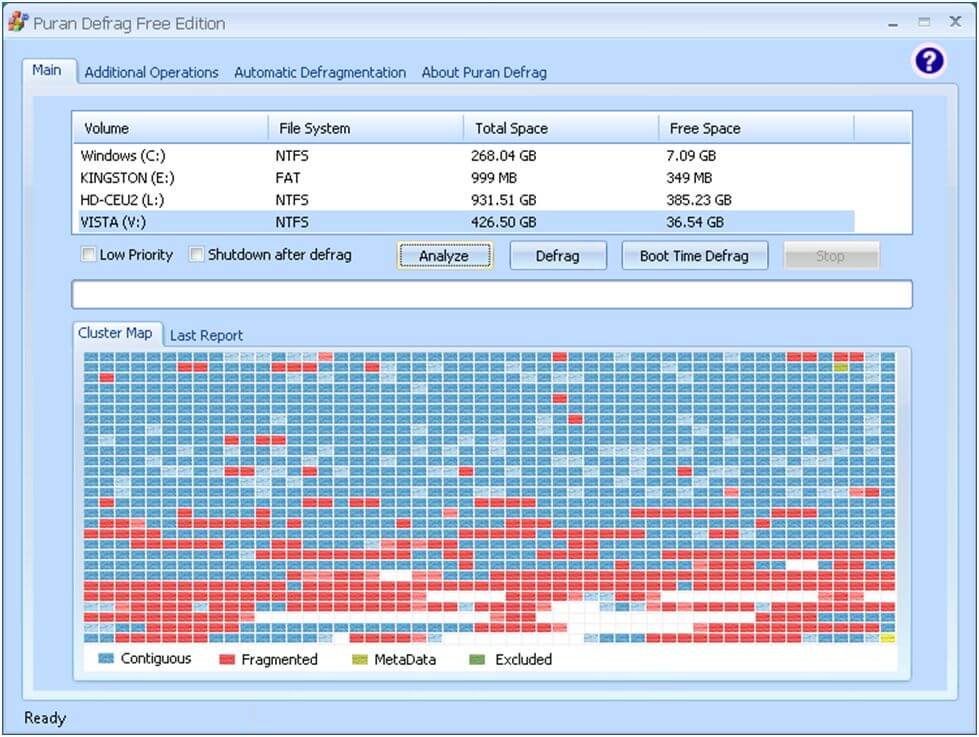 http://www.puransoftware.com/Puran-Defrag.html
TL;DR
The best disk defragmentation tools help you defrag and optimize disk space to speed up Windows performance. Here, we have discussed 10 best tools to give you multiple options to select from. If you are still confused which tool to select then, you can pick the best one as it is mentioned in a list. Here, Advanced System Optimizer comes as a complete system optimization tool that offers tons of useful features to help you defrag and boost your system performance. If you want to share your experience using these tools, then feel free to comment in the section below.
Chris Mcdonald has been the lead news writer at complete connection. His passion for helping people in all aspects of online marketing flows through in the expert industry coverage he provides. Chris is also an author of tech blog Area19delegate. He likes spending his time with family, studying martial arts and plucking fat bass guitar strings.