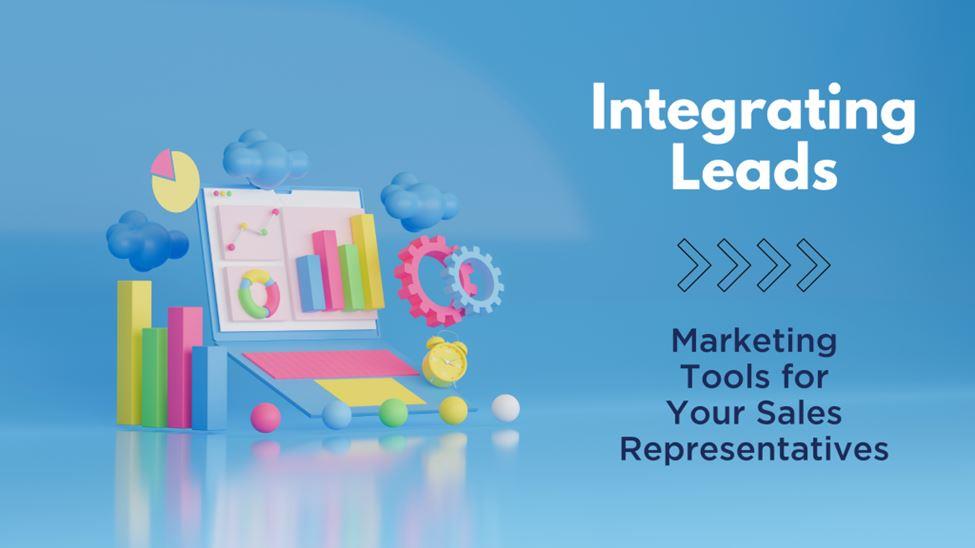 Thanks to the development of new technologies, sales reps now have more opportunities than before. Every month, a new product hits the market with the promise of solving all your sales problems.
Marketing materials help salespeople succeed by staying updated, building client relationships, tracking sales, and communicating effectively. Digital alternatives have replaced traditional diaries and notebooks.
Modern software, like a call center solution, has simplified the sales process. There are other digital solutions available to aid in the lead integration process.
This article discusses why salespeople need marketing tools and recommends reaching professional objectives. Before diving into the tools, let's evaluate some fundamentals sales teams should know about.
Why Do Sales Reps Seek Lead Integration Tools?
Marketing tools help salespeople analyze client journeys and build lead initiatives. They will spend less time on administrative tasks and more time on sales-boosting activities.
CRM software helps you manage customer interactions and boost client retention. Sales intelligence and prospective solutions help marketing and sales reach new customers.
Tools for sales productivity aid with lead generation, proposal writing, and marketing automation. Sales teams can achieve more conversions with the integration of CRM and intelligence apps.
Top Marketing Tools Sales Reps Would Want to Use
With the right tools, your team can contact customers, follow up on leads, analyze data, and plan customer journeys. Here are some of the top affordable resources for salespeople.
1. Contact Center Software
You can use contact center software with any CRM system. You can manage leads in your call centers more effectively by storing customer information in the cloud. The cloud contact center solution's CRM features may enhance customer service and staffing.
Such contact center software uses secure data centers for disaster recovery and data protection. These come with omnichannel support for your cloud contact center to power incoming and outgoing calls.
This cloud-based advanced call center technology and customer care solution has all modes of communication enabled, including voice, SMS, social media, online chat, MMS, chatbot, etc.
How can sales reps make use of it?
Autodialer, predictive calling, automation, and CRM connections are available in the call center solutions.
The omnichannel support ensures that you talk with your customers on the platform of their choice. Different communication channels get seamlessly integrated so that your clients don't have to repeat their concerns in each medium.
The data-guided call center solution assists in creating a geographically dispersed team and routes calls intelligently to achieve the best call quality.
2. Close CRM
Close CRM is a great all-in-one platform for SMB sales teams since users can call, email, and text without leaving the app.
The tool helps you swiftly access a massive contact database and get your needed leads. Small business CEOs prefer Close reports since they give sales pipeline and sales rep efficiency figures.
Close has a fast acceptance rate as a CRM, and its user interface is straightforward to use. It's customized for your sales process and works with various applications.
3. Bit.ai
Marketers and salespeople create presentations, proposal papers, case studies, blog entries, etc.
Modern sales and marketing departments can use Bit.ai to serve their clients better. This cutting-edge platform simplifies marketing campaigns, reports, projects, and bid collaboration.
Users can include media from Google Docs, Typeform, YouTube, and other online services when creating a Bit document. Integrating several types of digital information may help you communicate more effectively.
How can sales reps make use of it?
With Bit.ai, sales and marketing teams can see how many people have seen the papers they have sent.
You can see how frequently and how many people read your document.
The data helps teams produce and distribute better content. It boosts engagement and targeted follow-up with prospects, customers, and partners.
4. Woorise
Woorise creates landing pages, interactive forms (surveys, quizzes), and viral giveaways and contests. This tool facilitates communication, lead generation, and deal closure for SMBs.
It creates marketing and feedback surveys and leads magnet campaigns and NPS initiatives. MailChimp, Aweber, ActiveCampaign, Hubspot, Google Analytics, Bitly, Zapier, PayPal, and Stripe are supported by this tool.
5. Hubspot
HubSpot is great if you or your company uses inbound marketing to get leads. HubSpot is an inbound platform that also includes a sales and customer relationship management system.
Over 34,000 businesses across the globe use this software, making it one of the most popular in its field. Hubspot helps sales teams convert leads, connect with customers, and provide support.
Hubspot provides several products to help businesses achieve their sales goals. Among them are:
HubSpot Sales Free
HubSpot CRM
HubSpot Sales Professional
6. Pipedrive
Pipedrive is a leading web-based CRM tool for doing just that. It automates tasks, syncs phone and email, and has a deal-driven workflow to streamline sales procedures. The ability to view your sales data from anywhere through its mobile applications is a huge plus.
However, the tool may be difficult to master, and its price tag is not commensurate with its offers.
7. Zapier
Zapier automates lead management and customer interactions. Where fast responses aren't possible, it may link the technologies in your sales stack and share data.
Without a coder, you can automate minor aspects of your workflow using "zaps." You can create subscriptions to email lists, pause email blasts based on specified triggers, and track lead changes.
Also read: Top Features to Look for When Choosing a Content Automation Tool
8.  Process Street
Do you want to standardize how your sales team handles new leads? Process Street keeps your personnel constant and records their knowledge.
Things to know:
It is a tool for creating to-do lists and managing everyday activities.
It may generate lead qualifying, new client onboarding, etc., checklists.
9. ActiveCampaign
ActiveCampaign is popular with marketing teams that nurture email leads. You can use CRM templates for marketing automation, contact management, and deal closing.
Depending on visitor behavior, this program can send autoresponders, newsletters, and messages. Its 500+ automation recipes in various categories are where it really shines.
10. Chorus
Most firms allow too much data to escape through the cracks in their CRMs. Chorus saves you time and effort by capturing and transcribing real-time sales discussions.
What will you get?
Search tools allow you to find key customer encounters and evaluate conversations to gain customers.
Incorporate Chorus's insightful analysis into your employee-training practices.
11. Crunchbase
Crunchbase excels in providing sales and marketing data. You may learn about investments, industry trends, and startups to Fortune 500s. Millions of individuals worldwide use Crunchbase for business information. Crunchbase's outreach features make it a powerful prospecting tool.
12. Buffer
Buffer is worth a look if you plan to use social media extensively in your marketing and sales efforts. It is a famous social media management program that lets users post to several accounts from one dashboard.
Things you can use:
Buffer lets you manage all your accounts in one place, plan posts in advance and track their performance.
Buffer's analytics highlight the most influential posts so that you may alter your strategy.
The Buffer Chrome plugin is compatible with WordPress and RSS readers. It's a helpful feature that lets you save and delay stuff while you are on the go.
Key Features
Scheduling of content
Analytics
Browser Extension
13. BIGContacts
BIGContacts helps sales teams interact in depth with prospects and customers. With CRM, activity timelines can include past interactions and upcoming activities. It provides a drag-and-drop sales pipeline for managing potential deals.
Things you will get:
BIGContacts streamlines sales management with features like lead prioritization, real-time alerts, and automation.
This tool automates follow-up emails to help convert more leads into clients.
This CRM's reporting and analytics help you enhance sales.
This technology increases lead conversion by decreasing human labor and customizing interactions.
14. LinkedIn Sales Navigator
The most incredible tool for finding hot prospects on LinkedIn and tailoring your approach to them. Salespeople can locate and approach qualified leads in unique ways with the help of LinkedIn's Sales Navigator.
Reps can be sure that they are being sent to the best possible leads thanks to sophisticated lead and business search tools. LinkedIn also helps you find the relevant individuals to contact at your target accounts.
Sync up your CRM with LinkedIn Sales Navigator for a comprehensive view of your leads and customers.
15. Google Sheets
Post-its, sticky notes, and dry-erase boards are commonplace in a rapidly expanding company. When you get an overwhelming number of leads, the next step in lead management is implementing a CRM spreadsheet. Google Sheets is a web-based program that works well for CRM.
Things to know:
Sheets make it easy for a group to work together, mainly if they also use Gmail.
Pre-made dashboards can boost your consumer base or revenue.
You can import Sheets of data into other sales analysis tools or your process.
If you are using a CRM spreadsheet, you should be aware of the red flags that indicate it's time to upgrade to dedicated software.
Conclusion
When picking lead integration marketing tools, emphasize lead needs. Find a demo or free trial to see whether a product suits your sales team.
We know sales will be stressful and want to help by offering tools and advice. With lead engagement and time-saving sales tools, salespeople can focus on new prospects.
Chris Mcdonald has been the lead news writer at complete connection. His passion for helping people in all aspects of online marketing flows through in the expert industry coverage he provides. Chris is also an author of tech blog Area19delegate. He likes spending his time with family, studying martial arts and plucking fat bass guitar strings.