Email marketing is one of the most powerful, cost-effective and cost-rewarding marketing tools regardless of your business.
When it comes to eCommerce stores, email marketing can help you reach your audience, nurture your leads and deliver powerful incentivizes that will motivate your customers to take your calls-to-action. 
If you look at the statistics, you'll understand why emails are considered the best marketing channel.
With the number of sent and received emails per day reaching 293.4 million in 2021, emails are and will be the most effective channel to reach millions of prospects and leads with a simple click.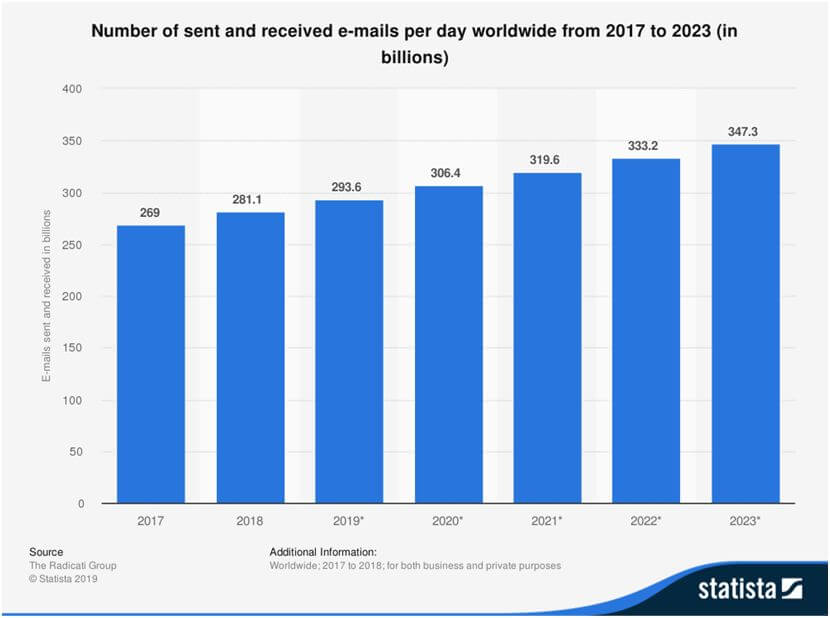 Use Marketing Automation
Now, what does marketing automation have to do with it? Well, if you combine email marketing with automation you instantly get a powerful weapon that will allow you to convert more with email.
Compared to email marketing, marketing automation is the software that can automate specific marketing processes that allow you to save valuable time.
So, when it comes to automating your emails, you are going to need a good email marketing automation platform to provide you with the right tools of the email marketing trade!
If you look around the market, you'll see that there are several email marketing platforms to get you started. But which one is the right one for you?
When you do your research you should take cost and efficiency into account. For example, there are a lot of great alternatives to Mailchimp like Moosend that can give you great email marketing automation solutions for less.
Now, what you need to turn your eCommerce store into a revenue-generating machine is to use the crème de la crème of email automation campaigns that will restore, increase and maintain your revenue.
Now Let's Take a Look at 4 Campaign Examples Your eCommerce Store Needs to Send
When we talk about marketing automation campaigns in eCommerce, we limit them to specific campaigns that have to do with customer engagement.
For instance, while educational emails are a good way to nurture your leads, an eCommerce business should focus on getting back their disengaged customers first.
1. Make a Great First Impression with Welcome Emails
First impressions can have a great impact on your relationships with other people.
In the world of marketing, first impressions can drive your customers further down your sales funnel or lead them away from your brand. If you didn't take the right steps to show your customers that you value them and want them to stay with you, then that might have been due to a bad first impression.
Since technology hasn't developed so much as to give you a way to greet your online customer face-to-face as you'd do in a brick-and-mortar-store, sending them something in the form of a warm welcome can work as well as that.
Let's take a look at a welcome email:

This is a welcome email I received from Kate Spade. I have to say that I really love the design, visuals and the clear CTA that contrasts nicely with the background image.
What stands out in Kate Spade's email is the minimal and to-the-point elements that are there to give us an idea of what we'll get now that we signed up.
To rock your welcome emails you should keep in mind that the more clear and actionable they are, the more your subscribers will like them.
2. Re-engage Your Customers With Abandoned Cart Emails
I'm sure that at some point you got into a store, grabbed an item you wanted to buy and then, for some reason, you abandoned it on the wrong aisle and left the store without buying anything.
As cool as buying something new sounds, sometimes there are reasons that hold us back.
For instance, I got into a clothes store the other day because I wanted to buy a new skirt.
So, I found what I was looking for, grabbed it from the shelf and ran to the cashiers. However, seconds before completing my purchase I got a phone call from my super impatient friend that I was late for our coffee meet up. There were 15 people waiting in front of me, so I wondered if it was wise to let my friend wait for another 10-20 minutes.
In the end, I left the new skirt on a pile of jeans thinking whether the sales assistant had seen me or not and ran to the exit.
So, what does this story tell us?
Things can happen and your customers might abandon their carts even for the silliest reason. Of course, when you are in a store, it would be weird to see the sales assistant chasing after you to tell you that you forgot to complete your purchase or hand you a discount code.
With eCommerce stores, things are way easier. Why? Because instead of having a sales assistant chasing your customers, you can take the same idea and turn it into the ultimate recovery email.
Let's see an example:
Statistics show that a staggering 45% of cart abandoned emails are opened and half of them are clicked-through and lead to purchases.
In this case, this abandoned cart email from Diesel has a lot of reasons to be the ultimate recovery email that will lead the customers back to their cart.
First of all, Diesel has an interesting email copy that converts aiming at triggering their customer with the clever wordplay.
To make the chances of completing their purchase greater, Diesel adds urgency to their call by implying that while their items may be online they aren't completely safe since they can be out of stock without a warning.
3. Win Your Customer Back With Re-engagement Emails
As we said in the cart abandonment emails, your customers can forget you at any moment without a reason!
But what happens if your customers stop interacting with your brand website?
To understand this disengagement, here are some of the reasons that can push your customers away from you:
Irrelevant and non-personalized content
Bad customer experience
Unresponsive mobile content
To avoid falling into the pit of customer disengagement, brands should plan the right campaigns to win them back, improve their customer experience and turn them into engaged customers once again.
The best way to do it is to design the perfect re-engagement email campaign that will focus on your customer's disengagement issue and offer them a possible solution.
Sometimes, a simple reminder can be enough for the absent-minded customer. However, when you have customers that are dissatisfied with your brand, keep in mind that you should approach them more carefully.
Now let's take a look at a re-engagement email to understand more: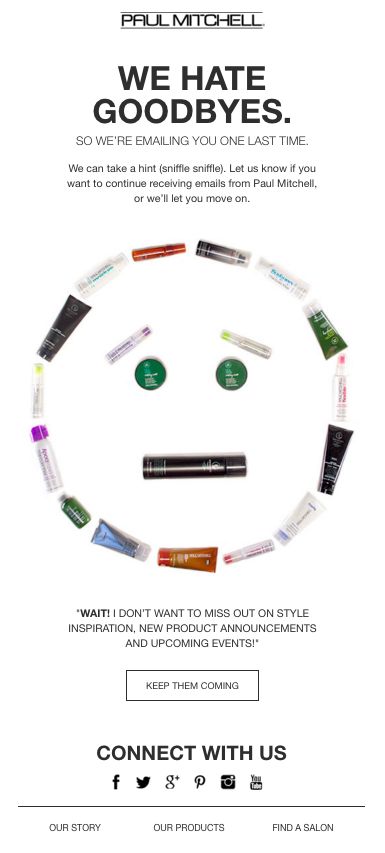 This email from Paul Mitchell is a great example of how simplicity and a clear copy can turn a simple email into the perfect re-engagement vehicle.
Exhibit A: First of all, Paul Mitchell informs their disengaged subscribers that they hate goodbyes to trigger an emotional response from them.
Exhibit B: Then, it informs the subscriber that this is the last email they are going to receive from the brand, making the CTA more urgent.
Exhibit C: You can't look away from this sad face, can't you?
If you combine all these, you get an effective re-engagement email that can win your customers back.
Also, to reinforce their re-engagement email, Paul Mitchell adds a final section springled with the fear of missing out (FOMO) that will make their subscribers act to avoid missing style inspiration, new products, and events.
4. Increase Your Sales With Replenishment Emails
If you thought that your customer's journey stops right after their first few purchases then you are wrong.
While some of your customers might have visited your store to make a single purchase, letting them go without showing them the value of your product can be a major deal-breaker for your eCommerce store revenue.
To avoid that, you can employ the power of replenishment to help you turn your single-purchase customers into recurring customers.
Having recurring customer will help you target them better with content and offers that will be attractive enough to keep them buying.
In this case, Purina has come up with a great replenishment email that highlights the need for another purchase.
Let's take a look: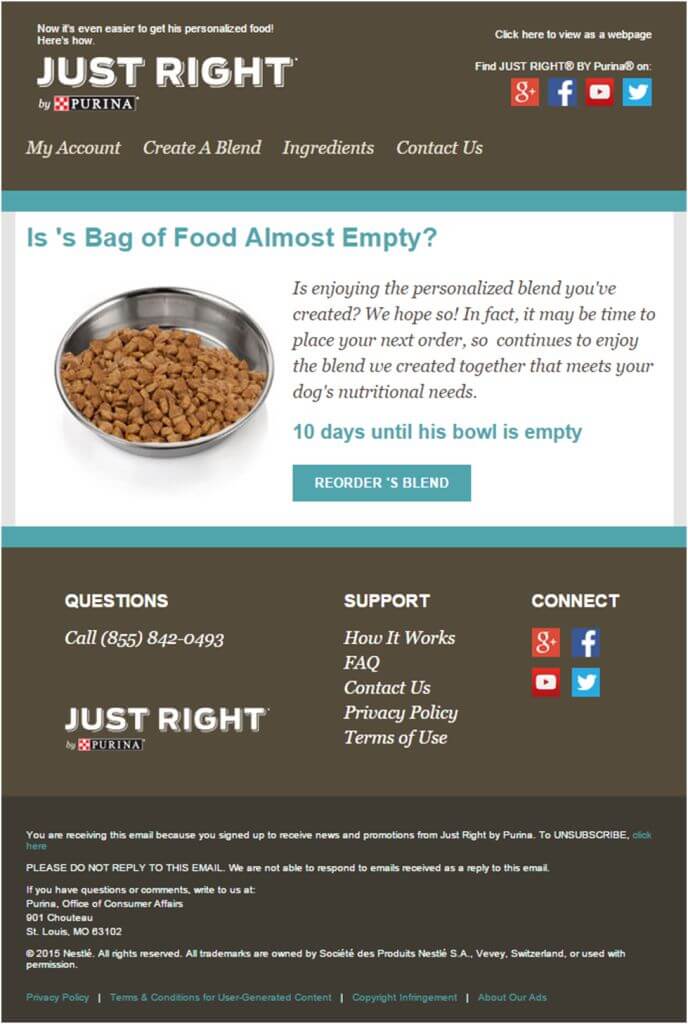 Instead of focusing on the customer, Purina addresses the dog for which the special blend was made for.
This email uses a different kind of urgency that hides under the "Reorder Blend" CTA. By keeping track of their last purchase (and possibly the amount of food in their products) Purina gives their customers a specific time that their product will run out.
Since every pet owner's priority is buying food for their pet, Purina's CTA gives the customer the specific time the food will run out and offers them the chance to purchase more in advance.
Takeaway
In a highly competitive market with brands that have products like yours, emails can be an incredibly powerful tool that, with the right content, can become the best weapon during your quest for conversion and growth.
The success of your eCommerce store can happen with one successful email campaign at a time.
So, if you want to make the most out of your eCommerce store campaigns, make sure to include these 4 examples in your next email marketing strategy.
Now it's your turn. Which email marketing campaign did you like most?
Let us know in the comments below.
Marilia is a Creative Writer working for email marketing software Moosend. Her passion for writing has made her find new ways to combine the art of Creative Writing with SEO Copywriting. When she's not writing articles, you'll find her spending time on her drabbles.