'Health is wealth' may be an old saying, but that doesn't mean it has stopped being true. As long as you are healthy, you can work and achieve your goals, focus on yourself and adopt a new hobby. But if you aren't healthy, all of your plans for your life go down the drain. You can't even maintain your relationships if you are battling a physical or psychological illness. Unhealthiness drains all of your energy and you find it hard to complete the basic everyday tasks.
However, it hasn't gotten that bad yet. You can turn things around if you start paying attention to your health today. All you have to do is give some time to yourself. Even if you can't join a gym and take health advice from a fitness instructor or if you can't afford to see a nutritionist, you can stay healthy with the help of your phone. The smartphones that we keep in our pockets can be used for a lot of good things. If only we would stop going on Twitter, Facebook and Instagram, we will realize that our phones have some great features that can be extremely beneficial for us. With just a few apps, you can get on the right track and start living a healthy life.
Here are the top 5 apps that will keep you healthy:
1. My Fitness Pal:
The number one calorie counter app on both the App Store and Play Store is MyFitnessPal. Keeping track of your calorie intake has never been easier. MyFitnessPal has over six million food items in its database. So you can log in entries as you eat and compare them with calories burned in a day later. This way you can keep your calorie intake in check. You can set a goal within the app and get diet suggestions accordingly. No nutritionist? No problem, MyFitnessPal has got you covered.
The app also has a barcode scanner and can recognize more than four million barcodes. Although food items come with allergy warnings, they don't cover all allergies. With the help of MyFitnessPal, you can scan an item's barcode and find out if it's safe for you or not. MyFitnessPal will also suggest you healthier alternatives for the foods you eat. This feature is useful for people with diabetes too because, with its help, they can find sugar-free items. But MyFitnessPal is not merely a calorie counter; you can also log exercises in the app and let it track your steps.
2. Fitbit: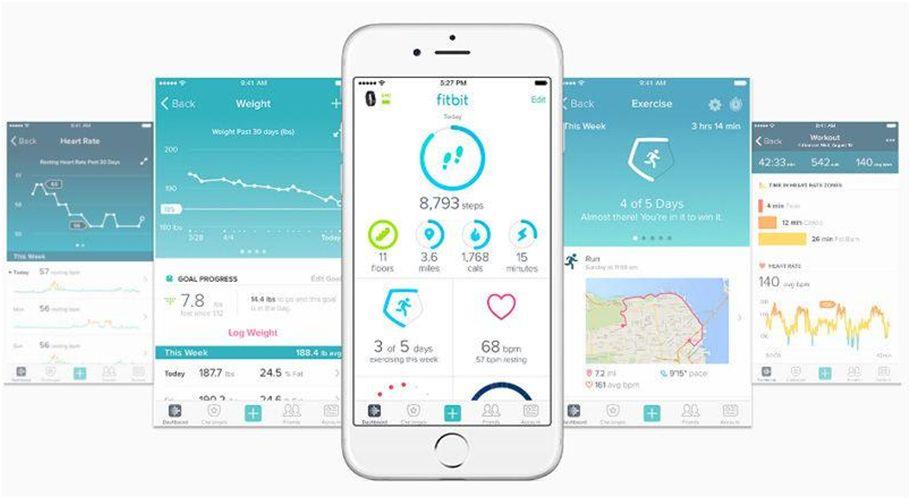 Working out becomes more comfortable when you make it a habit. Wearing a fitness tracker on your wrist will help you develop this habit with constant reminders that you need to keep moving. The Fitbit app not only logs your daily step count but also tracks exercise, distance and sleep pattern. If you are trying to lose weight, then insert that goal in the app and keep track of your progress as you continue your workout routine. The app also lets you know the number of calories you burned each day.
You can log in water details within the app to see if you are getting enough H2O. You can change your daily goals within the app to start small. Once you become adjusted with your new routine, you can increase your daily steps and distance goals. Fitbit app also tells you how many times you walked 250 steps in one day.
Women can track their period and log details to know if they are getting healthy periods or if there is a need for concern. The app records your sleep pattern so you can find out how many minutes you spent at night being restless and awake. Fitbit is a heart rate monitor too. It can track your heart rate the whole day.
3. Headspace:
Your psychological health is as important as is your physical health but most of us ignore it. We walk around full of stress and anxiety, we fail to manage simple tasks at work, we suffer from panic attacks, and we don't do anything to find a solution. Thanks to technology, telemedicine is a great way of getting cured at home. Getting treatment for psychological illness is necessary, but you can learn to reduce your stress and anxiety at home with the help of meditation. Headspace is a meditation app that teaches you how to stay calm. With the help of meditation sessions, this app will guide you how to breathe properly to reduce stress.
Headspace is also great for people who have trouble sleeping at night. With many meditations and relaxation techniques, Headspace will help you relax so you can get a good night's sleep. It is only when you are rested and calm that you can face a new day with enthusiasm.
4. Sleep Time:
Proper sleep is necessary for good health. Not getting enough sleep will ruin your day. The simplest of a task will require hours of your attention. To combat this issue, you should take help from Sleep Time. This app will decide how much sleep you need every day so you can wake up fresh the next morning.
Sleep Timer detects your movement while sleeping and wakes you up at your lightest sleep, so you get enough rest. The app will give you sleep cycle insights so you can understand what's not right with your sleep schedule. The app allows you to choose the alarm sounds and give you lots of options like nature sounds and lullabies to choose from.
5. Down Dog:
Yoga is the best way to keep your back healthy. Down Dog offers five different yoga teachers and a brand new pose every time. The app starts you with a three-day intro to yoga series so beginners can understand yoga before they get into it. You can also download practices for offline sessions. No matter where you are, you don't have to miss your session ever. With Down Dog, you won't have to feel back pain or stiffness in your muscles ever again.
The app plays music that rise and fall with your breathing and will make it easier for you to practice a pose. You can either focus on one area or work on your whole body with Down Dog.
Being healthy does not always mean that you have to lose weight, taking care of your diet and keeping yourself active is what a healthy lifestyle sounds like. So if you are ready to bring positive changes in your life and you don't want to end up with poor health then download these apps today. But don't just download them and then leave them as it is. You owe it to your body to treat it right so start using these apps regularly and in exchange for your time and commitment, you will get a healthy body and a healthy mind.
James Crook is a passionate blogger who loves to write on health and fitness related topics. Currently, he is a working as a blogger for a telemedicine app 'Mend Family'. Follow @jamescrook911 for more updates.