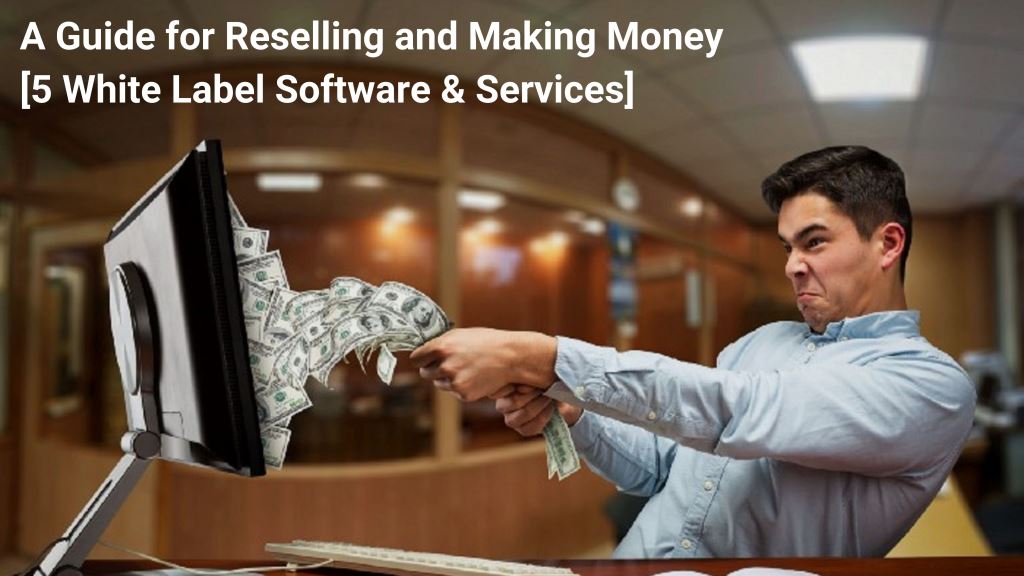 "A good job secures your today.
Reselling secures your tomorrow."
It's not that reselling is a new concept. People have been reselling gemstones, old furniture, cars, and other items for ages. Yet, never has the practice presented a life-changing opportunity of such a big scale as it does today.
Two particular reasons make reselling such an attractive and rewarding income source in the current day and age.
The first is the internet, which has made it extremely easy for resellers to promote products and services to an audience base with clear purchase intent. The second is the white-label business model, which allows resellers to rename and resell software and services.
So, resellers do not have to be invisible or often criticized go-betweens. With white label services, resellers can now take home not just the profits but the spotlight too.
This blog explains all you need to know about white label solutions, their types, white label reseller opportunities, commissions, and more. If you are already aware of white-label solutions, use this list of content to hop on to the sections that interest you the most:
White Label Solutions: A Reseller's Delight
White label solutions are products and services produced by a company but later repackaged and resold by another company or reseller. The reselling company or individual gets to put his name on the product. The concept of white labeling is gaining considerable traction among resellers for its hard-to-ignore business benefits:
● White label solutions save resellers recurring investment in the production and development of products and services.
● White label solutions allow resellers to focus time and effort primarily on business growth and selling. 
Types of White Label Solutions 
White Label solutions are mostly fulfillment services. One company, let's say company A, does the heavy lifting for another company, which later repackages and resells its clients' services. Ideally, White label solutions are productized for B2B companies and the marketing industry. But the white label model has gained popularity in the B2C space as well. 
●     White label B2B Solutions
●     White label B2C solutions
White Label Benefits for B2B Resellers:
The B2B industry was slow in realizing the true potential of digital. But now that it has, it is also embracing new digital opportunities to sell products and services at a much faster pace. The white-label model is one such digital opportunity that B2B players are cashing on big time.
Two primary reasons are driving white label adoption among B2B players:
● The online credibility and reach of resellers have allowed B2B service providers to free themselves from over-dependency on traditional distributors. White label resellers offer B2B players a quicker and more efficient route to market. 
● White label resellers also allow B2B service providers to focus primarily on improving the product and worry less about logistics, sales, marketing, and tons of other customer-facing issues. 
For B2B resellers, the benefits are equally attractive:
● B2B resellers can access excellent and popular products or services that they can sell under their brand.
● B2B reselling offers a comfortable yet productive way to expand the product line
● Resellers can deliver unique value by meeting customer requirements on demand. Overall, it is much easier and cost-effective for white-label B2B resellers to grow their business. 
White Label Benefits for B2C Resellers: 
B2C White label solutions offer extensive benefits to resellers. 
● B2C resellers can sell a diverse range of products, expand seamlessly to other verticals, and scale their business on-demand.
● B2C resellers can start trading from the moment they register as a reseller on a B2C platform. They do not have to wait for inventory or goods to arrive, as is the case with traditional retailing.
● B2C resellers have lower financial risks. They only pay for purchases made by their referrals. 
● B2C resellers can set their price margins for generating maximum profit from revenue. 
White Label Revenue Potential 
Albert Einstein, the great theoretical physicist, once described compound interest as the world's eight wonders. Although not on the same scale as compound interest, the white-label has exponential revenue potential. 
Most white label products and services offer a lifetime of value to end-users. The well-rounded productization creates considerable scope for upselling, generating recurring revenue and profit for resellers. 
It would not be wrong to say the reseller is always in a win-win position, both in terms of low upfront investment and sheer revenue potential. 
Top 5 White Label Software and Services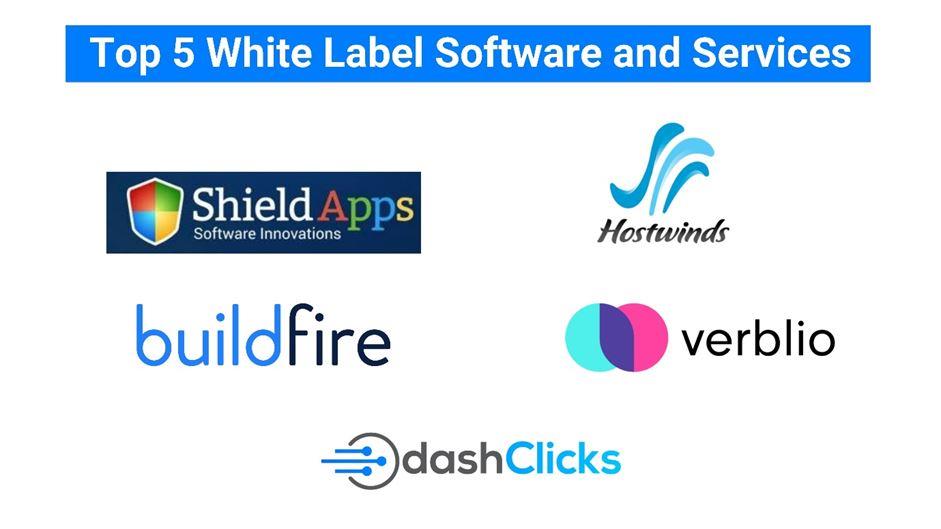 Now that we have discussed the white label solutions, their types, and their benefits in detail, let us look at the top 5 white-label software and services.
1. DashClicks: White Label Marketing Service Provider
DashClicks services are used by thousands of agencies and freelancers across the globe. The company also has a dedicated education hub for marketers and agencies to learn about new ways and strategies to scale their business.
2. ShieldApps: Digital Security Software Solution
ShieldApps, with its end-to-end cyber privacy solutions, has gained immense popularity in the software reselling market. The company offers security software services to home-consumers as well as business users. It charges no joining fee from resellers, and all the white label software products under its umbrella are rigorously tested and delivered certification-ready.            
3. BuildFire: White Label App Building Platform
BuildFire is a white-label app development service provider. You don't need to be a coding-guru to build client apps using BuildFire. The BuildFire platform is drag & drop, which means you save a lot of time and create apps on the fly. 
4. Verblio 
Verblio offers white label blog & content writing services. It has a vibrant network of professional and creative writers offering cost-effective blog and website content. If your agency needs content that drives your client's website traffic, Verblio is an excellent place to fulfill your content needs. 
5. Hostwinds
Hostwinds is a white label reseller hosting service. Once you sign up for the Hostwinds white label reseller program, you can start selling hosting plans under your brand and at your preferred price tag. As you increase your sales, Hostwinds rewards you with attractive discounts (up to 20%) on purchases made by your referrals.
What makes the white label software best for your business?
The best white label software makes selling easier for you. In conjunction to time and effort, a lot of thought has gone behind creating a one-stop solution that every agency, marketer, and budding marketer can use.  
Whether you are a big-ticket agency or an entrepreneur trying to start your digital agency, DashClicks' solution is customizable to take care of your every need. 
Here are some of its key features:
● One smart platform that streamlines and automates every work.
● Dedicated fulfillment center 
● Automated tools for adding firepower to your sales and reporting.
● White label guide and education center
● Dedicated project manager, certified experts for projects.
● And lots more.
How to Become a White Label SaaS Reseller with DashClicks?
Becoming a white label SaaS reseller takes no more than a few steps. Once you are registered, white label reseller will automatically create an agency website, upon which you get a sneak peek into the fascinating platform and the unique features and tools. You can even start creating instant custom websites and send them to your prospects. 
Billy Peery is the Content Manager at DashClicks, a white label digital marketing fulfillment company that helps agencies satisfy their clients' needs. He has previously written for Cracked, Shopify, and Harvard Student Agencies.
In his free time, he enjoys having heated arguments over capitalization rules. He really, really wishes people would stop misusing semicolons. When in doubt, a period works just fine.