As the power of the internet dominates the world, every local business out there now wants to dominate Google Maps 3-pack. For the ones not knowing what exactly is the 3-pack, it is the colorful section of Google search engine result page that lists the three local businesses in the area related to the query searched by the user.
The search engine is only bound to list the three businesses on the result page based on the relevance of the search term and the business, the content quality of the Google My Business listing put up by the businesses as well as the location of the user searching for the specific terms.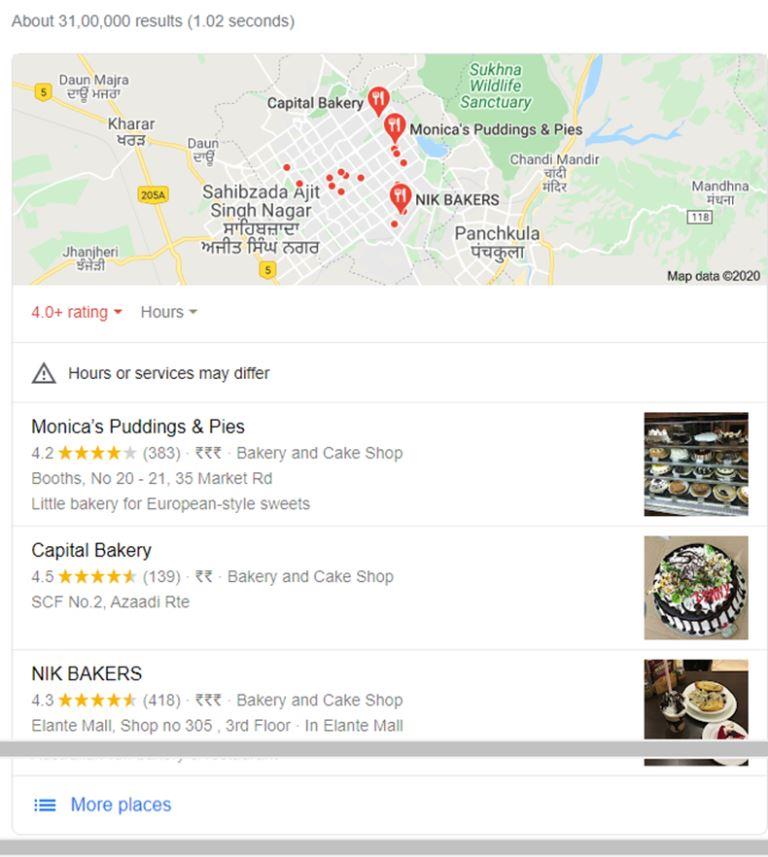 Google Maps 3-pack or some might call it the local 3-pack is the sure-shot way of getting a relevant exposure for your business though it is not easy to jump right on to the first three places of Google Maps rankings. That is where Google My business optimization might do the trick.
Today, the eCommerce industry is witnessing a great boom bringing many businesses online. Nonetheless, physical stores have always been the lifeline for domestic households. That is because, while one may get exceptional deals, door-step services, easy-ordering and other facilities at online stores, they still cannot meet the real-time experience physical stores offer. For instance, if someone needs a product at the very moment, they cannot rely upon an eCommerce facility. Also, while eCommerce may be a hit amongst the young generation, for some, it's nothing but a headache. Thus, physical stores do enjoy their unshared audience. That said, people may not order online, but they still rely on the internet to locate nearby stores.
Now, for the particular problem, Google Maps comes to the rescue, proving to be highly beneficial for businesses. In the wake of getting online, almost every business today is listed on Google Maps. While this platform provides online visibility, it also poses the challenge of high competition.
Wondering how you can make your business stand out? Well, optimization is the key. It helps you optimize your business ranking so that you can appear at the top of search engine results.
Did you know that the search for phrases like "close by" or "near me" has grown by 900% in the last two years? With these search trends, local SEO has become more critical than ever. That's why we're here to take you through the latest tips and tricks to optimize your Google Maps ranking and make your business stand out of the crowd. But before we go there, let's understand what Google Maps marketing is.
Google Maps Marketing
Google Maps marketing, as the name suggests, is the optimization of your brand's presence on Google Maps. When you type a query in the search bar with local intent, three results pop-up on your screen following a "More places" button. It's very likely for a user to click on one of those three results instead of looking for more places.
Here Google Maps marketing plays an important role to improve the visibility of a brand online. It utilizes multiple tactics and strategies that help your business earn a position in the top three on the local map and drive higher ROI.
It is one of the most sought-after marketing tools for the businesses out there looking for an online presence and a definitive exposure. Being listed on the local 3-pack on Google Maps can help the businesses get discovered by the new customers quickly, improve their brand image as compared to the competitors while at the same time get more customers thereby increasing the overall revenue.
The business or service needs to have high visibility to be able to reach its potential customers by attaining the first three positions on the Google maps results. Google Maps marketing can help the businesses to achieve that much-needed visibility or exposure though the marketing tactics need to stand apart from the rest.
Why Google Maps for Local SEO?
Google has proved to be the most popular and efficient search engine by far. A study demonstrated that almost 70% of smartphone users rely on Google Maps to find local places. It accounts for 3.5 billion searches every day out of which a majority aims at accomplishing a local intent. A report by Google stated that 83% of people in the U.S. visiting stores admitted to having landed in the place after finding it on Google.
The numbers are enough to convey the power of Google Maps for businesses that understand the importance of being found online and look forward to growth & success in this digital era. If you're not already there, then this is the time (Afterall, it's never too late). All you need is to follow the below steps to make your way into the people's smartphone who are there to welcome your business with open arms.
Getting Started with Google Maps
The first step is to create your Google My Business Profile. (If you already have one and are looking forward to optimizing it, you may jump to the next section directly.)
Step 1: Head on to the Sign-Up page for Google My Business, and add your business name to get started.
If your business is present at multiple locations, and you're planning to set-up an account for each, it's recommended to add the city name along with the actual profile name. For instance, if your business is located in Delhi, Mumbai and Gujarat, you may register your profile name as follows:
Company XYZ – Delhi
Company XYZ – Mumbai
Company XYZ – Gujarat
Registering your company with this name gives two benefits. Firstly, it becomes easy to distinguish and manage each account. Secondly, your profile name would feature an essential keyword, i.e. the city name.
Step 2: Next, you'd need to select the primary category that's very precise. For instance, if your business offers tours in Delhi, the most-precise category would be "Tour Operator" and not "Travel Agency" or " Tourist Information Center". That plays a key role in the online optimization process as it guides the right audience to your profile. It also works as a crucial keyword to enhance your visibility.
The other categories can be listed as secondary, but the primary category should be the one that best defines your services or products.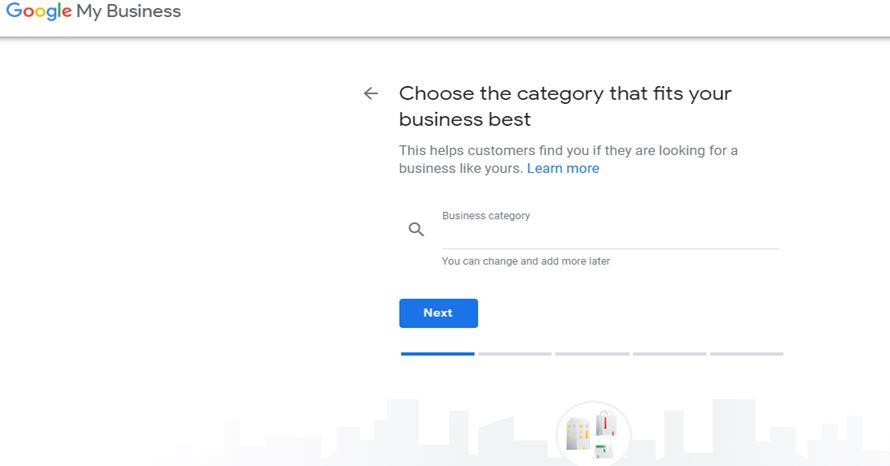 Step 3: It's now time to add a location for your business. Select yes if your company has a physical address that is open for customers to visit. You can enter your company's complete physical address here.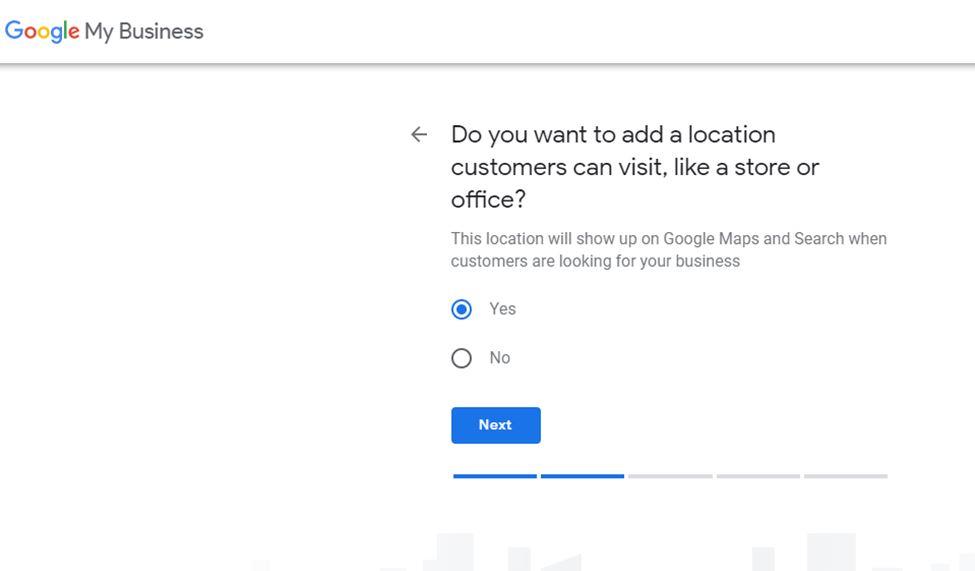 If there is no physical address to share, Google will ask you for your service area where you can specify the areas where your services can be accessed. Fill in the details, and you're almost done.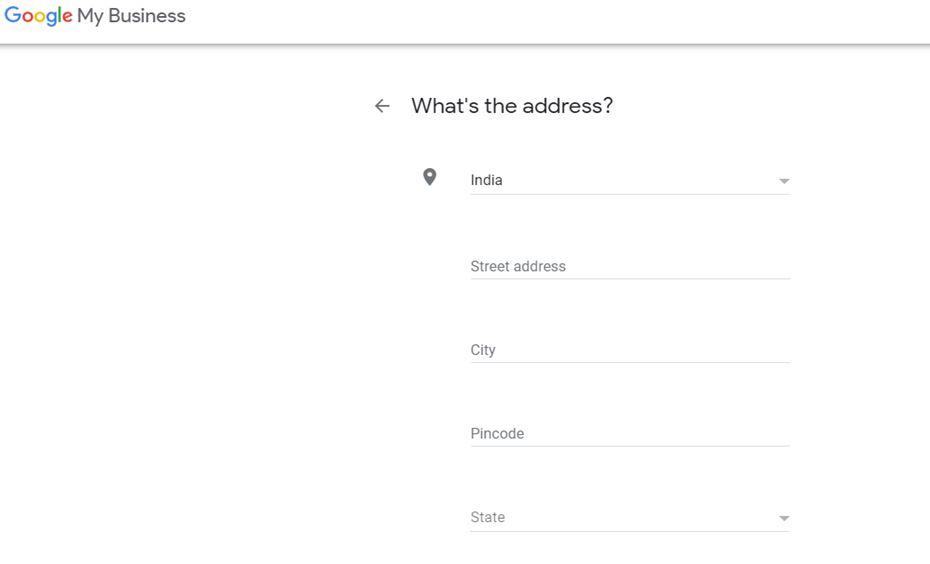 Step 4: In this step, you'll be asked for the last but significant detail. Here you'll need to provide your contact details (phone number, email address, website link etc.) through which the customers can reach out to you. It helps establish credibility.
Once you're done with filling in those details, click the Finish button and your account is ready.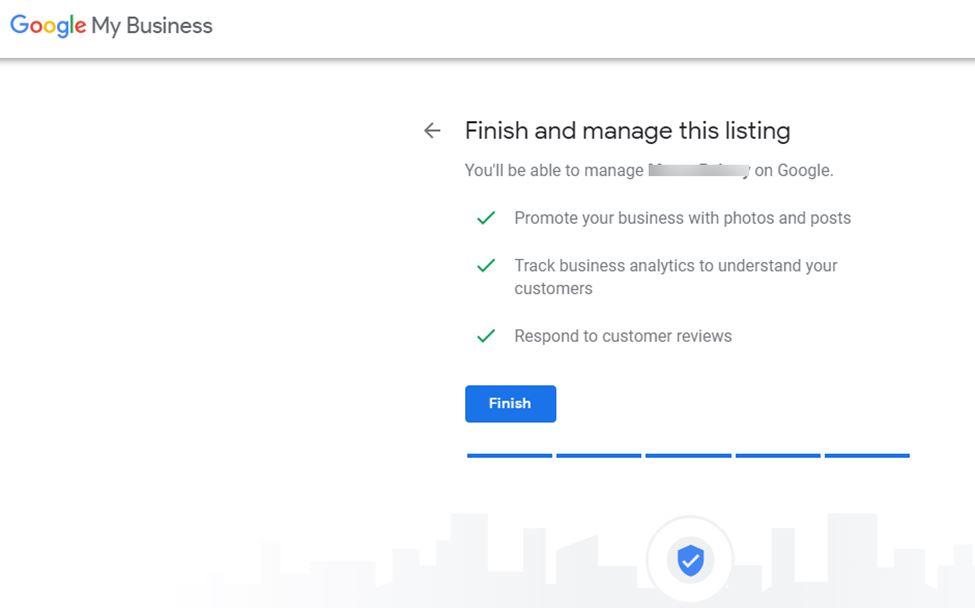 Step 5: As you've furnished your account with all details, verify your profile. If you've created a new account, you'll need to verify it by a postcard that will be sent via mail by Google. However, if you were simply updating your account, your profile can be verified by phone or email.
The next step is to claim your listing so as to add more information for the users. Creating a Google My Business account is one thing that only allows you to add the business name, category and location while "claiming" the listing allows you to add more info for better ranking.
How To Improve Your Business Ranking on Google Maps?
1. Complete Your Profile
The above steps for setting up the profile required you to fill only the crucial information. However, it's not sufficient as people who find you on Google Maps would want to know more before driving to your store.
Click on the Info tab on the left-hand side of your Google My Business account and fill out this complete section with the most accurate information.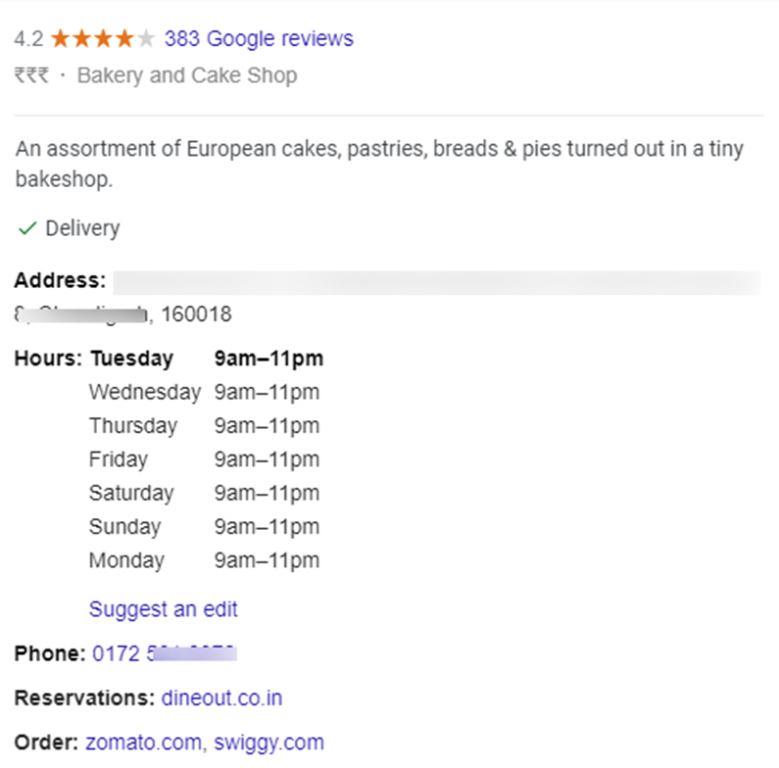 2. Add Photos for Your Profile
Google prefers Google My Business listings with pictures over those businesses which do not have any. It makes your list consumer-friendly and is thus, ranked high by Google as it adds credibility to your company. Consumers often find companies with no photos as less reliable. To improve your ranking, you must use a high-quality photo that defines your business the best.
3. Use a Local Contact Number
To give an edge to your business in terms of local SEO, it's always beneficial to use a local phone number. Use a phone number with a local extension, for instance, 011 for Delhi.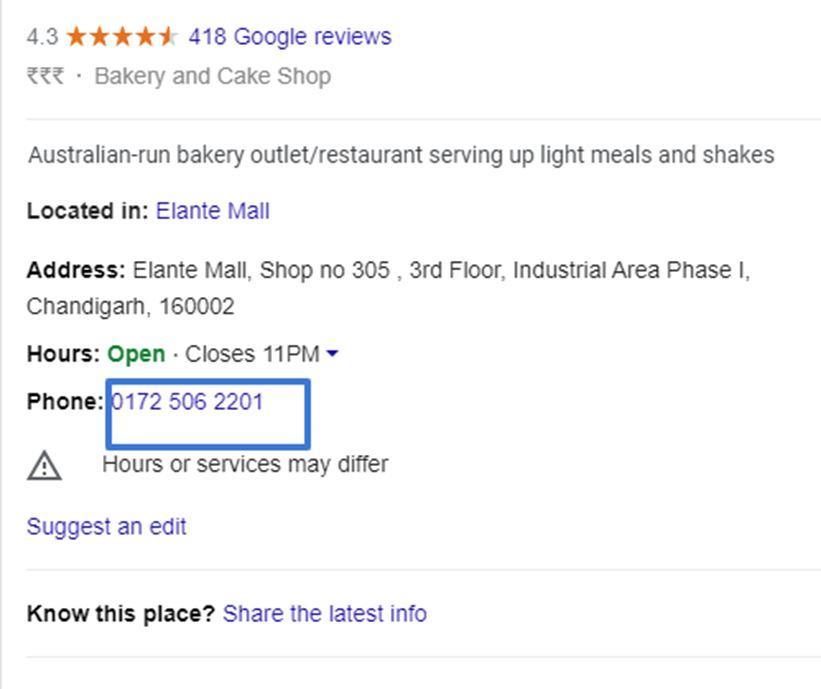 In case you are using the standard 1800 phone number, you can easily check with your service provider to provide a local number that can be directly routed to your 1800 number.
If your account is not initially set-up on a local number, you must now, and in a matter of time, you'll be able to notice the benefits.
4. Use Keywords in Business Description
SEO and keywords are two inseparable things. When filling in your business description in the info section, make sure to use hyper-local information along with relevant keywords. For instance, if you're a Chandigarh-based local bakery, you can use keywords like "local Chandigarh bakery" in the description.
5. Manage Reputation and Google Reviews
Reviews are of crucial importance in Google My Business ranking. As a new business, you must aim for at least 15-20 5-star reviews. Goes without saying, the more, the better!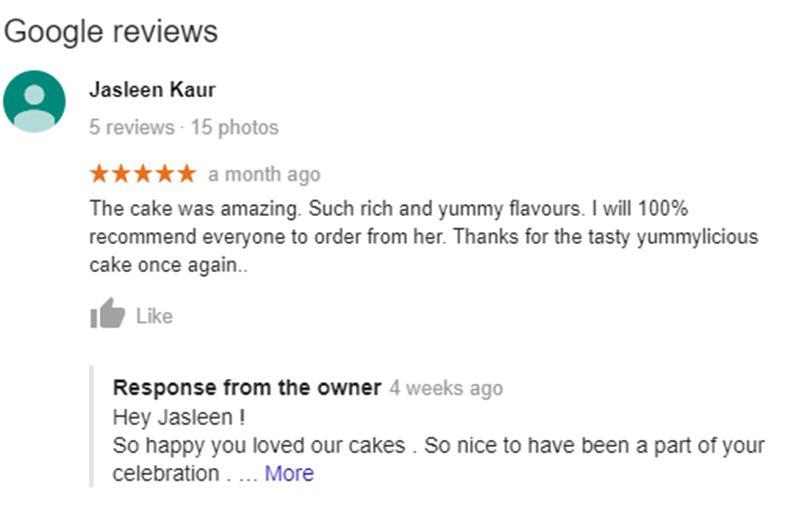 Reviews cannot be ignored for the following reasons:
– Reviews build credibility in the eyes of a customer. It improves the online reputation of your business as good reviews go on to say about the quality of your product.
– They drive more clicks and set your profile apart from competitors.
– They, of course, improve your ranking on Google Maps.
– Reviews may also contain keywords that help you rank better for relevancy.
Getting reviews on your GMB account is easier than you would think. You can either ask your existing and past customers to review your services by emailing them a URL of your website where the reviews are published, or you can use the automated method. The automated process uses a third-party tool like GatherUp to get reviews for GMB accounts and other platforms.
6. Posting Updates on GMB
Just like you create posts for LikedIn, you can share updates on your Google My Business account. It boosts your visibility of website pages, offers, and allows you to share industry-relevant updates for effectively engaging the potential audience. These posts are accompanied by a CTA which redirects the viewers to your website where they can find the details of your products/services.
You can share postings on events, seminars, offers, testimonials etc. to promote your business and increase the website's visitors.
7. Adding Local Business Schema Markup
Adding a local schema markup for your business typically means adding your NAP in schema language on your business website. It is one of the relevant measures of optimizing your listing on Google. Wrapping your NAP in schema allows sending of a high-quality signal to Google about the relevance of your local business.
8. Duplicate Listings
Duplicate listings are a significant drawback on Google Maps as multiple listings confuse both Google and the users. Consolidate duplicate business listings featuring the same contact details, location, and other information.
For this, you'd need to update your location under the Account Summary tab and remove duplicate locations if any. Please note that as you remove duplicate listings, you make sure that you're not mistakenly deleting the already verified location. Once deleted, you cannot recover the listing.
Optimizing your Business Website for Ranking High on Google Maps
For the businesses out there having a website about their services, they can add their website URL while listing on Google Maps. Now, optimizing the site with the best SEO techniques can further increase your chances of ranking high on Google Maps. Google is expected to associate your website with your Google My Business listing, thereby checking the relevancy of your niche, the use of appropriate target keywords, your domain authority and more.
Specific ways to optimize your website:
Make sure the website is mobile-friendly– Even though your website should be responsive across all kinds of devices, one must take extra measures when it comes to making it mobile-friendly. Since more than 60% of the searches are bound to take place via mobile devices, an unresponsive website that requires the user to pinch in the screen to see what's written or has broken links, loads slowly will ultimately lead to bad Google rankings.
Adding local keywords to the website– Another way to rank high on Google Maps is to target local keywords on your website. That will ultimately allow your website to rank high on search engine result pages while at the same time, improve your Google My Business rankings. All you have to do is make sure to optimize the main pages of your website like the contact-us page, homepage or blog with the local keywords while at the same time look out for the content optimization as well.
Embedding a Google Map on your website – Another way to rank higher on Google Maps is to insert a map on your website. Mostly the contact-us page of the websites includes a Google Map for the same. It is just a quick way to inform the Google crawlers that your business location is precisely the same as listed on Google My Business account.
Conclusion
By investing in Google Maps marketing, you can increase your ROI in leaps and bounds. It allows you to gain local leads that have a high probability of conversion. Now that you've given a read to this blog post, you have everything you may need to get started with your Google My Business account. So what are you waiting for? Bookmark it now and let the journey to your success begin!
I am a seasoned C-Suite Executive with a keen understanding and focus on offering robust digital solutions. I thrive in developing applications with a tight-knit team focusing on the business goals and user needs. I have a convincing experience in this diverse area of information technology and have helped numerous brands to deliver unmatchable applications. My research on various upcoming technologies has encouraged me to write interesting posts.