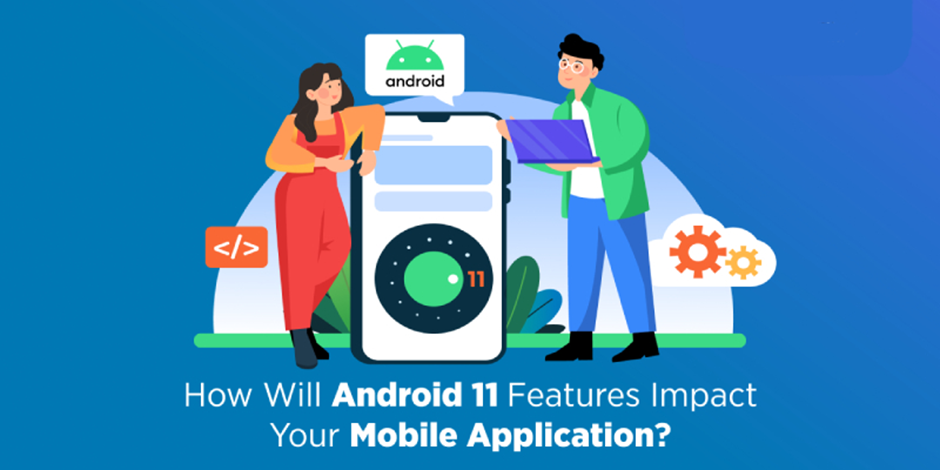 Android version 10 is the greatest operating system from Google. Before this big update, Android 10 had already presented some important changes in the operating system. The latest developer preview released by Google gives a clear picture of the world's most prominent operating system. The latest version must also come soon on devices from other providers like Xiaomi, OnePlus, Realme, and a lot more.
Android 11 appearance and feel the same as Android 10. As a result, you may not observe numerous distinctions once you boot it up. Here in this post, I am going to discuss some helpful features that can make a charm in Android 11.
 12 Most Important Features of Android 11

1.      Chat Notifications
7. One Time Permissions and Auto Reset Feature
2.      Notification History
8. Dark Theme Scheduling
3.      Chat Bubbles Feature
9. Android 11 Update
4.      Screen Recording Feature
10. App Recommendations
5.      Media Control Features
11. Application-Pinning to Share Sheet
6.      Smart Device Control Feature
12. Wireless Android Auto
Let's get started.
Chat Notifications
In Android version 10, the notification was collected in the notification drawer as a seemingly random list. Some applications tend to get listed and appear on the top but they don't emerge to be any particular reason why. Hence, lesser primacy notifications move down to the silent area. It doesn't send any notifications.
But in the Android 11 version, everything has changed. Now, there are 3 major notification sections: Alerting, Conversations, and Silent. The Conversations category collects all of your conversations. So, any application where you were communicating either chat apps or text messages, it has everything. Additionally, it will also apply to direct conversations with other applications i.e. Instagram.
You will have to prioritize apps and conversations within this category. This will help you to provide a higher priority to messages. The motive is to ensure that you never miss any notifications associated with your daily interactions.
Furthermore, the Silent and Alerting category work as they do before in Android version 10. You can also put the notifications silent in certain applications. This will push all the future alerts to the silent category. With Android version 11, you will get more control over your notifications in an advanced manner.
Notification History
We as a whole go through this. A notification or alert comes through and you instantly wipe it away. Later on, you might be thinking, "Ohh, I should check it once before swiping it away," yet it's too late now.
This is not the case in Android version 11. A novel function provides you the choice of storing each notification that comes to your phone in the past 24 hours. You can go through the running list. You will see the notification that you swiped. Don't worry, you will not miss anything for sure.
The notification history function isn't by default. You have to visit your phone's setting > then Apps & Notifications > then Notification History. From here, you can enable this feature. In case it's already enabled, you can see your notification history in a similar section.
Quick Tip: Remember that, it will not save any notification until the feature is enabled.
The notification history will give you a look at all your notification that comes to your phone.
Chat Bubbles Feature
Google has created an Android 11 version for all communication. So, the greatest new features are associated with notifications, chat applications, and other chat-based systems. Chat bubbles first come in Android version 10. But for some reason, Google hasn't focused on it. So, they faded into the background once the stable OS version is released. Now, the chat bubble comes again in Android 11 and taking the core place.
If you have ever used FB Messenger on an Android device, then you already know how it works. In Messenger, a "chat head" shows on your device that overlaps on top of every other application. A swift tap of the icon allows the conversation and you may minimize the conversation back to the icon. Once you are done with chatting, you can eliminate the chat head till the time the next conversation begins.
Quick Tip: The bubble feature works the same. There is some difference like it can work for any chat application, not only Messenger.
Screen Recording Feature
There are a lot of applications on Google Play that can record the screen of your phone. Keeping in mind that, a native screen recorder in Android 11 can be a bit late, but it is very interesting. Now, you don't need to download any other screen recorder application.
The screen recording feature lives in the Quick Settings section. Once push the screen record feature on, it will give you some option to choose. For instance, you can choose if you don't need to record your screen or audio recording should be allowed or not.
Quick Tip: Everything in Android 11 is extremely simplistic. If you want a more advanced screen recorder, you can always download a third-party application. For some users, this native application must be great for use.
Media Control Features
If you want to play some music on your Android 10, you can see a music player on the top of your notification container. Obviously, with Android version 11, it is now booked for conversations. So, the media player has been moved. Google has decided to onto the Quick Setting area.
This makes everything more sensible since a media control feature isn't a notification – it is a tool or you can say a mini-application.
Once you swipe your notification drawer down, the media control appears as a small icon. It will show you the basic controls, cover art, and media player. If you pull the drawer down, the notification expands and shows all the information on your media control.
In a simple touch, you can touch the playback and instantly push the video or audio to another system. It will make it simple to switch from your device speaker to Bluetooth enabled devices.
Quick Tip: If you don't want the player, you can easily wipe it away. You also can tweak your phone's android 11 settings. Once you do, the player will automatically vanish.
Smart Device Control Feature
A lot of people are encompassing a few types of smart home tech in their lives. In reactions to this rising trend, Google incorporated a new category in Android 11. It will help you to control any device without open an application.
If you want to release the new tool, you have to hold down the power button. On the top, you will find the basic power functionalities but below you can see lots of options. There is a shortcut of Google Pay that helps you to efficiently choose which payment feature you need for your next transaction. Here, you will see a lot of buttons linked to your numerous smart home items.
Quick Tip: Android 11 will serve this section with six devices. But you can easily add or remove your gadgets you see fit. Whatever devices you are using, you can tap it up to turn lights on or off, unlock your front door, check your security cameras, etc.
One Time Permissions and Auto Reset Feature
There is no secret that Google has confronted a few immense allegations of negligence over the last few years. It is associated with the security and privacy of users. But thanks to the Android 11 version. It provides more control over security and privacy to the users.
The stellar feature of this new version is one-time app permission. Once you install an application, Android 10 will ask you to grant application permissions all the time. This was a great step. But Android version 11 provides the user more control by enabling them to give permissions for a specific session.
If a user provides permissions, android will withdraw that permission once they close the application. In case a user needs to grant permission every time, the option is still there. However, an option to grant the app permission every time, will not be accessible for numerous applications. It can make everything safe for users. Also, it can make it extremely difficult for sneaky applications to gather the info you don't want to collect.
Likewise, Android version 11 will now "auto-reset" applications that you have not utilized in a while. Once you have granted the location permissions, android will then revoke all the permissions. next time when you open the application, you will have to authorize those permissions once again. If you haven't opened the application, your data is secured.
Dark Theme Scheduling
It was thrilling when Google has introduced a native dark mode to Android version 10. But it was really basic: it can be either on or off. Thus, Android skins enable users to control when to activate the dark mode feature.
With the help of the Android 11 version, users will now schedule the dark theme utilizing one or two diverse metrics. You can schedule a dark mode to switch on or off once the sun sets and rises. You can additionally configure a custom schedule for dark theme activation in you want.
Quick Tip: Google has released a sunset or sunrise set to Pixel smartphones earlier this year. But Android version 11 will deliver both features to everybody.
Android 11 Update
Every year, Google rolled out the most recent Android version. Every month, it drives the modest security patch of Android. Both updates get focused on your gadget either by your equipment or carrier manufacturer. Due to this, some devices get lots of updates efficiently.
To respond to this, Android version 11 provides more power associated with updates across the Google play store. This helps Google to avoid OEMs and carriers completely. It also provides updates to everybody. It still cannot release the most recent Android version of this era or also the recent security patches. But it can hit a few security gaps alongside this way and update certain facets of the Android system as well.
This is globally a great thing as it can keep Android devices secured and up to date. Of course, it will be better if it didn't occur. Yet Google is doing whatever it can in order to address this problem.
App Recommendations
This is a cool feature but it only runs on Pixel smartphones for now. It's probable Google can provide the feature to other smartphones. Yet since it requires the Pixel Launcher to run, it's not able to make its way to another OEM in its existing form.
In case you own a Pixel smartphone that runs on the Android 11 version, you will let Google's AI control the applications that emerge in the dock. Android will utilize numerous factors to regulate which five applications should be in your dock.
Google enables you to speak Android to skip several applications. You can additionally turn the function off either you don't need it. Also, it is an interesting thing for Android 11 that makes people live easier.
Application-Pinning to Share Sheet
At some point, even the one top leads of Android devices admitted that the sharing system of Android was a mess. Gratefully, it is a lot better over the previous year and is about to acquire even more helpful with Android version 11.
Now, you can pin applications to your share sheet to access them easily. This feature helps you to control which applications appear at the top.
Wireless Android Auto
Android auto is a really helpful system. But it requires your smartphone to be plugged in. Few specific smartphones – like Pixels can interact with Android Auto wirelessly. But not everybody owns one of those devices.
Thanks to Android 11, any phone running the OS can take the benefit of the wireless connection of Android Auto. The only limitation is that the head unit in your vehicle must support the feature.
Indeed, it will be a sturdy restriction for people who own old variant cars. However, it can start the evolution in all the Android Auto experience being completely wireless.
Conclusion
Yes, Android version 11 is a massive update of the previous operating systems. It delivers a bunch of new security, privacy, and user experience advancement functions. Mobile apps should be updated to help the most recent android version and an Android app development company can help you in this way.
In this competitive edge, you must pick the right android app development company to update your application. Android 11 version has proved to be an innovative operating system that highlights the privacy and security concerns of the users.
Rakesh Tanwar is a talented and devoted technology geek who has years of experience in digital marketing. He has exceptional skills and abilities in SEO, SMO, Android App Development, and Digital Marketing tactics. In his free time, he used to write about Android, iOS, and various other technologies. Rakesh is delivering top-class information that can help users to understand everything in a much simpler and detailed manner.