Duplicate files have always been a cause worry for users. These junk files generate and accumulate on your system in various forms. Here, you may find these files in the form of duplicate photos, videos, audio & music files, documents, and more. While there could be numerous reasons behind the accumulation of these unwanted files on your system the primary reasons include data backup, the same file downloading multiple times, sharing the same file multiple times from various apps, and more. In this junk of duplicate files, duplicate photos share the largest part in it. So, if you have a lot of these unnecessary image files accumulated on your system then we suggest you use best duplicate photos finder tools to get rid of it. Let's discuss some of these effective apps here for Android.
1. Duplicate Photos Fixer
Try this one of the best duplicate photo management software to recover lots of valuable storage space on your Android device. This simple yet effective tool works on advanced algorithms where it performs a deep cleaning of your device storage. During the scan process, it scans, detects, and removes duplicate image files from the darkest corners of your device storage. It offers flexible scan modes to make your device cleaning seamless. These scan modes include options where you can go for a full scan, select camera images to de-duplicate, or select a particular folder for scanning.
After scanning your device storage, it displays auto-mark results where it automatically marks all poor-quality files from the duplicate files groups. These files are marked meant to be deleted instantly. It even allows you to preview files before deletion. It is a useful feature to avoid deleting important files accidentally. During the scan process, the app allows you to set the matching level to help you find and delete all similar and exact match image files on your device.
2. Remo Duplicate Photos Remover
Remo Duplicate Photos Remover offers multiple smart de-dupe scan modes that help you scan similar and exact files on your Android device. Once it completes scanning your device storage, it displays results in sets for easy viewing and management. Its smart de-dupe algorithms display how much memory is occupied by these duplicate files. This smart application performs scanning in the background so that you can perform other tasks on your device effortlessly. Furthermore, it tracks and displays how many images have been deleted to help you understand recovered space. Here, it keeps one copy saved for your records even if it deletes a complete set of duplicate files.
3. Duplicate Photo Cleaner
Duplicate Photo Cleaner is one of the many software apps that can find and delete duplicate photos on a computer. It is available for Windows Pc and Mac users it uses advanced technology to search for similar photos on your system. This works with the smart image algorithm and several settings to help the users achieve the desired results. This works in favor of any user as they can get to weed out the unwanted exact copies and similar images from their photo collection.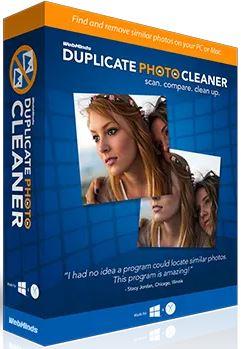 4. Duplicate Image Remover
Duplicate Image Remover is a simple and intuitive tool that helps you find all similar and exact match files on your device. It helps you scan your complete device storage in a one-click process. You can use this app to exclude hidden directories and photos from the scan process. It allows you to scan entire device storage or select multiple folders. Here, it stores the last scan results to keep you updated about scan process. You can use this powerful tool to recover chunks of storage space effortlessly. Furthermore, it also helps you speed up your device performance significantly.
5. Remove Duplicate Photos
Remove Duplicate Photos app works seamlessly both on rooted and non-rooted Android devices. It supports all Android devices and versions. Its smart scan engines identify all duplicate photos on your device in an effortless manner. During the process, it scans both internal storage and SD card storage to deliver accurate results. After scanning your device storage, it displays total identical image count and duplicate groups for easy management. It also displays how much storage space is occupied by these junk files on your device.
6. Search Duplicate File (SDF)
Search Duplicate File (SDF) offers seamless user-experience. It supports de-duplicating folders and sub-folders on your Android device. Here, you can lock certain folders on your device that will not be included for scanning purpose. It further supports SD card, OTG USB storage and multiple mount points on your device. Its smart selectors help you distinguish original and identical files on your device. It supports cleaning multiple file formats and file types. In other options, it allows you to rename search results, exclude the search results, filter search results, save or restore search results and more. Its flagged folders option allows you to delete all temp, cache and unnecessary files. While searching for unnecessary files, it helps you search camouflaged images, videos, audio files, media cache, thumbnails, incomplete images, empty folders and more. It helps you search files by name, type, size and time.
Conclusion:
The best duplicate photos remover tools provide you an easiest & safest solution to find and delete all duplicate image files on your device. These tools come compatible with multiple devices & platforms. Furthermore, these tools work automatically to help you save your valuable time and reduce manual efforts of cleaning the device. Here, we have discussed the top 5 such tools. If you want to add your favorite app in the list, then feel free to comment below.
Chris Mcdonald has been the lead news writer at complete connection. His passion for helping people in all aspects of online marketing flows through in the expert industry coverage he provides. Chris is also an author of tech blog Area19delegate. He likes spending his time with family, studying martial arts and plucking fat bass guitar strings.