Image (Source)
Business process automation refers to the use of digital systems to automate repetitive multistep tasks. While compared to other types of automation, BPA solutions are complex, connected to enterprise IT systems, and tailored specifically to the industry needs.
It is a proven buzzword that never fails to drive productivity and success. Making plans for BPA, roadmap strategies, and analyzing different factors – are exciting things to do. But, when it comes to actually implementing the plan, it becomes entirely opposite from the initial thought. Therefore, it is essential to evaluate different factors carefully and make strategies accordingly.
If you have evaluated significant aspects of business process and workflow automation, and noticed that it works for you and drives expected results if executed properly, then different practices mentioned below can help you achieve more.
Customer Relationship Management
CRM is like a heartbeat for any business; it is directly related to the business oxygen (money). So you must have an efficient model and strategy to generate great leads. In addition, automation technology can help to save precious time of managers and executives so that they can focus on process efficiency.
In the initial stage of CRM automation, you should clear the goals as they should be aligned with tasks. S.M.A.R.T. goals framework and KPI measures can be useful in this. Then, the market and business strategies should be evaluated, and necessary changes should be made in the strategies. Then, customer data should be gathered, and digital tools should be leveraged for segmentation to provide a more excellent experience. A whole sales pipeline should be set and managed with digital systems, and an evaluation of results must also be done.
Project and Task Management
Business project management is a crucial but challenging process; it requires much time and effort. And productivity directly relates to the project management model and approach, so it should be improved to drive expected results.
According to monday.com, more than 54% of employees spend their essential time performing repetitive tasks, and they can save 5+ hours by automating specific tasks. Therefore, business project automation is essential for enhanced productivity.
The first thing a project manager has to do is identify the purpose and need to automate the process. Then comes the analysis of challenges and processes so that the criteria can be found for improvement. Further, an automation model should be made to divide the projects into smaller but achievable tasks, and it also helps to align the goals with tasks. After the implementation of the specific model, results should be monitored constantly, so necessary changes can be made.
Employee Attendance Management
Employee attendance management is essential for a business to ensure that the employees are providing enough time for their tasks. Business automation eliminates the need to manage the workforce's attendance manually.
The first thing you should do is determine an attendance policy with rules and standards of work hours. And employees' interests should also be considered while implementing the policy. Then comes the stage of setting disciplinary actions. Automated tools let you capture attendance timings, implement the policy effectively, and provide real-time data.
Email Marketing
One needs to apply effective email marketing strategies to get brand recognition and excessive leads. You should have a predetermined target audience and their database to provide them with a personalized experience. For that, the market analysis should be done carefully. Therefore, business automation technology can help you save time so that you can devote precious time to other activities.
As we all know, determining goals is the very first step in every process. The set of objectives should be kept in mind while shaping campaigns. Then, audience data should be gathered. You must study the data in-depth to understand their behavior better. Automated systems help to measure the effectiveness of campaigns and enhance it.
Accounting and Invoicing
Accounting and invoicing keep track of business cash flow, resources, and funds – so it is essential to manage both processes carefully. Technology helps to automate various repetitive tasks and save time so that accountants can focus on the accuracy of reports.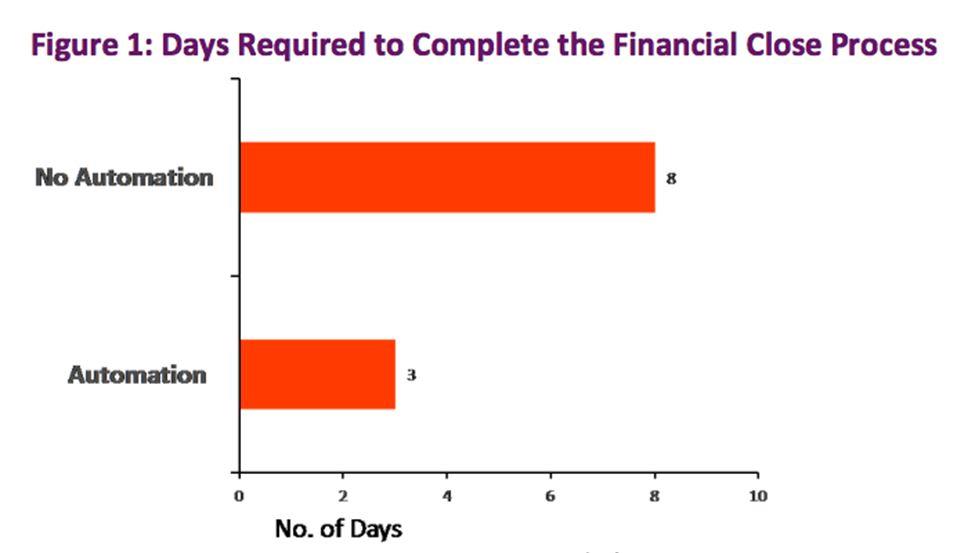 Image (source)
From the above image, we can understand the importance of automating the accounting process to reduce time consumption.
First, you need to evaluate and finish the ongoing accounting procedures and choose a proper accounting system for the business. Then, the data should be linked with the system, and the current financial situation should be evaluated to take the necessary steps. Automation tools take time to adjust in every process; therefore, you should give enough time to the process.  Then comes the stage of testing the results and accuracy and comparing the before and after automation results.
Customer Support
Customer support is the base for the business to thrive in the market. Therefore, it holds as much importance as acquiring customers. Therefore, the process efficiency should be maintained, and the human touch should not be disrupted while automating.
First, you must create and update the knowledge base to better assist customers. Then, you should define the objectives to move in a particular direction. Further, a conversational AI chatbot should be implemented to make assistance available 24*7. After that, managers should focus on personalizing the customer service to provide a great experience. Testing of the automation process is also necessary, so the customer feedback helps to know the effectiveness of technology and if the goals are aligned or not.
Meetings and Appointments Scheduling
One-on-one meetings, appointments, and a hectic schedule – sounds familiar? Meetings and appointments consume a lot of time of managers, and managing this all takes even more time. Advanced tools manage the managers' schedules so that they can focus on meetings and clients rather than the time barrier.
You should observe your schedule first and identify work patterns and meeting trends. By doing that, you can find the time wasted on managing schedules and appointments. Therefore, you get an answer of why you got late for an important meeting even if it was not your fault. With meeting scheduling tools, you can arrange meetings and appointments effortlessly and save considerable time.
Asset Management
A company must keep track of its assets and inventory maintained. But the monthly inventory checks can be tedious, so automating the manual tasks can make the work easy.
A dedicated asset management team should optimize the process and set a cycle of monthly asset checks. Automated systems take care of repetitive checks and maintenance services, so you just have to handle asset lifecycle records and billings. The reminders let you stay up-to-date with regular maintenance checks so that you can improve the planning also.
Social Media Management
Social media presence is essential for any business as the digital market is constantly growing. However, running multiple campaigns on social media platforms can consume considerable time and effort, so setting it on auto-pilot mode can help.
For effective automation of social media management, you should first define your goals. Different market segments may have different interests, so you should determine your target audience to give your efforts a proper direction. Then comes the stage of identifying the latest trends and building strategies to make an immediate appeal to potential customers. Further is selecting a tool that can boost the productivity of your campaigns. It helps you to automate the scheduling of posts, and it even suggests you better content ideas to engage users and time to post for better engagement. The next step should be testing the effectiveness of the efforts by leveraging the system analytics.
Recruitment
The recruitment process is the base of determining a business's success. Hiring top talent for a particular role requires patience and identification skills. Though the hiring process can not be entirely automated as it requires human intervention, some repetitive tasks can be automated to save time.
Before starting the hiring process, the needs of the business should be identified, and job descriptions should be determined. Then, automated systems help to collect applicants' resumes from job portals or databases. Pre-screening of candidates and interview schedules can be set on auto-pilot mode also. After interviewing, score cards can be made for each applicant, making the selection process manageable.
Data Analytics & Business Intelligence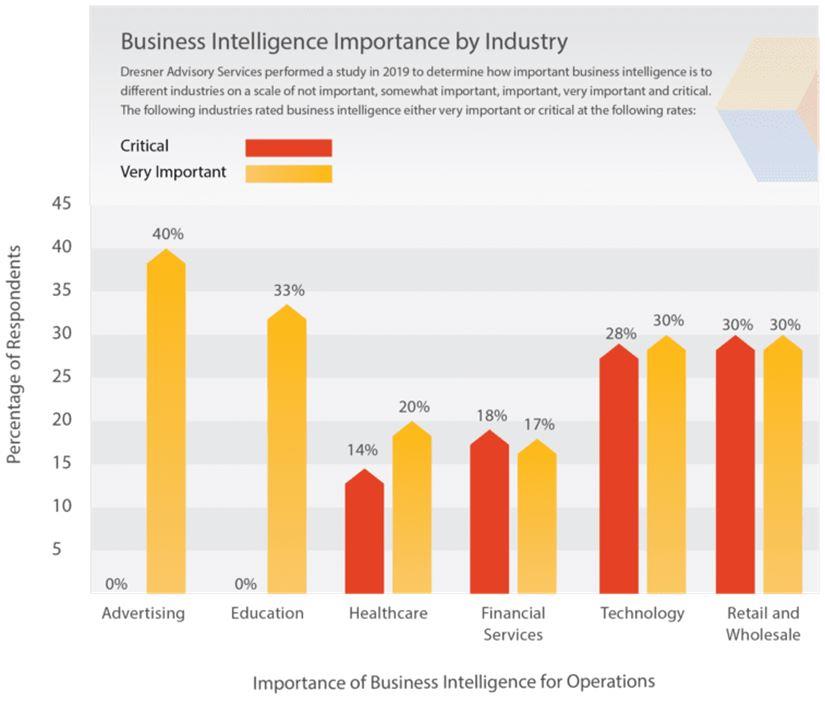 Image(Source)
Every business process needs timely evaluation and analysis so that the progress of the model can be found. Digital tools help you get accurate and real-time data to focus on the strategies and results.
First, you should define specific criteria for evaluation and set the objectives. Then, you should determine key metrics to track the progress and make strategies accordingly. Automation technology helps to get the real-time data and true value of pre-determined key metrics, thus saving time of managers.
Customer Onboarding
Onboarding leaves a significant impact on customers' minds. So, providing users with an excellent onboarding experience is mandatory. Automating manual and specified tasks helps you focus on the user experience and interactions.
In the very first step of the process, you should clear the goals and objectives and make an effective strategy. Then, you must map the customer onboarding journey (if it is already done, then evaluate it). Tech tools assist in automating this journey, so the onboarding team should focus on the learning content and results.
Tools recommended:
NetHunt CRM helps businesses manage their contacts, deals, tasks, campaigns, and reports in one place. It lets you design and manage your sales pipeline, and the dashboard gives an overview of the progress. In addition, NetHunt assists businesses in their prospecting practices (especially for Gmail and LinkedIn).
Asana assists project managers in managing their different projects and tasks. It helps you accomplish essential tasks efficiently within a determined timeframe. Asana lets you track various tasks, create to-do lists, and organize assignments.
factoTime helps businesses manage their workforce's attendance effortlessly. It handles the attendance records, punch history, and multiple shifts. In addition, the tool automatically calculates the work hours and salaries according to the pay rates.
Mailchimp optimizes the company's email marketing practices so that they can get the most out of it. Crafting engaging emails, scheduling, and recommendation features for audience insights help to boost the lead scoring.
QuickBooks is prominent accounting software for businesses to manage their financial tasks, accounts, and invoices. The system allows you to track invoices, expenses, and cash flow. In addition, it automatically calculates the taxes and prepares balance sheet reports.
Zendesk enables an excellent customer experience with its advanced customer support features. It lets businesses manage phone, chat, email, Twitter, and Facebook conversations. AI-powered chatbots provide a personalized experience to customers.
Calendly is an online scheduler for managers by which they can keep their meetings and appointments organized. Users can book appointments with others and automate administrative tasks like setting email reminders and follow-ups.
UpKeep is an asset management tool for businesses so that they can efficiently maintain all their assets and inventories. It lets you track asset downtime, usage, costs, and work orders. And detailed reports can be generated to stay up-to-date with the data.
Buffer is a tool for businesses to manage their social media handles effortlessly. It lets you make a queue of social media posts and automatically publish them at a predetermined time. You can also run social media campaigns effectively, and analytics show you the traffic and engagement of your posts.
Jobvite streamlines organizations' recruitment process and helps them create better employer branding. In addition, it creates a personalized journey for job seekers to give them a great recruiting experience and suggest the best suitable applicants to recruiters.
SAP is a cloud solution for SaaS companies that provides analytics capabilities, including planning, predictive analysis, and business intelligence. Machine learning and AI keep you up with deep insights into the business data, and the detailed reports help to track the progress with key performance indicators.
Appcues builds an engaging user onboarding experience for SaaS companies. It also helps to create customer satisfaction surveys and feature announcements. You can easily measure product usage and adoption over time.
Summary
Business process automation cuts down various costs and improves the productivity of processes; that's why it should be executed with extensive care and monitored constantly. This list of leading practices in BPA can give you a quick idea of which processes should be automated and how the need of automation can be evaluated.
To drive expected results and execute the automation plan efficiently, business owners should consider the prominent digital tools mentioned above that can ease the work.
Chris Mcdonald has been the lead news writer at complete connection. His passion for helping people in all aspects of online marketing flows through in the expert industry coverage he provides. Chris is also an author of tech blog Area19delegate. He likes spending his time with family, studying martial arts and plucking fat bass guitar strings.