The whole world is at our fingertips due to the technical advancement and advent of smart derives. Nowadays, we can easily have access to each and everything through mobile phones or tablets. Every business sector is adopting technological advancement for their business to stay in the competition. They are trying to improve their online presence by implementing various marketing strategies. They very well know that without having an online presence for their business in this techno-driven world, they cannot survive in the business market.
Every industry is influenced by technological advancement, and so as the food industry. Food delivery industries have not left behind in this race as most of the restaurant entrepreneurs are grabbing opportunities offered by the latest technological trend for their business. They are enjoying the fruitful results in their business sectors after turning towards the technological trend. The online food delivery market segment is estimated to reach US$136,431m in 2020.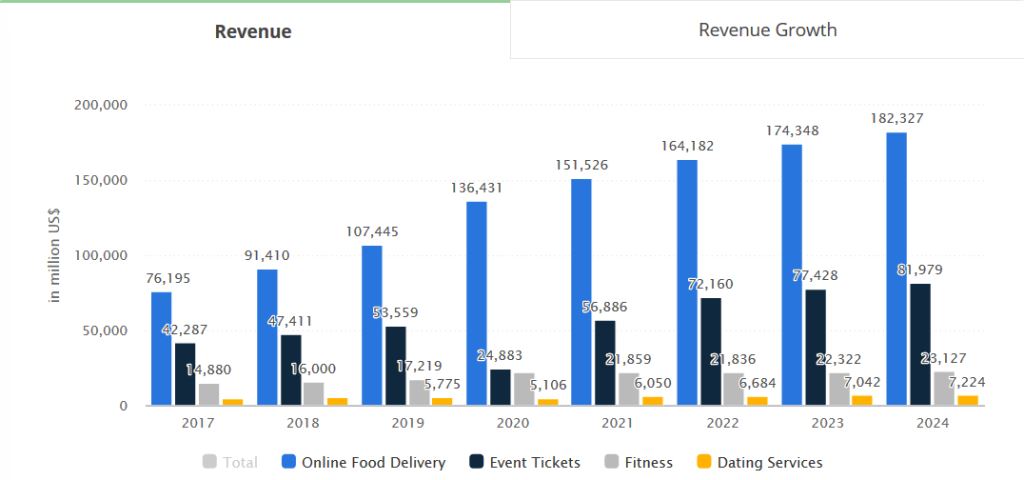 Image: (Source)
Technology Advancement: Why You Must Consider it for Your Food Business
After adopting technological innovations in the food sector, online delivery sales are estimated to jump very high worldwide. According to a Statista report, the food delivery market was estimated at around $30 billion in the U.S. In contrast, online delivery sales amounted to around $4 billion in sales during 2015. This number is expected to jump more in the next few years because the demand for food lovers is increasing drastically with each passing day.
Most of the foodies love to enjoy their favorite meals at their home instead of going to restaurants and waiting to enjoy their favorite meals for hours. Therefore foodies prefer to order their fav food through the application as it offers more convenience to them. As the demand for applications is increasing rapidly, it becomes mandatory for you to opt for a mobile app solution for your delivery business. You can check top innovative mobile app ideas to choose the best one for your food ordering and delivery solution.
The app solution will surely help you satisfy all the demands of your customers and also help you provide your prospective customer with the best experience that they never had before. Suppose you want to take your business to the next level of success and develop a unique identity in the market, you must focus on involving various ingredients in your app development process, which ensures that your app is more appealing for users.
Deliver Real Value
It's vital for you to create an app that creates unique value to help you improve your business reach. Keep in mind that your targeted audience is always ready to pay high for the convenience you provide to them on the platform. Hence make sure that the food ordering and delivery app you develop delivers extraordinary value to your prospective customers.
This value can range in different categories like convenience, utility, entertainment, and many other areas. Your business app should be operated successfully in a variety of situations due to seamless features integrated on the app. It is essential that you validate your mobile app idea with market analysis helping you to deliver amazing value to customers.
Keep the App Simple
You need to develop a strategy to increase user engagement with the app. Keep in mind that user experience plays an important role, especially when it comes to improving your app visibility. Make sure to keep your task-oriented to engage more customers with the food ordering platform ensuring your business growth. Keep the core actions simple; ask certain questions as follows:
Is your delivery app making your users live easier?
Is the flow of your food ordering app intuitive?
Know whether your app provides useful guidance to the users?
Are the app features relevant?
Whether the app follows a complex or straightforward process?
Keep your app user friendly and navigate users efficiently. If your app users have to spend more time understanding how your app works, they will definitely abundant the app. Thus keep your simple and easy to navigate for users. If your app is simple, then users will have no reason to leave your app and move to an alternative option.
Focus on UI/UX of Your App
During the survey, it was found that adults in the U.S spend approximately 3 hours, 35 minutes on their smartphone per day browsing various applications. It's the time when the customers are using your application can prove to be very crucial for your business because if your customers find your app boring, then they will not take a single minute to switch to your competitor's app. Hence you must try to make your app design very unique and attractive for the users. You must also try to avoid complexity in your application because most users don't prefer to use those applications with much more complexity.
While developing the application for your delivery business, try to focus on both UI & UX areas of your application because the users like to use such an application that looks great, and they can operate it easily. Suppose you want to opt for an excellent app solution for your business, then you must surely develop an app like doordash solution, this app solution will provide the best experience to your users and will also retain their attention. You can easily present your business in a good manner in front of your users through the app.
Importance of Two Way Communication
Two-way communication plays a crucial role in all the business sectors, and the delivery sector is not an exceptional one. You can offer your users feedback options using which they can easily place their reviews about the experience they gain with your delivery services and also about the ordered food. Doing so, you can even know where your business needs improvement; apart from that, online reviews and ratings will help convey other customers to order food from your restaurant.
Provide Offline Functionality
If you aim to reach more audiences, and cover a large market share, make sure to track your users' behavior. Know what your customers really expect to have in your business app, whether they want to use it without having an internet connection. Make sure that your app works and operates efficiently on users' devices even in offline mode. The app must allow users to access all the features and content without an internet connection; this can provide you with significant advantages and create a positive user experience.
Features to Consider Integrating into the App
The average American spends around $3,0008 per year on dining out. Eating out is typically more expensive than cooking the food at home. It accounts for around 43% of the annual food expenditures for each family. But food lovers are ready to pay more for the convenience which brands offer to them. They are making use of modern ways of ordering and getting the food delivered right at their doorsteps.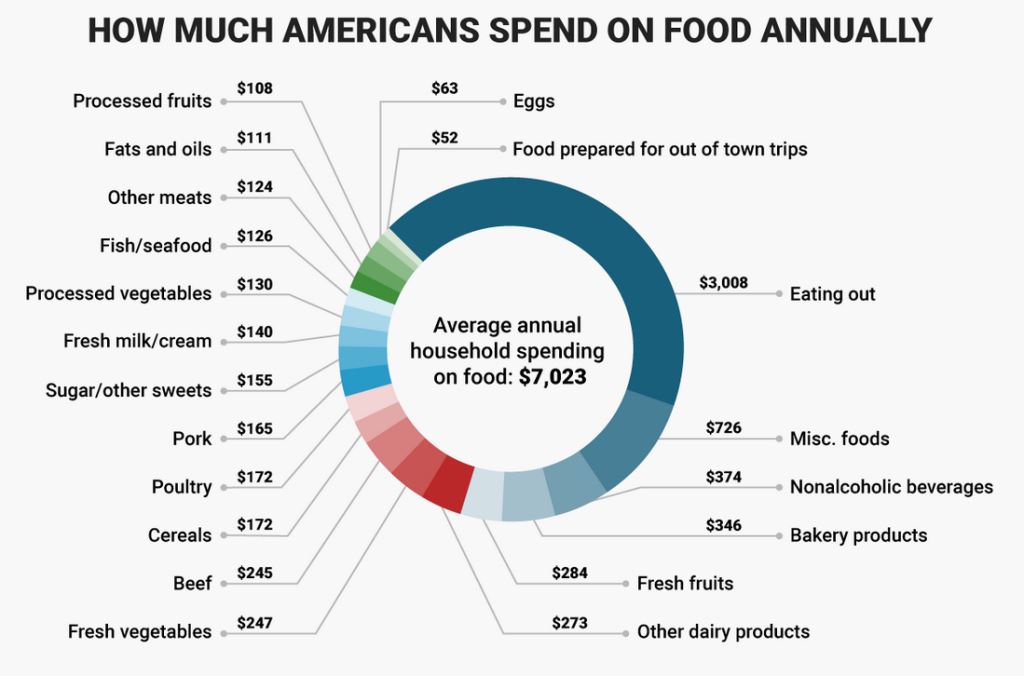 Image: (Source)
Food delivery businesses that consider developing mobile apps need to make sure to integrate essential features and functionalities in your business app solution. Also, consider avoiding the one which is not essential and related to your business. Doing so, you can avoid making your app solution feature stiff as most of the mobile app users avoid making use of such an application. Remember that your customers only love to use those applications, which provides them with the best feeling and performance on their preferred device.
Test Your App
You need to test your app in real-time by launching a trial version in the market. It will also help you secure your app and eliminate the top mobile security risk that app users are concerned about the most. Testing will also let you know how users will use your food ordering and delivery business solution, what changes you need to make, and much more, ensuring your app's survival in today's competitive market.
Plan a Marketing Strategy
No matter how engaging and feature-rich an app you have crafted, everything is useless if you do not pay attention to implementing effective marketing strategies for promoting your business solution. Make an amazing digital marketing plan before your app launch and implement it to create awareness among your targeted audience about your food delivery app. An effective marketing plan can help you drive more installation for your developed app and ensure its success in crowded app stores in a short period.
Ending Note
In this modern world, most restaurants, hotels, and other businesses are realizing the importance of the internet and online presence; hence they are customizing their app to increase their online sales and attract more customers online. This has become the latest trend for all the businesses; therefore, if you have yet not decided to craft a mobile app for your business, then hurry up! If you do not do it fast, you will be left far behind from your competitors; take the developers and app development company support to get the best app solution for your business.
Deep is a serial entrepreneur and blogger famous for his knowledgeable blog. He chooses to write on transportation and delivery sector about the latest trends, business models, and fun facts to guide businesses