One of the attracting thing about having an e-commerce business is that it doesn't have any boundaries. E-commerce runs on data. But when the business is beyond boundaries then each shifting area have different rules and regulation which must be taken care of.  This phenomenon surrounds a lot of data which requires a lot of attention.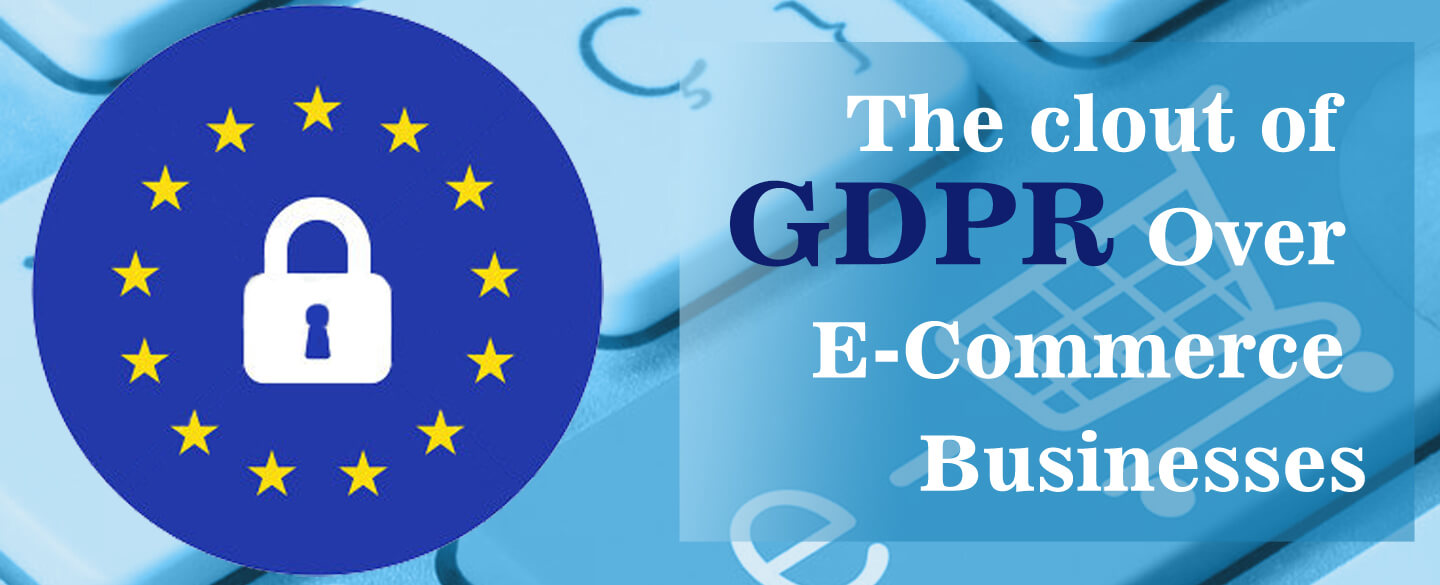 To overcome any of their European Union has launched a new data privacy law- General Data Protection Regulation (GDPR). GDPR impact how companies (even small ones) collect and handle personal data about their customers. GDPR's basic thesis is to make it more transparent for consumers to see what data a company has on them, as well as introducing a new fines regime for those that breach it.
The aim of GDPR is to protect consumers from brands that may misuse their data, but also to help them manage how the data that they may allow to be stored is used.  GDPR and ePrivacy have been drawn up to protect two vital Articles of the European Charter of Human Rights: GDPR for Article 8 on protecting personal data and ePrivacy on Article 7 on protecting a person's private life.
What does GDPR Compliance say?
In organizations, data breaches happen commonly and nobody takes care of it. Important information gets lost, misused or stolen for malicious purpose. GDPR is a strict regulation which ensures organizations in terms of data security. Also, the team or person who is responsible for handling information will be obliged to protect the information.
Fines and Penalties for non-compliance
In any case, if the data owners fail to protect the information from exploitation, they have to face the penalties and fines. Failure to GDPR fine can result in a ranging –
Up to 10 million euros, or 2% annual global turnover
Up to 20 million euros, or 4% annual global turnover
Also, the fines will depend on a level of breach – like, how the security beach is broken in how much serious manner (severity level).
A lower fine of 10 million euros or 2% of annual global turnover will be applied to those companies which fail in data handling such as – failure to examine a data breach and privacy design.
The maximum fine of 20 million euros or 4% of annual global turnover is for breaking the rights of personal information matter, unauthorised transfer, ignoring rules and requests for data.
GDPR distinguishes three profiles for data handling
Data Subject – Anyone providing personal data access such as customer, user, employee.
Data controller – Organization that is controlling the use of data by safe storage.
Data Processor – third party suppliers such as the systems used in the organization like MailChimp, Shopify, ERP systems, etc.
How will it affect-commerce businesses?
GDPR may not only need companies to pull together data so that consumers can easily look what data about them is stored and where providing greater access to the data to the customer.
For instance, a survey in the UK by OnePoll has found out that approx. half of UK consumers plan to exercise their new rights over their data when GDPR will come into force. A survey has been conducted in which 2,000 UK consumers between May 24th and 26th 2017 were considered to poll and found that 48% planned to wield their new rights over personal data. A third (33%) voted with the exercise the right to have their data removed by retailers, while 33% consider asking retailers and brands to stop using their data for marketing purposes.
GDPR will take effect on May 25, 2018. So, there are a set of things that need to be taken care off: –
Is there a need to update company's privacy policy, or revise in the disclosures that are made to the customers?
If the firm is using third-party applications or themes to support the store, do those apps or themes comply with GDPR?
Is there a need to appoint a Data Protection Officer?
Is there a need to start conducting documentation of Data Protection Impact Assessments?
Do the company requires a consent from their customers to process data?
Do there is a need to change how firm obtain the consent to comply with GDPR's higher consent requirements?
Can the organization be able to comply with the rights provided to their respective customers and users in GDPR, including the rights to access, correct, erase, and export their data?
These are only some of the potential questions that may come to businessman's mind.  Every firm has a different set of requirements.
GDPR is taking all kind of databases into account – sales, marketing, accounting, HR. Let's take a look at its key impact-son e-commerce business –
Clear Consent requirementsaffect the entire market
It deals with the marketing activities. When it comes to data fetching for personalization, the practices should be clear.  Data subjects can take part in marketing activities but with clear intent, nothing like "below the fold".
All this shakes the entire marketing industry because personalization offers direct sales in the e-commerce business. So, in terms of data processing with GDPR, one can suffer tremendous loss.
Right to be forgotten is more like a permanent isolation of a customer
This right is in favour of customers for being forgotten. They can ask for account deletion and ultimately to remove all their personal data. Data is a big thing and it is responsible for every step for marketing. If someone asks to remove all their personal data, they would be no more in the target for your marketing deals.
Adjustments for e-commerce Business
It is an undeniable fact that data is a base of every marketing practice. After experiencing the impacts of GDPR. Updated privacy trends have overwhelmed our emails and website pop-ups.
Andrew Beehler, Senior Manager of Programmatic and Yield Operations at Digital Trends, a digital media company says – "The digital ad community understood that GDPR was going to swiftly change the advertising landscape and consumer expectations, alike." He further added –"The advertisers and publishers that will win in this new ecosystem are those that double-down on a consumer-centric approach to advertising."
You can also take GDPR as an opportunity and reap its benefits.
Be always transparent and customer-centric in your marketing game. Allow your customers to see how you are using their data, and ask them to support in data practices. This will better support the customer experience and helps you in maintainingthe customers for the long term.
"If your company is using data in ways that serve and benefit the consumer, many of your customers will gladly opt-in," says Beehler. "It's really the bad actors that haven't been transparent about the way they're using data that stand to lose. And when data collection and reporting is GDPR-compliant, the data actually becomes more valuable."
Final note –
Security is a prime consideration for all. And, those who are taking GDPR as an End of their e-commerce business, will have to deal with it. Find out creative ways and use compliant traffic resources for your advertising landscape.
If you really want to win over the competition, you have to double up the efforts for it. Take the GDPR rules seriously and be transparent in your activities.Hope you liked the article, do share your views with us.
Ashley Marsh is a Senior- Content Writer at MaanSoftwares Inc.  She has been with this company for past four years. She is specialized in the technical writing genre especially in mobile development, web design, and, latest technologies. According to her, it has been a great exposure for her as each day the technology is updating itself resulting in new ideas that keep her fresh daily.