The history of the internet began with electronic computers in the 1990s. And cloud computing has existed since the internet was available to the people. In recent days, it has become the most familiar term that everybody speaking about it. Anyone who uses electronic gadgets like mobile phones, computers or tablet over the last 10 years they were already using cloud services, but most of them don't know that they are using cloud technology.
What is Cloud Computing?
Cloud computing means using Someone else server to store your data. Cloud computing is having the capacity to deliver on-demand computing service over the internet and that too on pay on go basis. With cloud rather than managing files on local storage devices, cloud computing makes it possible to save over the internet and access them from the internet.
Whenever we use Social Media, i.e. Whatsapp, Facebook, Twitter or Youtube, and access the email services to send important documents or using different types of applications for your needs, we are accessing information that is stored in the cloud. There are two types of Cloud Computing one is Deployment model and another one is Service model.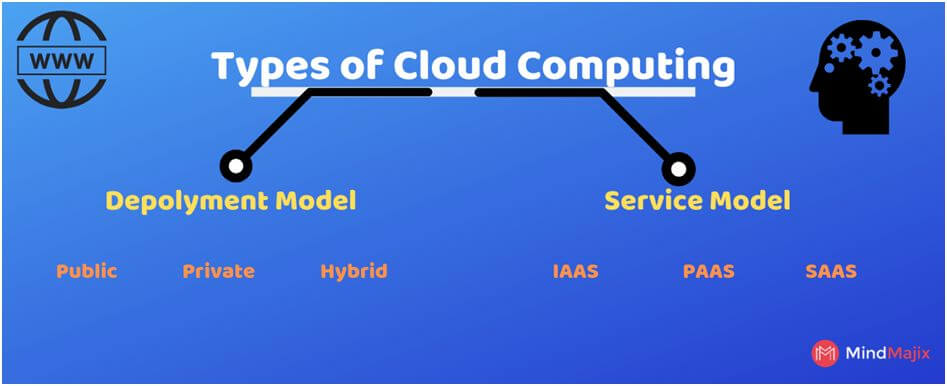 Why Small Businesses need Cloud computing?
Advantages with Cloud computing is well known, but small businesses are new to cloud technology and they don't know what suits their needs better. The cloud technologies make a huge revolution in the small businesses sector. And makes tasks easier to maintain, deliver accurate details for all kind of businesses.
There are several ways companies are using cloud computing technology to create new important methods. Get to know more information about how small businesses use cloud computing technology are mentioned below.
Creating Scalable infrastructure.
Cloud-Computing infrastructure is one of the major application in Cloud technology.
What is the reason for infrastructure is a major application?
Do you have any idea?
Let's discuss with the small example for clear understanding.
Web-based E-Commerce Amazon contains a huge amount of data, and Amazon launches festival offer in all over the world. Then there is a sudden spike in users activity in their website and server becomes overload, this is the reason some customers unable to access the web-based application, but with Cloud infrastructure technology failover servers can automatically push in if the host server becomes overloaded.
Cloud-computing technology-based infrastructure is effective, inexpensive, and more sensitive to demand. By spending only for the server load you require, your investment for data storing, data accessing can estimate with use, producing the most versatile economical solution for small businesses.
Changing the Office System environment to Cloud infrastructure
The cloud environment in the office is nothing but your day-to-day activities in the cloud platform. It's a unique platform for sharing documents and emails, but more than that, it makes connect organizations at any time; it's a collaboration; it's communication; it is having options about where and when you work.
Offline Workplace will shift towards Online Workplace
An Offline workplace is all about work in an office environment, with Cloud-based office systems this Offline workplace will shift towards online workplace and allow employees to maintain projects remotely, while outside on meetings. For example, free cloud-hosted services such as Microsoft Skype makes easier communication between co-operating groups and managers.
Big data analytics:
In recent years, most of the small businesses are starting to deploy big data. And Cloud-computing technology provides them with the power needed to process the Data stored in the cloud.
Almost all the small business owners are fighting with the technical challenges with the big data analytics using Cloud computing technologies.
Delivering more suitable information to your customers in an easier way and solve the customer's desires and needs in real time.
Backups and Recovery:
Data security and data management is a major obstacle for small businesses. Suppose if you maintain your own server on your premises and all your information will be stored in those servers, then you have a major responsibility to secure those servers. And it was a tough job for small businesses.
But using Cloud technology, all your information stored on your server hosting. Whereas data recovery and backup is a simpler task.
What are the Advantages for Small Businesses, when they use cloud services?
Cloud computing is emerging technology, that small businesses develop fastly. Here are the few benefits of using cloud computing in small businesses.
Reduced Costs: Set up software infrastructure for small businesses is a crucial task. But when we go with cloud it's an easy task for small businesses.
Anywhere and Anytime: We can store and access the information anywhere or anytime over the internet.
Ease of Doing Business: Saving and accessing files within the cloud allows everyone to work from the same original document. Managers can even produce path and authority controls.
Overall risk reduces: The cloud computing adds security to its clients by backing-up information that was loaded in servers, reducing the force of viruses, hackers, and other cybersecurity issues related to data management.
Improves Overall Efficiency: After transferring to the cloud, organizations no longer worry about power conditions, space concerns or software updates.
Different Types of Cloud services for Small Businesses
While the advantages of cloud computing for business are becoming well known, many companies are unfamiliar with the different types of cloud computing for different kind of businesses.
Infrastructure as a Service (IaaS)
IaaS providers will offer hardware and software specialties through a practical online interface. Basic services offered by IaaS providers is server maintenance, Data storage, security features, and security features, those will perform a crucial role in Cloud-computing.
A real-time model of IaaS is email service online, web hosting, back-up, and data recovery. IaaS service is cost-effective for small businesses.
Software as a Service(SaaS)
Emails, google documents, calendars, todo list setting, sheets, office tools like Microsoft office 365 all are the example of SaaS services. Generally, SaaS provides basic office work tools, with that dynamic working increases in business. SaaS tools are commonly used in invoicing and accounting.
Platform as a Service( PaaS)
PaaS will create an environment, that will allow users to build internet services and applications. From easy applications to complicated business applications. Compared to IaaS, PaaS will provide some additional features like business intelligence services, development tools.
How can you select the best cloud services for your businesses?
There are multiple combinations of cloud services to execute into your business, so it's essential to go into the process with a stable game plan in mind. Setup the right cloud services for your business will be the key decision for continuous growth and long-term benefit of your businesses.

Here are some important steps must do before you select right cloud services for your business.
Generate a cloud strategy
Search for the excellent service level agreement (SLA).
Keep looking at the service
Conclusion
Is your small business using or planning to use cloud technology? If so, what are the advantages you're seeing or plan to see from it? It's up to you to set your business up for progress, and in this whole article says that how cloud computing helps small businesses achieve fabulous things with less work pressure. A lot of extensive features, that makes your business get long-time growth and success.
Anjaneyulu Naini loves pursuing excellence through writing
and have a passion for technology. He believes in having a skill or talent is
more valuable than having just a degree. He is Currently working as a Content
writer at MindMajix.com. You can reach him at [email protected].