With billions of smartphone users across the world and with millions of apps in the app store, the mobile app market has become more robust than ever. These astonishing numbers inspire businesses to invest in this platform and come up with apps to gain more profits.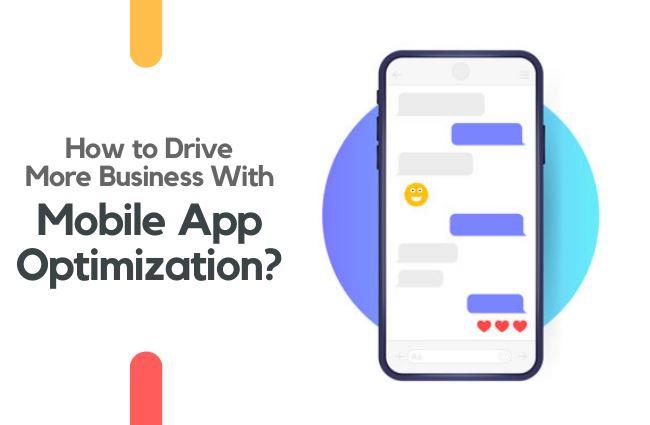 However, a mind-boggling report about mobile app usage states that only about 30% of app users open an app the same day they install it. And after 30 days of installing an app, only 3.3% of Android apps and 3.2% of iOS apps are still using it.
Mobile apps can bring relentless value to businesses and can result in a remarkable enhancement in efficiency and productivity gains, only when it is optimized. Thus, once you have a mobile app, there are a few things to do to optimize your app for better performance and business outcomes.
Fortunately, here is a list of ways through which you can optimize your mobile app.
Mobile App Store Optimization (ASO)
The number of apps available in the app market is growing exponentially, thus increasing the need for improving the visibility of your app. With the proliferation of the internet and numerous powerful online promotion techniques, you have to find out new ways to get your app noticed.
This is where Mobile app search optimization comes into play. While Search Engine Optimization is all about optimizing the website for search engines, similarly mobile app store optimization helps in optimizing the app to an app store. SEO forms the foundation of the mobile app ASO.
So, what is App Store Optimization?
ASO is the process of optimizing your mobile app with all the latest updates to make it rank higher in an app store's search results. The idea behind ASO and SEO is similar – improving ranking in the searches. You can use different SEO techniques to drive more business with App Store Optimization (ASO). A few of them are
Name of your app – The name you choose for your app should reflect the product or service you offer
Icon – Create a unique app icon that represents your brand.
Keyword research – Choose appropriate keywords for mobile search that match your users' needs as well as your business description
App indexing – Ensure that Google has indexed your app and it will be visible in mobile searches
Description of your app – Add a description of your app that is relevant and enticing to make the visitors want to install your app.
Screenshots and videos of your app – Include images or videos to show off how great your app is and to convince users to download your app
Update data regularly – Updating your app data regularly helps you build a positive brand image and trust among your target audience.
App ratings and reviews – User ratings and reviews are an important part of mobile app SEO optimization. They define your app's quality and boost your app's credibility.
Mobile App Performance Optimization
Imagine you wanted to attend an important meeting and you get stuck in the rain. You wanted to book a cab to get you to the meeting venue. You pick up your phone and open your cab booking app, but you find the app not performing properly and end up missing the meeting. Will you ever open the app again after such an issue?
This example proves the importance of mobile app performance.
Mobile app performance has a direct impact on user retention rate, conversions, ratings, and ultimately, revenue. If you optimize your mobile app that exceeds or meets users' performance expectations, you can elevate your brand image and strengthen your relationship with your customers. Here are a few quick ways to enhance your mobile app performance
Focus on the user interface – Navigation and browsability are the two most important factors that affect the performance of your app. This should be your first focus on performance optimization.
Caching – Downloading external resources takes time, so make sure to cache your images, files, etc.. on its local hard drive to provide rapid access to them
Compress images – Compress and resize the images without reducing its quality
Reduce HTTP Requests – Use fewer HTTP requests to simplify things for your app.
Have an offline mode – When the internet gets disconnected, give the users an option to save the data for later.
Profiling tools – Use profiling tools to know the issues that directly or indirectly affect your app and take action accordingly.
Test the performance – Ensure that your app is tested under strict standards for performance and is monitored frequently.
Use an application performance monitoring (APM) tool – APM helps to detect and diagnose deep-level application performance problems to maintain an expected level of performance across the app.
Competitive Advantage
Given the stiff competition in the mobile app industry, one of the best ways to make your app stand ahead from the rest is to conduct a competitive analysis. Competitive analysis helps you see who your competitors are, where they stand, what their strategy is, what is working for them, and what can you do to stand ahead of them.
You can conduct competitor analysis in three stages. The first one to be done when your mobile app is in the idea stage. The second analysis can be done after your app is launched and running successfully in the app market. This second analysis will help you stay updated on the recent trends in the market. The third analysis is a must if you are planning to make any vital changes to your app or business model's structure.
Performing a competitive analysis helps you in getting better insight into the best revenue strategy, attributes required to stay competitive, being creative to attract more customers, and more.
Deep Link Your Campaigns
Just as how linking determines the success of a website, deep linking helps in determining the success of a mobile app. Deep linking is a type of link that takes the users directly to a specific in-app location from a standard website or email. Thus, it acts as a bridge between a mobile app, website, and email.
Deep linking saves the users time and energy by taking them to the desired page instead of launching on the home page, thus improving the user experience and user retention.
With the help of deep linking, you can now easily connect your digital channels to your mobile app with ease. For example, when a user installs your app, the app will link them directly to the web offer that they were previously interested in. Deep linking can take the users directly to the sales funnel, increasing the chance of converting the user into a customer.
Deep linking is a complex process, and it requires the help of a custom app development company. But it can reap more benefits.
Freemium Apps
This is yet another way to optimize your mobile app to bring in more revenue. You can offer some free features in your app, but with limited functionality. If a user likes a feature and he wanted to use the added features, then he or she will have to pay for it.
A great example of such an app is Canva. This app lets you design free posters and banners with basic features. And if you want to use premium images or templates, then you certainly need to pay for it.
Integrate With Social Media
Social media has changed the way users interact with the app. It is an innovative tool that helps you connect with potential users with ease. You need to integrate social media into app development to create brand awareness and take your app across to the right audience.
You can create a strong voice for your app through social media. Furthermore, sharing your mobile app link on social media makes it easy for users to share your link with others, thereby getting you more users.
If you optimize your mobile app for social media, you can receive massive ROI in the long run.
Monitor App Ratings and Reviews
Your app ratings and reviews reflect your mobile app performance. Positive reviews and ratings are the best way to convince a potential user to download your app in the first place.
Customer ratings refer to how a customer contemplates an app, taking into consideration all other factors.
Customer reviews are invaluable information about a product or service. Studies prove that almost 90% of consumers trust online reviews as much as personal recommendations. Customer reviews also serve as an excellent way to know what your users like about your app, what they wish they could have, what needs to be improved, and more. It can help create your mobile app optimization strategy accordingly and address your users' pain points in the next update.
Customer service is crucial for any business. To improve your customer service, you need to follow the best mobile app performance optimization techniques.
The more great reviews and higher ratings your customers leave for your mobile app, the easier it is for potential users to decide to try your app.
Localization
With millions of potential users spread across the globe, mobile app localization should never be an afterthought. Localization is the process of adapting your mobile app to a particular language, culture, market, and desired local look-and-feel.
Localizing your app can lead to the success of your business. Want to know how? Read the points below.
With proper localization, mobile apps reduce the cultural barriers, enhance the reach of your app, educate, and evoke interest in your potential new users.
A localized mobile app, together with a strong mobile ASO strategy, can offer easy and fast access to the global markets.
The localized app, with a tailored communication strategy like push notifications, offered in the native language of your users, will ensure them having a great user experience with your app, a better understanding of it, and thus, you will notice a higher engagement rate and retention rate among these users.
Even if your business does not have enough resources to provide a fully localized mobile app yet, it is a good move to localize the product page first. This way, you will be able to try-out the demand for localization before investing time and money into optimizing a fully localized app.
Focus On Post-Install Activities
Optimizing your app's post-installation activities are more important to find out which is performing and not performing. Just like how you have a tool for SEO optimization, have a solid analytics tool to optimize your post-install activities.
The tool should be able to measure user acquisition, users' activity on your app after the installation, and user engagement. The dashboard on the analytics tool should help you keep track of the following activities
Installations
Conversions
Session time
Revenue per user
With the help of this data, you will be able to identify which platform brings in more users and where you need to invest your time and effort to attract and retain users.
A custom mobile app development company will help you in choosing the right tool to monitor the post-installation activities with ease.
Concluding Remarks
A great mobile app is a strategic investment for all businesses, irrespective of their size. However, to use it to its fullest advantage, you need to optimize it in the right way. Mobile App optimization is a never-ending process. You will need to keep updating your mobile app optimization techniques to ensure they are successful.
There are innumerable ways through which you can optimize your mobile app and generate more revenue. This article only scratches the surface of mobile app optimization techniques. Your mobile app success depends on the mobile app optimization strategy you choose.
Beginning upon the road to mobile app success is incomplete without an increased focus on mobile app optimization.
We hope the above tips and tricks will help you understand your needs, tailor your app optimization strategy, and outrank even the most popular apps in the app market.
All the best!!!
Anil Panghal has been working in the IT sector for over six years. he is a professional online writer. And an expert in writing about web development, digital marketing, mobile app solution, and cloud solution topics.