One of the unintended side-effects of the COVID-19 crisis is that e-commerce has exploded. According to a survey conducted by Chicago-based market research firm Numerator, almost three in 10 people are now shopping online for products that they would have bought in-store in the past. This higher volume of online sales traffic has left many businesses either struggling with a surge in demand for online ordering or frantically trying to develop a stronger web presence. If you're in the latter group, this article is here to help you take concrete steps to grow your e-commerce business.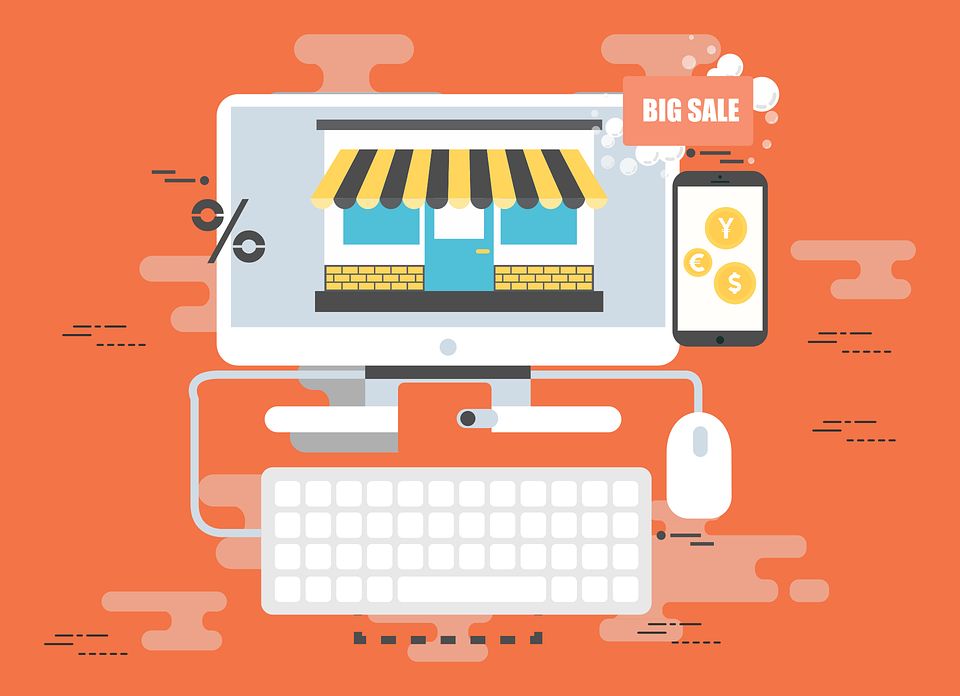 FIRST THINGS FIRST: SEO!
E-commerce sales begin with e-commerce traffic. But how do you generate more e-commerce traffic? SEO, baby! As in, Search Engine Optimization. SEO is all about keywords, related keywords and long-tail keywords.
In case your head is already spinning, let's back up a second. By now we all know that the first thing most people do when looking for a product or service is to visit a search engine such as Google and type in their request. After they do that, up pops a list of results. Magic. Or is it? What determines the order of those results? Many things, of course. You may have heard that some companies pay to be highly ranked in those results, and that's true. But what many people don't know is that you can improve your ranking without paying a penny.
If you want your online store to be more visible in the search engine results page (SERP), you should know the keywords people search when looking for your products, your product options, tips about using your product, comparisons with similar products, and any other common product information.
Once you generate a list of those keywords, the idea is to use them all over your website: in your headlines, product descriptions, meta data, the different pages of your site, and your internal link structure. You should also be aware of any long-tail keywords people search regarding your products/services and you should incorporate those into your site. Long-tail keywords are key phrases that are more specific – and usually longer – than more commonly searched for general keywords.
As you might have guessed, long-tail keywords get less search traffic, but will usually have a higher conversion value, as they are more specific. It's the difference between searching "Maine vacation" (two general keywords) and "beach rental vacation Kennebunkport Maine" (long-tail keywords). The latter example is obviously far more specific, with more words and therefore longer phrases. Therefore it will turn up fewer results than the first search, but those results will be far more specific to the customer's wants. If you're having trouble honing in on keywords, related keywords and long-tail keywords, try a site like Ubersuggest. It's free and it will help you generate the keywords you need to get people to your site.
CONTENT
The next big question is: once you get people to your site, do you have the type of content and quality of content that will keep people on your site? The information about your product/service needs to be clear, creative, easy to digest, and most importantly of all: relevant. If you're stuck, check out your competitors' sites. Look at the kind of information they're including on their sites and identify ways to improve your own.  To be clear, this doesn't mean you copy their sites; instead it means you use their sites for research and inspiration.
Look at the competitions' sites, then brainstorm how best to share similar information on your site. For example, do your customers respond better to visual images or articles? Maybe you can publish an article should be populated with videos – here's an example we did reviewing and comparing different bidets.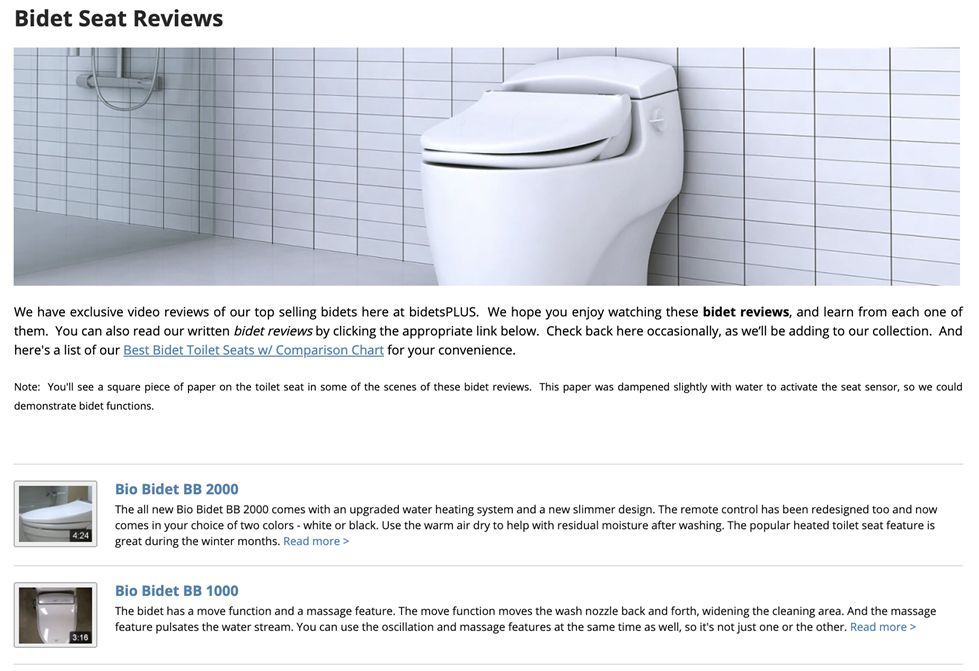 Maybe you can add a series of blog posts. Figure out what content your customers prefer and make the highest quality content you can that caters specifically to them.
TRUST
Trust is key. If people don't trust your site, they will not buy your products or services. A classic way to earn trust is to have badges or seals on your website that show accreditations. For example, if you're an accredited business with the Better Business Bureau, put the BBB seal on your site.
If you are a member of certain industry trade associations, put those badges or seals on your site as well. If you have won awards from your local chamber of commerce, newspaper, or any other type of honors, highlight those awards! These badges or seals are marks of cachet that can go a long way with a new customer.
Another way to earn trust is by posting customer reviews and testimonials. These could be Google Reviews, Yelp reviews, or other testimonials you've generated from your own feedback surveys. More on that below.
WEBSITE DESIGN
If your website looks dated or it is difficult to navigate, that can be an instant turn-off to new customers. It is therefore well worth your while to either design a polished, professional-looking website yourself, or hire an outside entity to do it.
If you're starting a website from scratch, Wix, Shopify, SquareSpace and Weebly are all examples of website builders made specifically for e-commerce. Of course there are many other website builder options out there for e-commerce, as a simple Google search will demonstrate. Added bonus: if you search "Website builder ecommerce" you will get to see SEO at work!
HIGH QUALITY PHOTOS
Part of having a sleek-looking website is making sure your photos and images are of a high quality. SEO experts have found that visitors to your site will remain on the site for longer periods of time if you provide them with captivating, relevant, high-quality photos.
Here's an example we use on one of our top performing product pages Brondell Swash 1400: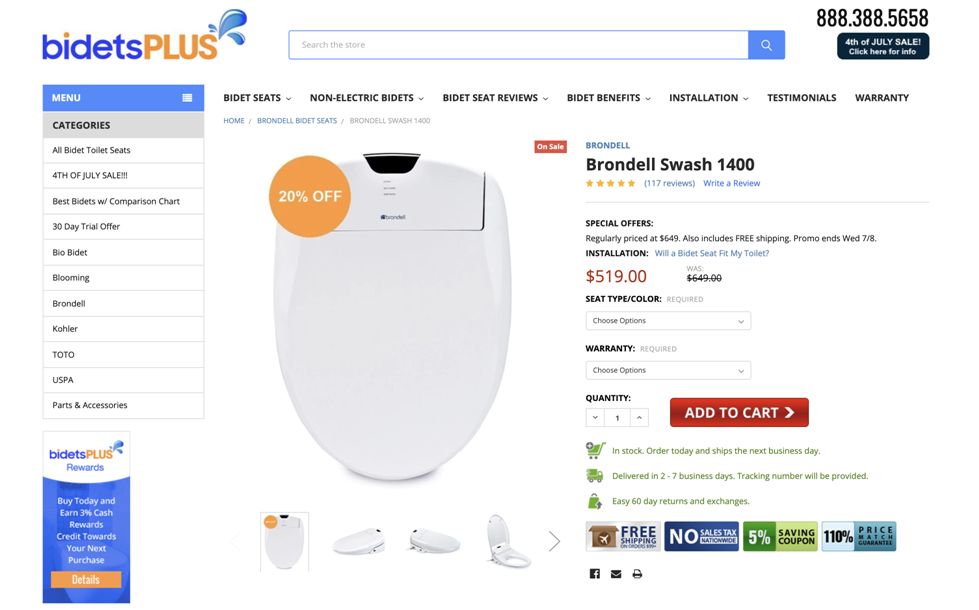 The longer visitors spend on your site, the lower your bounce rate (which is the rate at which people click away from your site). Search engine algorithms take into account things like your bounce rate when they're calculating your place in the SERP, so that means that ultimately, investing in good quality photos can improve your ranking! One other thing to keep in mind: you need to ensure your images are not only high-quality, but that they're also scalable and responsive so that your website can load quickly on any device – from laptops to iPads to phones.
YOUTUBE
Many people don't know this helpful tidbit: YouTube is the #2 search engine in the world. That means you should definitely have a presence on YouTube in addition to whatever other online presence you have. Think about what kind of videos you could create and post on your very own YouTube channel that would complement your business or service. Is it a how-to video? A product review? A DIY video? Maybe a testimonial?  Think about what would work best, then create those videos and launch your channel!
Make sure to integrate the videos into your site, so users can see the videso both on YouTube and your site. As an example, one of the highest performing videos we've created is a video talking about the best bidets of 2023. With such high search traffic on YouTube, you will not regret it!
SOCIAL MEDIA PRESENCE
Like it or not, social media is a powerful way to grow your e-commerce business. Over 2.6 Billion people use social media, and on average, people use social media for 2.5 hours per day. That means your potential customer spends more time on social media than shopping on other websites. Since you need to be where your customers are in order to succeed, you need to be on social media.
Some social media platforms like Facebook and Instagram allow customers to purchase products and services directly through the app; other social media sites are best used to entice users to your website. Spend some time researching which social media app is most used by your customers, then regularly post content on that site. Make sure your content is timely and engaging. Content could include pictures, links to your website, videos, and written content like blog posts. Further, you will want to consider advertising on social media. Ninety-four percent of companies who use social media for e-commerce pay for social media advertising – the biggest two spends being Facebook and IG.
This brings up an important point: if all of your competition is spending money on social media, you should consider doing it, too. Keep in mind that sometimes you have to pay to play. It may sound daunting but it's worth it once you see those e-commerce sales start rising.
EMAIL CAMPAIGN
Email marketing is an important tool to increase your e-commerce business since studies say almost a quarter of online sales are generated by it. But in order to do effective email marketing, you need a list of email addresses of your current and potential customers. Putting that list together requires that you either already have current customers' email addresses, or that you invent a creative way to solicit the email addresses of potential customers. Marketers suggest many clever ways to solicit email addresses, including putting a pop-up coupon on your site that potential customers can only access by providing their email addresses.
Another suggested method would be to run a contest. Maybe you have other ideas. Get creative with how you can create this list.
Once you generate your email list, hang on to it. It's gold. You now have the ability to reach out to your current and potential customers on a more personal and direct basis. You can email them to announce sales and special events. You can email them customer satisfaction surveys or newsletters.
If organizing email marketing campaigns on your own sounds daunting, you could look at hiring vendors like Mail Chimp and Constant Contact to do it for you. Going this route would require more of an upfront investment on your part, but it could be worth it since these vendors specialize in e-mail marketing. Plus, a bonus is that you don't need to know HTML or any sort of web design. They provide templates for all your needs and they walk you through designing effective email campaigns.
CHECK OUT  FLOW
You have a hot website, sleek photos, a terrific marketing campaign, great SEO… you're all set for your e-commerce to explode, right? Almost! One of the most important, yet overlooked, pieces of your e-commerce business is your checkout experience. Checkout is where shoppers become paying customers. Even a small amount of friction in the checkout experience can cost you enormous amounts of revenue.
According to market research firms, almost 70% of online shoppers begin a shopping process online, then abandon their carts due to some sort of "friction." Friction in this sense refers to three general areas – surprise or hidden costs at checkout, forcing shoppers to register for your site in order to complete a purchase, and a checkout process that is just too time-consuming.
Your checkout process should be as simple and fast as humanly possible. Think about the main elements you need from your customers to complete a transaction – usually payment method, address, and delivery – and gather that information in the most efficient way possible. Remember, every additional click you require, every additional field you ask the shopper to complete, every additional page you ask them to visit – these are all just chances for shoppers to abandon their carts and click away from your site.
For inspiration, think of Amazon and their "Buy now with 1-click" option. The ease of shopping on their site is part of what has made them a trillion-dollar company!  If you must gather more information in order to complete a purchase, think about putting a progress bar at the top of your site during checkout so customers can see how far they have to go. Another important tip is to de-clutter your check out page so that users have as few distractions as possible to entice them to click away.
REVIEWS
As mentioned above, reviews of your company and product are a critical component of building trust with your customers. Online consulting experts say 90% of consumers read online reviews before visiting a business, and 88% of consumers trust online reviews as much as personal recommendations. Customers are likely to spend 31% more on a business with "excellent" reviews. Conversely, a single negative review can cost a business up to 30 customers. When you consider these stats, you realize the importance of implementing post-purchase surveys on your Thank You page for reviews of your company, or creating e-mails to send to your customers two weeks after delivery asking them to review your products. If you have money to allocate in this space, look at vendors such as Yotpo, Power Reviews, and Bazaarvoice who all specialize in this area.  Also, if you are a local business and you're not already on Yelp, get on there immediately. Positive Yelp reviews can rapidly drive up your business – even a one star increase on Yelp drives business up by almost 10 percent.
WORD OF MOUTH
When it's all said and done, remember that word of mouth still works wonders. It's worth stating the obvious: if you treat your customers right, provide them with a great product, and an excellent shopping experience, they will tell their friends and family – and that will lead to the continued success of your e-commerce business.
Jensen Lee is the Founder and Managing Member of bidetsPLUS, an online retail store specializing in bidet toilet seats.  Prior to bidetsPLUS, Jensen held management positions in technology-related fields, in both the U.S. and Europe.  He has held the position of Product Manager of Global Network Services for British Telecom.  Most recently, he held the position of Executive Director of Product Marketing at AT&T Interactive, AT&T's internet advertising division.