In the past few years, the global job market has become almost unrecognizable compared to what it was a decade ago.
As technology has advanced, customer habits have changed, and the regular 9–5 job is no longer the aspirational prospect it once was, many workers have turned to new ways to generate an income for themselves.
These changes have led to the boom of what's known as the 'gig economy'. Some people work in the gig economy full-time, but it's become increasingly popular to utilize the benefits of the gig economy to generate some income on the side.
Whether you're saving for a mortgage deposit, wanting to put yourself through college, or would just like a little extra cash in the bank every month, starting your side hustle in the gig economy could be a potentially lucrative opportunity.
If you want to find out more about how you can make money in the gig economy this year, keep on reading.
What is the Gig Economy?
The gig economy is currently made up of 57 million workers in the U.S. however, many people still don't know what it is and what types of business make up the gig economy.
The definition of the gig economy is "A labor market characterized by the prevalence of short-term contracts of freelance work as opposed to permanent jobs."
Examples of gig economy jobs include:
Part-time employees
Rideshare and delivery app drivers
Freelancers
Workers who are hired for project-based tasks
Independent contractors
These new career paths have largely been spurred on by the internet, which has made it easier for people to find alternative employment opportunities, and take advantage of the new app market which has created a whole new range of jobs that didn't even exist a decade ago.
Working in the gig economy provides workers with a chance to be flexible with their schedule, choose their own hours, and make money on their own terms. This is a very attractive option for people who are fed up with their 9–5, or just want the opportunity to make some additional income on top of what they're already earning.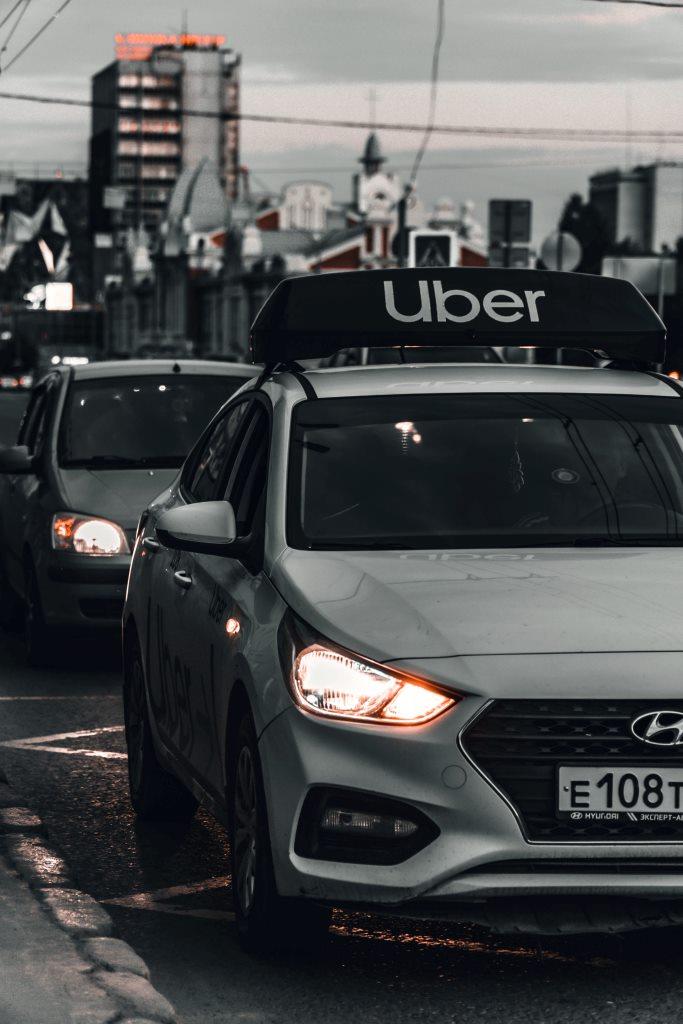 (Unsplash: https://unsplash.com/photos/Gk3apXDUZiI)
How to Thrive in the Gig Economy
In the gig economy, you earn money based on the amount of work you do. Unlike a typical 9–5 job, you won't have a salary or set hourly rate, you'll be paid per delivery instead.
Like any job, you aren't always guaranteed to make a huge income by participating in the gig economy. It all comes down to how much work you're willing to put into it.
If you're wondering how to make money in the gig economy, here are some best practices to help you out:
Don't limit yourself to one app, try out different options to see which works best for you
Embrace the flexibility and take ownership of your own schedule
Learn more about peak times and when you can maximize your earnings
Make sure you understand the requirements of the app you work for
Take note of your expenses e.g. vehicle maintenance to understand your actual earning potential
Learn more about taxes and deductions as you may have to organize this yourself
Try to stick to a schedule to fight burnout
Rideshare Apps
Rideshare apps are a convenient and cost-effective way to travel around. They are made for people who don't have cars, or who don't want to drive from point A to point B.
For people who don't want to drive, they can order a lift on a ridesharing app and get picked up and dropped off at any location. It's like a taxi service, but can all be organized and paid for through their phone.
Not only are these forms of transportation more convenient, they are also more eco-friendly. Rather than contributing to pollution and congestion, you're cutting down on the number of cars on the road.
The most popular ridesharing apps in the US at the moment are Uber and Lyft. Both of these services have been around for quite some time and are perfect for people who are looking to start up a side gig in the gig economy.
There are also some lesser-known driving apps, but as these aren't as popular, you won't have the same opportunity to make a generous income.
If you are able to offer great customer service and willing to work unsociable hours to command a higher price, working for a ridesharing app could be a great choice.
Uber
Over 93 million people use Uber, making it by far the most popular of all the on-demand ridesharing apps. The app is also available worldwide, so if you were to ever move abroad you won't have to worry about missing out on potential income.
Anyone can sign up to become an Uber driver, as long as they pass through the initial vetting process. You can also choose to opt-in for UberEATS driving too, if you'd be interested in the two different methods of income.
As a driver, you will wait until someone requests a ride, then you will go and pick them up and drop them off in their chosen location. You have the opportunity to gain tips, and the most important thing is to offer great customer service to encourage customers to give you a good rating – if your average rating drops too low, you may be kicked off the app.
On average, an Uber driver can make $18.60 per hour.

(Unsplash:https://unsplash.com/photos/x5GdvJ-taiQ)
Lyft
Lyft is the second-largest ridesharing app that's extremely popular in America — offering transport solutions in 644 U.S. cities. However, it's currently only used in the U.S. (and 12 cities in Canada).
Like Uber, Lyft works by signing up, going through the vetting process, and then waiting for people to request a ride.
Once you've got a ride request, you can accept or decline depending on your availability, then it's up to you to take your customer where they need to go.
Something that's especially appealing about Lyft is that new drivers receive a signup bonus that ranges between $10 and $2,500, based on your location. This is a great incentive for drivers looking to make money quickly.
Lyft and Uber both hike up prices depending on demand and availability of drivers. This means that if you're driving at prime time when other drivers aren't working – especially evenings and weekends – you can earn even more money than the standard rate.
The average Lyft driver is able to make between $12 and $17 per hour.
Delivery Apps
Similar to rideshare apps, delivery apps are also booming in the US. Offering a convenient way for people to place orders for takeaway food or groceries from the comfort of their own home, these apps have quickly become a part of many peoples' everyday lives.
There are many different apps that are being used across the States, which means there's ample opportunities for people who want to make money quickly. With the ability to choose your own hours, we think that delivery apps are a great place to start with the gig economy.
The most popular apps in the U.S. at the moment are UberEats and DoorDash however, there are plenty of other alternatives. The one you choose will mostly depend on the demand in your area – make sure to research the most popular one near you for guaranteed earnings.
To start delivering food through one of these apps, you also don't need a car – just a bike or motorbike is fine. You can also collect tips from customers which can help your earnings start to rack up.
According to USA Today, the average delivery app worker can earn between $11 to $18 per hour, with most apps allowing you to make money almost instantly.
Uber Eats
UberEats is one of the most popular delivery apps and drivers are able to work for both Uber and UberEATS at the same time using the same platform. This is great for people who want to take advantage of as many opportunities as possible.
Through UberEats, you'll be delivering takeout orders for local restaurants to their customers. However, UberEats is one of the more difficult delivery apps to join as they require more of their drivers.
To work for UberEats, you must:
Be older than 21
Have a vehicle that's was made after 1998
Have a valid driver's license and vehicle insurance
UberEATS drivers can earn between $8 and $12 an hour, but remember that you should also factor in the costs of bike/vehicle maintenance as the delivery app that you work for will not cover any of these costs.
You'll also be able to keep 100% of any tips that your customers choose to give you.
(Unsplash:https://unsplash.com/photos/Qc5f–WOOp8)
DoorDash
DoorDash is currently operating in 300 cities across North America so, chances are, you'll find a lot of customers in your area. It's a great option for people who want a more flexible working schedule, or to make some extra money on the side of their current job.
Registering with DoorDash means that you'll act as an in between that helps local restaurants deliver their takeaway orders to customers. When a customer is hungry, they will order their meal on DoorDash, then you'll go pick it up and deliver their food.
The only requirements to be a DoorDash driver is that you're over the age of 18 and have access to some sort of vehicle.
With DoorDash, most drivers can earn between $10 and $25 per hour. You'll also be able to keep 100% of the tips that customers choose to give you for your good customer service, speedy delivery and great communication.
Instacart
Unlike UberEATS and DoorDash, Instacart is an app-based grocery delivery app. Instead of picking up takeout orders, you'll have to visit grocery stores, pick out the customers' items, then bring them back to their door.
Instacart is currently available in over 5,500 cities across the United States and Canada, making it one of the biggest names in the delivery app industry. Using the app, customers can make purchases from stores like:
Aldi
CVS
Target
Kroger
Costco
Working for Instacart does involve a lot more time and effort than other options as not only are you picking up orders, you need to walk around the store to collect their items, wait in line, and checkout their products.
However, it can be one of the more lucrative platforms as workers can earn anywhere between $15 to $25+ per hour. Plus you have the chance to earn tips on top of your hourly rate.
Grubhub
Finally, there's Grubhub, which is used by 19.9 million across 3,200 cities in the U.S. Like platforms such as UberEATS and DoorDash, Grubhub works by connecting restaurants with their customers ordering takeout.
What differentiates Grubhub from apps like DoorDash is that Grubhub does not include restaurant service fees, but customers do have to meet the minimum order amount. Grubhub will also compensate drivers for their miles and time spent on the road.
They also offer drivers extra pay for completing 'missions'. In these missions, drivers can earn extra cash by reaching goals in a set amount of time.
On average, most Grubhub drivers can make $12 per hour, which is slightly less than other delivery apps, but with the additional compensation and missions, it may be a more lucrative option.
So, What's Your Plan?
Now that we've taken you through how to make money in the gig economy, it's up to you to go out there and make yourself some extra cash.
Whether you have a car that you can use to start driving for a rideshare app, or can see yourself delivering food for one of the many different delivery apps out there, we think you could see your bank balance increasing very soon.
The gig economy is thriving and is a great place to start for anyone looking to supplement their income. If you've ever thought about taking on one of these jobs, give it a try and let us know how it goes.
Gary Hutton is the founder of Huttronics, a California-based company that sells easy-to-use, high-visibility lighted rideshare signs and gig economy accessories.
Their signs connect drivers with customers quickly, while preventing parking or customer identification issues and many other problems that are faced by workers in the gig economy every day.
Find out more at huttronics.com