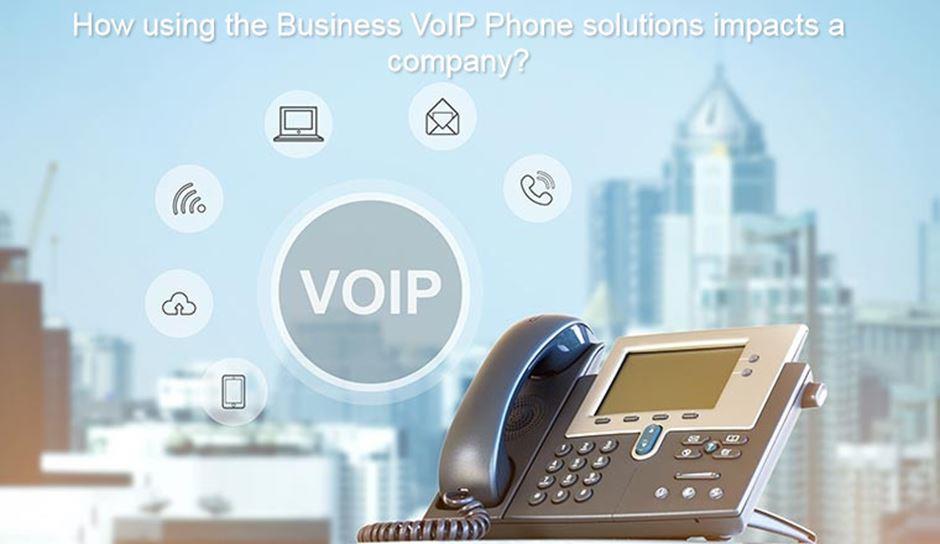 Irrespective Of The Industry Size, an essential aspect of daily operations grow relationships with other businesses or customers and communicate. Without a proper communication system, the business partner may leave you and head to a more accessible competitor. All of that can be avoided if the signs of a business to business VoIP solutions. This solution is offered to help companies to grow and succeed while building and maintaining relationships.
However, the traditional landline phone technology, which uses copper wires to transmit voice signals (like back in the day Bell), is now giving way to the inventor of the 17th century's technology could never have thought: Voice over Internet Protocol (VoIP).
VoIP technology is sometimes referred to as IP telephony, broadband phone, internet telephony, or broadband phone service. It is used to convert the user's voice into a digital signal and sends it to the receiver via the Internet as data, completely bypassing the need for old-fashioned copper phone lines. This impacts on the business in terms of cost savings and exceptional functionality.
Where Can you Save Money Using VOIP Phone System?
The most common reason for migrating from landline to VoIP is financial. First, there is a setup fee to consider. A business that uses technology requires a landline PBX system to take advantage of standard features such as extensions, voicemail, call transfer, or automated menu system.
The installation cost for a PBX can be thousands of dollars. The price for installing the VoIP system is significantly less, and it is also available with all of these features (and more) is included.
With VoIP, businesses can purchase the equipment outright, manage services at home, or rent equipment from a service provider and allow the provider to organize and host it in the cloud before purchasing a considerable advance.
Now let's compare the monthly service fee. For a standard landline telephone service, businesses can expect to pay about $ 150 per line, per month. VoIP typically saves a company fifty percent (or more) in the monthly fee. Because VoIP transmits voice signals as data over the Internet, the cost to operate the service is lower than it was over copper telephone lines. International calling rates are also significantly cheaper with VoIP.
Moreover, VoIP is much more scalable than landlines, limited by the number of lines connected to the initial setup. Adding more traditional lines require any other installation and upgrade hardware. VoIP, on the other hand, relies on an internet connection, allowing for an unlimited number of rows. It drastically reduces the cost of setup and maintenance costs.
Most VoIP providers offer tiered service plans to meet small, medium, and large companies' needs. Bottom line: VoIP system can be easily adjusted to accommodate growth and expansion.
How can VoIP business solutions impact the company?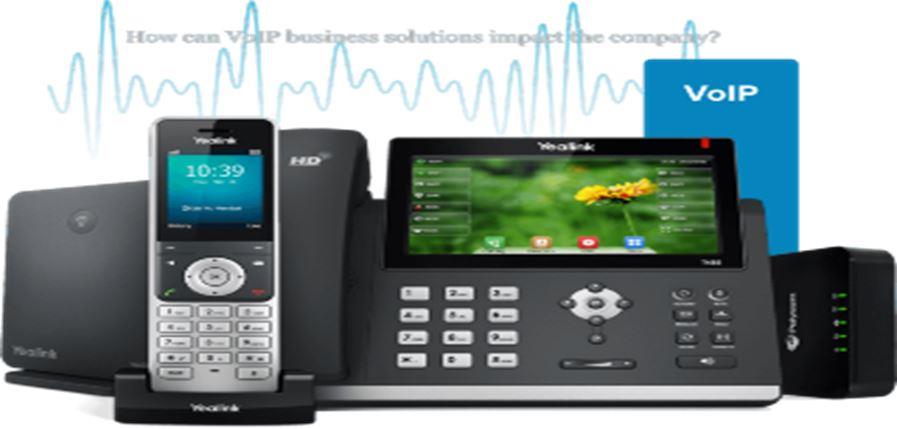 Most would agree that the Internet has caused major upheavals in Unified Communications, including Voice over IP ( "VoIP").
Businesses around the world embrace VoIP solutions as a means to reduce communication costs, increase the effectiveness of communication, and improve the company's profile.
It's not just the ability to make free or cheap calls are VoIP Solutions experience the effects. It is changing the corporate culture as well.
If we consider the monetary benefits of VoIP Solution as read, there are many other ways to impact the company.
VoIP implementations can significantly improve the company's public profile of existing and potential customers:
VoIP can extend the reach of many folds companies and leave the impression that the business is significantly larger. It looks like it has a brick and mortar physical presence in that place only VoIP call-forwarding service.
One everyday use is to have several local offices that are automatically forwarded to the central office or call center.
Customers have the impression that the local companies when they are not. The company profile is enhanced with this trick.
This technique also works to support and help desk.
In this technique, the company has several roots and adds the required extension number for callers directly to the agent's desk.
The use of the hunt group can also bring significant benefits. Incoming calls do not need to go unanswered if the recipient is not on the table. Other employees can take a call or can be automatically forwarded to another table.
How the Use OF VOIP Phone System Impacts Business?

There are many potential benefits of switching to a VoIP phone system. Appearance: Let's look at how to make these changes reduce the cost and time investment while increasing productivity.
As part of its name, VoIP phone systems utilizing the Internet Protocol for the make calls. Instead of using the phone line, all turned into communication data packets and sent over an IP network. The important thing about the IP connection is that there is a guaranteed quality of service (QoS) on your telephone service provider's system to your office network. Note that if you use the Internet to connect to your phone service provider, QoS is impossible.
Placing calls through traditional phone lines means that the line taken by the two callers use to communicate. Because there are only so many lines that can be installed, calls placed over landlines, especially if they are remote, expensive. But using the Internet to deliver data call circumvent this problem, making domestic and long-distance calls cheaper overall.
If your business on-the-go, VoIP services can be a tremendous benefit to you because they will follow you wherever you go.
In the traditional phone system, a line that goes to the home or business is assigned its phone number. Any movement later became a trial given the proper codes or dial button on your phone. The telephone company can then waste a lot of time to transfer your service and phone numbers to a new location.
On-Site mobility. Now it is possible to use the smartphone application that makes the display device such as a desktop phone. When this smart device is associated with a WiFi systems company, the extension number owner is always immediately reached wherever they are on the site and can make toll-free calls through the business network.
Off-Site mobility. Clients can use public and private WiFi services to contact the company and, if configured, calls over WiFi on their smart device or using Social Media. Most VoIP installations would support this type of connection.
Using a VoIP phone system help, you do the multi-task with the most tech-savvy, which will help you become very productive.
Suppose you are in a call queue. You can strategize your approach to a client calls you have missed while you read your voicemail to text transcription is sent to your inbox while you wait.
You can also forward messages and voice messages with ease. If you receive a message in a voice message, you can deliver that voice messages to other users at the click of a mouse.
These factors and many more useful factors are present with VoIP phone systems. And because the service always goes with you, you find helpful features that can be added or subtracted with ease. In short, VoIP phone systems grow with your business.
The customers don't like to wait too long to get their calls answered, and by using VOIP, this thing is assured. With business VoIP solutions, your callers are taken care of. They will know who they are talking to, how long they could speak to the agents, and get the replies to all their queries. If your customers are happy, then you're so glad because relationships successful business is what companies strive for.
All the features that come with the solution can create a very professional company. Even smaller businesses with only a few employees may seem like a great company with a business VoIP phone system. When a client calls, they can be directed by the auto attendant, putting them in the right places they need to be. Some phone systems also provide the call waiting rooms to know how long they need to wait.
For larger companies with high call volumes, they can look into the software call center. This software can help manage calls, allowing callers to reach the same agent every time, providing real-time reporting and more aspects to enable business operations running smoothly.
The call-forwarding, like other features in a VoIP telephone system, is very flexible.
It can choose where and how your call will be forwarded. You do not need the productivity lost due to local power outages or weather-related events. If you cannot answer, the office phone, mobile device, or laptop can.
Conference Calls Made Easy

Features just mentioned are not all made easy by VoIP. Since all calls using a converged data network instead of dedicated phone lines, creating and participating in the conference call is more comfortable.
It's possible to take part in a conference call if your business uses an old phone system, but the problem you will face is paying for additional services to host some of the callers to the conference. The service is genuine by the new VoIP systems. You will be charged the extra amount for the conference calls; it is all included in the VOIP phone system's benefits.
Not only that, but VoIP makes video conferencing much easier as well. Of course, the usual conference exceptional cases, but face-to-face interaction with colleagues and clients, while business personnel outside the office, it is much easier to run a VoIP telephone system.
There is more to VoIP than make and receive calls. Modern VoIP systems incorporate other communication services such as instant messaging, presence information, teleconferencing, video conferencing, receiving a voicemail, and faxes via email.
VoIP multi-features like video conferencing allows you to keep in touch with the employee to discuss essential things regardless of where they are in the world. Through these modern communications systems, your employees do not need to be physically present in the office. They were not able to work from home or work from abroad.
With VoIP, voice messages and faxes can be forwarded to your email. Through this system, you will receive your notifications in one place – your email. It also allows you to archive or deliver messages.
Perhaps the most significant benefit of switching from landline service to VoIP business solutions is all additional calls that come with the service. This increase can affect call quality, and affordable makes you even when you are not at your desk.
These enhancements did not come up with any solution. It is essential to do some research to determine which are most important to your business and see if they are available. The solution provider has excellent technology and innovation continue to upgrade and find new ways to help businesses. Among many others, these people are registered to make a business more organized and more easily accessible to their clients.
Many providers offer significant enhancements, such as:

Call Conferencing
Voice mails
Call Forwarding
Waiting Rooms, etc
Integration with other software

Business VoIP system can also improve productivity by integrating with other software applications' business use. For example, the software can enable companies to keep better track of phone activity to enhance their call centre's efficiency.
So are you ready to Switch to Business VOIP Phone systems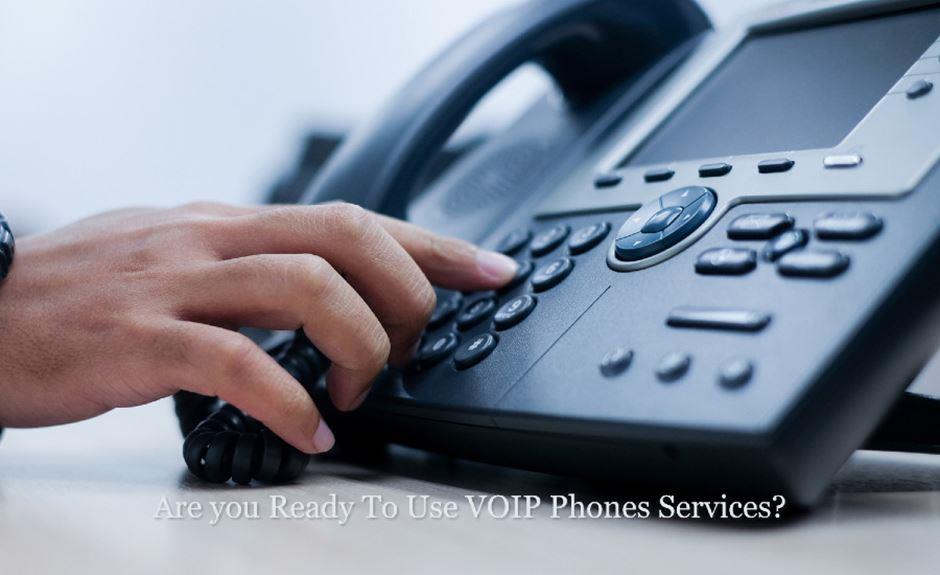 Consider moving to a VoIP phone system that can be confusing with all the services and features available. Sifting through the fine print page did not contribute to making the right decisions either.
A business VoIP solution will give your business all the necessary tools to communicate with your clients effectively. Landline service can connect you to another line, but that's where the service stopped. VoIP business solutions continue to upgrade their technology to fit the business needs and changes in the market. Low levels, dozens of enhancements, and additional calls a satisfactory customer benefit VoIP business solution.
Experts recommend businesses consider VoIP call volume to study before installation, either alone or with the help of outside consultants. That will help you discover the additional load placed on the network and if any upgrades need to be made.
In addition to assessing the hardware, it is essential to address how capable this time your company's IT staff will be in favour of VoIP systems, and what technical support you need from VoIP vendors.
With so many benefits for the company's bottom line, VoIP seems to be here to stay.
Amy is a zealous writer Ideacom, NC and with her passion to read and write about Technology and telecom and its implementation in our modern world. Her inquisitiveness towards learning about how technology has evolved and changed its perception in the society is commendable. With such curiosity embedded in herself, she researches extensively before writing a blog to deliver a credible and detailed content piece.