There's a lot of confusion when one has to choose between iOS and Android. Every mobile seems to look beautiful and has significant qualities and features. But what is the whole hassle about? Should you hold onto your old operating system or should you switch? Should you give the other one a chance or are you just too comfortable with what you have now?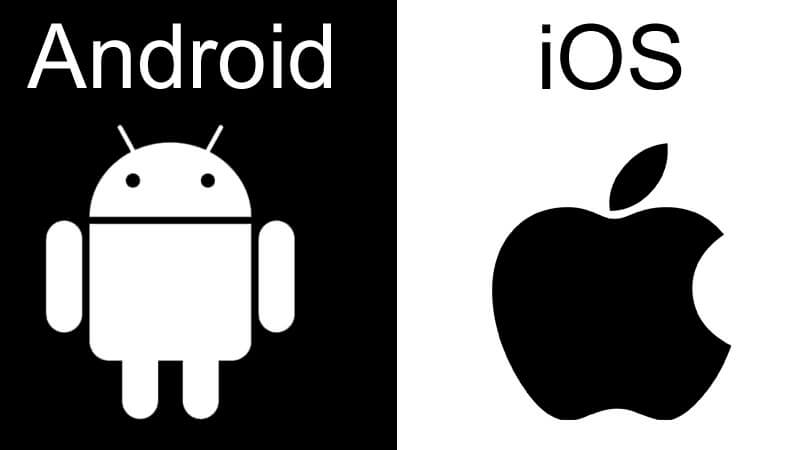 The fight between iOS and Android can never end. People will always support whatever they think is better as per their own experiences and materialistic preferences.
The smartphones powered by Android and iOS are the most popular ones globally. While both are popular, their market share is nowhere near equal. According to NEO Group, Android holds 61% of the American market share, whereas iOS holds at around 29%. That ratio is fairly consistent with the global market share as well, though there are certainly exceptions.
Android and iOS developers work day and night to make sure they are a step ahead of each other. They are in a continuous developmental stage so as to improve existing features and to include new features as often as possible. The two are always competing in terms of ease of access and innovation.
Which brings us back to where we started: how do you choose the one you need?
Here's a comparison chart to help you better understand the advantages and disadvantages of both iOS and Androids. The tick mark represents the winner in a particular field.
| | | | |
| --- | --- | --- | --- |
| Sr# | Characteristic | iOS | Android |
| 1. | Affordability | × | ü |
| 2. | Apps | ü | × |
| 3. | App Store | ü | × |
| 4. | Alternative App Stores & Sliding | × | ü |
| 5. | Battery Life & Charging | × | ü |
| 6. | Updates | ü | × |
| 7. | Customizability | × | ü |
| 8. | Accessibility | ü | × |
| 9. | Calls & Messaging | ü | × |
| 10. | Email | × | ü |
| 11. | Maps | × | ü |
| 12. | Camera | ü | × |
| 13. | Image backup | × | ü |
| 14. | Cloud Services | × | ü |
| 15. | Voice Assistants | × | ü |
| 16. | Security | ü | × |
| 17. | Rooting, Boot loaders & Jail breaking | × | ü |
| 18. | Cases & Accessories | ü | × |
| 19. | Better Shielding from viruses & hacking soft wares | ü | × |
| 20. | File Manager | × | ü |
| 21. | Stability in apps & operating system | × | ü |
| 22. | Speed | ü | × |
| 23. | Massive app ecosystem | ü | × |
| 24. | Massive hard ware selection | × | ü |
| 25. | Privacy Controls | ü | × |
So that's a long chart that needs a lot of concentration and attention to be understood. If you know the mobile industry fairly well, it won't be difficult to understand which one fulfills your requirements. If, however, you aren't, here's a little more on the chart.
Briefing
When it comes to the price difference between the two systems, Android wins the race quite handily. The best thing about Android is that the system is incorporated in various mobiles devices with different designs and specifications to attract more users, thus the massive hardware selection. Android doesn't try to overcharge just because of a logo. It focuses on providing its services to every kind of user without asking them to pay an arm and a leg. On the flipside, iOS comes only in Apple devices, and the prices are not reasonable for everyone.
There are a lot of applications offered on both operating systems, yet iOS takes the lead. Not necessarily because of the number of apps (which is just a number), but because of the usability of the applications. Due to its brand name, iOS attracts more developers to launch their apps on its platforms either first or exclusively. While there are roughly 3.5 million Android apps, iOS still wins with its approximately 2.2 million apps. Even though the Play store has a lot of free apps in comparison to the app store, all the best games come to the app store first. That's why we're siding with quality over quantity!
It is fairly difficult to keep everything organized in both the app store and the Play store, but the app store is more organized in comparison. Plus, Apple is more prone to ban certain apps in order to preserve the quality.
Apple opposes third-party stores, but Android does not. Android lets you download a bunch of apps more conveniently in comparison by just checking a box. Once you check it, there you go: the download begins. It opens up a huge risk of malware, however, which is the main reason why iOS doesn't allow it on their systems. But if you don't mind taking the chance, Androids are the way to be.
Battery life is a major concern when it comes to choosing a smartphone. Unfortunately, applications can suck at the battery like a child drinking their favorite beverage: they suck it dry, and do so quite often. iOS optimizes its power supply to get the most out of its battery as per the mAh ratings. However, you can find Androids that last a lot longer than any iOS.
Moreover, Apple frequently updates and runs security checks to save users from any issues. If you wish to have that sense of security with an Android, you need to buy a mobile from Google's Pixel line. Be aware that both systems require a good internet connection (like U-Verse internet) to do so, so be sure to have one!
To make a long story short, each operating system has its own pros and cons. While photography capabilities might be important for one person, it might not be as essential to another person. The needs and requirements vary from person to person, and with the help of the chart above, you can easily see which one suits you best. Both operating systems are subject to change, as the software is updated frequently. The developers keep trying to make them more efficient and convenient for users. You can always Google reviews and specifications of any particular model you might be interested in. The internet is filled with experiences both bad and good. Learn from them. In the end, don't forget your price range while making your decision.
Best of luck!
Contributed by Digital TV Bundles
Nathan John is a Content Editor at Cox Bundles and he contributes in various online communities and writes for technology and trends.