IT infrastructure is the linchpin of modern digital businesses. Wisely set and managed, it enables increased corporate productivity, secured data exchange, and improved cross-functional communication. Information technology structure provides the computer network, workplace, and data platform capabilities needed to empower the users and operate applications that run business.
This post will outline the peculiarities of IT infrastructure, including IT architecture management and its benefits for businesses. You'll also learn how to reduce infrastructure deployment and administration costs.
Essence of IT Infrastructure
IT infrastructure involves a set of elements, such as data storage, hardware, software, and network systems needed to lead and support the company's technology environment. HR management, upgrades, and training also comprise the information technology structure. IT architecture can be employed to optimize and accelerate the data exchange across the business units, as well as to the end customers. Today chief information officers focus on the efficient administration of IT structure to bring added business value and increase margin.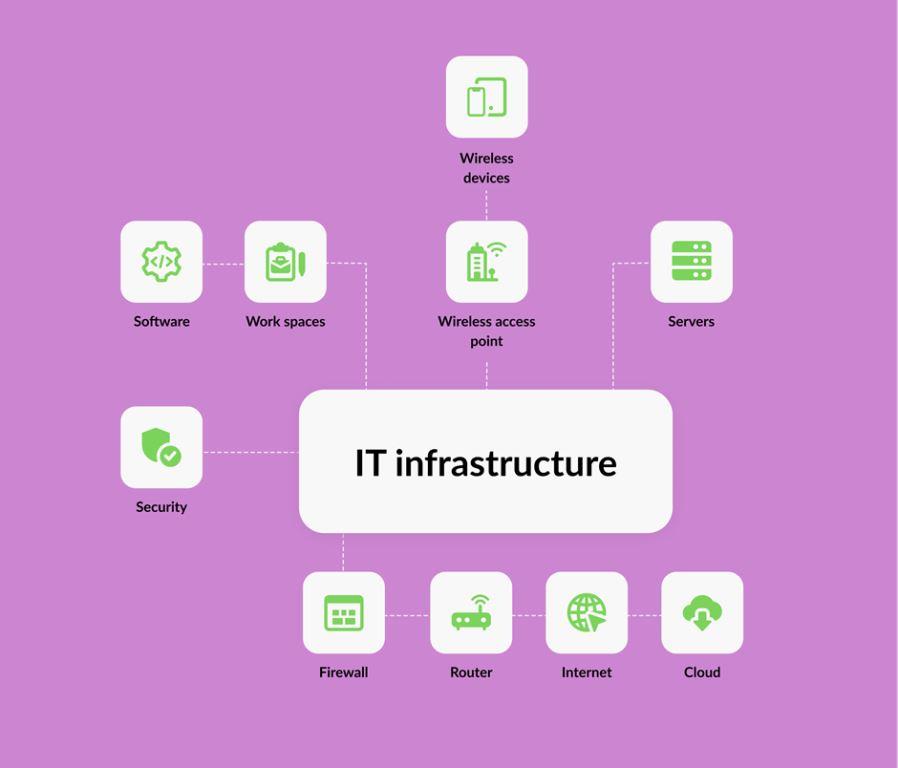 5 Common Forms of IT Architecture Design
Traditional
This model is generally used by enterprises. The IT architecture is run and deployed on the corporate on-premise data centers. This enables  quick and secure access to the applications and information required.
The enterprises purchase hardware and software and employ in-house specialists to take care of infrastructure management.
Composable
This type of architecture refers to a software-defined one and works great for hybrid cloud solutions. It implies that information technology resources exist independently from the hardware they locate on and center in a specific part of the data hub, which is directed by the software. This approach makes it possible to assign IT sources on-demand.
Converged and Hyperconverged
According to this model, IT elements are combined into an optimized center, and all the joined processes are based on centralized management. The expert team arranges existing resources into groups shared with varied applications and processes. Sources utilization depends on the priority and corporate guidelines. This model has created a backbone for cloud solutions, enabling resource consolidation across operations. Like a converged structure, a hyper-converged one also operates on the principles of centralization. But it employs software elements (located on a hypervisor) to attain it. Therefore, this model is software-fixed, thus, more scalable, and allows for remote and streamlined management capacities.
Cloud-based Architecture
This architecture design is widely used among entrepreneurs due to its cost-effectiveness, flexibility, and advanced security capabilities. There is no physical hardware required; all the on-demand sources (such as servers, databases, software, etc.) are located on the cloud and can be accessed remotely. It allows you to create, design, and administer applications on the cloud platform. Computing sources can be owned and handled by a single client (private cloud), or you can rent a cloud structure from service providers such as Amazon. You can choose a hybrid model if you want to distribute the workload between multiple clouds.
Some features of cloud-powered digital solutions:
The information is saved in the cloud, so there are limited requirements for devices the app is run on.
The users can access data offline since all the details are stored on the users' devices.
The application can operate across multiple devices, which allows businesses to target a wide range of users.
Infrastructure as a service (IaaS)
This model implies that all computing resources, such as data storage, server networking, etc., are provided in a virtual space so that multiple users access them. Thereby, your technology infrastructure is controlled by cloud providers like AWS, IBM Cloud, and Oracle. You can buy virtualized components for self-administered public clouds and get access through an API or admin panel or outsource the app's infrastructure maintenance and support to a service vendor.
Key advantages of IaaS:
The pricing policy is settled on a consumption-based model. You're charged only for services used
Cost saving. There is no hidden cost; only a monthly fee is needed
Advanced security. Cloud computing builds a bedrock for high-secure cloud solutions; service providers invest in cybersecurity to deliver top-quality services.
Seamless access. There is only broadband internet is required to penetrate the server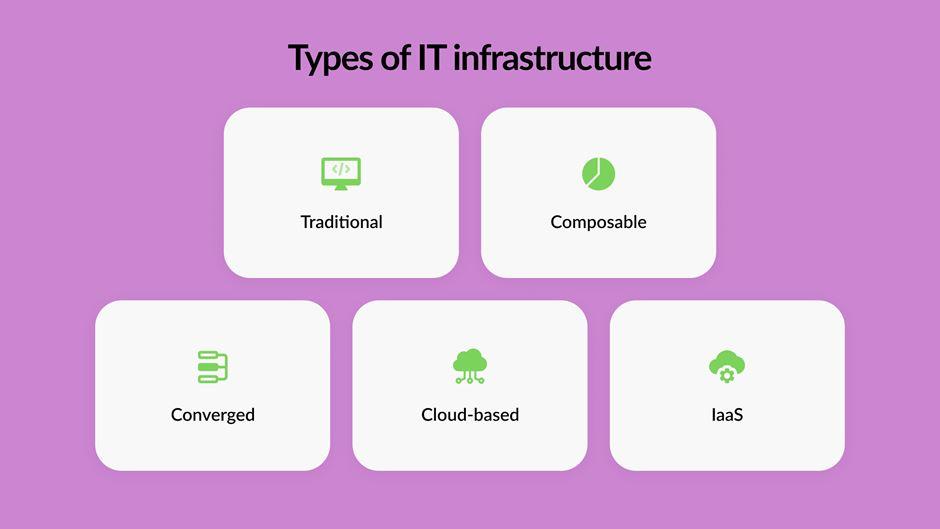 Key Blocks Of IT Architecture
Now, let's see what elements are made up of information technology structure.
Hardware
Hardware is any element of the environment that's physical. It includes a group of equipment, such as standalone servers, PCs, data hubs, routers, and headphones, that assists in running and maintaining the company's IT landscape as well as accessing the external environment. Hardware saves your network information and enables smooth data consumption and recovery. Additionally, it provides the means to allow smooth communication between specialists and devices engaged.Finally, IT hardware serves as a host environment for enterprise software.
Software
Software is an IT architecture element that tells the hardware what to do and how to do it. It encompasses operating systems, content management systems, web servers, enterprise resource planning, security software, APIs, and other apps representing your business environment.
Networking
Interlinked networks make it possible to set up connections between components and devices (both internal and external ones) as well as regulate and supervise internet access to multiple users. It involves data centers, routers, firewalls, servers, etc. A service agreement with telecom providers is also a part of the networking side.
What IT Infrastructure Management Stands For
Architecture management relates to the process of focusing on supervising and maintaining all of the back-end infrastructures. Properly managed infrastructure can help you transform your IT environment to drive business growth and innovation. By optimizing infrastructure, managing complexities, and creating transparency, you'll be able to run your IT more efficiently and confidently.
Its core objectives are:
Design the surroundings for effective coordination of all technical processes and resources;
Enhance overall business performance by reducing downtime. These actions may include tracking and fixing bugs, preparing equipment for forthcoming updates, and much more.
IT infrastructure management encompasses the following set of services (but it's not limited to them):
API management. It refers to creating an ecosystem enabling managing the complete API's lifecycle (from designing to publishing and scaling) so that companies can focus on adding new value to their businesses.
Cloud management. The procedure of monitoring and governing resources deployment, consumption, incorporation, and recovery to effectively control cloud computing products.
Configuration management. It implies establishing and maintaining the stable state of IT systems' functionality and performance.
IT automation. It's an approach to making software and systems to replace repeatable tasks and reduce human involvement.
IT operations management. The procedure focuses on the seamless running of all IT-related services to prevent repetitiveness, sustainability, and predictability of business processes.
OS management. The service enables keeping up with modern patches, updates, and other OS components, freeing up tech specialists for high-level activities.
Why Do Businesses Need a Well-Managed IT Infrastructure?
The importance of implementing a well-managed IT architecture design stems from the main benefits for businesses.
Instant Disaster Response
A solid IT structure supports organizations in daily business operations, but it's also an irreplaceable tool for emergency management. Data breaches, malware attacks, tech malfunctions, and other IT-related concerns can lead to financial losses, foiled clients, and marred reputation. Integrating a well-managed infrastructure will allow you to address these issues. In addition, it's associated with regular and thorough data backup to enable restoring of lost or corrupted records.
High-Powered Security
Security gaps are the key concern to a successful operation. As hackers become more innovative in their delivery attack methods, enterprises must put all their efforts into protecting corporate data. However, standard security measures, such as firewalls or antivirus software, may not be sufficient to prevent a cyber breach. Sophisticated IT architecture takes its utmost to ensure proactive system protection by scrutinizing and monitoring threats or detecting white spots in your security.
Increased Flexibility and Scalability
Technological advancement isn't static. Even if you have a well-planned information technology architecture, it may require modernization as the years come. The flexible and scalable architecture will be able to quickly adjust to meet your fast-changing needs. For example, you'll be able to enlarge your storage capacity, buy modern software, and keep up with the latest versions and updates. These measures contribute to scalable IT architecture development on your side, bringing robust solutions throughout the business lifecycle.
Better User Experience
A reliable and performant IT architecture also plays a crucial role for end-users. Investing in fault-tolerant and highly available IT infrastructure is vital to delivering better products and improved client experience. For example, a solid application structure improves relationships with a business if you build a fitness app or a full-fledged patient monitoring platform. Moreover, regulating downtime by managing disasters will allow you to prevent unexpected delays.
Enhanced Team Productivity
Old-fashioned application infrastructure can lead to problems relating to lousy connectivity, slow operations, lost data, and much more. As a result, employees start wasting time dealing with emerging issues rather than focusing on their strategic tasks. On the other hand, dealing with responsive and operable application architecture contributes to optimized workloads and improved overall team productivity. In addition, a state-of-the-art IT architecture design guarantees data integrity and recoverability despite the employee's location and device used. Hence, your team will be able to remain productive while working from home.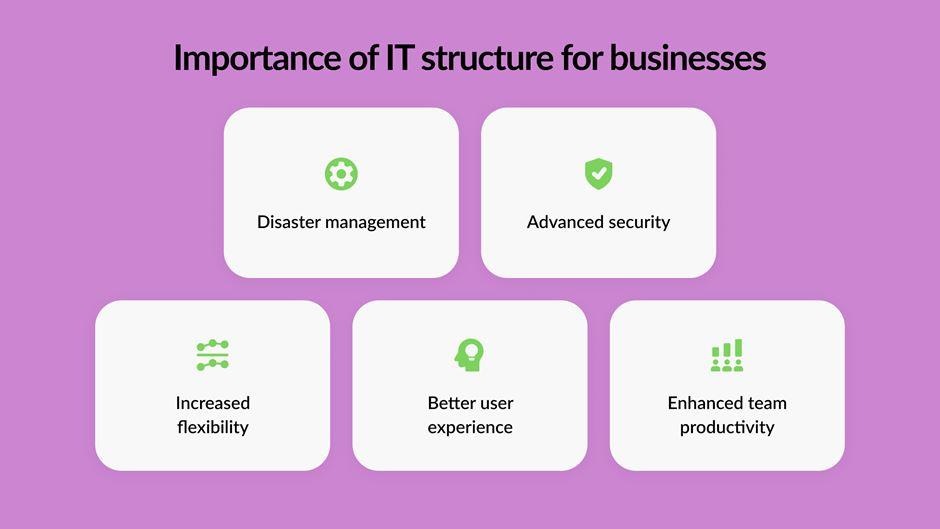 Proven Ways to Optimize IT Architecture Price
As you see, a solid and high-performance infrastructure keeps your IT environment built up and stable. However, implementing, managing, and optimizing modern application architecture is a costly solution. Therefore, here are some time-tested tips on how to reduce IT infrastructure costs.
Migrate to the cloud IT architecture
The cost-effectiveness of cloud application architecture is proven by removing the need for physical hardware. All the software and network are located in the cloud, allowing the required storage space to satisfy your needs without being overpaid. Hence, you'll be able to step in IT structure price by choosing a cloud computing model. Another factor contributing to cloud-based apps' efficiency is their comprehensive scalability. Cloud app architecture isn't affected by external conditions (e.g., supply power), ensuring interrupted business workflow.
Tune IT architecture to align with your needs
Before incorporating robust IT structure solutions, you should scrutinize and assess your current enterprise needs. Precise estimates of your project requirements will allow you to accurately predict its further demands. Moreover, application architecture deployment relates to complex solutions that should be guided professionally. Thus, it's crucial to appeal to an experienced tech vendor with confirmed expertise in IT infrastructure management services to ensure the project runs effectively.
Trace billing of IT infrastructure service
This tip is applicable if you decide to deploy your solution in the cloud and you're invoiced for services. However, despite you paying a fixed sum, there are some hidden costs that can appear. As your IT environment scales, monitoring all the services employed becomes challenging. As a result, you may overlook the time when your hardware is overflowing with redundant assets. To prevent budget overrun, you should perform a thorough IT architecture expenditure breakdown and monitor invoicing cycles via each case. Here are some suggestions on how to achieve it properly:
Set warnings to get notified when you exceed the prescribed financial limit
Adapt your app structure cost model according to your current project demands
Examine invoices and utilization reports regularly
If you rent storage in the cloud, apply the vendor's cost administration tools to evaluate the IT architecture price
Govern IT infrastructure's hardware elements
If you possess local physical storage (traditional model), high priority should be given to hardware. Physical hardware is a particular component of the system foundation that should be constantly monitored. Specifically, evaluating the amount of storage space taken and how much is still accessible is critical. If there is a demand for additional space (before hardware is renewed), you must ensure that the setpoint amount of storage strictly complies with the needs of the newly added service. IT structure ongoing maintenance and support is critical too since it lengthens the lifecycle of your hardware, hence, releasing funds.
Bottom Line
Incorporating and monitoring app architecture is a responsible and tricky matter, requiring in-depth knowledge of practices and methodologies. However, investing in a modern IT foundation brings colossal benefits for businesses across multiple domains. It creates a backbone for successful business advancement and impacts your revenue.
Yuliya Melnik is a technical writer at Cleveroad, a web and mobile app development company. She is passionate about innovative technologies that make the world a better place and loves creating content that evokes vivid emotions.