Meet a free Cloud-based endpoint security and patch management solution from Action1. This top-ranking solution facilitates network discovery, enables you to find the installed software and orchestrate software updates across all your endpoints regardless of their location.
With many tools over there, you might be wondering how Action1 is different. Action1 combines powerful administration toolkit with a simple and user-friendly interface. The learning curve and onboarding are pretty fast. On top of that, Action1 is equipped with intelligent features such as search queries and alerts. All of this makes Action1 not only a great tool for system administrators but a smart solution for IT managers and security analysts who execute control over the network and are looking for a way to reduce maintenance costs.


For your convenience, Action1 is shipped with preset queries that will cover most of your administration and analytics needs. At the same time, you have the freedom to create your own search queries and save them as reports. With flexible search, you can filter out workstations by the operating system, processor, software version, etc. Security analysts will enjoy the ability to export software and hardware inventory as CSV and HTML.

It's way easier to manage IT assets and execute security control over your network with a free IT asset management solution from Action1. Action1 can trigger alerts to notify you about important changes and potentially harmful actions, for example, new software installation or USB usage. Leverage built-in alerts or create new alert rules based on search queries or tailor existing rules to your needs.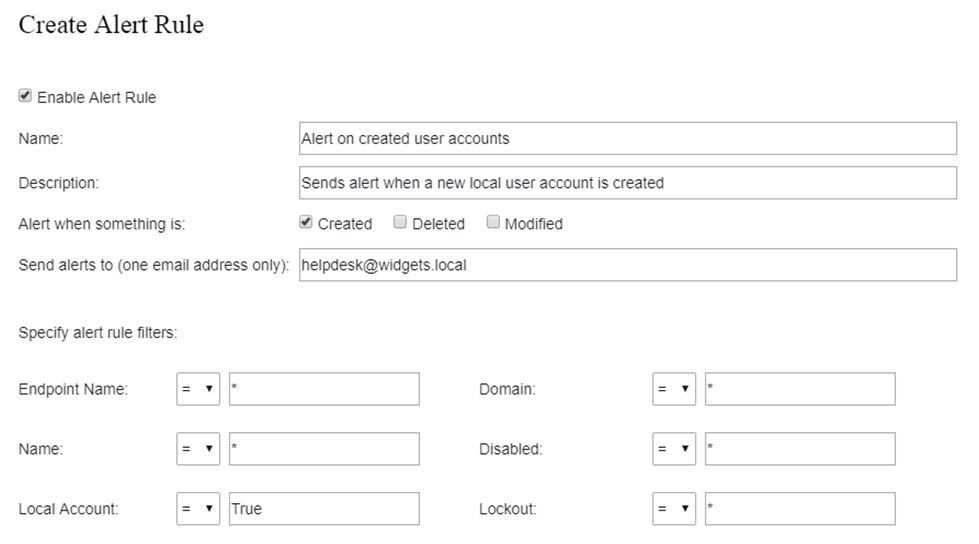 Software distribution and deployment
In a rapid modern environment installing software on multiple computers and making sure the latest updates are distributed on time is quite a hassle. Especially if your managed endpoints are not physically at the same location and connected to your corporate LAN.
Action1 software deployment and distribution tool come with a powerful toolkit of remote management capabilities such as software and patch deployment, task scheduling, and the ability to run PowerShell scripts. You don't have to be present in the room or in the office to service the entire corporate fleet of devices. With Action1, the administrator can filter out workstations that need maintenance and then roll out software updates. For example, locate all workstations running a specific operating system and processor, push updates and install them in the silent mode.

Actually, Action1 is designed specifically to help administrators install and uninstall software remotely. Unlike many other software distributions and packaging tools, Action1 doesn't rely on Group Policy. Also, its capabilities extend far beyond those offered by wmic or psexec tools. First of all, the administrator has genuine control over the remote installation procedure — he or she can schedule updates, set up waiting time, force computer root, stop processes, and so much more.
Action1 streamlines software deployment and distribution — the administrator points to MSI or EXE from a network location or URL and Action1 will make sure to push updates to all managed endpoints. It does not matter if a workstation is in the same physical network or overseas, in the same domain or not. Action1 will even take care of workstations that are turned off at the moment and apply changes to them later.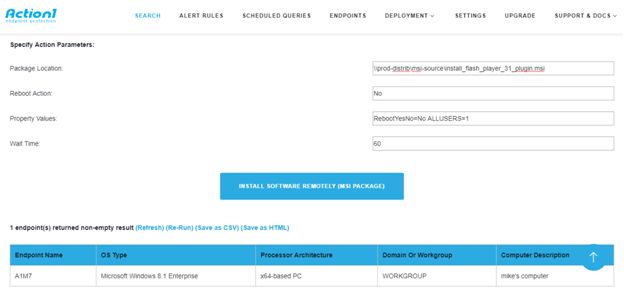 Powered by the Cloud
Action1 is cloud-based, all management is done right from your browser window. Forget about time-consuming installation procedures and tricky configuration steps, the administrator can set up Action1 in minutes and start managing endpoints almost immediately.
While many applications had a desktop version first, Action1 was designed for Cloud from the day one. It has unique user experience and intuitive workflow. The scalable approach to architecture guarantees that Action1 can manage thousands of workstations without delays and interruptions. As your infrastructure grows, Action1 scales the backend for you. It will work equally fast on your fleet of 100 or 10,000 workstations.
Summary
Still looking for a tool that will help you automate administration routines? Action1 is a great choice both for system administrators and security analysts. Its free version creates detailed software and hardware inventory, helps manage IT assets, orchestrates software updates, etc. Administrators will leverage its capabilities to automate workflows, improve endpoint management, and save up on maintenance costs. Security analysts will enjoy the clear and easy-to-browse network inventory and the ability to set up reports and alerts. Action1 is available as an annual subscription or as a free version with limited functionality.
Chris Mcdonald has been the lead news writer at complete connection. His passion for helping people in all aspects of online marketing flows through in the expert industry coverage he provides. Chris is also an author of tech blog Area19delegate. He likes spending his time with family, studying martial arts and plucking fat bass guitar strings.