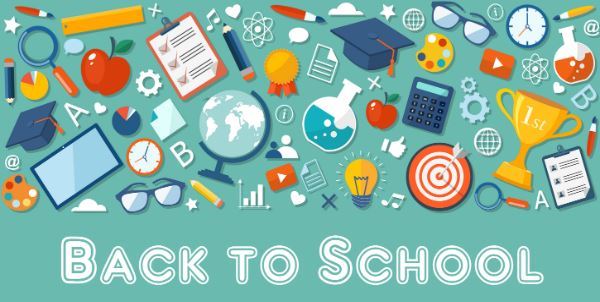 A lot of things have changed in society since the pandemic period started. The economy was greatly affected, which is the same for many gatherings – the schools included. The educational section is a crucial part of society, and its flaws can reflect heavily on the community. This is why the government has put several precautions in place such as face masks, regular had washing and social distancing in every school. Children are delicate and not mature enough to carry out responsibilities, which is why parents have the sole duty to get things done for them—this includes getting the right tips for back-to-school preparation.
The Basic Supplies
Some parents have no idea about what it is in the school environment. You do not need to panic, as you only need the basic supplies in your back-to-school preparation. If the school doesn't give you a list (which they usually do), you may request a list from the school to make things easier and faster. However, there may now be specified on the type or version of the items to buy. The standard items include a uniform, backpack, lunch box, pens and crayons, and stationery.
Truthfully, getting your child ready for school resumption can be cumbersome when you do not have sufficient financial resources. Not everyone has the luxury of unlimited resources. This means you need to set a budget ahead of time and ensure you do not spend more than you intend to. If you cannot afford the essential items, you can apply for the available programs in schools and church organizations. Firstly, reach out to the school on how they can help, or if the school can recommend any organization that provides assistance. Fortunately, some states offer a tax-free weekend for back-to-school checklist shopping. Many agencies and activities are working towards providing free education for the poor society. Hence, you may be lucky to enroll your child in any of these free programs.
Do Price Comparisons
As you are probably excited that your child is going back to school, do not jump into the first offer that comes your way. Stores will have different prices for every school supply. Make a price comparison and select the product that meets the requirements and is within your budget. Also, expensive items do not necessarily equate to better quality. Sometimes, you may buy an item more than you would have in a typical scenario. Go online and keep a close watch on the available sales. For instance, popular online stores offer a Black Friday sale where items are usually lower. Also, remember that you may not necessarily get everything you need in a single store. You will be shooting yourself in the leg when you do not explore other options.
Safety Tips in Preparing for School
The significant incidents students face are either directly from health diseases or accidents. Hence, this section focuses on transportation safety and maintaining the Covid-19 safety protocols. Confirm with the school management how your child gets to school and goes back home and when the transportation takes place. Although you may not have to worry about this, if you transport your child to and from school, make sure your child is sitting comfortably. Hence, do not leave a little kid in the back seat without safety precautions. Also, confirm that the school bus driver adheres to every transport regulation. Ask if the driver is licensed to verify your child is in a safe hand. Teach your child always to follow traffic signs. Map out the safety rules for your child and how to avoid road accidents.
Another thing that poses a threat to students' safety is the Covid-19 precautions negligence. Since there are still children that cannot receive the Covid-19 vaccine, it is paramount they adhere to all safety instructions. Explain to your child the importance of using a face mask, hand sanitizer, and maintaining social distance. If in case you notice any virus symptoms, such as fever, cough, sneezing, headache, and loss of taste in your child, bring them in for a medical check-up as soon as possible. A child with symptoms should also be isolated until a medical test result proves negative.
Conclusion
Shopping around from different stores may seem challenging but consider what you would have done if you were getting some fashion items for yourself. You will probably want to explore your choices and choose the best among several others. This is how shopping for back-to-school items should appear to you. It may seem like there is a lot to take in but take it one step at a time. If you are not sure you are making the right decision yet, ask your child what they think. You never can tell; you may get the best selection from your younger version.
Chris Mcdonald has been the lead news writer at complete connection. His passion for helping people in all aspects of online marketing flows through in the expert industry coverage he provides. Chris is also an author of tech blog Area19delegate. He likes spending his time with family, studying martial arts and plucking fat bass guitar strings.