Are you looking to grow your Instagram following and engagement? In the dynamic landscape of social media, Instagram has emerged as a powerhouse platform for both personal expression and business promotion.
If so, you heard about Mixx, a social media growth platform that can help you to increase social media engagement. But is Mixx really worth it? What are the pros and cons of using it? In this article, we will take a closer look at Mixx and discuss its pros and cons. We will also provide some tips on how to use Mixx effectively.
Read this article to learn about the Mixx.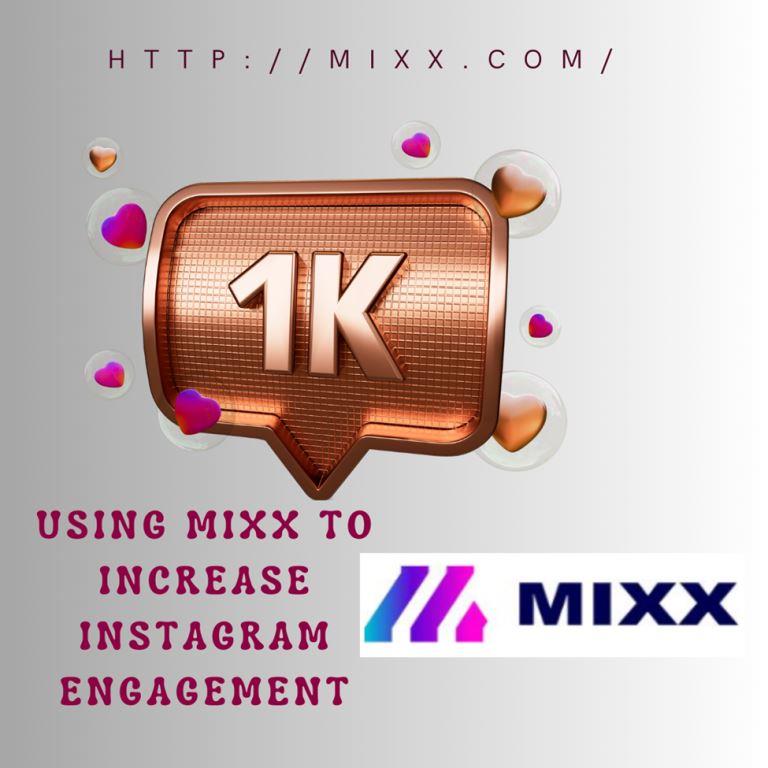 Understanding Mixx
Before delving into the pros and cons it's important to understand what mixx is and how it works. Mixx is a third-party platform that claims to enhance engagement on instagram by connecting users with a network of like-minded people. The platform operates on a mutual engagement basis, where users follow each other, like posts, and engage with content to earn points. These points can then be used to get likes and engagement on their own posts.
Why Choose To Use Mixx?
There are a few reasons why you might choose to use Mixx to increase Instagram engagement.
Automatic scheduling: Mixx can help you to save your time by automatically scheduling your posts and stories. This can be helpful if you want to post consistently but dont have the time to do it manually.
Audience insight: Mixx provides into your audiences engagement habits, such as which posts they like and comment on the most.
Contests and giveaway: Mixx makes it easy to run contests and giveaways on Instagram. This is a great way to generate excitement and engagement among your followers.
Analytics: Mixx provides analytics to track your progress and see how your engagement is improving over time. This information can help you make necessary adjustments to your strategy.
Pros of Using Mixx
Those are the pros of using Mixx to increase Instagram engagement. Here are some more details about each one:
Increased Engagement: Mixx allows you to connect with other Instagram users who are interested in the same things as you. This means that your posts are more likely to be seen and engaged with by people who are actually interested in what you have to say.
Networking Opportunities: Mixx can also help you connect with other influencers and brands in your industry. This can lead to collaborations, sponsorships, and other opportunities to grow your Instagram account.
 Exposure to Diverse Content: Mixx allows you to discover new content from people all over the world. This can help you stay up-to-date on the latest trends and find inspiration for your own content.
Initial Boost for New Accounts: Mixx can give your new Instagram account a much-needed boost. When you first join Mixx, you'll be given a certain number of credits that you can use to promote your posts. This can help you get your account off the ground and start building a following.
Cons of using Mixx
There are some of the cons of using Mixx to increase Insragram engagement. Here are some more details about each one:
Inauthentic engagement: Mixx allows you to buy likes and comments for your posts. This can artificially inflate your engagement metrics, but it's not a sustainable way to grow your account. In fact, Instagram has been cracking down on inauthentic engagement, and you could get your account banned if you're caught.
Violation Of Instagram guidelines: Mixx terms of service state that you cannot use the platform to spam and harass other users. If you're caught violating these guidelines, your account could be banned.
Time consuming: It can be time-consuming to use Mixx to promote your posts. You need to spend time finding relevant hashtags, interacting with other users, and running contests and giveaways. If you don't have the time to do this, you will not see results from using Mixx.
FAQs
What is Mixx?
Mixx is a social media growth platform that helps businesses and influencers grow their Instagram following and engagement. It does this by providing users with a variety of tools such as:
Automated likes and comments
Target hashtags
Smart scheduling
Insights and analytics
Is Mixx Safe To Use?
Mixx is a safe platform to use as long as you follow the terms of service. However there is always a risk of getting an account banned if you use it too aggressively.
Is Mixx Worth It?
Mixx worth depends on your specific needs and goals. If you are looking for a quick and easy way to grow your Instagram following and engagement, then Mixx is a good option for you. However, if you are looking for a more organic approach, then you may want to consider other methods.
Conclusion
In the world of Instagram, where engagement reigns supreme, tools like Mixx have gained popularity for their potential to boost the interaction rates. Mixx is one of the most amazing and reliable platforms to increase Instagram engagement.
Before deciding to use the Mixx or similar platform, it's crucial to weigh the advantages against disadvantages and consider your goals and values. Authentic engagement is more powerful for meaningful results. Rather relying on shortcuts,focusing on creating valuable content. I highly recommend the Mixx platform to increase engagement with Instagram.
Chris Mcdonald has been the lead news writer at complete connection. His passion for helping people in all aspects of online marketing flows through in the expert industry coverage he provides. Chris is also an author of tech blog Area19delegate. He likes spending his time with family, studying martial arts and plucking fat bass guitar strings.