Cloudinary is a popular video and image processing and management solution. It's a cloud-based SaaS tool that allows users to upload and store images and videos to the cloud and manage them efficiently.
It also supports file upload as well as image transformations and enhancements, such as filters, image rotation, image rounding, and more. Simply put, Cloudinary helps developers deliver high-quality and optimized images and videos for the web. However, Cloudinary has its own drawbacks.
For example, Cloudinary's paid subscription plan is quite expensive. Some users also don't like the fact that Cloudinary doesn't allow them to restrict the access of media to authenticated users. Fortunately, there are several third-party tools that you can use as Cloudinary alternative.
If you have a digital content management or digital asset management system and you need efficient image and media processing for your web platforms, apps, and websites, you can choose from the following Cloudinary alternatives:
Filestack – One of The Best Cloudinary Alternatives

Filestack provides a set of tools and efficient APIs that enable users to upload, transform and deliver digital assets and files quickly and easily.
Features
Some of the key features of Filestack include:
Filestack offers a File Picker that lets you implement a fast and secure file uploader with a user-friendly interface in your apps super quickly. It is highly customizable and configurable and can integrate with Dropbox, Google Drive, Facebook, Instagram, and more. You can also add your own integration to the File Picker. Additionally, there are several SDKs that you use to access the underlying API.
You can use Filestack Drag-and-Drop to add a user-friendly drag-and-drop file uploader to your websites and apps and improve user experience. Adding the drag-and-drop uploader is super quick, as it requires just 3 lines of code.
You can also upload files over HTTP with the Filestack File API. It also supports multipart uploads.
Filestack offers upload success 99.999% of the time as its Intelligent Ingestion™ can efficiently adjust to changing network conditions
Filestack also supports image manipulation and transformation. It enables users to easily convert, optimize and transform files. For instance, users can resize and rotate images and convert images to multiple formats.
Pros
Detailed documentation
Enables users to make responsive images
Allows users to upscale images without losing quality, reduce noise in images, etc.
Cons
Some users find the pricing model a bit expensive, especially when they have to use transformations.
Uploadcare
Next on the list of top alternatives to Cloudinary is Uploadcare, a powerful tool for efficiently managing file uploading, processing, and delivery.
Features
Uploadcare provides a responsive and easy-to-use HTML 5 file uploader that allows users to quickly upload files from different sources, such as local storage, social media services, camera, and cloud storage services.
Uploadcare also enables users to add a drag-and-drop file uploader to their website. Additionally, it supports multiple file uploads and shows an individual progress bar for each file.
Users can speed up the file uploading process with the uploading network, which works like CDN.
You can also validate files by their type and size for security purposes. Additionally, Uploadcare allows you to resize images that are too large.
Pros
Allows users to upload any file type and supports file sizes of up to 5 TB
Shows image previews
Supports image enhancement and offers several filters
Cons
File validation is a bit complicated.
ImageKit
ImageKit is a powerful tool that supports image upload, real-time image optimization, image resizing, and more.
Features
ImageKit comes with over 40 URL parameters for image and video manipulation. It supports resizing, cropping, watermarks, text overlay, and much more. You can also create short video previews of your original video using the trim transformation parameters.
ImageKit offers several impressive image optimization features. For example, you can deliver images in WebP without the need to change image URLs. It also analyzes several formats and selects the smallest file depending on the device and image content.
It provides a detailed optimization report for important business pages. This way, businesses can efficiently fix issues without the need to use other third-party tools.
ImageKit provides a user-friendly interface for uploading, managing, and tagging resources, allowing users to efficiently manage digital assets in the cloud. Users can create, move, copy, and delete files and folders.
Pros
Integrates with your existing setup flawlessly without the need to move your media assets
Performance monitoring and performance issues alert
Automatic format conversion
Cons
API documentation needs improvement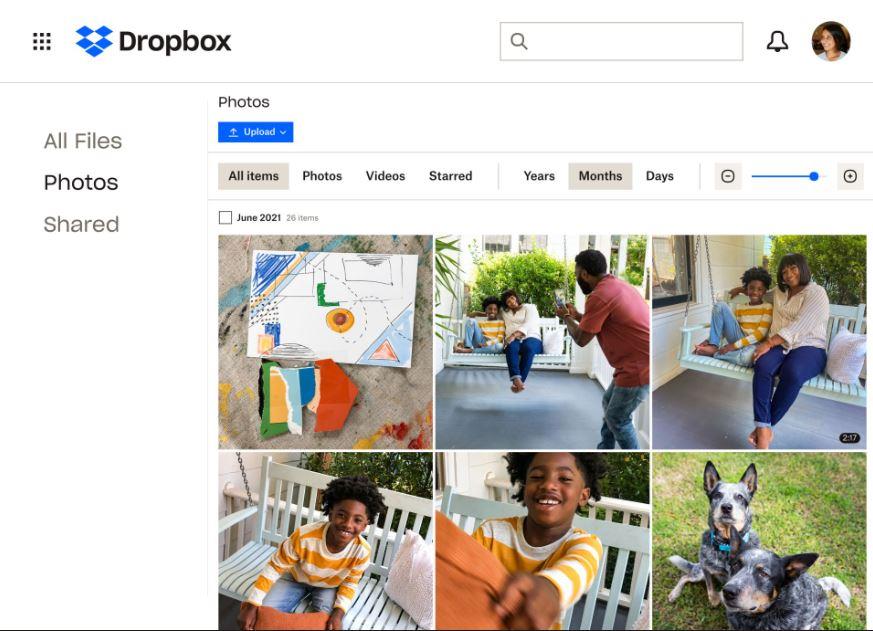 Dropbox is a file hosting and sharing service that offers several impressive features like personal cloud, cloud storage, file synchronization, and more.
Features
Dropbox makes it super quick and easy to store and share files. It offers a cloud-based storage solution for storing files like images and documents in one place.
It enables users to upload files as large as 2 TB.
Dropbox offers an impressive range of collaborative features. For example, you can select read-only or enable editing permissions for files, specify expiry dates for shared links, see who accessed your files and the changes they made, etc.
Dropbox offers automatic file synchronization and backup. This means when you save files to your Dropbox storage using a specific device, they will be automatically stored in Dropbox folders on all the devices logged in to your Dropbox account.
Pros
Thousands of integrations with different apps
Simple and easy to use
Fast upload speed
Cons
While Dropbox offers 2 GB of free storage, the paid plans are expensive.
Filecamp
Filecamp offers a user-friendly cloud platform for managing your digital assets.
Features
From images, videos, and stock photos, to documents, creative files, and presentations, Filecamp allows you to save all your digital assets in one place. Additionally, its impressive search features and powerful tagging make it easy to find your digital assets.
You can set permissions for files and folders. This way, users can only access the folder and files you've given them permission to.
Filecamp offers high flexibility in terms of downloading your digital files. For instance, you can download in a lower resolution or in the original format.
You can customize Filecamp with your desired background images, colors, and logos. You can even apply different themes to different folders and enhance your branding.
Pros
Easy to learn and use
Built-in WYSIWYG editor for creating custom pages
Filecamp is highly secure and uses HTTP protocol for file transfers
Cons
It can be a bit challenging to create custom thumbnails.
Conclusion
There are several Cloudinary alternatives available in the market. However, it's best to evaluate the features, pros, and cons of different tools to choose the right Cloudinary alternative for your needs and requirements.
Frequently Asked Questions (FAQs)
What is the best Cloudinary alternative?
Some of the best Cloudinary alternatives include Filestack, Uploadcare, ImageKit, Dropbox, and Filecamp. You can evaluate the features, pros, and cons of each tool to choose the right one for your needs.
Is Cloudinary a SaaS solution?
Cloudinary is a cloud-based SaaS solution that enables users to upload and store images and videos to the cloud and manage them easily.
Chris Mcdonald has been the lead news writer at complete connection. His passion for helping people in all aspects of online marketing flows through in the expert industry coverage he provides. Chris is also an author of tech blog Area19delegate. He likes spending his time with family, studying martial arts and plucking fat bass guitar strings.