The first half of the year 2021 was like a big surprise, everyone was struggling to cope with the situation. The next half of the year we all went into survival mode.
Now we all are hoping for a better 2022. Throughout the year eCommerce stayed at the helm and became one of the most ever-growing industries. From the way of shopping to the way of managing an online business – eCommerce is not the same one we knew before.
According to the report of Statista, eCommerce sales are expected to grow from $3.5 trillion in 2019 to $6.4 trillion in 2023.
So, to help your business, here are the top 8 eCommerce trends you should look forward to in the coming year.
Voice Shopping
The global market of smart speakers was $11.9 Billion in 2019. By 2025, research suggests the number could reach up to $35 billion.
People are leveraging more and more voice assistants such as Apple's Siri and Amazon Alexa. Smart speakers serve them more than entertainment, the user can command the assistants through their voice and get the things done.
According to the report of digitalcommerce360, purchases through voice assistants could reach up to $40 billion. Internet users are going crazy over this feature and voice shopping has now become a trend.
Voice shopping is rising due to the accuracy of the convenience of technology. Companies like Apple, Google, and Amazon have contributed a lot in enabling voice assistants available.
So, grab this opportunity to attract more customers through voice search to your e-commerce store. One common way is to optimize your content of the store in such a way that your chance of appearing on voice search increases.
Ex- If someone searches the "Customized T-shirt Store" voice search will lead to your solution or the blog, which in turn can result in sales.
Voice commerce is very big and you can't ignore it. Hence, if you are an e-commerce store owner then take the advantage of this trend and get ahead of the curve.
Mobile Shopping – Preference of Shopper
Currently, more than half of the shopping traffic comes through mobile devices. So, it is important to make your store mobile responsive. The importance of mobile responsiveness has become one of the top priorities of the business for throughout the years.
The share of m-commerce in entire e-commerce is expected to rise up to 72% by 2022 – Simicart.
It is very clear, if you are pondering or running an e-commerce store then you must carve your store in such a way that it should be user-friendly for mobile users.
According to a stat, 40% of users will jump to your competitor on experiencing a bad mobile experience.
As an e-commerce store owner, you should keep mobile responsiveness for your store at the center of the point.
There is an easy way to check whether your site is mobile responsive or not. Go to Google and type "Mobile Responsive Checker".

Now, In the link of the website or store and click on the "Run test", you will redirect to the "Mobile-Friendly Test" page.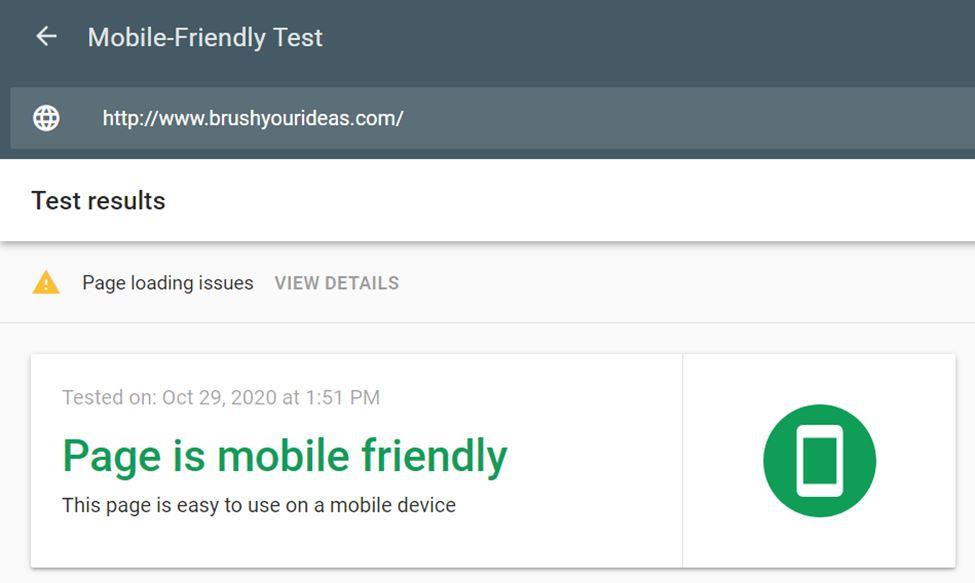 Here, you can get to know whether your website is mobile-friendly or not, if there is an issue with any page of your website it also lets you know.
Refrain from ignoring such trends, as it can lead you to potential failure.
Video Marketing – A magnet to attract your customers
If you are focusing on increasing your sales, then video marketing can help you in enhancing the sales of your store.
Report of Builderfly says, 62% of people before making a purchase, watch the product review video.
It's likely not a surprise to you, stats show that people spent their lot of time watching videos. In fact, people love to watch them because they are easy to understand and they are enjoyable.
While creating the video content, keep in mind your audience so that they can relate to your video.
Having the video on your homepage has the potential to attract the visitor. Biztech is an IT company, utilizing video on their homepage to grasp the attention of the visitor and insight about their services and product.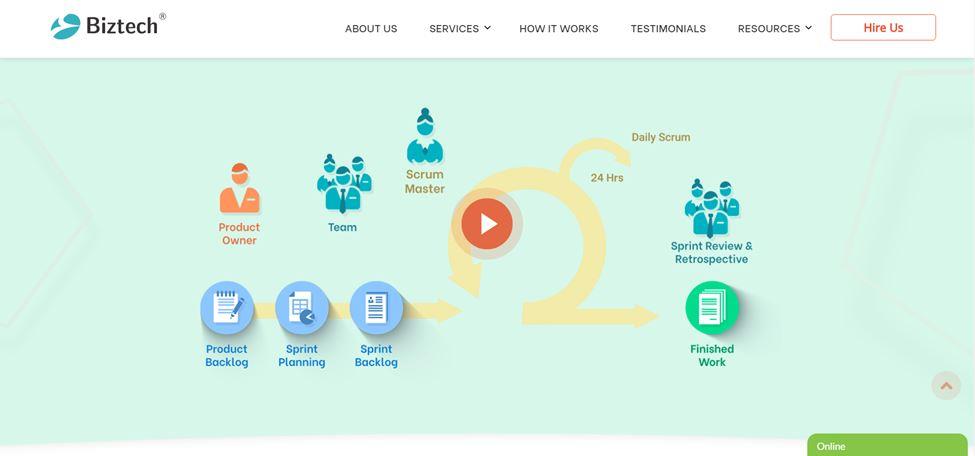 You should think about putting up short video content in your e-commerce store that showcases your product better than images.
Chatbots helps in engaging the Customer
A chatbot is a computer program that does the conversation with human beings to complete any sort of service.
Chatbots are a prominent way to offer customer support for e-commerce business regarding any issue.
Chatbots for e-commerce companies are ordinarily designed in such a way that they can provide customer support, helps in recommending products, and helps in finalizing the purchase.
Here is an example of the chatbot service offered by an IT company. These kind of automation services provide great support to the customer.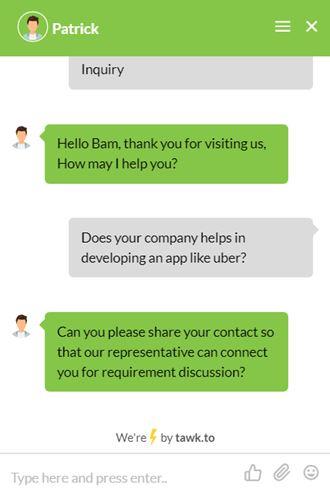 E-commerce is a very huge and competitive space, you need to stay ahead of the other sellers. Currently, data shows that the chatbot market size is expected to reach $9.4 billion by 2024 at a CAGR of 29.7%.
To stay ahead of the competitors, you also need to know what they are doing to reach their customers. And the data manifests that the merchants are appreciating the chatbots.
Selling on Social Media
Selling on social media is not a new trend but its popularity made us mention it on our list. Social media is one of the robust mediums for e-commerce store owners to promote their brand.
Around there are 3.5 billion social media users across the globe and Facebook is one of the popular platforms.
Social media marketing has been very effective for the business – according to 73% of marketers.
Brands use social media not only to direct the customer towards a new product but to engage with them to create an active community.
On average, a user spends 3 hrs. a day on social media, and with that, your brand has an opportunity of getting recognized by your customers.
Also, you can seek the help of influences to promote your brand, as 49% of customers depend on recommendations of influencers.
Free Shipping and Offers
Free shipping and offer are some of the ongoing and effective trends for business owners for years. Free shipping and offers are the technique through which shop owners encourage the customer to make a purchase with them.
As per the report of Invespcro, free shipping stimulates 93% of shoppers to make a purchase whereas 58% of the customers add up the item in the cart in case of free shipping.
A Survey of RetailMeNot says the offer encourages 80% of new shoppers to make a first time purchase with a new brand.
After all, everyone likes offers and free stuff. If you are not offering free shipping or offers, this is the significant time to ponder about the ways to make it possible.
This might increase your cost, but believe me, you're definitely going to boost your e-commerce sales.
AI (Artificial Intelligence) is Reshaping the E-commerce
Go anywhere around the globe you will find the essence of artificial intelligence. Right from using it as a chatbot to techie security verification, artificial intelligence is developing as a strong niche.
According to the study of Ubisend, 27% of shoppers worldwide are ready to make a purchase with a chatbot, and 48% of customers prefer chatbot to solve the issues.
Some stats in the e-commerce industry shows that the market of AI in e-commerce will be $49 billion by 2022.
How many ways do you think you had to interact with the AI on a routine basis? Well – I will say typically more than you imagine. Apart from online customer support, AI has fabricated almost everything effortlessly in an e-commerce environment.
Here are the robust ways to use AI in the e-commerce space
Voice assistants
Targeting audience and enhancing the sales
Offering chatbot service
Personalization
Forecast your sales
Retargeting of customer
Amplify the security of the store
Offering recommendations based on their interest
Many big brands are already utilizing AI for offering better user-engagement, and many other brands are on the way to adopt it after noticing the importance of AI in the e-commerce world.
Ecommerce brands are generating better leads and offering better user experience with the help of AI.
AI in e-commerce plays a dominant role in offering innovative solutions and mainly used in the area of product recommendation, inventory management, live chatting, and personalization.
AR (Augmented Reality) helps in visualizing the product
AR (Augmented Reality) helps the customer have a preview of the product in real-time in their own physical environment. Offering the AR technology, your customers can preview the product and probably select the right one after having a preview.
Have you ever played Pokémon go? Or tested different filters on Snapchat? If yes, then you have experienced augmented reality.
Also, shoppers are more comfortable making a purchase with augmented reality.
Don't believe it?
Look at this report, 61% of shoppers prefer to make purchases from the store that offers augmented reality technology, also 63% of shoppers say augmented reality makes their shopping experience good.
AR technology is booming and quickly finding its space in many sectors. Product assessment is one of the major issues in the e-commerce industry and AR fills the gap between online shopping and physical experience. AR improves the engagement of the shoppers results in developing good relationships with your brand.
Implement the AR technology in your e-commerce store, and you will get to experience great conversions.
Wrap Up
The E-commerce industry and online shopping are reaching new heights and shoppers are enjoying the online shopping trend. By opting to sell online you can take your brand to new heights and escalate the revenue of the business.
This market is the dominating market with the high competition. To stay ahead of the competition store owners should prepare themselves to adopt the new trends. You can follow the above  trends for 2022 and shoot up the potential of your e-commerce store.
Mr. Pratik Shah is Creative Head of Brush Your Ideas, a Web-to-Print technology solution offering custom Product design tool and Web-to-Print Storefront Solutions. He has been giving his valuable tips and suggestion about Product Designer Tool.