So, all set to switch to iPhone from Android – your old handy companion? Great!!! But certainly, one thing will be a cause of your concern. You will lose all of your valuable WhatsApp conversations with friends and media files shared with the dearest ones.
Well, the concern is very obvious. But what if we tell you that you can readily move your WhatsApp messages, photos, videos, and more from your old Android handset to your brand-new iPhone with iToolab WatsGo – WhatsApp Transfer, Backup & Restore?
Transitioning to iOS without losing your WhatsApp memories might seem tricky. But, with the right tool at hand, the process is a breeze. Before, let's answer an important question.
Why Do You Need to Transfer Whatsapp from Android to iPhone?
You may be good to go to transfer Whatsapp from Android To iPhone. However, you are not forced!!! You can still keep this friendly chatting app in your existing Android phone until you have a particular reason for switching to an iPhone. Some of them include –
Purchase of a New Device: You might have purchased a new iPhone and wish to keep your WhatsApp conversations and media from your previous Android phone.
Personal Preference: Some users may favor the iOS ecosystem due to its features, privacy settings, or compatibility with other Apple products and services.
Apps Compatibility: Some customers may want to use particular iOS-only apps or services that are not offered on Android.
Work or Personal Need: If your job or personal needs force you to migrate to an iPhone, migrating your WhatsApp data is essential to obtain data on other devices.
Platform Experience: Some consumers might just prefer or be curious to try iOS over Android since it offers a distinct user experience.
Data backup: By transferring your WhatsApp data, you may want to ensure that essential conversations, images, and videos not stored elsewhere are preserved in your new phone.
Preventing Data Loss: If the migration from Android to iPhone is improper, important chats, contacts, and media items stored in WhatsApp may be lost.
Maintaining Connections: By keeping your WhatsApp chat history intact, you can stay in touch with loved ones, relatives, and coworkers who also use the app.
However, the reasons for switching can vary widely. Yet, no matter what motivates you to this step, one crucial factor remains constant: data transfer should happen using the right tool, such as WatsGo.
If you want transitioning to go smoother and more reliably and your WhatsApp memories stay intact, the right tool comes into play. But how to use WatsGo? Let's discover.
How to use WatsGo?
Let's first introduce you to WatsGo by iToolab. The Whatsapp & Whatsapp Business data transfer software is your go-to source to migrate data from Android to iPhone or vice versa – carefully, without losing even a single file.
Using the WatsGo, if you want to initiate a secure data transfer, follow the steps below.
Step 1: – Step 1. Download & Install, and Launch WatsGo
Firstly, download WatsGo Software on your computer/laptop from the official site.
After successfully installing, open the WatsGo app.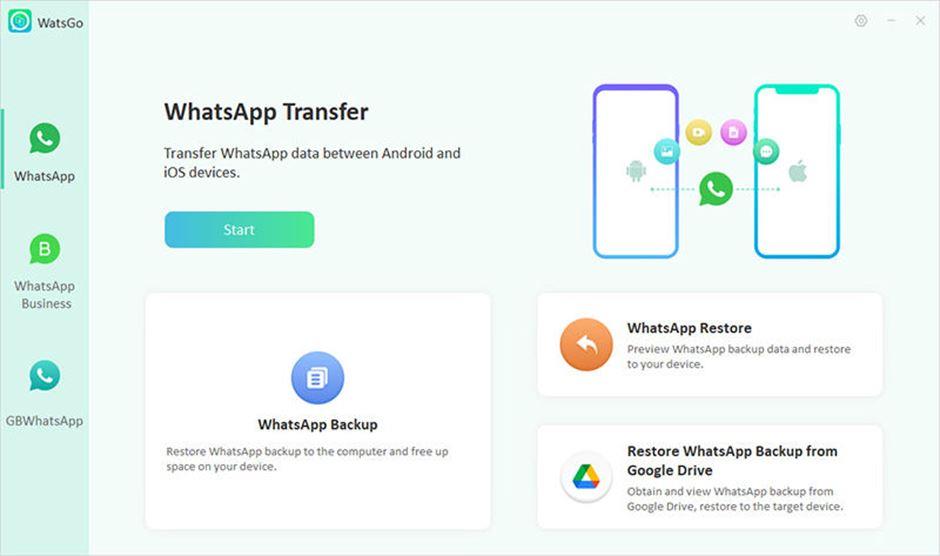 In the left panel, you will notice "WhatsApp or Whatsapp Business" Click on any one as per your preferences.
Step 2: – Connect Devices (Android and iPhone)
In the second step, pair your both devices with the computer.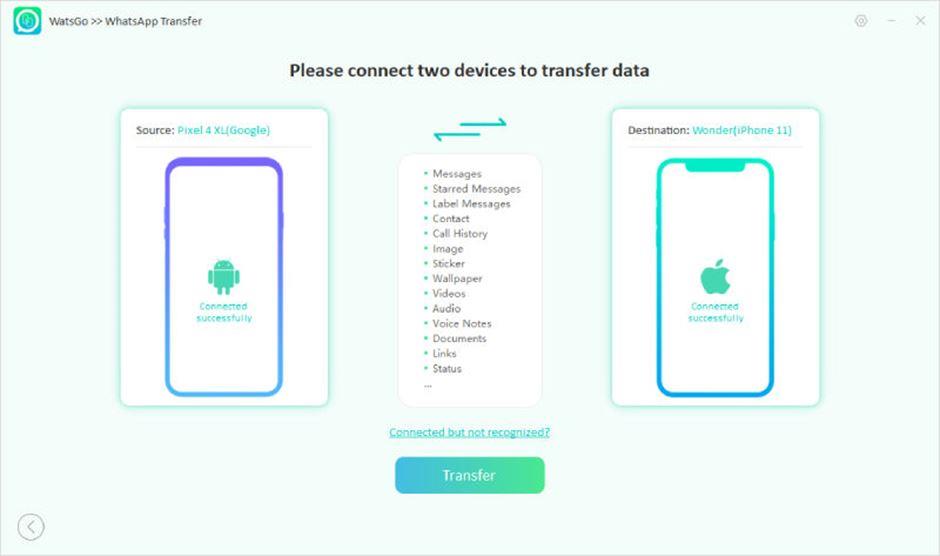 While transferring the files, make sure the "USB Authorization" is enabled on the Android devices.
You can even switch between "Targeted Device" (the device you want data to transfer to) & "Source Device" (the device you want data to transfer from) easily.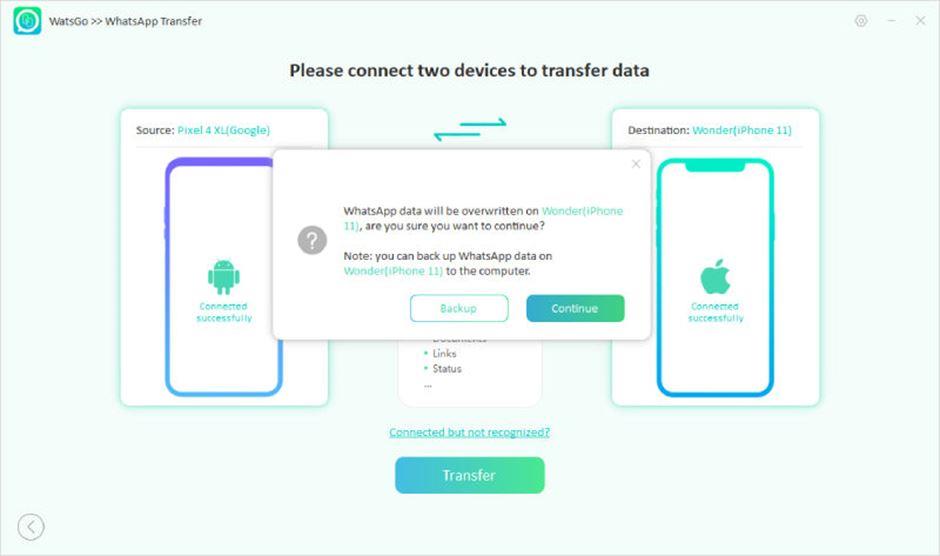 A pop-up asks you to choose the "Backup" button which is to ensure the back up is done and Whatsapp data isn't overwritten. Otherwise, simply click the "Continue" button.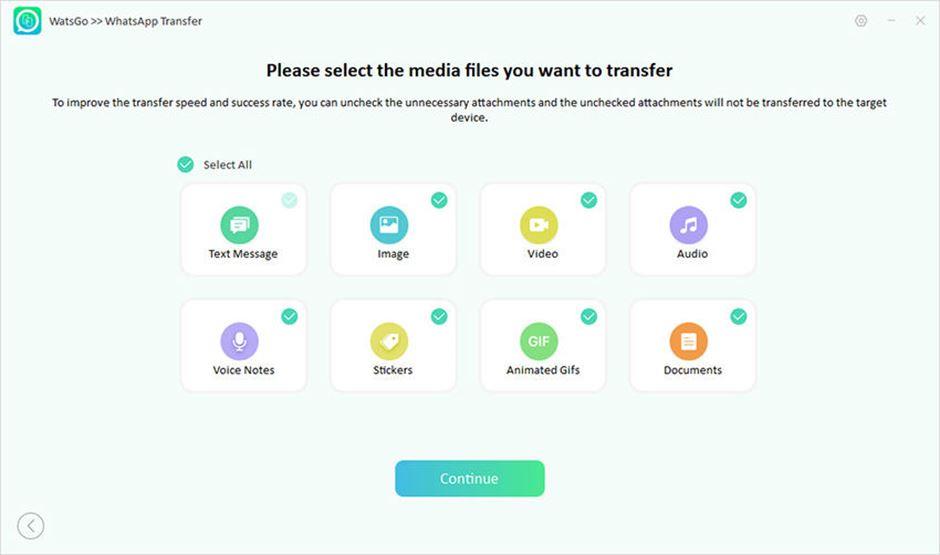 Moving forward, you will be asked to choose the files you want to transfer to the "Targeted" iPhone Device from your "Source" Android devices.
As shown in the Screenshot above, using WatsGo, you can readily transfer Text Messages, Images, Video, Audio, Voice Notes, Documents, Stickers, and even Gifts.
But if you are avoiding direct transfer, let's back up the data first.
Step 3: Create an Initial WhatsApp Backup
The best part about WatsGo is that it lets you back up your WhatsApp data in Google Drive (can be export later to your device.
From within the software, you can even encrypt your files with a secure password.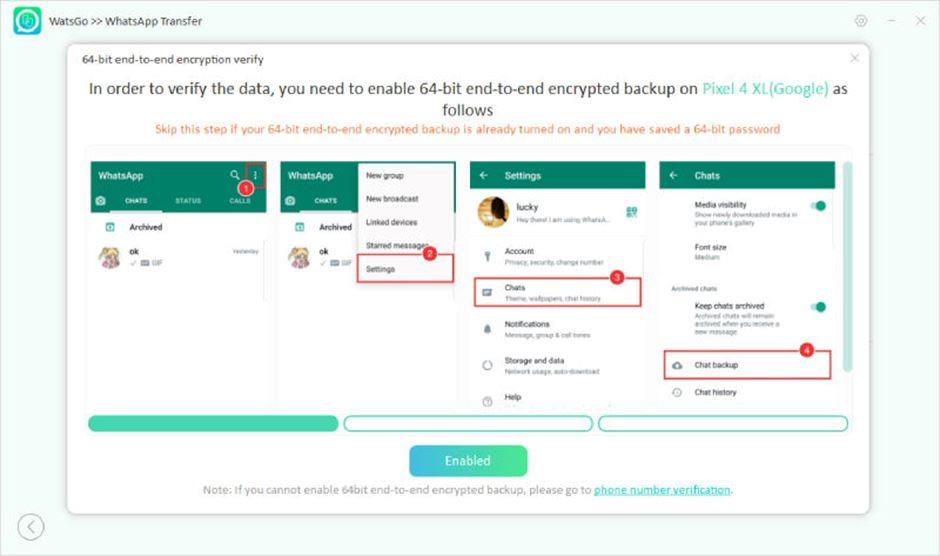 But make sure you have enabled the 64-bit end-to-end encrypted WhatsApp back up on your Android devices for additional safety.
To make an initial backup of your WhatsApp data, follow these steps:
Open WhatsApp on your Android phone.
Go to Settings > Chats > Chat backup.
Tap "Back Up" to create a backup of your chats and media.
Step 4: Verify Encrypted Backup with Password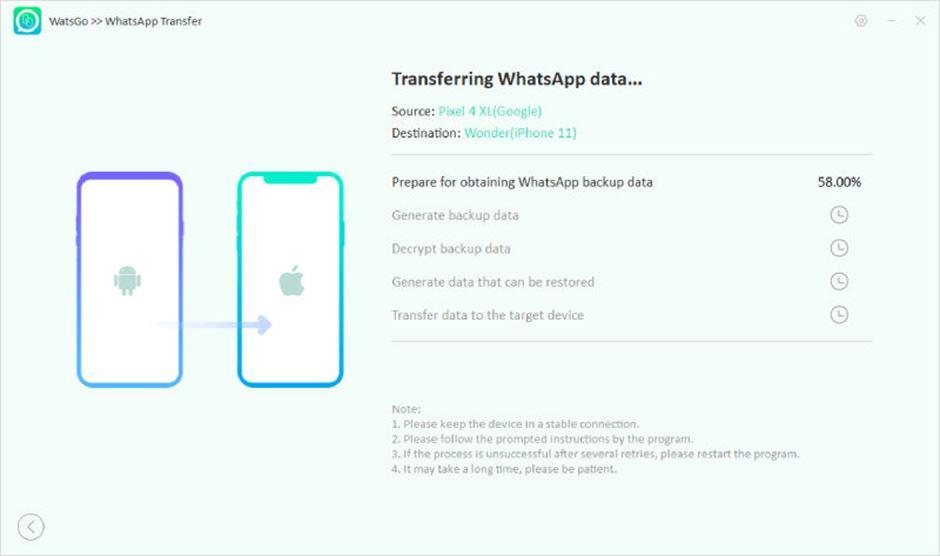 Now, let's make sure this backup is secure by verifying it with a password:
As you proceed with the "Backup" option, you will see your back up files.
Adjacent to it, you will spot a password panel, asking you to create the 64-bit encrypted WhatsApp backup.
Later, you will need to enter this backup password created by you in the next prompt.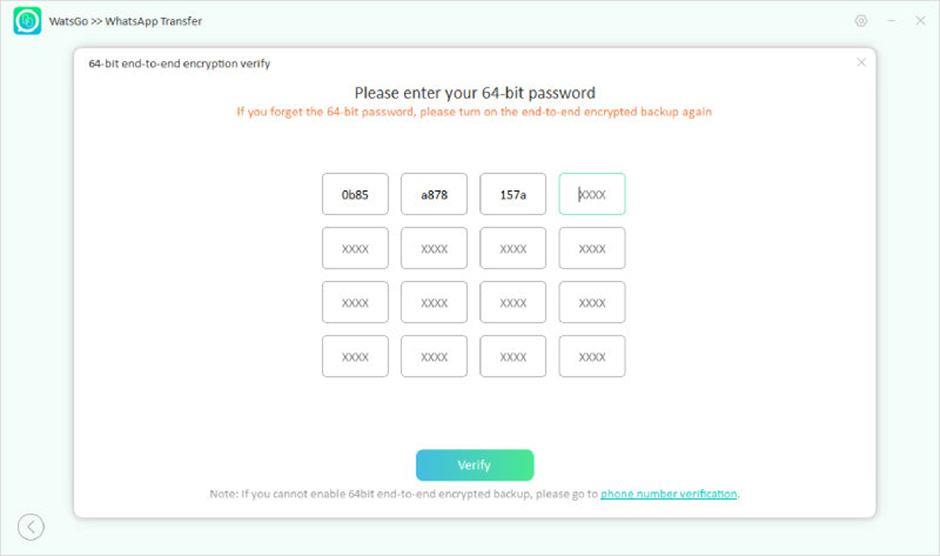 If you can't verify the backup, don't worry. There's another way to proceed. Just click on the option "Phone Number Verification" below the "Verify" button to continue.
Step 5: Generate WhatsApp Backup Data for iPhone
Now, let's convert your Android WhatsApp backup for use on your iPhone:
Wait for the data conversion process to finish. Your Android WhatsApp backup will be converted to a format compatible with your iPhone.
Once done, your WhatsApp backup data will begin to restore on your target iPhone.
Step 6: Successful WhatsApp Transfer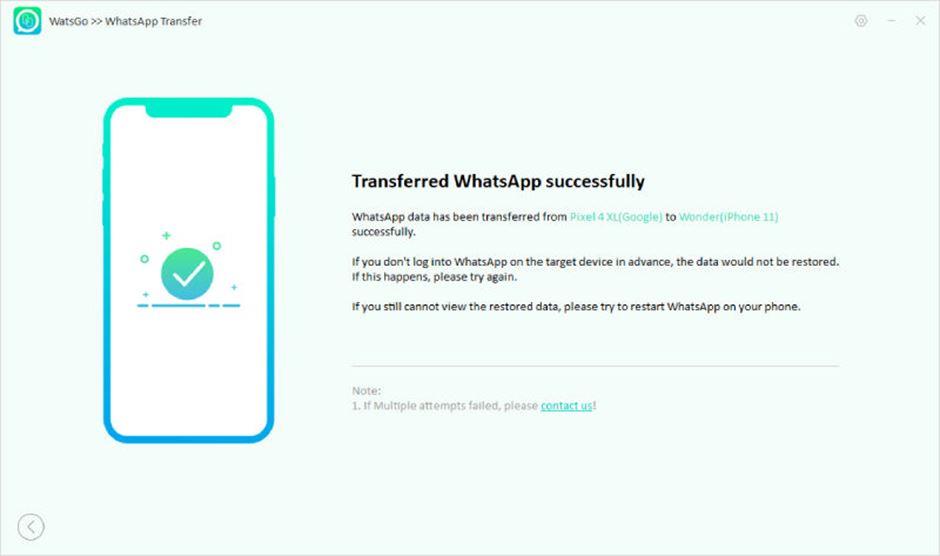 Finally, you'll see a success message indicating that WhatsApp has been successfully transferred to your iPhone. Your iPhone may restart, so check to ensure that WhatsApp has been fully transferred.
That's it! Your WhatsApp data should now be safely moved to your iPhone.
But in case you have already stocked Whatsapp data from Android to Google Drive and want to migrate it to iPhone, please go through this guide on.
Conclusion
So, this is how you can readily transfer WhatsApp from Android to iPhone in just a few simple steps. Similarly, the software can work for requests of transferring data from iPhone to Android devices.
Chris Mcdonald has been the lead news writer at complete connection. His passion for helping people in all aspects of online marketing flows through in the expert industry coverage he provides. Chris is also an author of tech blog Area19delegate. He likes spending his time with family, studying martial arts and plucking fat bass guitar strings.