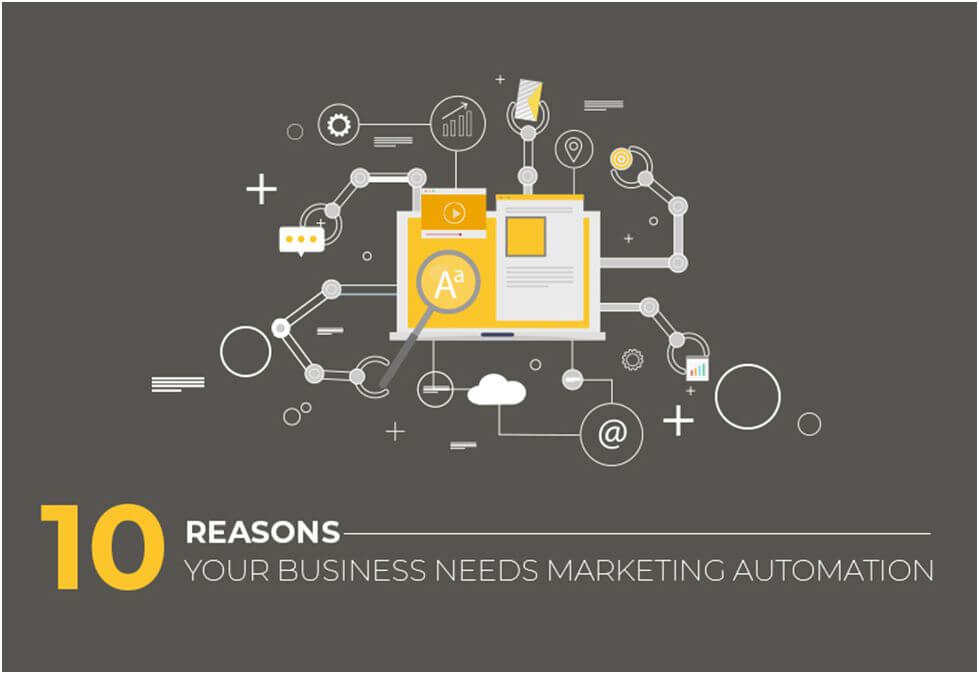 Marketing automation is all about using software to automate marketing activities. Many marketing departments automate repetitive tasks such as email marketing, social media posting, and even ad campaigns — not just for the sake of efficiency, but so they can provide a more personalized experience for their customers. Marketing automation technology makes these tasks much easier for marketers. Automation has quickly become a critical component of today's successful marketing strategies. It can boost sales productivity by 14.5% while reducing marketing overhead. In this blog we'll be looking at the reasons why every business must invest in marketing automations and how you can make the most of it. So let's dive in:
1) Saves Time and Money: Automatically scheduling your posts and ad campaigns can save you upto 6 hours every week. You don't have to get into your workspace and dive into a tool that schedules your campaigns. With marketing automation, it's possible to schedule everything in advance. This will make your team free for other tasks saving you not only time but money.
2) Personalization is possible: According to a recent study by Marketing Land, personalized emails have 6 times better conversion rates but only 30% of the brands are using this feature.
Marketing automation tools such as Mailchimp, GetResponse and Drip allow you to personalize your emails without the added hassle. This in turn will convince the receiver more, likely causing them to open or engage with your email.
3) Customer Retention: Most of the time marketing team is busy generating new leads and forget to nurture the already captured leads. But a 5% increase in customer retention can lead to 25% more profit. How can automation help in customer retention? Nurturing customers after a sale can maximize cross-sells and upsells. Through auto-triggered messages you can get testimonials, ask for product reviews, and send referral incentives.
This will also return user-generated content that in turn helps the content marketing team as well while providing proof to potential customers.
4) Easy to use: Most marketing automation tools are designed to be easy to use because they are meant to solve repetitive marketing tasks. Even those employees that are not so tech-savvy will be able to use it with ease.
The best marketing automation software also includes pre-made templates that you can customize through easy-to-use editors that guide you through the entire process from initial creation to final distribution.
5) Maintain Brand consistency: Since you can save time and work on other collaterals, marketing automation tools give you room to maintain brand consistency. Your brand's voice and identity are important in establishing a presence among your customers. With the help of automation tools you can maintain consistency across all platforms ranging from social to email marketing.
6) Quick lead nurturing and followup: What if you had to send welcome email to every subscriber manually? Not only this, marketing automation helps in lead nurturing and follow up much easier on all platforms. Imagine someone interacted with your tweet on Twitter. With the help of marketing automation such as Buffer or Hootsuite you can quickly identify and respond to the tweet. This will encourage the user to check your website. Over there, they might like what they see and subscribe to your email list. From here you get a chance to nurture them over email automations. So, from first step to last, marketing automation proves to be helpful. According to a study by Harvard Business Review, customers are 7 times more likely to make a purchase from you if you respond within an hour following their enquiry.
7) One-to-One marketing for B2C businesses: When you're a B2C business you constantly need to test, Optimize, retest and act on it. An example of experimentation includes A/B testing. Testing various incentives and messaging against different types of audience can help B2C businesses get better acquisition and retention. When you have this understanding, optimizing campaigns across platforms becomes really easy.
8) Analyzing data is easier: According to Kissmetrics, 60% of an email list consists of customers who never engage. So where and how do you analyze this data? Since, most marketing automation tools not only provide automation services but also come with their own analytics dashboard, it's easier to segment, analyze and act on the data from a single platform.
9) Multi-channel coordination: Most marketers understand the need to coordinate their campaigns across multiple platforms, channels, and devices. Omnipresence is important for brands which can easily be achieved using marketing automation.
With this, you can target customers with SMS messaging, push notifications, product recommendations, conditional content, social interactions, targeted ads, and more.
10) Better understanding customer life cycle: A 2016 report by Freely states that the most important goal for 82% of marketers is engagement.
With social media turning out to be the hub of major conversations, it's important to know each and every one of a specific individual customer. Your customer may be using Facebook daily but Twitter rarely.
Understanding your customer's behaviour can help you integrate workflows that use other channels. You can trigger remarketing ads using marketing automation tools when a customer reaches a certain stage in their life cycle. This helps content marketers too as they can create content based on their customer's behavior to resonate better with the individual.
In a nutshell
Marketing automation tools are a necessity if you actually want an online audience that ultimately converts into customers. It provides key metrics, analytics, and handles all day to day tasks that can help you in avoiding hassle at your workplace.
Aayush Narang is the founder of Spark Eighteen Lifestyle Pvt. Ltd. a digital marketing and brand consulting agency based in Delhi. He is a Startup Evangelist. Entrepreneur. Business and Tech Enthusiast.