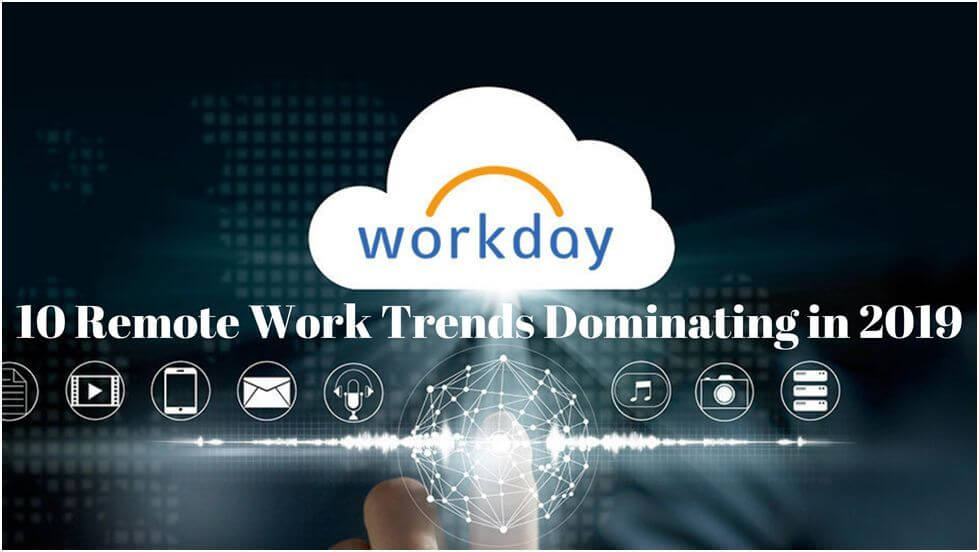 In recent years, the idea of working "remotely" has increased rapidly. As per the recent survey conducted by Forbes, over half of the United States, working professionals are already working remotely. And in the coming years, this percentage is going to rise significantly.
So, what does this remote working mean? In this article, I'm going to brief you about remote working and its latest trends. Remote work is basically related to employees working in their shift hours outside their office premises.
The exciting features of Remote working include: working from your residency, avoiding travel hours/transportation from long distances, and delivering projects at your convenience according to the schedule planned. These features of remote working made a major number of employees jump from the traditional working modes to remote modes.
Thus, the major priority is given to comfortable work arrangements and balancing professional and personal lives.
Here is the list of remote working trends and Let's discuss the dominating remote work trends for 2021 in detail.
Change in Employer prospects about digital skills
The first and foremost is Digital: Nowadays digital is the powerful word used in almost every industry and anywhere. The majority of tech-friendly professionals now expand the well beyond the development of software space.
According to the latest update by Economic Graph Team, regular technical skills such as Social media management, web design and many more are the fastest growing and in-demand skills that most employers are searching for while recruiting.
The other one is Digital Literacy – fluency by word processing software and email software tools – witnessed the speedy declines compared to other skill groups. Organizations now can expect employees to be more comfortable with the sorts of digital tools, even more for remote employees and entry-level positions. So if you're just considering transition, you can make sure that your skill is set up to date and know how to run a virtual office.
It's the office hours becoming more popular
Yes, it's not all about a large number of employers who want to manage their remote teams. As the contrary, seriously employers started to consider the health factors of their working teams. The largest struggle of remote work is the lack of community. It is recently proven that over 21% of the remote worker's are facing "Loneliness".
To overcome this, companies are encouraging remote employees to come to the office once per week. And hope this particular strategy delivers good results. Gallup poll estimates that visiting workers are more tend to be fulfilled and engaged when compared to the 100% full office or remote counterparts. Such people are more likely to have friendship at work and state that their job included more opportunities to grow and learn.
Upstreaming the Working Environment and Cybersecurity
The present year, a large number of companies are hit by internet giants and cyber attacks reported a huge amount of data breaches. While several leading organizations already have good secured measures and policies for remote employees.
Smaller employees have been neglecting this area. 38% of the remote workers are hired by the SME's. These employees lack in expertise and technological support while working at a public place or at home, Announced by a new survey. Interestingly, another 18% of the respondents say, would they have been concerned as an employer about IT Security. So, as actually 72% of breaches occur at companies with less than 100 employees.
In 2021 smaller companies really need to catch up on their IT Security. A good start needs unified security measures for both remote workers and in-house employees. This needs to restrict access for data for those who try to access the public wi-fi networks and search for new generation security tools. Especially, powered by the blockchain technology.
Managers should begin tending to the "trust issues"
E&Y survey announced that 50% of the global professionals trust their present employers and team, while the survey indicating only in-house team members. Often, trust factors are getting more complicated for remote team members. Solo working without daily access to organizational updates and the concept of "water – cooler" corporate chit-chat, which can amplify the workers for the process of work and make them question whether they are treating good or not.
The same E&Y survey indicated that unfair employee compensation, promotion and unequal opportunity for pay, lack of leadership, a good work environment that does not promote collaboration, etc. are the key things that lead to poor trust. Promoting collaboration and more transparency between in-house/remote teams and management become the new norm for 2021.
Gaining a specialization is an absolute necessity
The generalist's era is over. Most employees are here after setting with particular skills: 78% of HR's said that by more niche even several skills will become in the nearest future. For processing, those covered skills mean that you have to remain in high demand and have a level during salary negotiations. most employees agree to pay wages in large sum for recruiting and retaining a remote employee in cases if they are unable to find proper expertise locally.
Lawmaking body changes may prompt increasingly remote work openings
Financial Accounting Standard Board/International Accounting Standard Board accounting changes due take effect on Jan 1st, 2021 in the United States, which leases commercial realestate affecting every company. A large number of employees are now forced to learn alternative solutions to accommodate their offices.
As per the cost-optimization strategy, the savvy business may convert into telecommuting and recruit new personnel on the basis of the remote. Gartner said that "follow your own work style" decisions instead leading to operational savings, but as well boost employers rates by more than 10%. So huge employees likely divert their work policies.
Additional supplements for remote staff
The present year, employees came to know that fact is the lack of meaningless learning and progressive opportunities that leads to high attrition rates. In 2020, this line of thinking also explores the remote team. Self-paced learning and micro learning programs are bounded to get more traction as more employees realize that the increased benefit of nutrition and re-engaging already existed teams.
Get ready for Gen Z rivalry
By 2021, 36% of the world will be compromised by Gen Z. Being digital natives, who grew up in a society of internet-centric, the people of this generation are more likely to be comfortable with newer technologies and more inclined to learn flexible work arrangements or remote, other than pursue traditional roles in corporate.  For the coming competition's.
Roaming telecommuters will discover new bases
Co-working becomes the usual habitat to the remote employees. In 2021, remote learning employees are finally succeeded in combining their need for wi-fi for some pool time with an affinity. Selina a hotel chain, mashing up high-end suits with dormitory rooms in the same building. Is expanding to Europe and Us along with crowding spaces. After completely testing its operational model in the Latin America market, the organization earlier secured a new building in Miami and now currently area exploring in Portugal.
Remote work is relied upon to become more grounded in 2021
All signs are clear that we are nowhere close to hitting the plateau. Business around the public and private sectors are increasingly recognizing the importance of recruiting and retaining of remote employees. Including societal trends with millennials and Gen Z also pushes more businesses adopting towards highly flexible working policies and at least partial telecommute to be allowed. 2021 will be the right time to plan for the transition to remote work.
Conclusion
By considering all these things, a remote work policy can significantly improve your company tradition and culture. As the future of work is remote, companies are expanding new things for their remote employees to interact with the organizations and each other.
I am happy to share my knowledge through this article. Welcome everyone to comment if you come across with new techniques. Thankyou.
Makke Priyanka was born and raised in Bapatla. She is presently working as an SEO Analyst & Content writer for Mindmajix.com. She holds a Bachelor's degree in Computer Science & Technology from JNTU Kakinada. She can be contacted at [email protected]. Connect with her also on LinkedIn.