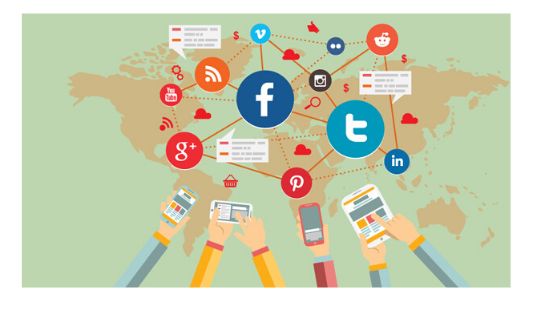 According to the social media marketing industry report, there are 92% of marketers say that social media is crucial to their business and has increased their business exposure. And around 66% of businesses who work 6 hours a day have experienced a lot more leads.
Social media marketing is not limited to what you sell, and it really helps you grow your business. How to improve social media for your business? It is a question that every small to big business is searching on the internet these days.
According to the research, there are around 68% of American who uses Facebook, 45% are on Twitter, 18 to 24-year-olds, and 78% use Instagram. And if we look at the old age people, there are around 37% of old age people who are social media users.
Social media for business has the power and strength like a king of a jungle "Lion" for many entrepreneurs who believed that it was not worth investing time and money. And if we see today you can only look for very few businesses who do not use social networking to their advantage.
There is always something new to learn and social media tools for small business keeps on inventing to grow and evolve your businesses. In order to make your business diversified, you need to invest in social media marketing to build your brand for business success.
But before heading to the signs that will tell you to implement social media marketing techniques lets first understand the benefits of implementingsocial media marketing tips for small businesses.
Benefits of using social media marketing for small businesses:
1. Social media drives traffic:
Today, there are almost every person has access to social media and using Facebook the most and Instagram, Linkedin, and Twitter are used by the young generation the most. And using such channels for marketing of products or services will boost traffic. As when you post any new content, it will take time to reach audiences, it may be possible that your audience may not see it.
But using social media marketing techniques makes your post reach to your audiences. Also, SMM won't just boost your traffic numbers but has the power to bring the type of visitors you want to attract.
2. SMM boosts your site's SEO:
Search engine optimization is an organic way to increase your website traffic and is the best and cost-friendly approach a business can follow. The best way to use SEO is content, quality content that is not plagiarised and has uniqueness in it. Content is the crucial factor in search engine ranking as it can cause to drive more traffic.
And with the help of social media channels you can share your blogs, normal posts, which is not at al time-intensive all you need to know how to use Facebook, know about small business tools for Facebook a little bit.
And now learning such tools has not been difficult, there is a small business marketing app, that lets you do all the social media marketing by yourself by guiding you at every step.
3. It helps you understand your audience:
Social media channels like Instagram, Facebook, and Twitter become more attractive tools as it lets you interact with your target audience. You can also analyze their buying behavior to know the answer.
What are their hobbies?
What type of product are they looking for?
What type of post do they share?
What is their regular website for buying or getting information?
Understanding this will help you to learn more about your customers like their pain points which further makes you write quality content and posts to sell your products and services. Thus, helping you to enhance sales conversions and in refining your product strategy.
4. It helps you build a good relationship with your customers:
Your customers do not want you to always use social media to sell your products or services as want authentic engagement too. When you use social media channel less to pitch your customers, it becomes much easier to connect with them. Just inform them with relevant content, engage them in what they want for forming a bond or say relationship.
5. A strong social media presence builds brand loyalty:
It will be easy for your customers to understand that you are taking the time to provide them with relevant information without asking them anything in return. In that way, they will value you and will see you as an entity that cares about them and builds your brand loyalty among them.
So, now let's move towards the signs that tell you to invest in social media marketing:
10 signs your business needs social media marketing:
1. Your customers ask for your social network:
If your customers ask about your social media link as they want to join them to get updates, but you don't have the one not even in a single social media platform. Then, it's the right time to bring your business on social media channels, by talking guidance of social media marketing tools for small businesses.
2. Your business is lacking growth:
If after checking your business growth you analyze that your business growth is slowing down day by day or the revenue is not exceeding at all, then social media marketing is your savior. You must not waste your time and should start making strategies to grow your business.
3. If you are away from search engine results:
If your business is not on yelp or other social media network review sites you are missing a lot of opportunities. Don't waste your much time, start building a link on social network sites and take the help of review websites to target demographic and to let customers find your company and services.
4. Website traffic is low:
If marketing traffic is low, then no other than social media will help you to increase it. Social media has the power to boost traffic and to increase your reach.
5. You are behind your competitors:
To become a market leader is not that much easy, and if your business is not on social media it becomes much more difficult. If you see that your competitors are flourishing due to a social media approach, go and grab the chance and be on social media as soon as possible. Just stop analyzing them
6. Poor customer support:
If your customer's support is really poor it's the right time to boost your customer confidence and increase communication with them by getting your business on social media channels. Doing this will boost the relations between you and your customers as well as increase company growth.
7. Lack of future strategies:
You need to put in your mind one thing that social media is the wave of the future and people will only use social media channels to know about your business, to buy anything, to check reviews of products and services and more. And if you are not on a social network now and your company is relevant today, but the chances are least in the future.
8. Lack of community:
Building a customer base is important and it can be done only when you are on social media channels. So, why wait, just hurry up!
9. You are stuck with old models:
If today's also your business is implementing old ways of marketing then you cannot go beyond and will remain where you are right now. In order to develop your brand, you need to implement new strategies that are worthwhile today and need to change them with changing social media trends.
10. You want better results:
If you are after better results then there is no other than social media marketing that can help you get it and to grow your business as people today are more on a social network. So, think twice and go for taking the decision which is best for your business.
Wrapping up:
There is no marketing tool that plays a bigger role in increasing your brand recognition and revenue than social media. It allows you to interact on a regular basis with your followers, and help you to bring the sales your business deserves.
All you need to know how to set up social media accounts for a business and you need to answer one question for yourself i.e. why use social media for business. The answer will let you more confident in implementing the best approach for your business possible.
Still unsure, whether to implement SMM or not for your business? You must check other businesses or your competitors who are using social media channels and how they are flourishing and generation a good revenue which is essential for any business niche.
So, before taking the final decision, you must think twice and take decisions by checking a few small businesses who have set the examples by implementing the social media marketing approach and are increasing their business revenue and business growth very fast as they have loyal customers with them.
Marek Hozák – Co-founder of groost. who is keen on helping small business marketing efficiently. He is a Cambridge Business School graduate and excels in setting the marketing strategy and managing campaigns across many online channels.