Starting any business is a nerve-wracking process especially when it comes to managing different aspects of a business.
From what I have observed in recent years, around 50% of all small startups collapse before celebrating their 5th birthdays and turning into a brand.
The startups that have managed to convert into leading enterprises used technology backed apps.
These applications have helped them to lure more customers and expand their outreach just through a mobile device.
But do you think that you can float down easily with those traditional apps?
Well, according to the latest statistics, the trend of traditional and ordinary mobile apps is fading away.
However, the great thing is that with the era of technology there are several useful apps available to manage and minimize your work.
Integration and automation with other apps make entrepreneurs remain updated in one place in just a nick of time.
That's why I have written this article to mention the 12 most innovative apps that will help your business to grow and bring the best out of your organization in 2022.
Let's get started.
1. Upwork
Undoubtedly, business apps are revolutionizing things and reshaping the world around us.
If you are running a small business, I am sure you sometimes need a certain set of skills that your team doesn't possess.
You don't need to hire someone and deal with the paperwork.
Instead, join Upwork to find an independent contractor. This will help you get your work done and that too without any delay.
The process begins when you post a job first on Upwork and then bids come to you.
Once the bid is decided, you can then chat or video calls the right skill set, track your project, and milestones from your mobile or desktops.
You can pay hourly or a fixed price and will get the invoice through Upwork. It is available free of cost.
All you have to do is to just take care of the reviews of that contractor, bidding rates, reference system, and payment methods.
Through this, you can make sure that you are going to work with skilled, independent, and quality people within a specific time frame.
2. Intercom
Customer service will help you in determining if your customers are having a good or bad experience.
Positive and delightful conversations with your customers can certainly differentiate your business from others.
Intercom provides an option to educate and chat with your customers in a much easier and interactive way.
It provides various features such as email, messages, and a help center that helps you to build relationships with your customers.
It mainly works on three conversational segments-
Support for customer satisfaction.
Engagement for your onboard and active new users.
Marketing to convert your website visitors into loyal customers.
Then it will become easier for you to solve customer problems and retain them for a much longer time.
3. SurveyMonkey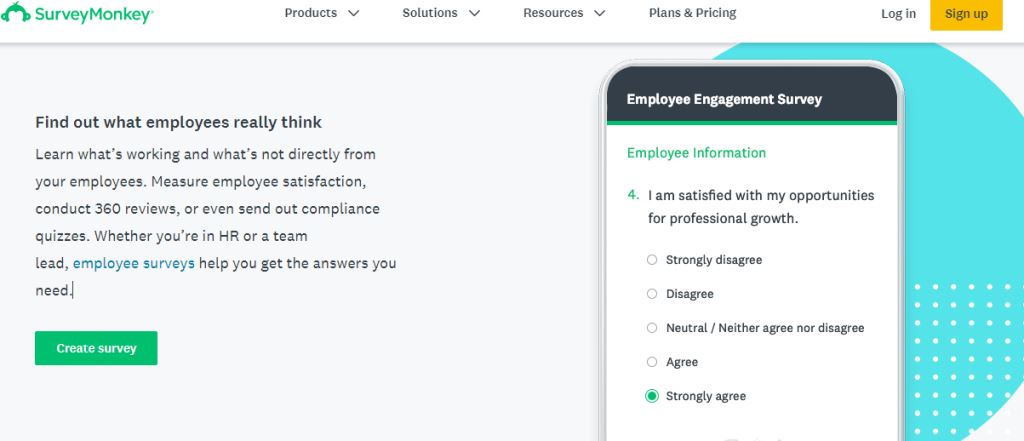 You often need to send surveys to know about your customer's opinions and sentiments.
But are you still confused about how to do it?
Just use SurveyMonkey. You just need to design a survey of questions based on different parameters. Assign these questions with a score.
You can name it a Customer Satisfaction Survey.
You can even take surveys from your employees that will help you to know what they think about your organization.
It also helps you to find out the ways on what action you can take to delight your customers and improve their experiences.
Ricardo Garcia-Amaya who is CEO and Co-Founder at VOIQ   quoted –
"We use SurveyMonkey to send automated client satisfaction surveys. Each response is tied to the client's contact record in HubSpot, making it extremely easy to track, analyze, and trigger different marketing workflows depending on the survey results."
4. HelpScout   
One thing you should always remember that customer support should be your priority.
The way you address their grievances results in a big impact on your business.
And trust me you will lose your business if you will continue to let them down.
Nowadays businesses are using the helpdesk for customer services.
Helpscout is a great application that helps in delivering delightful communication for customer satisfaction.
You can do live chat, provide a knowledge base, share team inboxes and, can connect with other tools such as Mailchimp, HubSpot, Shopify, etc.
It starts initially with a 15-day free trial and is available for both Android and iOS.
5. HubSpot
HubSpot is a unique application that can handle your both B2B and B2C business.
It is a combination of marketing and sales services that helps your business to grow in a better way.
It will help you in accounting, retail, real estate, construction, and many more.
Additionally, it also provides marketing, CMS, service, and sales hub to promote content online and track performance with an easy to navigate design.
You can manage your social media engagements, analytics, website theme, tickets, customer feedback, and meeting schedule.
Hubspot can be integrated with many data management, advertising, CRM, e-commerce, and content management tools.
This will help to boost up the revenue for your startup in terms of growth.
6. Zoom

This is one of my favorite apps that is used by most businesses nowadays.
Zoom helps to schedule virtual meetings wherein you can directly speak with your prospects, customers, or clients.
It provides you with an option of sending messages, raising votes with the whole team during virtual meetings.
This helps you to stay connected and updated with your teammates.
It is one of the most effective applications for businesses that are working from home.
You can opt for a free plan. It offers up to 100 participants per meeting.
You can even schedule a meeting in advance and set reminders to your emails or phones before a call.
All you have to do is to just send the link of the meeting to your teammates or clients whom you want to connect with.
Zoom is available for both Android and ioS.
7. Jotform Survey Maker
Jotform Survey Maker enables you to get the answers you need from your customers quickly and easily.
Whether you're conducting research or gathering feedback, you can use Jotform Surveys to create engaging online surveys.
Jotform offers a free drag-and-drop survey maker which is extremely easy to use.
If you don't want to build your survey from scratch you can use one of the 800+ survey templates and customize it to create the survey that fits your needs perfectly.
You just add your own questions to create engaging surveys and share them online to collect responses instantly. You can embed surveys in any webpage without coding.
It has many useful features including a "Save and Continue Later" option and a mobile responsive design.
With Jotform Survey Maker, you can also track and analyze your survey data to make the most of your feedback.
8. DataBox
Today every startup wants a paperless and smart working environment.
DataBox is a perfect application that helps you to know how your business is performing in terms of sales and marketing.
You can even see your daily scorecard either on tv display, apple watch, or desktops.
It accesses your business on key performance indicators and maintains the data on a dashboard without any coding required.
The good thing is you need not prepare any report and formatting charts for your multiple systems.
You just have to set goals and then measure your performance accordingly.
Nelson Joyce who is Cofounder of Tettra quoted –
"With Databox, we've been able to pull together our most important metrics from disparate sources into one place, quickly and easily.
This gave us real-time performance insights that allowed us to focus on the right activities on our journey to profitability.
Being able to pull data from places like Google Analytics, HubSpot, Mixpanel (and more) has been a game-changer for us."
9. Slack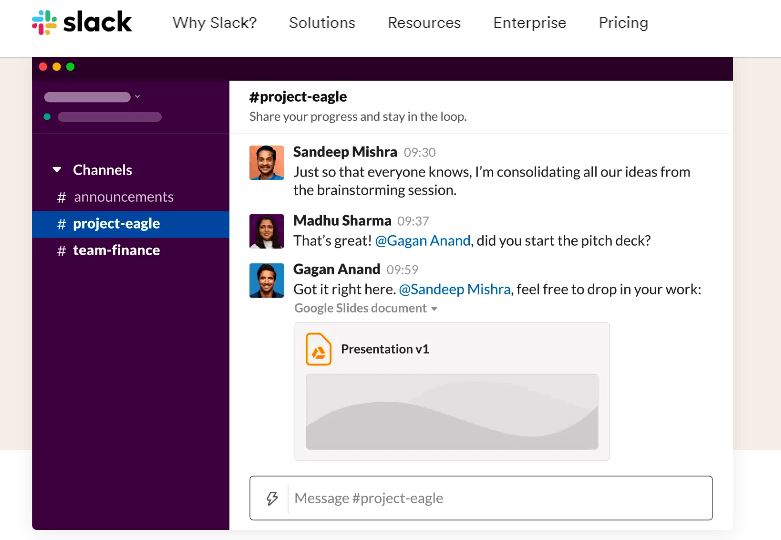 Slack  provides a better way to communicate with people. It helps you to get your work done by providing you the required information.
You can organize your every conservation in channels according to your teams, departments, or any category that you want to.
Apart from instant messaging, this app can be integrated with other apps such as Twitter, Mailchimp, and Google Hangouts.
This helps you to keep all your conversation in one place.
You can also create tasks, share files, and receive notifications directly within a slack to stay up to date with your all contacts.
For instance, create a channel with your project manager and assign Mailchimp notifications to appear here so both of you are aware when your company receives or sends a message.
Moreover, you can share the channel with other companies or clients to keep them in a loop while you are working on a project.
This will build up your confidence and reputation with them.
Slack even allows you to search and see the history of your project.
This is most helpful as you don't have to remember everything and organize the work in a place even if your team changes.
10. Evernote
Whenever you are starting your business you need to have a proper internal and external collaboration to run it smoothly.
Sometimes you might have to jump from one strategy to other tactics instantly by managing cash flows, inventory, accounting, and other resources.
To manage all this you should install Evernote for your desktop and mobile phones.
This app helps you to jot down your points, make notes, sync devices, record voice memos, add pdf files, share images, and clip web pages.
You can even share your notes and notebooks with clients anytime.
Additionally, it offers time-tracking functionality that helps you to scale your productivity and work on your weak points.
It is available for Android and iOS-based gadgets for free.
You can also pay for its premium plan if you wish to.
11. Hotjar
Hotjar is the most useful application that helps you in understanding what experiences your customers are getting from your website.
You don't have to tell them to fill on a form or get them over a call.
It helps you to track their behavior through heatmaps.
You can click, move, download, share, and scroll the heatmap to know what your customer wants and cares about.
You can prepare a set of questions and launch a survey to get feedback from visitors.
Also, it provides an option of instant visual feedback, and then you can analyze what people love or hate depending upon the issues highlighted.
It also provides you with an option of visitor recordings wherein you can see the mouse movements, taps, and clicks.
This will help you to eliminate your guesswork and resolve the issues with real visitor behavior.
This will help you to analyze and increase your conversion rate to improve your website structure.
Sarnen Steinbarth  (Founder and CEO at TurboTenan) quoted-
"We love how easy it is with HotJar to visualize the data with their site heat map and overlay. As they say, a picture is worth a thousand words – or in this case data points."
12. Gusto
Gusto is one of the most popular apps among startups these days.
Earlier it was known as ZenPayroll. It helps you to manage tax, payroll, and other small benefits related to your organization.
It manages all paperwork and reports that you need to do for onboarding an employee.
It takes care of local, state, and federal tax filing, emails payslips to your employees, and automatically makes deductions where required.
You can also use Gusto's wallet and the time tracking tools provided in it.
The starts with a plan of $25 per month and is a useful resource for all human resource personnel, accountants, and bookkeepers.
13. Trello
Last but not least you need Trello to plan your projects for your business startup.
You can stay organized and work with any team. It helps you to work on email newsletters, publish podcasts, plan webinars.
You can even add your comments, attachments, and due dates to your Trello cards.
It has a built-in workflow automation feature that lets the robot (Butler) do the work for you.
You can also upload your pictures, videos, assign tasks, attach files, and checklists.
The app can be installed for both the iOS and Android platforms.
So, just start with Trello today. Create your board and invite your teammates to edit documents and work in a flow.
Wrapping Up
Just remember if you are growing your company then it means that you are looking for ways to get things done faster and in a strategic manner.
It becomes very important to stay updated with all the important innovative apps that will make you stand from the rest of the world.
So, make sure you have all the tools and applications available to drive you through success.
Start today by adding these 12 innovative apps to scale up your business and leverage the use of all great integrations in 2022.
This will not only increase the productivity of your organization but will also optimize and navigate your business easily through many ups and downs.
Claire Mark is an aspiring entrepreneur, an industry specialist in stamod solutions, and a writer who shares her skills and expertise through reader-friendly writings. She has already been referenced on a few well-known websites. Claire writes a well-researched, data-driven, and in-depth blog on specialised themes that works well with niche websites.