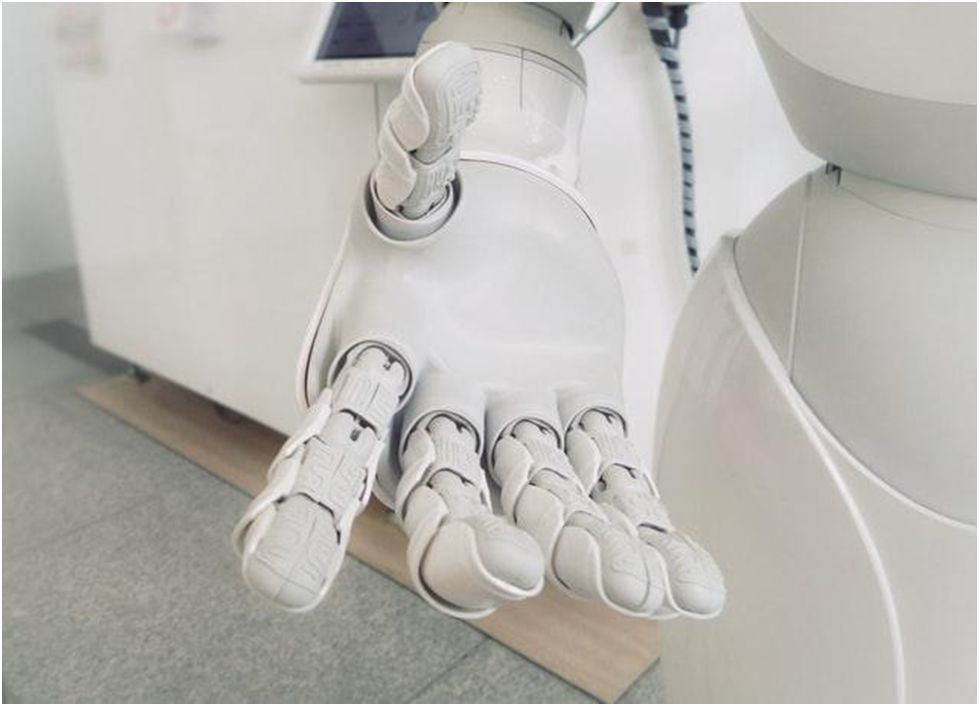 Technologies are always changing and over the years we have seen a huge evolution. But, as we move ahead in a subdued economy due to pandemic, there is a raising need for different technologies. There are many advanced innovations around us that can help businesses break the barriers of social distancing.
The innovation market is rising above all odds. It is seeing a huge demand over the years. The market is estimated to grow up to $1519.2 million by 2022. It is bound to grow at a compound annual growth rate of 29.2% during the forecast period of 2017-2022. The market is solely driven by innovative technologies for business propulsion.
So, let's know some of the most important technologies that can redefine business in 2021.
1. Social-Commerce:
Recently, Facebook announced a new social-commerce platform called "Facebook Shops". It is an amazing platform for small businesses and brands to promote their products on social media with features to provoke sales.
It will integrate your existing eCommerce platform into the Facebook app. So, you can leverage the social media platform for reaching more audiences. With more than 2 billion monthly active users, Facebook is an excellent platform for small businesses. The benefits of such a social-commerce integration technology are.
Businesses can easily create a storefront with Facebook Shops for better outreach.
It will allow social media users to place orders directly from Facebook.
Facebook will also establish Instagram shops to boost businesses.
It will also help companies to leverage live shopping, cart transfers, and ease of business.
2. Advanced App Development:
We know that app development is not new. But, advanced app development is a little different. Today's apps can leverage different frameworks like Angular, React Native, Vue.Js, and other such frameworks for advanced development. But, what makes it more interesting is automated testing tools.
Any business can develop amazing apps with an app development company. But, automating testing of app needs some innovations. There are RPA based innovations for app testing. RPA stands for Robotic Process Automation. It allows automation of the entire testing process.
Another important innovation in-app testing is the integration of the Artificial Intelligence model. Take an example of the Flutter framework, where you can integrate an AI test bot technology to automate the mobile application testing for better performance.
3. Desktop Applications:
What is a desktop application? We all use Whatsapp on mobile devices. But, there is an application for your desktop devices too. Similarly, businesses can leverage desktop applications for their existing websites. If you are wondering why you need a desktop application then you should consider your user's convenience.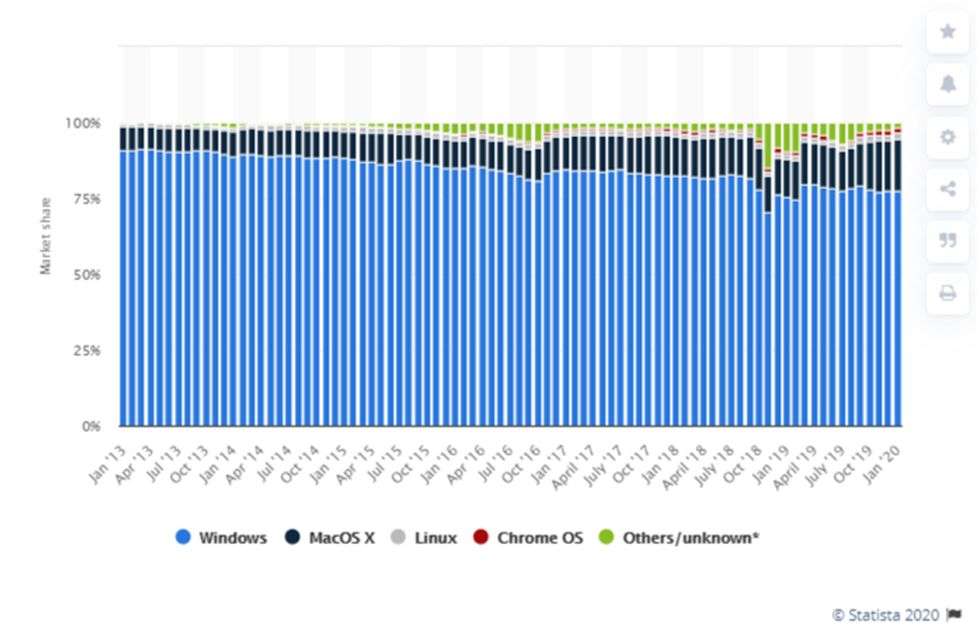 Currently, the desktop OS market is led by Windows with 77.7% of the stake. There are several Windows users across the globe, including major enterprises. It means that a desktop application is like a goldmine, especially for a B2B business. Even, while major businesses are going remote, a local desktop application can be worth developing.
4. Artificial Intelligence:
AI or Artificial Intelligence is not your GOD technology anymore. We have already seen many shortcomings in technology. But, even if you ignore some downsides, AI has been phenomenal on the business side. But, things are changing fast.
With the pandemic and a post-COVID-19 era insight, AI can help businesses with better automation and business decisions. AI paradigm is expanding from a robotic intelligent computer to a smart ally in business growth.
Take an example of AI in the eCommerce business. We have seen the use of AI by Amazon for making recommendations to consumers. But, there has been more to it than you can imagine. Now, AI algorithms are using predictive analytics for not only recommendations but, help businesses create specific campaigns.
5. Multi- Reality Paradigm :
The visual experience is getting exciting day by day. As the innovations in the multi-reality paradigm get advanced, there are more business opportunities. The most common is AR/VR or Augmented Reality/ Virtual Reality. But, there is also a mixed reality that can help businesses enhance the whole user experience.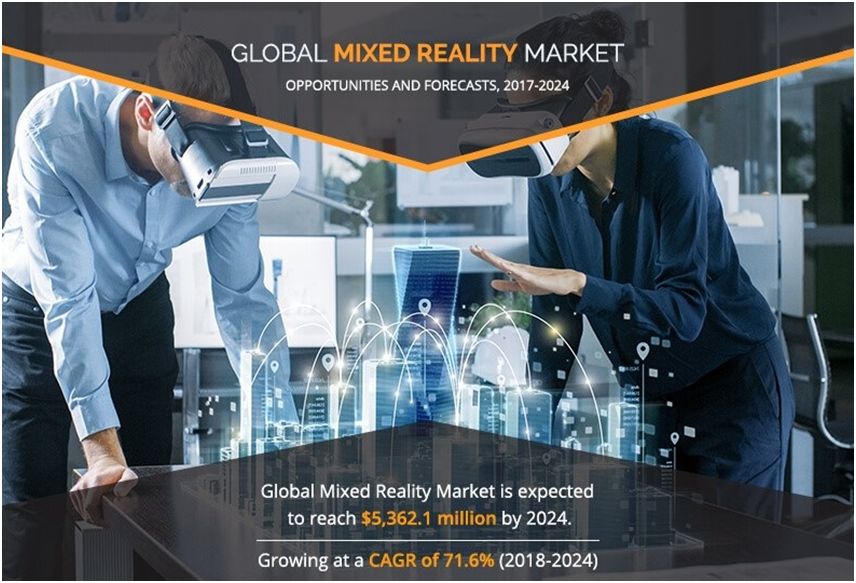 The global mixed reality market is growing at a compound annual growth rate of 71.6%. The market is also expected to rise with a revenue stream of $5362.1 million by 2024. Some of the biggest market leaders are.
HTC Corporation
Intel Corporation
Magic Leap, Inc.
Microsoft Corporation
Facebook
Eon Reality, Inc.
Google Inc.
Samsung Electronics Co. Ltd
Seiko Epson Corporation
According to William Griggs, the CEO of VirtualRealityRental.Co, " Mixed reality is the latest advancement in the virtual and augmented reality world, and you can expect it to have a lasting impact on the way we do business and solve enterprise problems"
6. Voice-Commerce:
Voice commerce has been on the rise due to the smart speaker market. Most businesses today understand the importance of consumer outreach. When you consider the reach of smart speakers in the customer digital era, voice-commerce is a great option.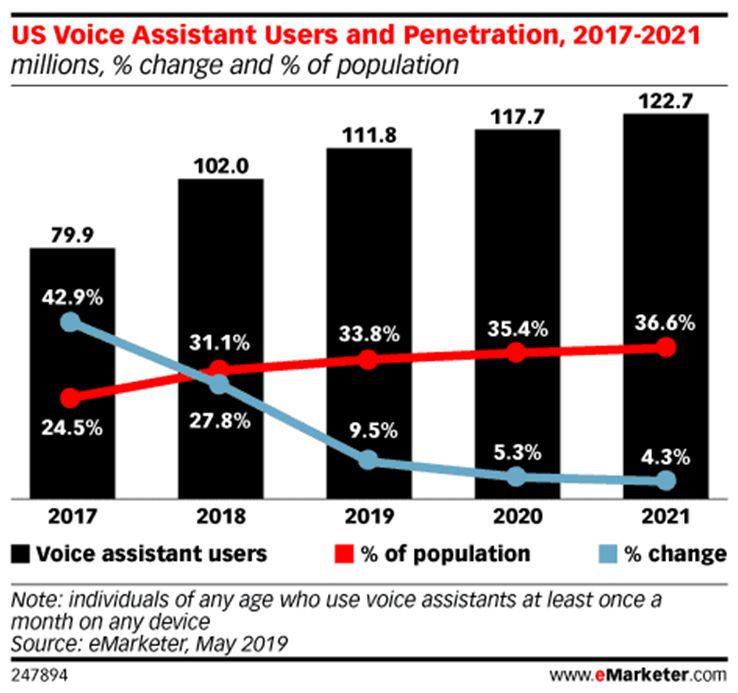 We saw a huge rise in smart speaker usage in the US population, which was 111.8 million last year and this year itself will surpass 117.7 million. Smart speakers have more penetration than ever before and now people are using this technology for making online purchases.
7. Video Commerce:
Video streaming apps are some of the most popular platforms for businesses. From youtube to Tiktok, video streaming is not just about creating casual videos and have fun, they grew into a full-fledged market.
Last year, the video commerce market was valued at $42.60 billion. It is projected to grow at a compound annual growth rate of 20.4% for the forecast period of 2020-2027. The integrations of AI and blockchain technology is now powering the video commerce industry.
8. Blockchain technology:
The technology is slowly growing for enterprise adoption. As the innovations around the democratization of data get more advanced, the blockchain technology gets more exciting. The innovative technology can help businesses for payments, data sharing, automating processes, and many more.
9. Cloud computing:
Cloud solutions have long been the pioneers of new-age business automation. The fairytale of serverless development and deployment is based on cloud solutions. Cloud computing is the latest technology that helps serverless models go way beyond normal capabilities.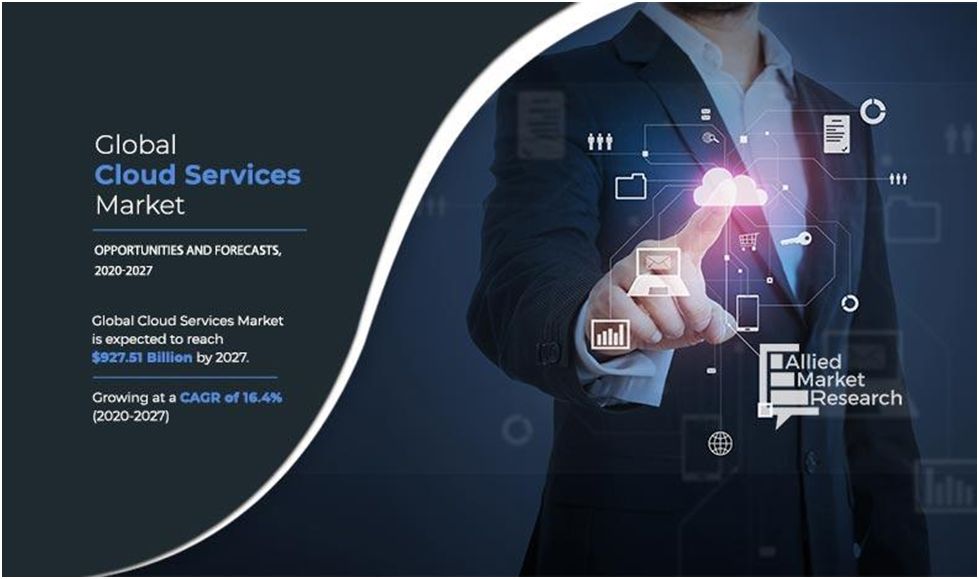 The cloud services market was valued up to  $264.80 billion last year. It is expected to grow to  $927.51 billion by 2027. It will grow at a compound annual growth rate of 16.4% between the period of 2020-2027. There are many cloud-based solutions like AWS(Amazon Web Services) that are innovating enterprise-grade solutions.
10. Bluetooth Low Energy(BLE):
A BLE or Bluetooth Low Energy technology is one of the innovations that can help businesses in 2021. It is a proximity-based technology. It uses a beacon technology integrated with mobile apps.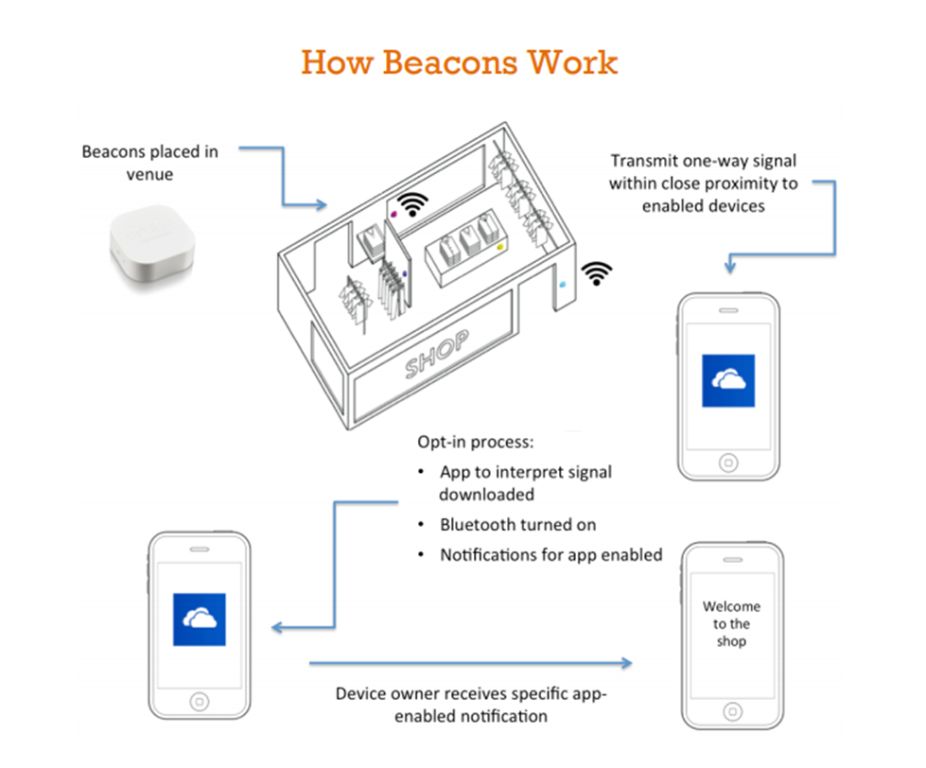 Beacons can help businesses detect any Bluetooth enabled devices. So, based on the proximity, they can provide relevant information on the device through push notifications. It is great for local storefronts and small businesses.
Companies can easily develop apps for such technology through professional services. There are many enterprises adapting the technology and one such example is iBeacon- an Apple platform beacons technology.
11. Internet of Things (IoT):
Today everything is hyperconnected. IoT has been at the forefront of hyperconnectivity. Internet of Things is all about smart devices connected through cloud servers for data access, recording, and retrieval. The security of the data is paramount in such a technology.
The IoT market is already rising and businesses can easily leverage such an innovation for better consumer experiences. From the smart speakers to smartwatches everything uses IoT technologies and that is the reason it will be a huge technological advantage for most firms in 2021.
Some of the benefits of using IoT for your business are.
IoT helps communication between devices to be more effective.
Companies can achieve efficacy in M2M or Machine to Machine communication.
Data monitoring with IoT is quite easier.
It increases the system response time to user requests.
12. 5G Network:
Probably, the most interesting technology overdue in 2020 that will be helping businesses next year. 5G is more than a network upgrade. Because it is going to revolutionize how we use our devices, mobile apps, and smart appliances. The network technology has evolved over the years.
The First-Generation/ 1G-The Analog Voice Network
The Second-generation/2G- Code Division Multiple Access/CDMA Networks
The Third generation/3G: The Advanced Digital Network
The Fourth-generation/4G LTE- Long-Term Evolution Network(Mobile Broadband)
It is considered as a powerful air interface. The next-generation network has a higher radio frequency capacity. It will provide higher bandwidth for digital devices. It will have an impact of almost 300% on the network speeds across the network intensities.
The impact of a 5G network will be across business verticals like agriculture, healthcare, energy, IoT, and others.
13. Machine learning:
It is a subset of AI. But, it is a technology that has powered many businesses over the years. ML algorithms are the best when it comes to business strategies. The modern era of mobile apps and IoT related smart devices are the resources
Any Machine Learning algorithm can be leveraged through the learning models. Businesses can easily use the data from different sources, analyze them, process the information, and provide solutions. There are three basic types of data learning in ML models.
Supervised learning
Unsupervised learning
Reinforced learning
Supervised learning is all about using the data and mentoring an algorithm to learn from it. Unsupervised learning is providing the data for models to explore self-learning without the need for human intervention. Reinforced learning explores the situation based learning that helps algorithms to adapt according to the changes in data.
14. Cognitive Computing:
We already discussed what is cloud computing, but cognitive computing is more of a combination of different technologies. It integrates technologies like.
Machine learning
Artificial intelligence
Natural Language Processing
Speech Recognition
A combination of all the innovative technologies can certainly help you create a very effective business. Some of the benefits that cognitive computing can offer are.
It helps identify the consumer persona.
Cognitive computing can help create greater business intelligence
It helps to achieve efficacy in after-sales support.
It can also help customer interactions to be better
It can help you maintain effective CRM(Customer Relationship Management)
15. Chatbots:
Chatbots are the must-have technologies for businesses today. Customer satisfaction is an essential part of CRM. About 90% of businesses believe that a chatbot can resolve consumer issues much faster than a human agent.
But, businesses need to reinvent the integrations of chatbots with innovative strategies. Chatbots work on the NLP and speech recognition technologies to create human-to-human-like interactions.
Chatbots can use these human-like natural conversations for data sourcing. If businesses integrate the ML algorithms with the chatbots, then they get the strategic advantage. Algorithms can learn from the data they receive and process them through cognitive computing. Here, such a seamless automated system can help firms to create product personalization.
Some of the benefits of a chatbot is.
It helps better consumer support for companies.
It can provide relevant data for building the buyer's profile.
Chatbots can even suggest personalized products based on these profiles.
It can make suggestions on product development based on the data received from consumers.
It will help the small businesses to create more effective marketing campaigns.
There may be questions about the cost feasibility of a chatbot. But, the advantages you get for your business outweigh the costing part.
Conclusion:
The world is under one of the greatest recession due to a virus scare. But, what technological advancement can help all the businesses coming out of this situation. Though the need for infrastructure needs and organization structural changes for these technologies is indeed challenging, you need to come up with a plan to use them.
Apart from the fact that some of these technologies are still evolving and in the research phase, investing your money in them is not a bad idea at all. So, start integrating innovations and beat the heat of market recession.
He is an Entrepreneur and a lifelong learner of innovations around him. He has experience in business verticals like Software, Web and Mobile Development, and Recruitment Process Outsourcing. He is very active in sharing his knowledge through technology blogs and articles on different niche. He is constantly helping and serving clients in Software Development and Staffing Services (RPO). He leads a team of fun-loving geeks and extremely talented professionals at Kunsh Technologies! Apart from the professional career, he loves to indulge in Reading, Travelling and Photography for generating new ideas!