For years, digital marketing experts have put forward their definitions of customer lifetime value. However, every definition boils down to one common theme: LTV is a customer's estimated net profit contribution over a specific period. Basically, the projected dollar value is attributed to every customer or client relationship.
As a business website owner, you need to have a higher CLV than the customer acquisition cost. Otherwise, you will continue losing money over time. When you improve customer lifetime value, you enhance the long-term profitability of your business.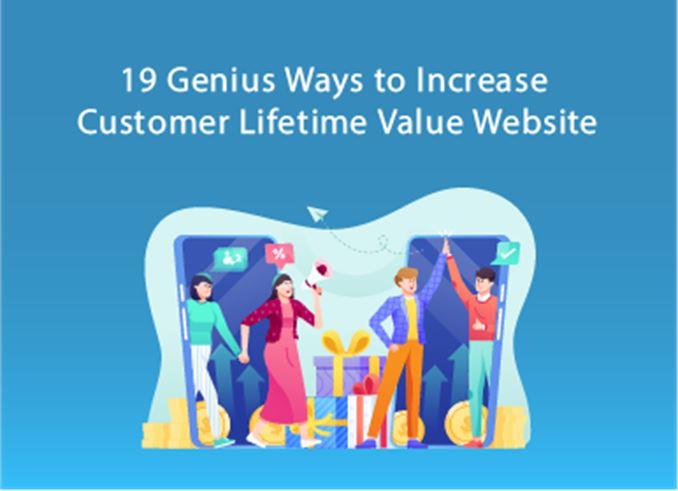 How to Calculate Customer Lifetime Value (CLV)
Here's a simple definition of customer lifetime value. It's a metric that presents how much net profit a company can make from one consumer over time.
So, a high CLV means every customer will bring in revenue for the company compared to the preceding customer. Because each customer is more valuable, the business can spend more to get new customers and keep the ones it already has.
For example, you run a classic SaaS company with monthly billing. We will be using a single customer in this example. The customer prefers your business for two years and has a subscription plan priced at $100 per month.
This client's average customer lifetime value would be $2,400 ($100 times 24 – total number of months a person has been a customer). The number only gets bigger as the customer needs to pay more over time; the revenue expands from current customers, exceeding the churn.
Why Customer Loyalty Is Important
There is hardly anyone more loyal than a sports fan! They are arguably fans for life, as they spend countless hours, energy, and money on their teams. Fans as customers drive revenue in different ways. First off, developing fan loyalty helps sports teams gain a competitive edge in the market. Apple, for instance, has a reputation for charging higher prices. However, they offer such an amazing experience that their fans are more than willing to pay the fee.
How To Apply Gamification To Elevate Customer Loyalty
81% of consumers opined that customer loyalty programs made them more likely to continue engaging business with brands. However, in today's corporate world, loyalty efforts are developed on external rewards systems. While this strategy carries its benefits, such as triggering the desire and initial interest for an activity, it has proven insufficient in the long run.
A study has proved that people require intrinsic motivation to remain brand loyal and stay engaged. Luckily, gamification in WordPress ensures sustainable engagement by making the experience intrinsically motivating.
Emotions drive customers as they gain through achievements. Recommendations to enhance customer loyalty include focusing on techniques that build member identification and relationships with the team. Let's take a look at some examples from the sports world!
Gamification Makes Loyal Fans
The gamification software organization StriveCloud worked on a case with the platform Kayzr. The esports platform was used to reward gamers with coins that they could later consume to buy prizes. However, for a push, Kayzr required a better way to reward users without any risk of losing massive engagement.
To fulfill the challenge, the StriveCloud team redesigned the loyalty experience to create Kayzr 4.0 – a renewed version with in-built elements of empowerment, surprise, and competition. One of the major features they installed was a lottery mechanism. So, while the conventional coin value got lower, customers could now win tickets on participating in the bet and lottery on certain prizes!
The gamification experience helped Kayzr grow active users daily with 60%. Further, the platform gained more than 350% users and got one year of 24/7 customer time in only one day!
19 Ways to Improve Customer Lifetime Value
Now we know what customer lifetime value is and the significance of customer loyalty programs and gamification behind CLV. So, let's move on to find the methods through which you can increase CLV for your business website:
1- Create Demand By Identifying Essentials
Consumers are quite likely to act when a product appears to be essential. Imagine you have a technology e-commerce website, and one of the customers buys a smartphone. You can present them with an irresistible protective cover or any related product. Make a sweet deal by offering a small bundling discount.
Most renowned e-commerce brands, such as Amazon implement this upselling technique to capitalize on each sale.
2- Put customers in the spotlight.
Every customer loves a bit of recognition. Therefore, give customers a due share of the spotlight. Suppose you have a seafood restaurant WooCommerce website; you can master the technique of providing a spotlight by regularly featuring winning customers on your social media profile and giving them the feel of being the "center of attention.'
Your website can also feature images and comments written by your customers on the main page. You would see the evident results with your thriving social media pages and bustling business, mostly constituting repeat buyers.
3- Remain sensitive to customers' requirements
Customers appreciate knowing that your company is concerned about their needs. them a chance to speak about it, and don't wait to get nasty emails from them to resolve problems circling customer service. Instead, concentrate on customers' needs on your business's social media channels and online outlets.
These efforts will help you build loyalty and enhance your customer lifetime value.
4- Provide customers a reason to celebrate
A massive way to get this is by wrapping your products as per the season. For example, if you have a fashion website, change website themes accordingly by including the country's flag for Independence Day or a spooky haunted house during Halloween.
Small efforts concerning attention to detail like these can make your brand likable in your customers' eyes. So, personalize your products and website throughout the year.
5- Make it Easy to Do Business
Customers love getting errands done swiftly. Therefore, you need to make performing tasks such as making purchases on your website easier by storing previous customer information. This will help customers avoid having to fill out the same tedious details before every order.
Your Twitter handle can be a huge source of convenient business. If your customer tweets mentioning that they have to buy your product, direct them by using a link to that product. Avoid offering generic replies such as "visit our website."
6- Focus on quality
Making your product unique is the best technique for outshining competitors and improving customer lifetime value. Undoubtedly, making your brand in line with quality is necessary. You can get a lot of attention if you are a credible source of goods. This can help you make more money.
Take the example of Apple's fan frenzy. Due to the commitment to quality by Apple, users get first dibs whenever Apple releases any of its products.
7- Know your customers
Having complete knowledge about your loyal customers is crucial, and making them know you care for them is also essential. If you have a subscription website, make sure you collect personal information like anniversary dates and birthdays. On these dates, you can give them a small discount or freebie.
These gestures may look small or negligible, but they can go a long way in constructing a customer's lifetime value.
8. Give delightful surprises
Making your customers delighted with irresistible client service is a must. However, small surprises can help as well. Customers will positively react to surprises like thank you notes, free shipping, birthday coupons, retweets, and postcards. Small surprises and positive gestures always instill massive customer lifetime value.
9. Personalize the shopping experience
If you have ever observed Amazon pages, you must have noticed a bit of web customization. Following your first purchase, things start to look a little different on the website because it keeps getting suggestions that match your tastes.
Personalizing the e-commerce website can enhance the shopping experience and improve sales, which will have a positive effect on your customer lifetime value.
10- Go beyond standard product details
Customers generally complain that they can't try on clothes or shoes when they buy online. Therefore, many show and apparel brands have devised tools in different ways to explain fit in as much detail as they can and allow other buyers to peal in. These thorough details are effective methods for enticing customer purchases.
In fact, many apps have helped online apparel or footwear retailers reduce returns by recommending the best fit.
11. Follow up on delivery promises
Customers never feel happy when their parcels don't arrive on time. Thus, provide them with peace of mind by giving them delivery tracking. Let them alter the delivery date or allow the customers' neighbors to receive the package on their behalf. After all, client convenience is what you seek.
So, a follow-up is a massive way to increase customer lifetime value.
12. Enable multi-channel returns
Multi-channel returns can create stock nightmares; offering them can be a feasible way to encourage sales. After all, everyone wants to avoid the trouble of ordering an online-only product if they know they will need to pay for return shipping if it doesn't fit. If they're going to return your product manually, prepare the way for it.
13- Reward customer loyalty
It would be best if you offered loyal customers some incentive to keep buying from your website repeatedly. If you have a restaurant chain, you can provide a sweet customer loyalty program by rewarding customers for every $100 spent. Customers can keep track of the reward status because the loyalty program is measurable in dollars rather than in points.
Remember that the reward size matters since it's offered for free.
14- Make Programs for Frequent Buyers
Offering special membership programs available to recurring customers can work wonders in enhancing LTV. The best example here could be Amazon Prime, where customers can expect free delivery and unrestricted product access for an annual fee of $99. The upfront fee may seem high, but in the long run, people who buy a lot of things save more money on delivery costs than this.
15. Entice customers to register
Encourage your customers to register on your website, as this will be successful if you skip over asking for mundane details and make signup a breeze. When clients register, you can closely track their spending habits and behavior.
In exchange, filling in payment data and making purchases will become easier for them as well.
16- Show appreciation
Take time to appreciate every sale, which will fuel up your customer's lifetime value. Send customers a brief thank you note with every purchase. If you encounter a first-time buyer, send a welcome email and link to the registration platform of your website. Following up is a small but incredible way with which you can etch the memory of your brand in customers' minds for a long time.
17. Give exclusive offers
Making special deals restricted to social media followers or email subscribers is a productive way to make them feel special. Exclusive discount offers can act as enticing tactics for persuading customers to buy more from you. Discounts, freebies, coupons, and eBook access are all viable options to increase Customer Lifetime Value.
18. Offer coalition programs
Coalition programs are exclusive partnerships where businesses group together to give benefits to their customers. This tactic becomes useful when giving customers something they like apart from what you sell. Customers who sign up can reap deals from companies.
19. Motivate sales with urgency
Inculcating a sense of urgency can be super effective in motivating consumers' buying behavior. Deals lasting 24 hours can be real winners, especially if you give notifications to existing customers about them through social media or email. By doing this, you make sure to get at least a fraction of your client base to make a purchase.
Final Words
Not all the ways mentioned above are suitable for every website business. Also, when it comes down to it, you are in the best position to judge what suits your company. No one can deny the significance of targeting existing customers to boost Customer Lifetime Value. It's cheaper to remarket your products to current buyers than to find new ones. Moreover, building customer relationships over the long term is a better business strategy any day.
Chris Mcdonald has been the lead news writer at complete connection. His passion for helping people in all aspects of online marketing flows through in the expert industry coverage he provides. Chris is also an author of tech blog Area19delegate. He likes spending his time with family, studying martial arts and plucking fat bass guitar strings.