If you're serious about affiliate marketing, Instagram is one channel you can't afford to ignore.
Affiliate marketing is an easy way to earn money by referring customers to brands. While blogging is still a valuable channel for the affiliate landscape, social media channels are quickly gaining attention.
Instagram in particular is already proving to be a great environment for those with the right audience connection. The average influencer on Instagram can earn up to $100,000 per year!
Affiliate marketing is one of the best tools for industry influencers searching for a regular source of income. With Instagram, you can successfully lure your audience to your monetized links with eye-catching images, engaging captions, and even vibrant video.
Let's explore how you can make the most of Instagram as an affiliate goldmine.
Why Use Instagram For Affiliate Marketing?
Affiliate marketing is one of the best ways to make money online. With affiliate marketing, partners or "affiliates" use specially tracked URLs and codes to send customers to a specific company. When those customers make a purchase, the affiliate earns a commission for the sale.
If you know how to influence an audience, and you can convince followers to purchase the products or services you recommend, you'll succeed as an affiliate.
Affiliate marketing offers huge benefits to companies by both increasing their profits and boosting engagement between the customer and the business.
Instagram is an excellent affiliate tool, with over 1 billion monthly active users. More importantly, 83% of those users say they've found new services and products through Instagram.
Followers on Instagram are already looking for things to buy. All you need to do is give them a nudge in the right direction. Being a great affiliate on Instagram means knowing how to drive people to click on a link and buy something.
Unfortunately, you don't have many opportunities to use links on your Instagram profile. Limited access to linking options means you need to get creative. These 5 tips will push you in the right direction.
1. Use A Link In Bio Tool
Most Instagram users only have access to a single link on their account. You can't add clickable links to your images or captions. Plus, you'll only be able to link out through Instagram Stories after you've gained enough followers. The one link in your bio is the core of your affiliate marketing game strategy.
If you're only advertising a single product or just one brand, you can focus on sending people to that link. However, that's unlikely to be the case. Most affiliates are promoting multiple brands and offers at once.
To transform your single bio link into a hub of affiliate sales, you'll need a link in bio tool. Solutions like url.bio give you a way to link out to multiple locations from a single URL. You can share all of your affiliate links in one place, and there's even a dedicated affiliate mode on the tool.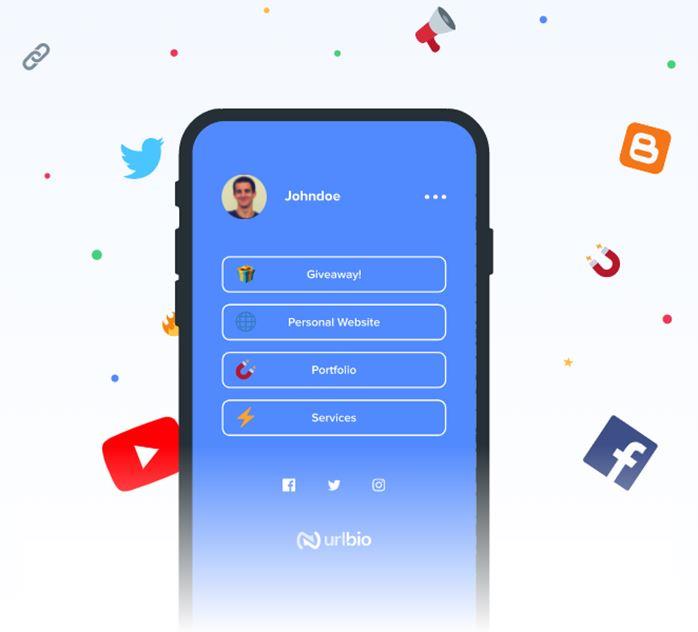 With url.bio, there's no limit to the number of affiliate links you can share. Plus, built-in analytics means you can get better insight into which of your products and services are driving the most attention. That's a great way to figure out where you should focus with your affiliate portfolio.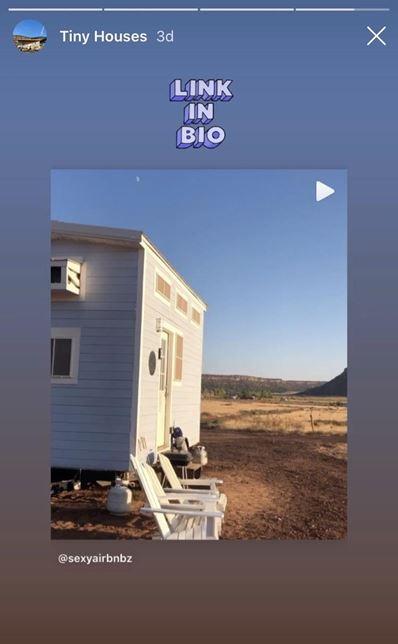 2. Use Instagram Stories And The Swipe Up Feature
Around 500 million people use Instagram Stories every day. The tool is one of the most popular on Instagram, and it's likely to stay that way. Every affiliate can benefit from using Instagram Stories to boost audience engagement. When you gain 10,000 followers, you can even take your Stories to the next level with the "Swipe Up" feature.
The Swipe Up option on Instagram Stories invites your followers to swipe up to visit a link of your choice. It essentially gives you another way to link out to products and services, aside from the link in your bio. Using the Swipe Up feature and Stories, you can showcase yourself using the products you want customers to buy and encourage them to try them too.
Alternatively, you might hype up demand for a product by showcasing what it can do, then ask people to swipe up to find out more. Independent artist Steffi Lynn uses the Swipe Up feature to promote products from her partnerships with companies like Adobe: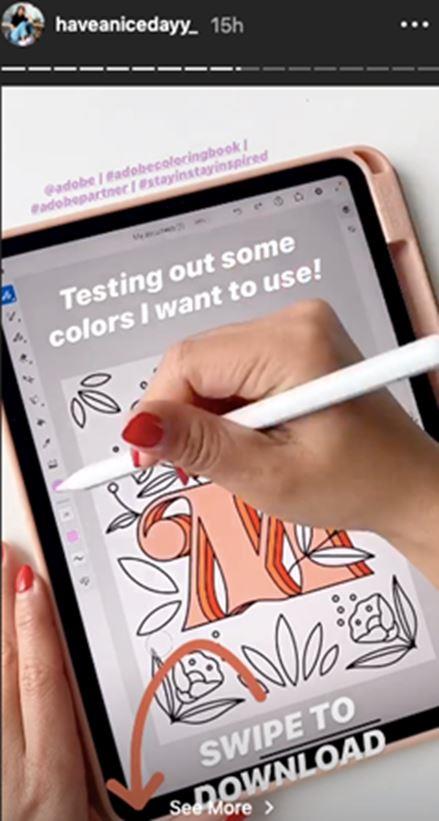 Remember to pull attention to the "Swipe Up" option at the bottom of your story with some text, stickers, or arrows. When your followers are engaged in the story, this link can be easy to miss.
3. Use A Coupon Code
With many consumers constantly looking for deals when they shop, it makes sense to give your audience value whenever you can. Fortunately, many companies with affiliate programs allow their teams to use something other than a link to generate purchases.
In some cases, you can convert your dedicated link into a coupon code that's also connected to your affiliate account. When a customer uses the code, the affiliate system will register that the client came from you – just like it would with a link. The bonus is that you don't need to add anything clickable to your Instagram posts or stories.
Watch company Daniel Wellington earns an average of around $220 million in revenue each year, thanks in part to its affiliate strategy. The company gives affiliates unique promotional codes that only remain valid for a limited time. Not only are these links trackable for affiliates, but their limited nature pushes customers to act through fear of missing out (FOMO).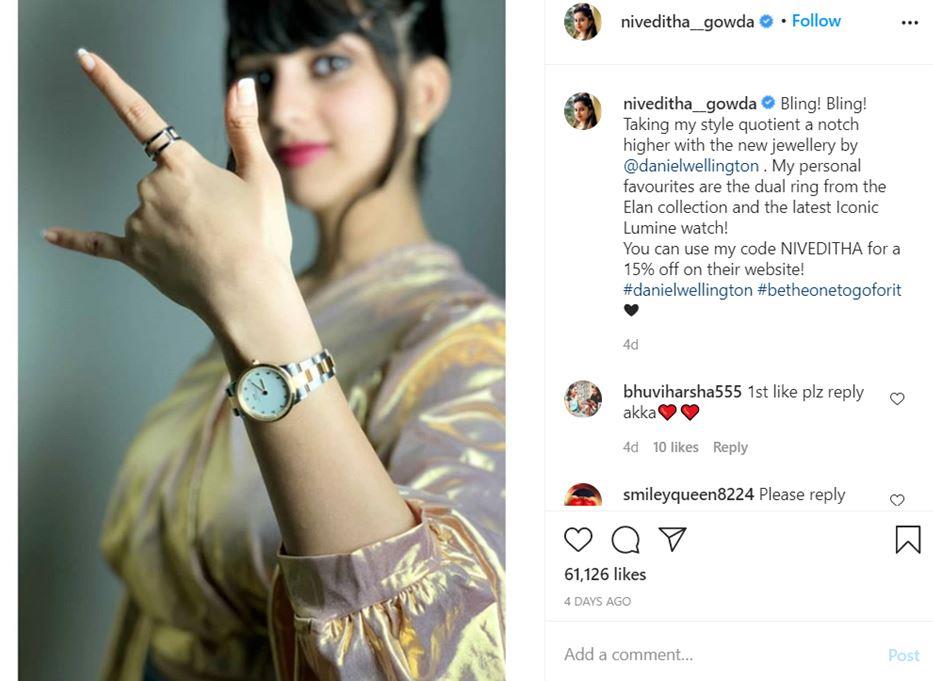 If you're using an affiliate coupon, make sure you generate as much hype as possible before you post the code. Having a countdown to a "money off" day could be a great way to increase the number of customers that use your code.
4. Run Sponsored Posts
Sometimes you need to invest in your success.
While organic ads are fantastic, paid advertisements sometimes offer that extra boost that your company really needs.
If you promote a post on Instagram, you can choose what kind of audience you want to target with Facebook Audience Insights. This boosts your chances of reaching customers that most want to purchase your products. You can also dictate when you want your ads to run, and where you want to try and get customer attention.
The biggest bonus of a sponsored post on Instagram is that it allows you to add a link to your post. This means that your followers can click directly through to the product your promoting in that post – just like they would on Facebook and similar channels.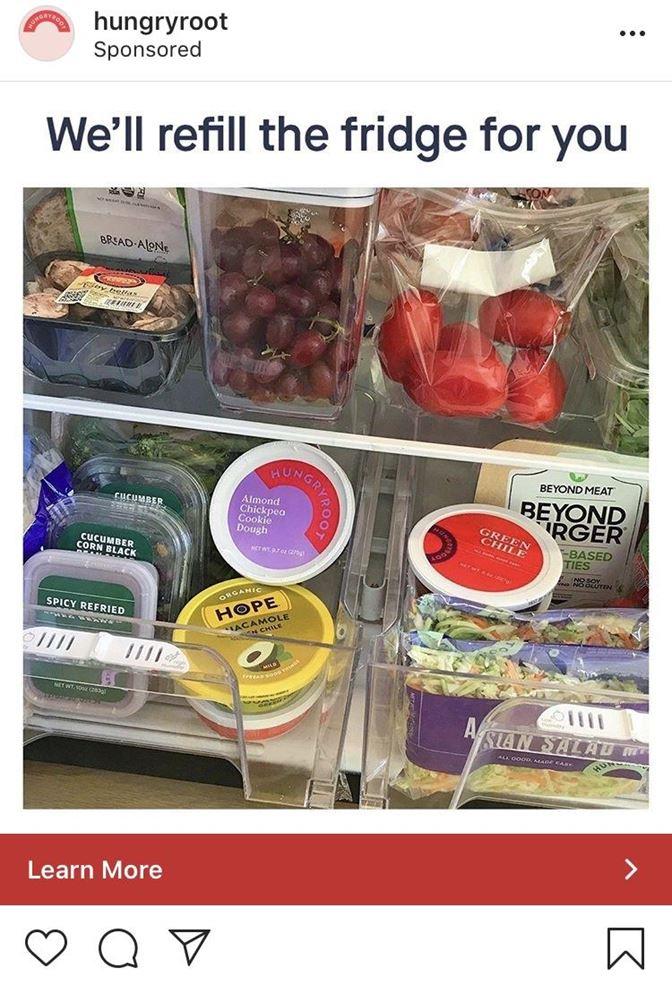 To make the most of sponsored posts, make sure that you try a variety of strategies. Test what kind of words and offers appeal most to your audience. Experiment with different images that showcase the product or service you're selling in different ways.
Examining the results of your sponsored posts will help you to craft the most conversion-friendly ads around.
5. Get Involved With IGTV
Finally, if you're not accessing IGTV and video alongside your Instagram profile – then you're missing out. Instagram video is quickly gaining attention in the social media space.
With IGTV and Instagram video, you can showcase a bunch of different products from your affiliate collection in live action. That's a great way to show people how these items work, while building your personal brand.
The good thing about IGTV is that you can also post links with your video. For instance, in this Tarte Cosmetics video, the company includes a list of all the products used, as well as a link at the bottom to shop the collection.
https://www.instagram.com/tv/CAEgBuTnhTF/?utm_source=ig_embed
While there's still a limit on the number of links you can post through IGTV, this is an excellent way to immediately guide your audience towards a specific set of products. Even better, you don't have to send people to your bio to get them clicking.
For IGTV and video links, remember to keep the URL short and sweet. Longer URLs can confuse your audience and take up too much of your caption.
Affiliate Marketing: Instagram Success
For affiliate marketing, Instagram is a powerful tool, and an incredible way to engage your audience. However, there are still countless people who don't know how to leverage Instagram effectively for their advertising efforts.
Remember, no matter which strategy you use to enhance your affiliate campaigns above, the key to success will always be engagement. Pay attention to which of your campaigns and marketing strategies drive the most attention from your audience.
Don't be afraid to experiment with new ideas too, whether it's an Instagram Story with a step-by-step guide on how to use a product, or an IGTV video that showcases some of the latest items you're advertising. The more you explore, the faster you'll grow.
Chris Mcdonald has been the lead news writer at complete connection. His passion for helping people in all aspects of online marketing flows through in the expert industry coverage he provides. Chris is also an author of tech blog Area19delegate. He likes spending his time with family, studying martial arts and plucking fat bass guitar strings.