Earlier to sell a product was quite limited to certain customer base. Only those products were sold which were available in the retail stores and were branded. But, with the start of E-commerce website all these products are sold on a virtual platform. Products are available for every user with proper information regarding make, use and availability. E-commerce website has eased the business to a great extent. Many people are coming in the E-commerce website to sell their product; however, all don't succeed.
If you are not able to promote your E-commerce website properly, chances are very less that customers will reach it. A range of free and paid promoting techniques are present online, in this blog all these techniques are mentioned select the ones that is best for your budget and plan.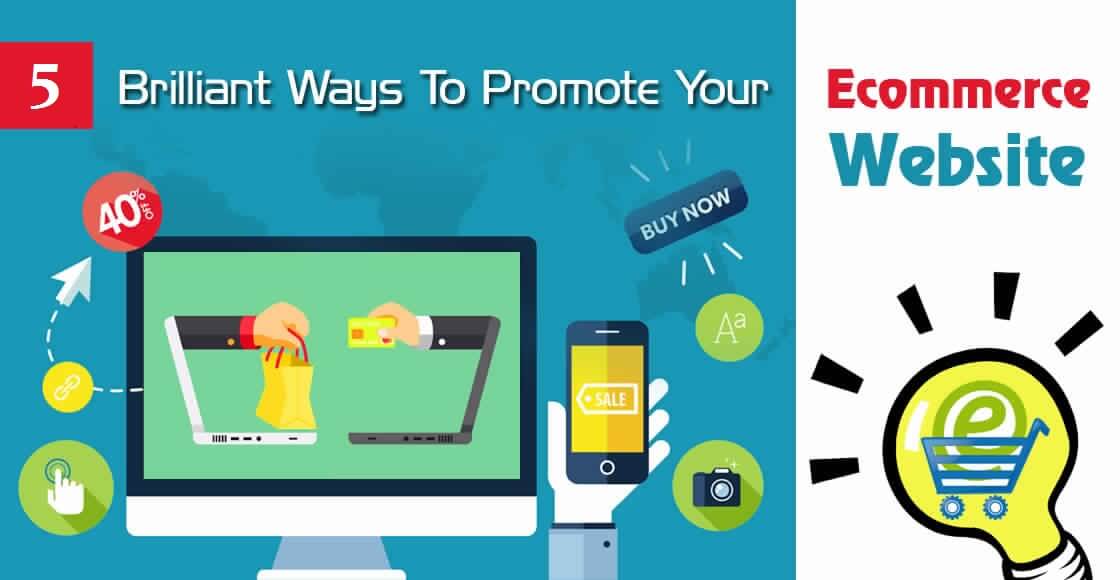 1. Apply SEO Strategy
Search Engine Optimization is very important for E-commerce websites to reach maximum people. Higher the website is optimized, more is the chance getting top rank on search engine, which ultimately brings more traffic and ROI. SEO can be the best approach to make sure your E-commerce website success. Despite this several other elements are present for search engines top rank a website to top. If you are new to SEO work, it will take time but don't worry at all results will be quite soothing in the end.
The other thing to consider is the loading time of your E-commerce website. A quick loading time is important. It helps to drive more customers and thus higher chances of more ROI. It is also animportant part of SEO; generally slow loading websites fail to perform well in the industry.Your selection of the hosting server hugely impacts the E-commerce website performance. Before selecting any hosting server, make sure proper research and reviews are analyzed.
2. Post Blog related to E-Commerce Website
Blogging is an effective approach to promote online because of its low cost and higher reach. It is quite appealing and interesting stuff for the target audiences. If your E-commerce website sells a particular item initially, then you can write blog related to its key points and then attract your customers to your website blog.Once traffic starts to come on the blog, inform them more regarding other products you are having, and this will create higher ROI chances for sure. This promotional strategy has worked for hundreds of E-Commerce businesses;thus, it is a very feasible decision.

But the very important thing to keep in mind before posting a blog is the uniqueness it holds. If the blog of yours is duplicate from some other website, search engine will ignore it and mark it as spam. Thus, before reaching the target audience it will become spam. Always write blog that is appealing, interesting and unique. This will drive more visitors and ranking of the website will be on top for sure.
3. Promote on Social Media Platforms
Social media platform like YouTube, Facebook, Twitter, Tumblr and Instagram will be huge resources in setting up your E-commerceonline visibility. The reason behind the same is that social media platforms has higher reach, around 300 million people are its daily users. There are millions of active users having access on these platforms 24/7. Your E-commerce website can get a big boost from these websites.
If you start a social media promotion activity, you could see amazing results in your favor within deadlines. Social media promotion is also appreciated because it doesn't require any costing, although investing in its paid activities is always easier for quick results. Begin by posting content and publishing links that drive more target audience to your website, and then sell your stuff easily. Make sure proper linking is there between your website blog and social media websites. There are several strategies that you can used for social media promotion, thus, once you have been proficient in doing it, you will be able to find the most beneficial for your E-commerce website. Try to target the audience by analyzing the competitor. Competitor work always motivates to work hard. See where the competitor is targeting and try to target those areas for higher ROI.
4. Promotional Events
Events have always been a huge strategy of promoting any E-commerce Website. Even before the selling of products on internet with ecommerce sites, big brands always have Events and seminars with customers. They launch opensales, or free offers to attract customers.The same planning works on the web too. If you are interacting with your customers on regular basis with seminars and events, strong relation is made. Customer will buy the product from your website only. Try to make strong bond with customers by offering sale, discount offers to reach many more people. Try to target the customers during the festival season, customers like to buy stuff during the festival season as gifts. Customers lovesgetting deal, thus make great offer for them, and see as they visit to your website.
This is a great promotional trick thatseveral businesses skip, but it can be very beneficial. If you want to make strong bond with your customers, create interest in them. Make sure that your products are top class, give some as a free stuff for promotion and check open reviews. If the products are seriously amazing, then users will definitely reach for more stuff and ready to pay.
5. Paid Promotion for E-commerce Website
Even though paid promotion will cost you bucks, it can be quite beneficial, specifically for new E-commerce websites. If you are capable to manage high conversion, then paid promotion can really offer great revenues.
For instance, PPC advertising lets you to pay every moment someone taps a link straight to your E-commerce website. Once they reach on your website, it's totally your responsibility to convert them into sale. Thus, if you have an interesting user interface and experts for conversion, then you will definitely start getting positive results very quickly.
Conclusion
All these above points are very important to include in an E-Commerce website promotion strategy. Make sure you follow them in your campaign. Once you apply them the results will surely be better than earlier. Read the above points carefully and make a habit to follow them.
I am a professional content writer since 2011 working with SEO Services Company Delhi and graduate of the English with a degree in Mass communication. My written blogs and articles have been published in several online publications. I am fond of writing, reading, traveling, and Internet surfing.