Google Shopping campaigns are no longer a secret weapon you can use against competitors. However, there are some little-known but highly effective Google shopping management tactics you can implement to improve campaign performance and increase ROI.
Campaign Priority Settings
Combining campaign priority settings and negative keywords is a great way of narrowing in on keywords that are working. In a high priority campaign that triggers ads for regular Google shopping matches, load negative keywords you don't want ads to show up for. Ads in the medium priority campaign will only appear for negative keywords in the high priority campaign.
Ads in the low-priority campaign will only be served for negative keywords of both high and medium priority campaigns. This set up is an effective way of building different kinds of campaign hierarchies for easier Google shopping ads management.
Multiple Shopping Campaigns
When you have large and complex product sets, the three campaign set up may not be enough for optimum Google shopping ads management. You may be better off creating multiple sets of shopping campaigns. To do this, add a value in the product type field of your feed. If product type is already in use, create custom label fields for differentiation.
Use only one item for a campaign and exclude everything else. At the ad group level, create multiple product groups based on product type attribute. This method is useful when you have two or more sets of products that require independent keyword and bid management.
Custom Labeling for Better Ad Group Management
Using custom labels to build ad groups and product groups is also a great way to obtain useful insights into product and keyword performance. This will help you manage negative keywords more effectively at the ad group level, manage bids separately, make sensible ad group for easier analyzing and ROI calculations and review search terms separately.
Keyword Rich Product Titles
In Google Shopping ads, you can't bid on keywords but you can control which search terms they appear for. Make product title keyword rich so that you target Google's algorithm and make sure they're optimized for search queries. For easier management, do this by product group and use formulas on Excel or feed management middleware.
Optimized Product Titles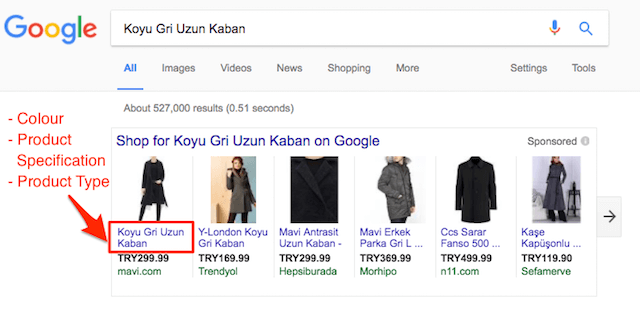 Although you can submit titles of up to 150 characters length for shopping ads, Google only displays up to seventy characters. It's vital to use the available character limit effectively by providing the most relevant information first. Concentrate on conveying to a searcher that they've found what they're looking for and entice them with a critical value proposition. Adding important keywords in product title is a useful way of reassuring searchers.
Strategic Pricing for Competitive Products
If you're offering the same products as your competitors, experimenting with pricing is an effective shopping management strategy to drive click through rates. Price is a critical differentiating factor for products with unique GTIN and UPC values that businesses are directly competing for. If you're running discounts, make sure the product price reflects this. You may also need to make changes to the product landing page so that it reflects accurate price.
Optimized Product Landing Pages

Let's not forget the role of optimized product landing pages in best Google shopping management practices. According to Google shopping ads campaign rules, a user should be able to add a product at the advertised price to the shopping cart directly from the product landing page. A good idea is to have a quick-shop style landing page that allow this while also showcasing other products a user may be interested in buying.
That's a lot to take in and with Google shopping management techniques evolving by the day, maybe it's time to consider consulting a professional PPC management agency for the best strategies and ROI!
Ajay Sharma has more than 4.5-years experience in Digital Marketing and working as a PPC & SEO Analyst in a reputed PPC management services agency providing white label PPC services and still learning new marketing tactics. And he is the Author at TechWebSpace.com Also, loves music, traveling, adventure, family and friends.