Protecting privacy is more important than ever in today's world since technology is becoming increasingly incorporated into our daily lives. Users of iPhones who value the security and privacy of their personal information should be especially aware of this. The demand for privacy protection on mobile smartphones has risen to an urgent level because there are currently over 1 billion active iPhone users globally.
About 80% of iPhone users are concerned about protecting your personal information and privacy rights. Decoy apps have become more prevalent in response to this issue since they add a layer of security against unauthorized access to critical data. With the help of these apps, you can protect your confidential data from unauthorized access by creating a phony interface that hides the actual data.
In this article, we'll look at various privacy-protecting decoy apps. We'll go through each app's key attributes, advantages, and potential drawbacks.
By the end of this article, you will better grasp the necessity for iPhone privacy security and how decoy applications can aid in achieving it.
Safeguard Your Data with These 8 Top-Rated Decoy Apps
Using decoy apps is an attractive choice if you want to safeguard your privacy on your iPhone. Listed below are some of the top spoofing programs you can use:
Decoy apps to protect your text messages
#1. Vault-Hide photos & videos
https://apps.apple.com/us/app/vault-hide-photos-videos/id513852898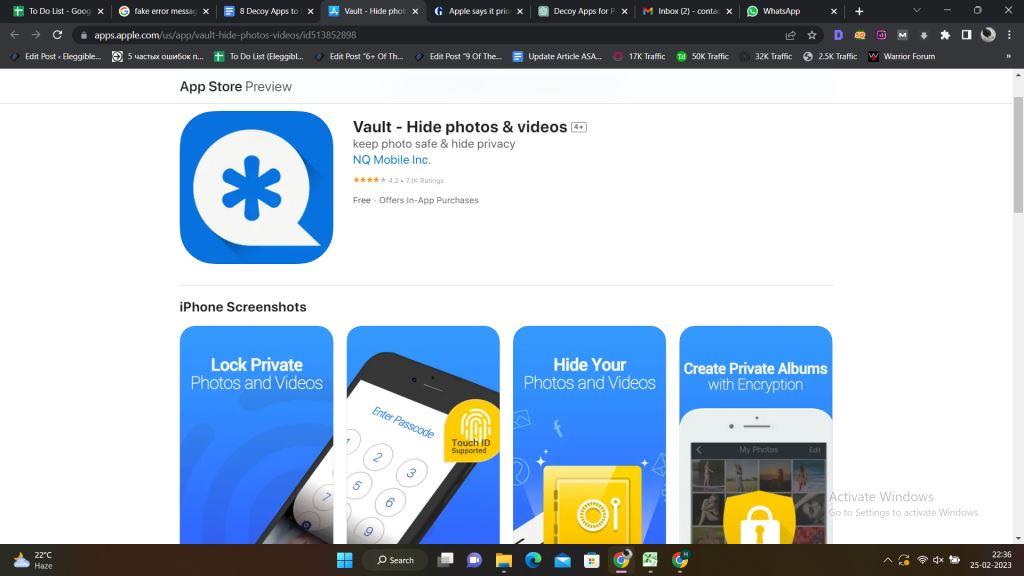 A mobile app called Vault: Hide photos & videos lets you safely store and conceal your pictures and videos to safeguard your privacy. You can store private information on a password-protected interface, keeping it hidden from prying eyes. However, to ensure complete protection of your data on a USB, you may also consider encrypting your files and folders with reliable encryption software that can provide an additional layer of security. The software also has a camouflage mode that allows it to appear to be another application on your device. Further features of Vault include:
Backup and recovery options.
A trash folder for simple content recovery after deletion.
A private browser for safe internet browsing.
The advantages of utilizing the Vault-Hide Photos & Videos software for privacy protection are as follows:
Offers dependable protection for delicate data, including pictures and videos.
Requiring a password or fingerprint authentication to access confidential data offers improved privacy and security.
It enables you to conceal sensitive information from prying eyes, guaranteeing the security and privacy of your data.
#2. Calculator Pro
https://apps.apple.com/us/app/calculator-pro-for-ipad/id749118884
Calculator Pro is a decoy app designed to enhance the security of your device. It looks and functions like a regular calculator but has additional features to safeguard your data. It includes a hidden folder for storing confidential files, a password-protected vault for storing sensitive information, and a decoy PIN that redirects intruders to a harmless calculator.
Additionally, the app has a camouflage mode that disguises its icon to blend in with other apps on your device. These features make Calculator Pro an excellent option for anyone looking to add an extra layer of security to your smartphone or tablet.
The advantages of utilizing the Calculator Pro for privacy protection are as follows:
Private information is not saved in the cloud because the software operates offline, lowering the risk of data breaches and preserving privacy.
It is simple to add, amend, and delete private information and transition between the Calculator and remote regions, thanks to the app's user-friendliness.
The app's covert interface imitates a calculator, and it even has calculator-like functionality, but it also contains a private data storage space that only the user can access.
Decoy apps to protect your photos
#3. Private Photo Vault
https://apps.apple.com/us/app/private-photo-vault-pic-safe/id417571834
A program called Private Photo Vault is made to help you safeguard your pictures and movies. You can do this to make a password-protected gallery where you can save private or sensitive information. You can download them online, add new ones within the program, or import ones from your camera roll. The app also includes features like panic mode, decoy passwords, and break-in notifications for added security and privacy. Overall, Private Photo Vault offers a reliable and practical way to protect your private photos and videos from curious eyes.
The advantages of utilizing the Private Photo Vault for privacy protection are as follows:
You can make albums and set the privacy preferences for each album individually.
A decoy password is also included with the program. It may display a different collection of pictures to anyone attempting to access it with the wrong password.
Private Photo Vault securely backups and restores data through the cloud to guarantee you never lose your media.
#4. Keep Safe Photo Vault
https://apps.apple.com/us/app/secret-photo-vault-keepsafe/id510873505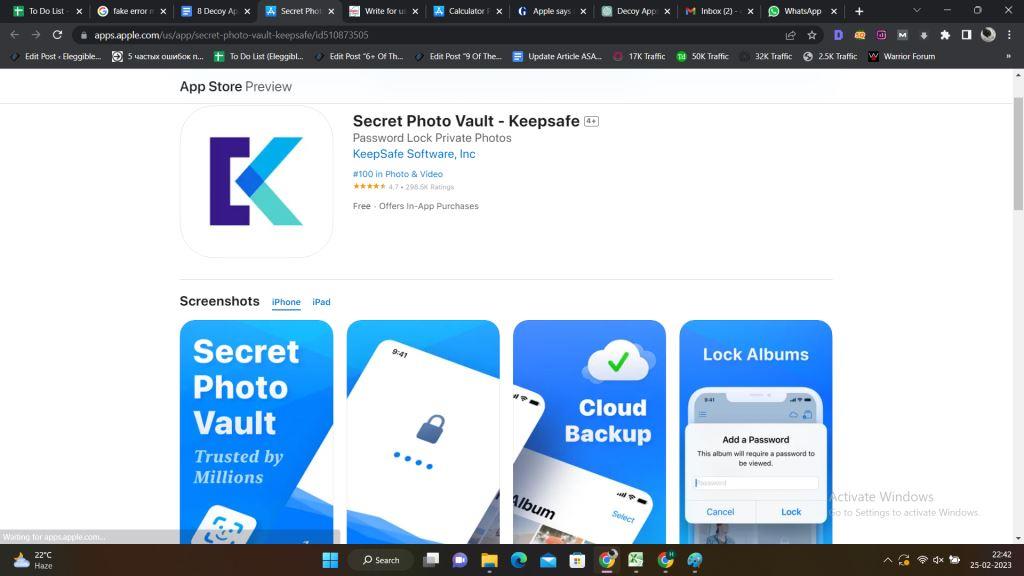 You can hide your sensitive images and videos from unwanted access with the ruse app Keep Safe Photo Vault. Its features include the ability to import pictures and videos from the camera roll, a PIN or fingerprint lock to secure the app's data, and a calculator-like icon to mask the app's true identity. If you're looking for the best app lock for your iPhone, you might also want to consider AppLock, which provides similar features and allows you to lock not only individual apps but also settings and system functions. For even more security, you can create many vaults with unique passwords.
The advantages of utilizing the Keep Safe Photo Vault for privacy protection are as follows:
The app protects your media files from unauthorized access using AES-256 encryption, which is nearly impossible for hackers to break.
You can back up your images and movies via the app to the cloud, ensuring that your memories won't be lost even if you misplace your device.
User-friendly and simple to use, Keep Safe Photo Vault is the best option for anyone wishing to maintain convenience while maintaining their privacy.
Decoy apps to protect your web browsing
#5. Private Browsing Web Browser
https://apps.apple.com/us/app/private-browsing-web-browser/id368483462
The Private Browsing Web Browser decoy app provides you a secure and private browsing experience by blocking tracking scripts and preventing websites from storing cookies or browsing history. The app also includes a decoy feature, which allows you to browse the web inconspicuously by showing a fake browsing history and bookmarks. Other features include ad-blocking, VPN integration, and the ability to password-protect the app. Overall, the app is designed to give you greater control over your online privacy and security.
The advantages of utilizing the Private Browsing Web Browser for privacy protection are as follows:
It prevents tailored content and targeted advertising based on browser history.
It can be advantageous for people who do not want their internet service provider (ISP) or governmental organizations to track their online activities.
Accessible as a feature in several well-liked web browsers that is simple to use.
#6. Ghostery Privacy Browser
https://apps.apple.com/us/app/ghostery-privacy-ad-blocker/id1436953057
You can browse the internet privately and securely with the help of the spoof program Ghostery Privacy Browser. The software has tracker and ad-blocking technologies built to safeguard your online privacy and stop third-party advertisers from tracking them. Moreover, it provides encrypted surfing and one-tap data clearing for browsing. The Ghostery Privacy Browser gives you the peace of mind to explore the web, knowing that your privacy and online activity are secured.
The advantages of utilizing the Ghostery Privacy Browser for privacy protection are as follows:
It provides a private browsing mode that protects your online privacy by not saving your browsing history or cookies.
Your online safety is guaranteed thanks to Ghostery Privacy Browser's protection against phishing scams and harmful websites.
The app delivers frequent updates and security patches to keep you safe from the most recent dangers.
Decoy apps to protect your phone calls
#7. Fake Call Pro
https://apps.apple.com/us/app/fake-call-pro/id696044930
To escape awkward or undesirable circumstances, you of the decoy program Fake Call Pro can pretend that a call or message is coming in. The software has security features, including password protection, that stop unauthorized you from accessing the app and its contents. You can also alter the app's user interface to make it appear as a real call or message, including the opportunity to select the caller's name and image. Also, the app has a rapid quit option that enables you to quickly leave the app without drawing attention to yourself.
The advantages of utilizing Fake Call Pro for privacy protection are as follows:
The app can help prevent potential harm or danger by providing a credible reason to leave.
The app is easy to use, customizable, and offers a range of features, including different ringtones, call logs and fake caller IDs.
It can also be a fun prank tool among friends or family members.
#8. CoverMe
https://apps.apple.com/us/app/coverme-mobile/id6443475449
CoverMe is a spoof app to safeguard your privacy and maintain the secrecy of your calls and messages. You can use this to make a different secondary phone number from your primary one with its message and calling features. Additionally, it has a private vault for keeping confidential documents, a personal browser for exploring the internet securely, and a self-destructing message function for additional protection. Overall, CoverMe is a helpful solution for anyone who wishes to safeguard their data and communications.
The advantages of utilizing the CoverMe for privacy protection are as follows:
CoverMe can browse the web privately without leaving a trace of your activities.
The program provides additional capabilities for self-destructing messages, stealth mode, and the ability to password-protect individual chats.
Ultimately, CoverMe gives you a variety of methods to shield your personal information and privacy from prying eyes.
Conclusion
Privacy protection has become a crucial aspect of our daily lives in the digital age. iPhones are popular for those looking to safeguard their data due to Apple's strong commitment to user privacy. Decoy apps help enhance privacy protection by concealing sensitive information from unauthorized access.
For iPhone users, recommended decoy apps include Calculator Pro, Hide My Text and Best Secret Folder. These apps provide a secure hiding place for sensitive data and come with additional features such as passcodes, encryption, and fake error messages to further enhance privacy protection.
However, it's important to remember that decoy apps alone cannot guarantee absolute privacy protection. It's crucial to employ a comprehensive privacy protection strategy with strong passwords, regular software updates, and cautious online behavior.
Mica Hawkins, the tech guru who's always ahead of the curve! With an insatiable curiosity for all things tech, Mica is the go-to expert reviewer at eleggible.com. Mica's passion for the latest apps and software knows no bounds. So if you're looking to stay on top of the latest tech trends and get some killer insights, follow Mica's blog now.