Logos are a crucial part of a brand's identity. The process of designing a logo cannot be rushed, and the current trends always need to be considered. Whether you are creating a new business and need a logo designed, rebranding your business, or updating your current logo, these logo design trends for 2023 will help inspire you.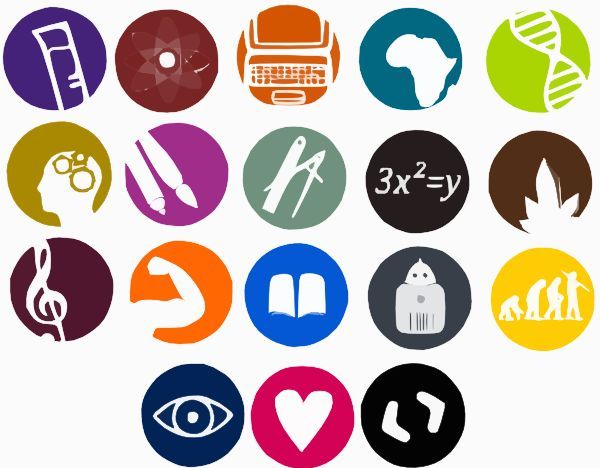 1. Simplistic Geometry
Everything you see can be simplified into shapes such as squares, circles, and triangles. These shapes are the building blocks of many things, especially logos. In 2023, logo designers take advantage of simple shapes and lines to create striking logos that leave customers and onlookers mesmerized.
The use of simple shapes sets a restriction on the designer that requires them to be more thoughtful about using shapes in the logo. This restriction causes more freedom in other aspects of the logo design process, such as the color scheme used. Designers are using more vibrant colors to convey the personality of the business's brand identity.
If you're looking to create a logo that can be considered the top logo in the world, then consider this trend.
2. Perspective Drawing
Many logo designs are simple and clear, which are great traits to have. These make logos easy to remember and clearly convey messages to customers. A result of simple logos is flat logo designs, but in 2023 logo designers incorporate perspective drawing and angles into logos. This is done subtly, but it creates the illusion of depth in the logo, which stands out in the crowd of simple and flat logo designs.
The subtly ensures that the design doesn't become too complicated and is still easy to remember. The small but powerful difference creates a strong and lasting first impression.
3. Inventive Typography
In 2023, there has been a big shift in the use of inventive typography. The use of words in a logo has been a design trend for many years, it is definitely nothing new, but logo designers have become more experimental with the way the text is displayed. The use of typography is used to portray the personality of the business.
You need to remember that the typography needs to be readable by everyone. Making it look unique and fancy may improve its appeal, but if people cannot read it, then the logo isn't designed properly.
4. Fine Lines
This design trend is what you would think. It involves a logo design that seems like it was neatly drawn with a sharp fine line. This makes the logo look refined and crisp. This trend is usually paired with an overall simple and flat logo design.
The benefits of this trend in logo design are that it will be easier to scale the logo and make the design look elegant. This then represents the brand identity as elegant, so if that is what you want to convey with your logo, this design trend is the way to go.
5. Overlapping Geometry
Simplistic geometry is a 2023 logo design trend, but so is overlapping geometry. This is a great way to make a bold statement with your logo and help it stand out from the crowd. The use of simple shapes can create striking designs, and the addition of overlapping them will only add to the wonder and flexibility of the logo designs.
6. Flat Base Designs
Flat logo designs have been mentioned with the other trends above, so of course, this trend is going to be mentioned. Flat designs have started to make a comeback for many years now, and this trend is not showing any signs of slowing down.
Opting for a clean and flat logo design ensures the logo stays simple and focuses on achieving its aim. There are a lot more flat logo designs today, as this trend has become a staple in logo design.
This logo design trend gives logos a more modern design. The look is versatile and can be used in many different industries and effectively represent the brand without confusing customers in those markets. If you want to design an extraordinary logo, one that can be considered the top logo globally, you should consider using this versatile 2023 logo design trend.
7. Symmetry
Balance is an essential part of logo design. So symmetry is an extremely important aspect of a great logo design. Symmetrical logos need to be the same on either side when the logo is split down the middle.
Symmetry allows logo designs to feel both intricate and ordered, which gives the message of strength to customers. This is a simple logo design trend, but it is arguably one of the best and most powerful at conveying a business's strength and brand. This is one of 2023's best logo design trends and is used in some of the best logo designs of all time.
8. Static Motion
Animated logo designs have increased in popularity over the years, but logo designers have recently started to challenge themselves and create static logos that seem like they are in motion. This trend involves using fluid shapes, motion blur, and action lines.
As you would expect, this logo design trend is tremendously flamboyant and makes a massive statement. If you want your logo to stand out, then this is definitely the way to go. However, you need to make sure the trend isn't overdone, as that would create a mess of a logo that is confusing and doesn't convey any message to customers at all.
This logo design trend could help you create one of the best logo designs of all time. If used correctly, it represents your business as a living thing that is constantly changing and evolving.
Conclusion
Two thousand twenty-one logo design trends give businesses a great opportunity to revamp the logos and better represent their business's brand identities to the world. Using these trends will help you stand out and make a powerful statement of perseverance, especially through everything currently happening in the world.
Chris Mcdonald has been the lead news writer at complete connection. His passion for helping people in all aspects of online marketing flows through in the expert industry coverage he provides. Chris is also an author of tech blog Area19delegate. He likes spending his time with family, studying martial arts and plucking fat bass guitar strings.