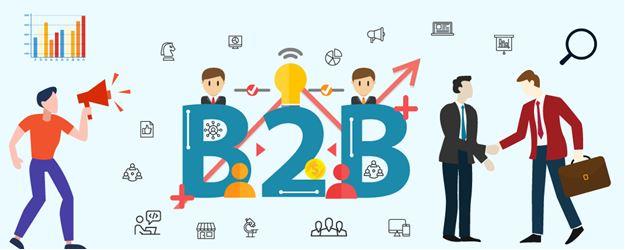 The world of B2B marketing consists of an entirely different system that revolves around enabling companies to enhance their conversion rates effectively. However, that does not mean that you do not require to declutter your options. Utilizing an applicable option is going to help you optimize your business and bring it to the forefront of the market.
The effectiveness of B2B marketing software is going to either make your business or break it. For that reason, you must make wise decisions that are going to lead you towards success.
Before delving into what this software's are and the features they hold, ensure that you have understood your requirements and needs. Based on which an ideal software will adeptly assist you.
You would rather not step into a decision that is not going to define your business. Especially if you are required to go through a process of purchasing or downloading software to use it.
It is considered to be imperative to understand and research your options. Several different factors contribute to enhancing marketing B2B software such as:
The price of the software: There is a variety of software that have been priced differently based on their features and functions.
Additional Integrations: Most software is known to provide integrations, which results in effective marketing and a thorough workflow.
In addition to that, it is also important to have a determinant that will guide you towards the perfect software, such as:
Is the software offering you guidelines to refer to for assistance: It has been advised that you make an estimation as to how long it can take you to implement the software for your business after getting accustomed to the software and what it has to propose you.
How well the software can handle social media requirements: There are certain software that have been made in a manner that allows them to be integrated with different social media platforms such as Facebook and Instagram. This will not only enable you to maintain your social media account but create content on the side as well.
We are going to look into different options that can be implemented to gain substantial solutions through effective B2B software. So let's jump into the process.
Pardot – A B2B Automation Software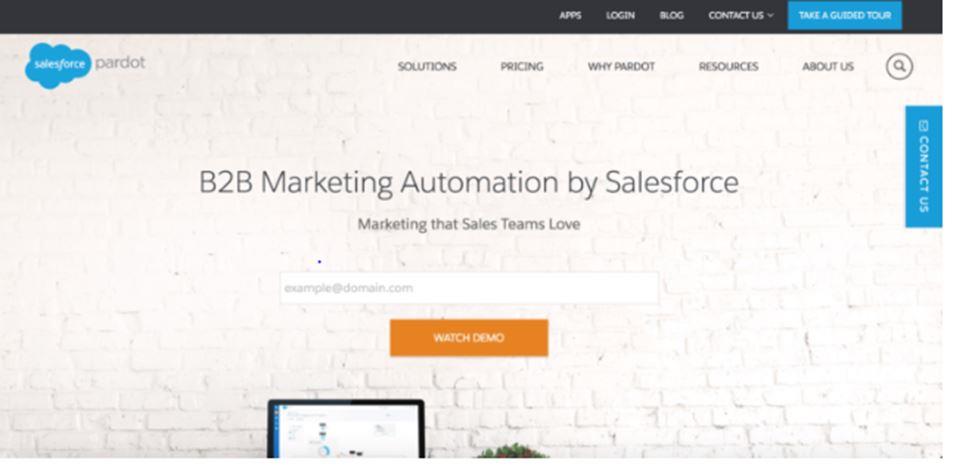 Partdot is a B2B marketing automation software that has been merged with Salesforce, focusing the software to display the purposes and objectives of the company through different mediums, mainly visual. Due to the partnership the software runs through combining sales and marketing teams, as result providing a system that can be utilized by all, irrespective of their post or field. In addition to that, there are several different benefits that you can gain from the software such as generating higher leads and at an efficient rate through their pipeline. Along with that, it becomes easier to engage buyers through customized and highly dynamic terms. You can potentially capture the deeper side to marketing ROI.
Main Features of the Software:
Aligns sales which allows brands to sell their products easily.
Incorporates a smart lead generation that allows a smooth sailing flow of leads.
Offers a ROI report that evaluates errors that need working.
Hubspot – A leading Marketing Automation Software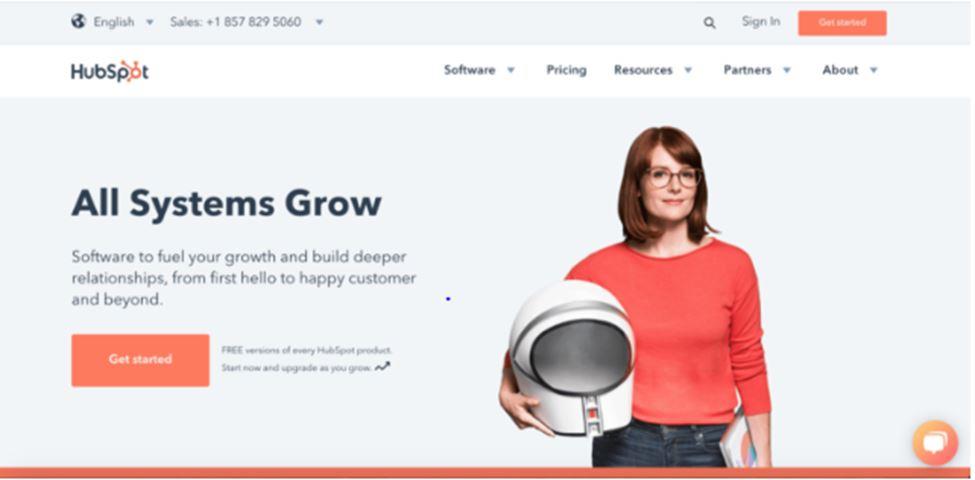 Hubspot is a prominent marketing software that provides a wide array of tools to choose from. The software not only has a content management system but has been ridden with marketing tools along with sales tolls as well as customer relationship systems. The main goal of this software is to modify platforms without requiring IT assistance. You can depend on the software to gain content and to even direct your traffic towards a certain point such as landing on your solutions. Whether it's to convert visitors into leads or to track consumers, you can do it all by the help of this software.
Main Features of the Software:
There is a list of tools that have been categorized to segregate different functions and needs.
A thorough workflow that organizes all tasks.
The pipeline management helps businesses stay on track through analytics.
Offers a predictive lead to make substantial inputs in order to gain desired outcomes.
Marketo –  A Marketing Automation Hub
Marketo is not only an exceptional software that specializes in deliver personalized experiences through the help of emails, digital based advertisements and through content. The software helps businesses in attracting potential clients towards their offerings through the utilization and implementation of SEO. There is a variety of personalized experiences that you can gain and deliver ahead, that will influence your marketing to reach all heights of success.
Main Features of the Software:
Focuses on higher prospects leading to successful sales.
Scalable automated marketing campaigns.
Easier to optimize marketing schemes through this software.
Survey Sparrow – Converting Surveys into Conversations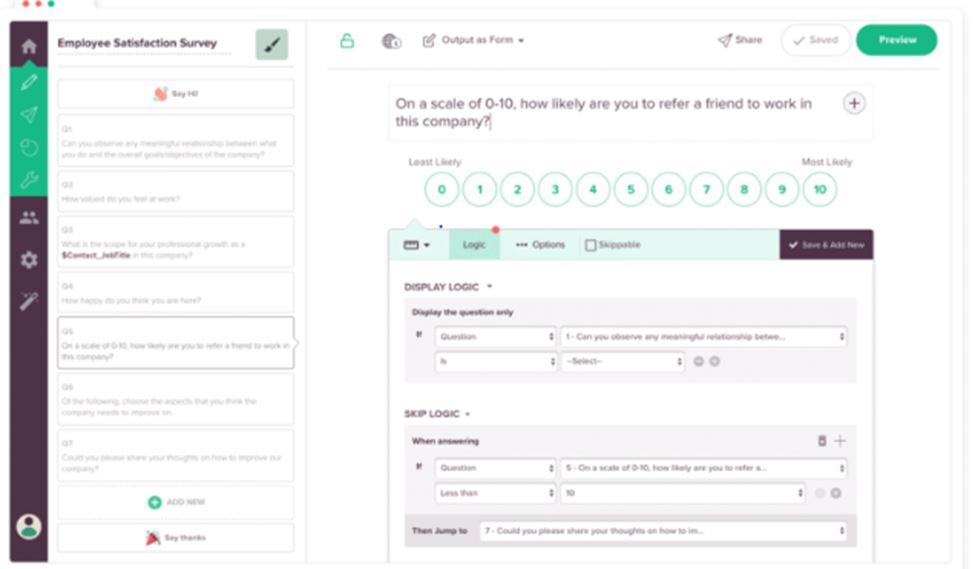 SurveySparrow enables businesses in turning their surveys into conversation, that is supported by an interface that guides its users to distribute as well as create their surveys in form of a chat-like involvement. The software makes it easier to facilitate consumers and interactors for businesses. In addition to that, there are automated tasks that can be scheduled and kept in order to keep the workflow smooth. You can also capture feedbacks through structured as well as unstructured sources.
Main Features of the Software:
Makes processes easier to create personalized surveys that have been created in accordance to its recipients and business requirements.
Enables data collection without requiring to create detailed and intricate surveys with personalized questionnaires.
You can integrate your surveys to different platforms.
Qualaroo – Versatile and Robust Survey Software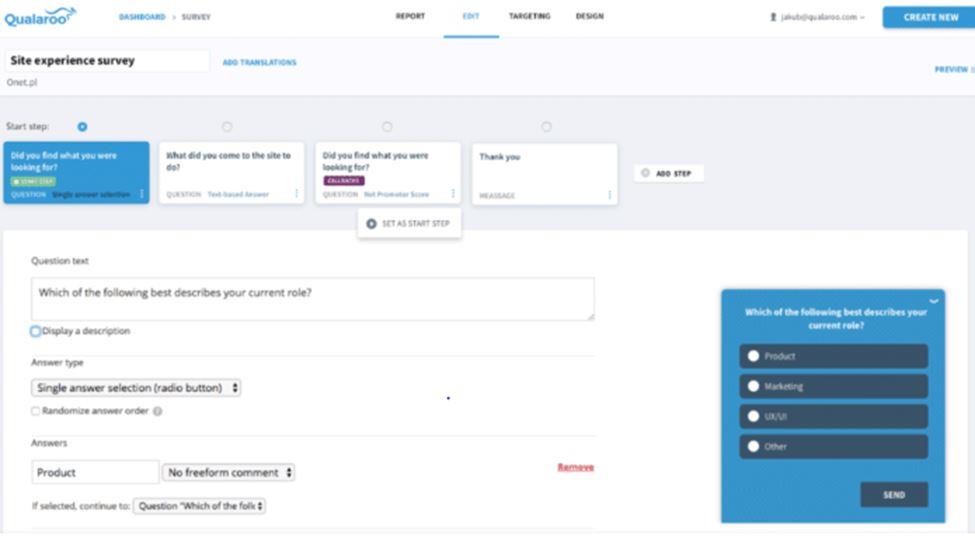 Qualaroo is known to be versatile and generous with its offerings. The software has been ridden with creative and innovative features that makes it easier to collect customer feedbacks and that too in an organized manner. You can utilize the software to create and integrate your surveys on different platforms such as desktops, sites, emails and even on applications. There is an option to target visitors and users based on which you can calculate traffic, on-site durations and frequency of visits. The software is going to allow you to gain feedbacks from users without causing extraneous hindrances. There is an AI integrated onto the system that delivers an extensive analysis.
Main Features of the Software:
The software is highly advanced which allows it to deliver substantial insights.
Supported by white-labeling and customization.
Integrated with the most powerful tools such as Hubspot, Slack, Zapier and many others.
Generates an AI generated feedback analysis that is grounded by the help of IBM Watson.
SEMRush – Delivering the Ultimate Marketing Experiences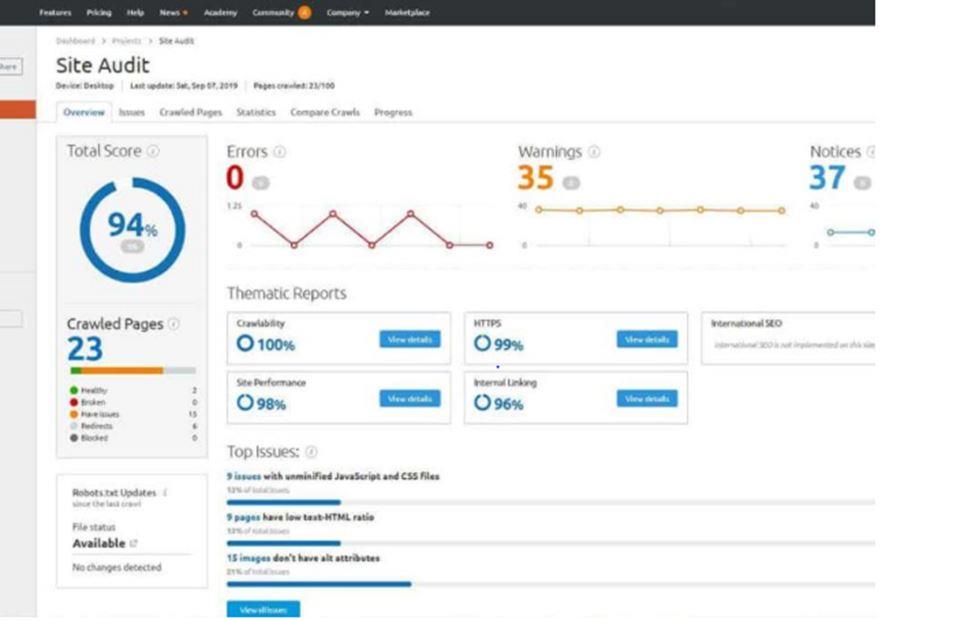 SEMRush is an intricate software that has been made to run digital marketing, influencing a boost in SEO, content, PPC and social media related undertakings. The software makes it easier for marketers to evaluate the brand positioning in the market, leading in an effective development of brands personality. The software is going to guide you with finding the right keywords along with identifying what opportunities these keywords hold. You can track down rankings and methods to improve them along with an in-depth analysis of backlinks.
Main Features of the Software:
Exposing companies traffic and how it has been performing along with delivering features that can be used to enhance brand positioning.
Qualifies leads along with increasing prospects and customers.
An in-depth analysis of google ranking that makes an influence on the businesses online presence and performance.
Close – A Sales Nurturing Software
Close is a comprehensive software that streamlines sales activities, making them easier to handle and generate leads with. The software offers several different features including a built-in calling system, an SMS marketing and an exceptional function that focuses on mass calling. Enabling sales team to connect with their consumers in an adept manner.
Main Features of the Software:
Can make calls just by a single click.
An automatic calling system that logs calls and keeps a track of them.
The system allows call recording efficiently.
SamCart – Showcasing Products And Services Online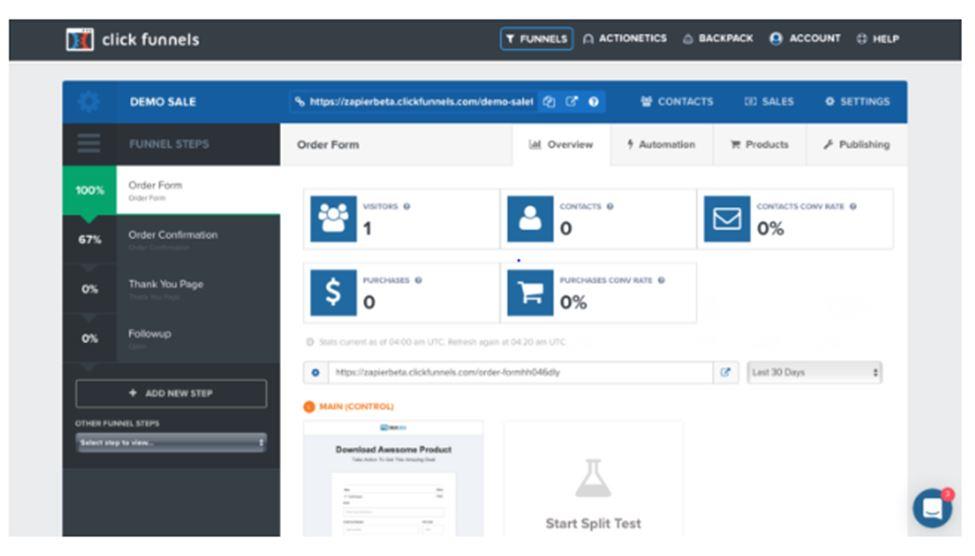 SamCart focuses on helping its users by offering them a streamlined data on products and services that are present online. The software is a web based cart that has been built to assist businesses in accepting orders in bulk. The tool can also help you with increasing your conversion rates whilst keeping a thorough track on sales and consumer interactions. You can also conduct A/B testing by the help of this software.
Main Features of the Software:
Incentivizes sales by integrating discount codes.
Enables customers to add a variety of products in their cart and at checkout points.
Manages customer emails along with establishing an effective communication with different tools such as AWeber and ActiveCampaign.
ClickFunnels – A Well-known Sales Funnel
ClickFunnel is one of the leading sales funnel platforms that has been widely in use by a variety of businesses all around the globe. The unique set of system allows users and consumers to convert visitors into retained customers. You can not only strengthen your marketing techniques but how you sell and deliver your products and services as well. It is considered to be a high-end life saver, that has been ridden with a variety of tools that supports its sales funnel. You can track conversions, along with monitoring KPIs through the dashboard as well as an A/B testing.
Main Features of the Software:
Offers a drag and drop builder that allow users to create pages within their sales funnels without requiring to implement single line coding.
Mailchimp – Leveling Up Email Marketing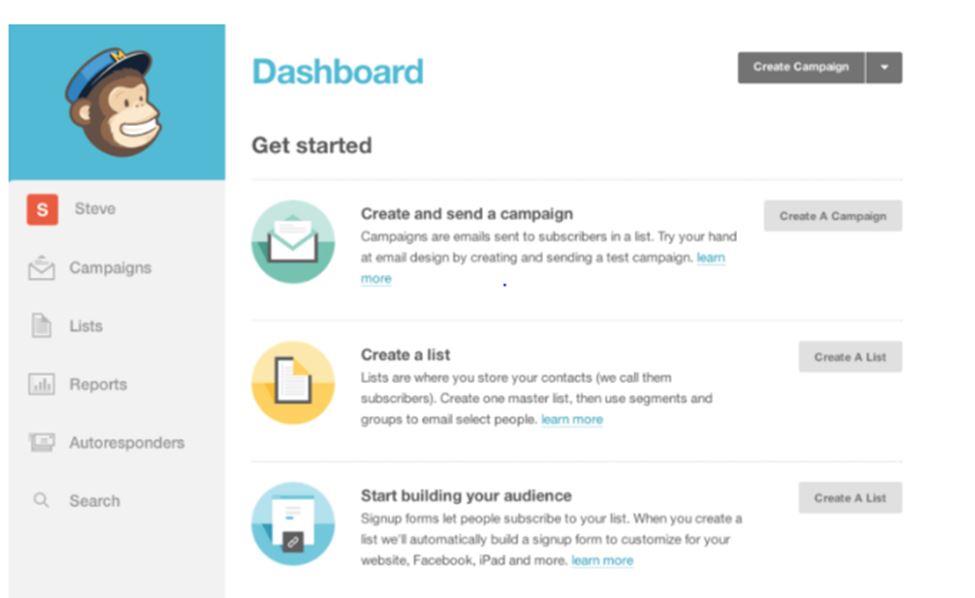 MailChimp is possibly one of the best software that you might come across when it comes to email marketing. If you think your email marketing could use a boost, then this software is the best one to approach. Not only has the software been made to offer free planning but to build an effective communication between the business and their audience. The software is going to help you connect your store to an emailing list without having to go through unnecessary hassle. It is an easy method for mobile optimization that also supports social media advertisement campaigns on platforms such as Instagram, Facebook and Google, along with many others.
Main Features of the Software:
There is a massive selection of templates to choose from.
A built in system that supports photo editing.
E-commerce integration that is simple to handle.
Campaign Monitor – An Outstanding Monitoring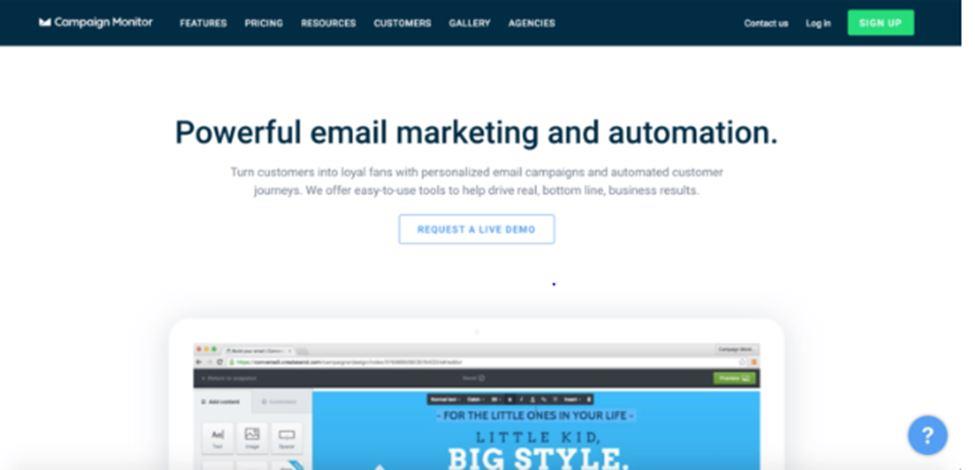 CampaignMonitor is an email marketing software that not only utilizes its position as a user friendly software but comes along with a variety of different preloaded templates. The collection enhances the effectiveness and purposes of marketing campaigns, integrating offerings such as personalization for emails based on the customer needs and requirements. The software also focuses on simplifying campaigns and their developmental processes by the help of drag and drop approaches.
Main Features of the Software:
Customization of signup forms that deliver adept customer experiences.
An E-commerce integration that enables to be a part of different online shopping sites.
Allows a customizable transaction through emails, whilst keeping the brand image in mind.
Conclusion
The list that has been provided above is going to allow you to go through the options that are available for your B2B related marketing venture. This will not only allow you to improve your marketing strategies but help you increase your conversions and bring the business under the spotlight as well.
The software's are highly effective and made to integrate different features into the development of a B2B related marketing approach. You can easily utilize these methods to obtain your desired end result. The highly versatile and robust software's are not only the best in their field but easy to use and apply as well. Irrespective of your field, you can guarantee having a smooth time using these software's to boost your brands game app development company and personality.