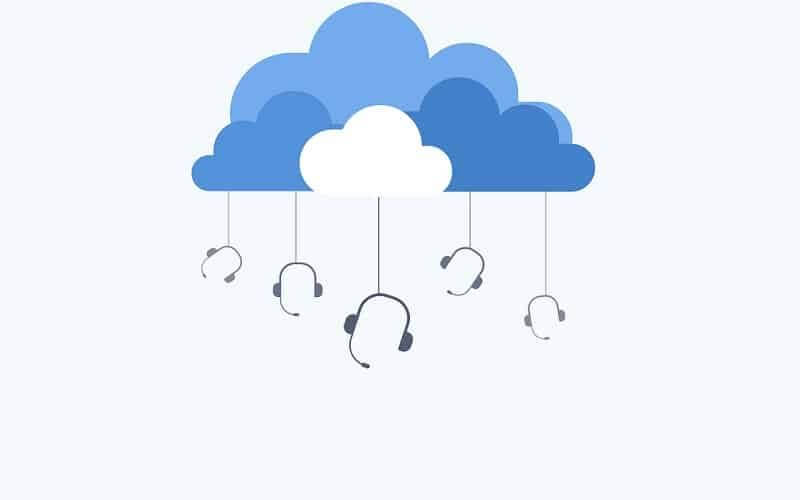 Gone are the days of a contact center installed in one location. Businesses that are expanding rapidly need a swift model that can help them scale up or down according to their business specific needs. A traditional PBX system comes with an ongoing maintenance cost that businesses fail to manage. Hardware installation makes it difficult for IT Departments to combat with the rapid change in technologies.
Traditional PBX System: From the inception of call center technologies, businesses were using hard phone systems that were physically installed.
A different system was needed for different locations.
Agents had to manually transfer the call to the dedicated department which resulted in high average handling time.
A fixed landline used to be installed for calling operations.
Cloud Telephony System: Cloud Call center software have been breaking the boundaries resulting in a significant increase in agents' efficiency. Cloud call center solutions allow businesses to work across geographies without having to install multiple systems.
You can have a single customer-facing number for your business.
You can get a personalized call flow ensuring to deliver a smooth customer experience.
Calls could be directed to right agents automatically, thus eliminating the mundane and repetitive task of manual call routing.
Why Cloud Call Center Software has become the preferred software for businesses?
Cloud contact center provides ease of installation and reduces the need to involve the IT department. It is built, installed, and managed by the cloud service providers thus businesses can go up and running without getting involved in the complex process of installation.
What's in it for Small Businesses?
Scalability: Businesses that start small can expand easily without worrying about operational overheads. Handling large call volume and migrating from on-premise to cloud is easy because it does not involve the tech department. The installation process is handled by the cloud service providers.
Cost Saving: Who does not like some extra money saved every year? You can cut on the cost involved in hardware installation and maintenance. Monitoring the actions of call details, call performance and call distribution become easy with no infrastructure cost involved.
Ease of Deployment: You can start your call center in 24 hours. It is an easy to deploy call center solution that goes up and running in no time and you can add additional features to meet your business needs. Unlike traditional PBX system, you can install the system with a click of a button.
Work from Remote Locations: It is the need of every business without question. Agents can work from remote locations, provided they have a strong internet connection and a system configured with cloud call center operations. When your salesperson works in the field, you can stay connected to them and check the live status of their work remotely.
Automated Dialing Strategies: Increase the agent's productivity while eliminating the mundane and repetitive tasks and automating dialing strategies. Automatically assign the calls to agents based on preconfigured parameters like their availability in the queue, average handling time, call drop ratio, etc.
Business Continuity: Reduce the risk of hardware failover or downtime to maintain the flow of your business. Virtual call center solutions provide built-in recovery mechanisms and take care of your cloud infrastructure and ensure backups, hence the call flow remains undisturbed in all locations.
Reduce Call Handling Time: With automated dialing and call routing strategies, a cloud call center software allows agents to focus on bettering the customer experience without having to manually dial a number and keep a record of the previous calls.
Seamless Customer Support: With internet-ready software, you can run your business with no time restrictions. 24/7 customer support is a must when customers expectations have taken a rise and they tend to raise queries at their convenient time.
Today's customers are prone to mobile usage and they can raise a query at 3 AM. They could be given an automated response that their query will be resolved in 24-48 hours which would satisfy their quest for the answers.
At the same time, a chatbot could respond to their usual queries ensuring faster query resolution.
Browser Based Calling: Agents can initiate browser-based calling with WebRTC which is a soft phone embedded in the system which eliminated the need to invest on the hard phone and enables a secure communication between browsers.
In-Depth Analytics: Get periodic reports to analyze the performance of your business based on pre-configured metrics. Businesses can help drive insights and take a note of repeated patterns to increase business efficiency. You can monitor agents' performance individually and keep a track of conversion rate to analyze which campaign performed the best.
Call Records: Avail all the call logs in your system for quality and training purposes. These call records help managers train the agents and analyze their performance individually. Managers can set this as a benchmark for the team by selecting some of the most effective calls that converted and can drive some useful insights for the team to focus on.
Data Security: With moving to the cloud, it becomes important to keep a check on data security. Customers share their information by placing their faith in the business and their data needs to be secured from data theft and cyber crimes. Data can be secured with Virtual Private Network and the scope of the data breach could be eliminated.
A cloud call center is one solution that fits all business sizes and allows organizations to work across geographies. From a 'PBX-Ready' system to 'Cloud-Ready' system, businesses see real-time changes in the productivity of the business. From small businesses to enterprises, the cloud contact center is the pick as it helps in delivering seamless services without any break. With features like business continuity and disaster management, businesses can go on and expand their workforce to align their goals.
With highly flexible features, data security, and ease of deployment, businesses find it easy to move from on-premise to cloud contact center solutions for mind boggling results. Lower CAPEX (Capital Expenditure) requirement is one of the most convincing and important features that help businesses choose cloud telephony software.
Chris Mcdonald has been the lead news writer at complete connection. His passion for helping people in all aspects of online marketing flows through in the expert industry coverage he provides. Chris is also an author of tech blog Area19delegate. He likes spending his time with family, studying martial arts and plucking fat bass guitar strings.