Grocery delivery app downloads have increased due to the coronavirus outbreak in the United States. People prefer online shopping and ensuring they stay at home as much as possible. Buying essentials like fresh vegetables, dairy products, and household items becomes a challenge. With the help of Grocery ordering and the delivery app, it made an essay way for people to order their essentials at any time and any place using mobile phones. Many Grocery Apps offer home delivery and store pick up options. Apps like Walmart Grocery, Instacart, and Shipit reach new records on daily downloads on the app stores.
Many retailers have a mobile app for both android and ios users. They also provide a good offer for thousands of products and also provide coupons for online purchasing customers. It makes a cost-effective and safe way of purchasing goods.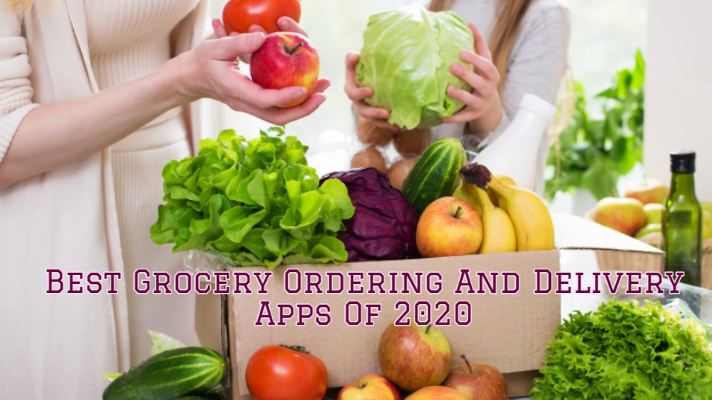 The mobile app development industry is continuously evolving and due to the technology advancements, and consumer demands have a direct impact on mobile app trends. Here we shall see the top grocery ordering and delivery apps that meet your needs.
There are two kinds of apps on the market. One which acts as a virtual grocery store example Walmart Grocery, Target, etc. In another one is a multi store shopping App, you can identify the list of nearest retailers where you can purchase the products from multiple stores using a single application like Instacart, Shipt, etc. Let's see some of the favorite grocery ordering and delivery apps with their features and pricing.
1. Instacart
Instacart serves over 5,500 cities in the US and they have networked with 20,000 retailers including  Aldi, Costco, and much more.  Instacart provides exclusive deals on popular products and provides doorstep delivery. It provides services in top cities like Los Angeles, New York City, Washington D.C., Miami, Chicago, Austin, Houston, Atlanta, and many more.
This App provides flexible delivery options to its customers. You can make a purchase either by order on-demand or either in advance. It also provides purchase based on recipes. Instacart provides fast delivery services, you can get your orders deliveries to your doorsteps for less than 2 hours.
Instacart Apps provides a flexible delivery potion. Customers can schedule the purchase delivery either in advance or order on demand. Instacart has another interesting feature where you can make a purchase based on the recipe.
They are the fastest delivery providers, your grocery will be delivered to your doorsteps in less than an hour. Instacart has Instacart Express membership it costs 9.99$ a month and 99$ a year. The App includes a 5% service fee for non-alcoholic products for non-express customers and express members service fee starts from 1.9%. Instacart also provides organic grocery delivery and alcohol deliveries too.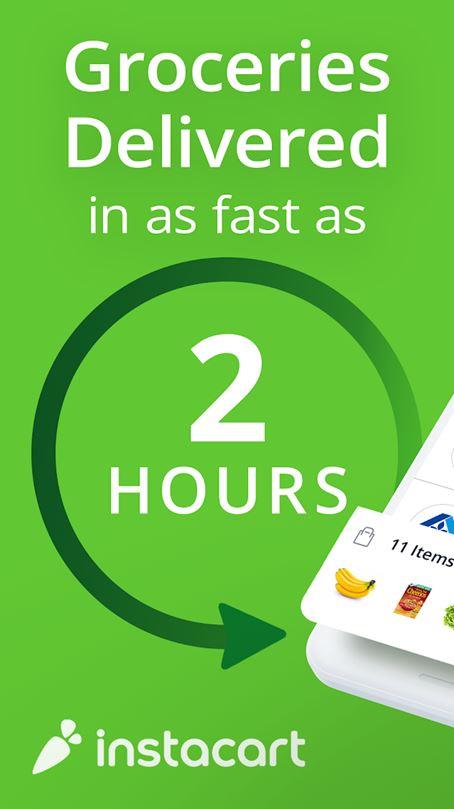 2. Shipt
Shipt is an American delivery service owned by Target Corporation. Shipt App is the best multi-store shopping App like Instacart. Shipt offers access to a variety of stores and product categories including fresh foods, wellness products, household essentials, pet supplies, and alcohol from the stores you trust.
For Alcoholics product purchase you need to submit the valid ID cards. Only 21+ years are eligible for alcohol purchases. In Shipt you can find thousands of products from various retailer partners including CVS, Harris Teeter, Publix, H-E-B, Meijer, Petco, Target, and more.
With Shipt App, you can also get access to exclusive savings, coupons, and sale alerts on the items you love to order. You can reorder products from your purchase history for added convenience. You can leave notes on items how you want it. This feature helps you to make last-minute additions and pick the alternate items for out-of-stock products. Favorites items can be saved and minimize your shopping time. You can discover seasonal products like beauty, entertainment, home, and foods.
For yearly membership, it cost 99$ and for monthly 14$. Order over 35$ is eligible for the free and same-day delivery options.
Shipt service is available in major cities in Southeast and Texas, Ohio, Arizona, Michigan, etc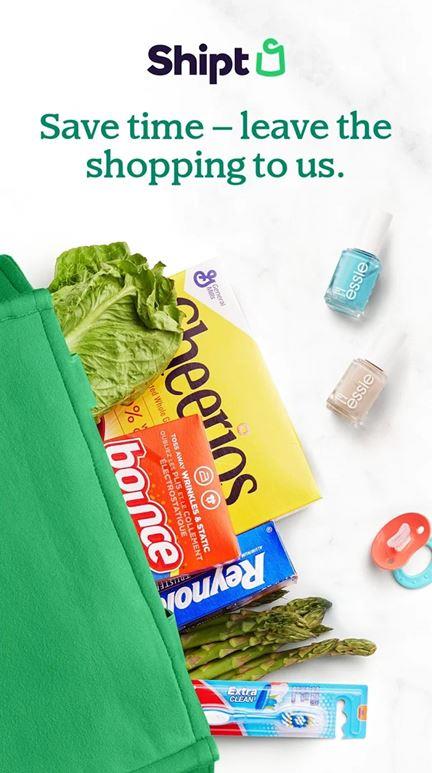 3. Target
Due to the pandemic spread target has started an online pickup service for fresh grocery and frozen products. The target app works like a virtual grocery store. They offer this service to more than 400 stores in 10 states. It also offers the Drive Up and Orders Pickup service on selected locations like Kansas, Colorado, Indiana, Ohio, Minneapolis, Illinois, and Kentucky.
Target App has no membership fee or minimum order requirement for both pickup and drive-up service. Drive-Up service is now available on the 1750 Target store. You can pick your orders within a few hours and also target offers a same-day delivery option for groceries through Shipt.  Download the app now for Android and Apple Users.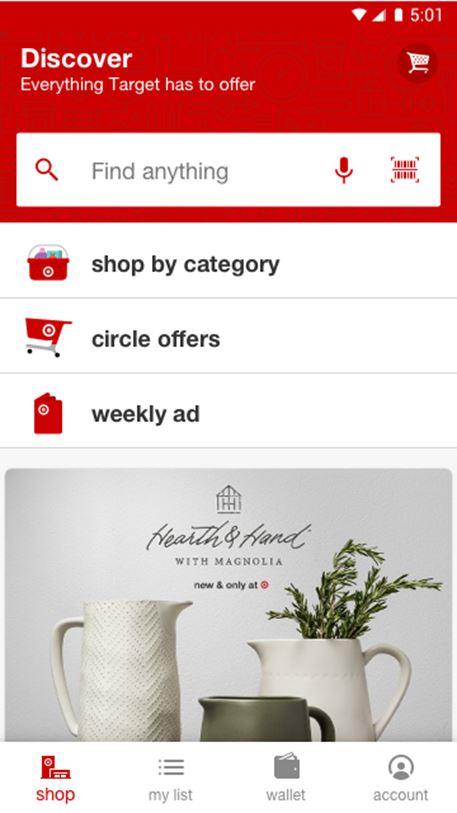 4. Amazon Prime Pantry & AmazonFresh
Amazon Prime Pantry & AmazonFresh is the grocery delivery app by the e-commerce giant Amazon. It is an add-on to the amazon prime membership.
Amazon Prime Pantry is free for Amazon prime members. In Amazon Pantry App you purchase bulk and personalized size of cleaning supplies, pantry staples, and household items as per your need.
Amazon Prime is available in 90 metropolitan areas including San Antonio, Seattle, Chicago, and Atlanta.
AmazonFresh works like a digital grocery store where you can find the complete fresh producer products like vegetables, fruits, packaged food, dairy, meat, seafood, local store items, and wholesale food products, which are delivered to you within hours. AmazonFresh is available in Baltimore, Boston, Las Vegas, Atlanta, Miami, New York, Philadelphia, Chicago, Dallas, Denver, Los Angeles, San Diego, San Francisco, Seattle, and Washington, D.C.
The AmazonFresh & Amazon Prime Pantry apps provide many deals and discounts for users and provide a return policy. Customers can now purchase a personalized pack and wholesale packs based on their needs.
5. Walmart Grocery
Walmart Grocery is one of the best grocery delivery apps for grocery pickups. Find the best products at low prices every day without leaving home. It has Home delivery options and you can receive your order delivered at the door of your home or office.
Using App you can purchase your complete pantry right from fruits, vegetables, meats, wines,  beers, and liquors, toys for children, pet products, hygiene and beauty items, pharmacy, and household cleaning items.
You can make a list option in the app so that you will not have a chance to miss any products in your weekly purchase list. The app also provides notification about similar products that are out of stock. You can make payments with a card or cash until you receive your purchase. If you wish, you can have a confirmation call for delivery.
After 8 hrs of your order placement, you can pick your order from your nearest Walmart store. Walmart Grocery offers grocery pickups in top cities in the state of Alabama, Arizona, California, Arkansas, Colorado, Connecticut, Delaware, Florida, Georgia, Idaho, Illinois. Indiana, Kansas, Maryland, and much more.
Walmart Grocery provides same-day delivery for 100's of locations and offers free pickup for 600 locations in the US.  Walmart Grocery App doesn't require any membership fee but for pick up orders it has a minimum order purchase of  30$. Try it now with Walmart Grocery App.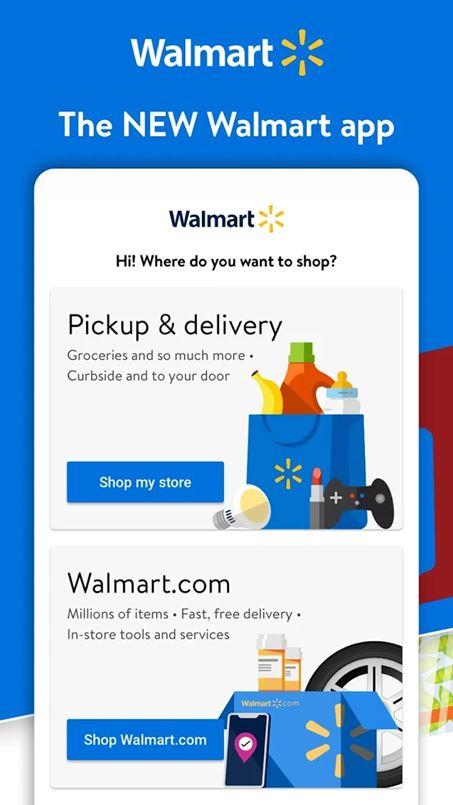 6. Google Express
Google Express app enables you to shop millions of items across thousands of stores. Buy directly on Google with easy and secure checkout, using your Google account. Google Express completely focuses on dry foods like cereals, canned food, coffee instead of fresh producer products.
Beyond the grocery purchase in Google Express, you can also purchase a wide range of other products like electronics, pet products, clothing from PetSmart, Costco, and Kohls.
Google Express doesn't require any membership fee and has a minimum purchase of 15$ for free shipping. The products are delivered on the same day or week depending on the place you live in. Google guarantees with simple returns and customer support.
7. FreshDirect
FreshDirect has been the leading online grocery shopping service since 2002. FreshDirect is based in New York. FreshDirect builds deep and direct relationships with farmers and producers. They deliver food to the customers at its freshest.
FreshDirect makes online grocery delivery and grocery shopping fast and easy. It serves customers in Northeast states and the District of Columbia, New Jersey, Bergen, Burlington, Camden, Essex, Gloucester, Hudson, Mercer, Middlesex, Monmouth, Morris, Passaic, Somerset, New York, Philadelphia, Brooklyn, The Bronx, Manhattan, Nassau, Queens, Rockland, Staten Island, Suffolk, Westchester, Connecticut, Fairfield, Pennsylvania, Bucks, Chester, Delaware, Montgomery, Philadelphia, Delaware, Washington D.C., Hamptons and Jersey Shore. You can also make use of Food Kick which is the sister concern of FreshDirect.
FreshDirect mainly focuses on high-quality fresh vegetables, meat, seafood, cheese, baked goods, dairy and pantry staples directly sourced from the farmers, bakers, and fishermen, etc.  It sells over 3,000 products online. You have a wide range of prepared meals and meal kits by hey FreshDirect brand.  You can also filter for organic, gluten-free, Local, and kosher products on the app.
Membership is not required to use the FreshDirect app but they charge for delivery it varies based on the location. The delivery charge starts from 5.99$ to 15.99$ based on the locations And they also provide the unlimited free delivery option for the customer who has a Delivery pass. The Delivery pass costs 129$ for a year. Order the peak seasonal farm-fresh vegetables and fruits, great local finds, quick meal solutions, and all of your favorite grocery brands. Download the FreshDirect iPhone & Android App and enjoy shopping.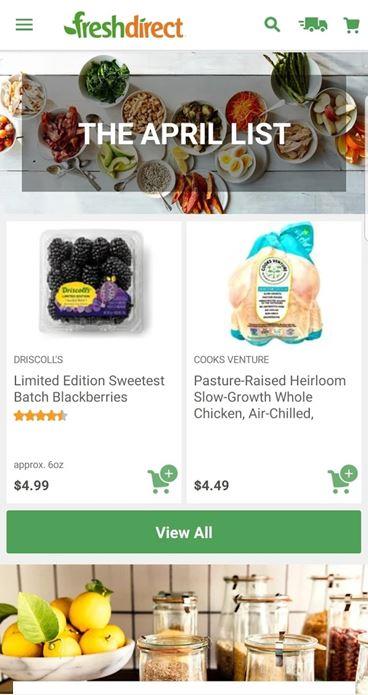 8. Peapod
Shop thousands of grocery items for your home or business with the Peapod App and make a scheduled delivery option from anywhere.  Peapod is not available in many regions in the US. They provide service in the Middle East and Washington D.C areas. Peapod is one of the best grocery delivery service providers and they mainly focus on groceries like fresh produce, prime quality vegetables, meat, fruits, pantry staples, and dairy products. They have their own brand meal kit like FreshDirect.
Peapod has thousands of natural and organic products at affordable prices. You can also find Pet cares, health and beauty products, household products, and paper goods on Peapod. They also sell the fine collection of alcoholic beverages, for order alcoholic products online you need to submit ID proof like valid driving license, or valid slate photo identification, or valid passport for age proof (21+Years – Can only purchase).
Peapod provides 20$ off for the first purchase with a free delivery option. Same-day grocery delivery available in select locations, Free delivery option is only available for the PodPass holder. Enjoy the hand-selected grocery with Peapod and download the app now for Android and iPhone users.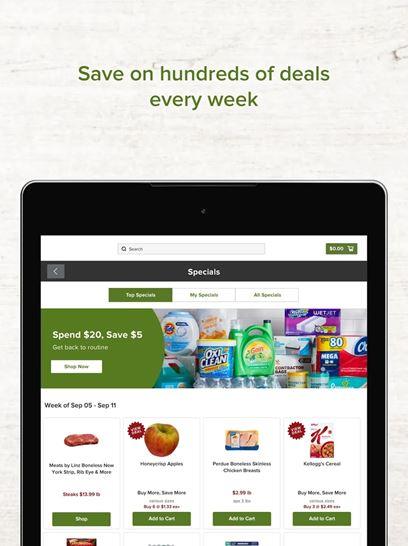 Conclusion:
Grocery Apps makes shopping easier. With a few clicks on your phone, you will receive your preferred grocery at your doorstep in a matter of a few hours or a single day, no more unnecessary time-consuming trips to the supermarket. Hope these best grocery ordering and delivery apps help you in ordering your groceries online and make a better shopping experience.
Download the apps and start to enjoy the best deals and coupons on your everyday purchase. These apps are user-friendly and have convenient and secure payment positions. By installing this app customers can skip the trip to the store and also start saving your time and money. You can order your groceries from anywhere, any time in a few clicks using your smartphone with convenient shipping options. Many of the Grocery Apps provide you free shipping and exclusive offers like daily deals, monthly deals, seasonal collections and save you time and money.
The online grocery market will continue to grow. The young generation is glued to the internet and smartphones. They tend to do everything using their phones. Most of the young generation people do their shopping via the phone. They were used and familiar with the internet and the web. These Web and Mobile App Applications help them to compare the products online with prices then they decide to choose either to buy or not.  In which, Platform is better to buy.  Next-generation will consider online grocery apps as the most preferred way of shopping for their daily essentials instead of spending long hours in supermarkets.
Lakshmi Priya is a Digital Marketing Professional at Squashapps, a leading mobile app development company.  Lakshmi Priya enjoys learning about Digital Marketing & Technology. She is an avid reader and loves writing impeccable content pertaining to Application Development and Digital Marketing. She holds a post-graduate degree in MBA.