Writing a shopping list makes it easy to save time and money. This is because using and sticking to what's on your list helps you avoid temptations. It also reduces the time spent browsing shelves trying to figure out what you want or need. Nowadays, a smartphone is the perfect companion to achieve this task: it avoids wasting paper, you can easily reuse your list, and you can even instantly share it with others. So, let's look at 7 for the best grocery apps that can improve your life.
Listonic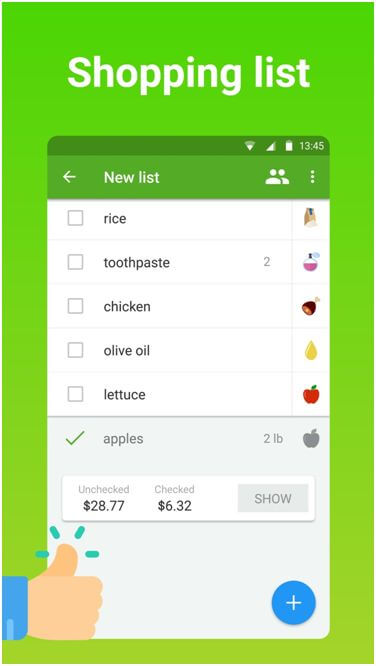 Listonic is a free shopping list app with a clear and easy-to-use interface. While you can choose to use just the basic functions, it's super jam-packed with many smart features which really make this an excellent app.
One of the best things about this app is the ability to generate lists very fast. When typing out a list, the predictive text function not only suggests items based on the letters you're inputting, but suggests items that you have recently put on other lists, or items you put on your lists the most. There's even a function to use your voice to add items.
Whilst doing your shopping, you'll find that items are divided and grouped into categories that match most grocery stores' aisles, meaning it's easier to pick up everything from a single aisle in one quick visit. If you're using Listonic to create a list that isn't for grocery shopping, you can also create your own custom categories and items too, making the app even more convenient and flexible.
The app is free and comes with all functions completely unlocked, and you're free to create unlimited lists and categories. Use of an account is not required unless you intend to share your lists with other people or view your lists on other devices.
Download Listonic from Google Play or App Store.
That Shopping List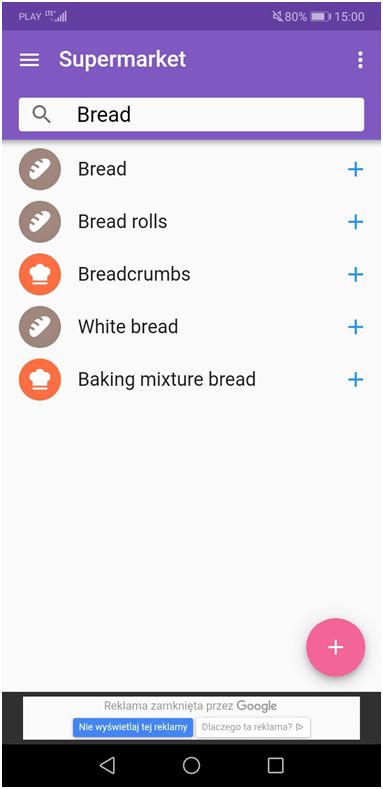 This is certainly another complete and great shopping list app. You can create several shopping lists for each supermarket or each specific need. For example, you can even create one for your cat, so you don't forget the litter again!
The app offers more than 800 predefined products, which are divided into 17 categories marked in different colors. You can also add your new custom categories to use, making it possible to use the app for even more purposes. All products can also be searched quickly both using your keyboard or voice input.
Other nice touches and features include the fact that all lists are synchronized in the cloud so they can be shared easily. I will also mean you won't lose them if something happens to your device. But what if you don't have internet connection? Well, you can use this app even if your device is offline. So, being without a connection doesn't mean being without your grocery list.
Download That Shopping List from Google Play or App Store.
Grocery Pal (In-Store Savings)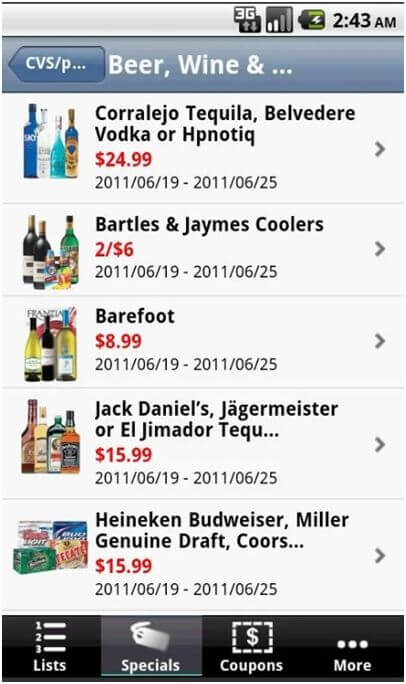 If you're someone who's dippy for discounts, then this is the grocery list app for you. Grocery Pal has an in-built function that means you'll be able to find the best deals in different shops each week. Grocery Pal will also provide you with digital coupons, so you won't have to cut out as many from magazines and flyers anymore.
Once you've found the offers you can't wait to buy, you can create as many shopping lists containing these discounted products as you want. The app features an option to categorize all items according to aisles, too. Finally, Grocery Pal automatically saves all your lists to the cloud meaning you can access them any time you need them, and also won't lose them if something goes wrong with your device.
Download Grocery Pal (In-Store Savings) from Google Play or App Store.
Microsoft OneNote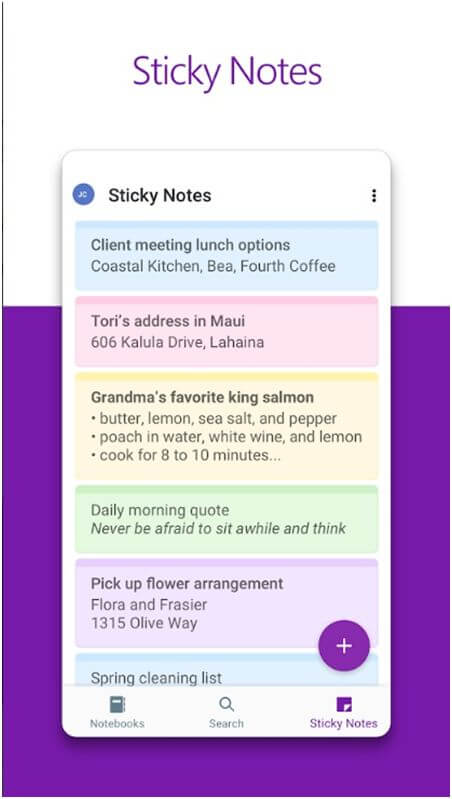 Microsoft OneNote is one of the best note-taking applications available. You can download it for free, and it is available on a vast number of platforms: Android, iOS, Windows, MacOS. Consequently, you can have your notes and lists available across all your devices. This is because notes are synchronized in the cloud making them easily shared and edited without ending up with different lists with different items on them.
This also means you can easily add last-minute items to buy while the other person is already shopping and they'll see the additions straight away. With Microsoft OneNote, you can create as many shopping lists as you want, and sort and sync them between your devices.
Download Microsoft OneNote from Google Play or App Store.
AnyList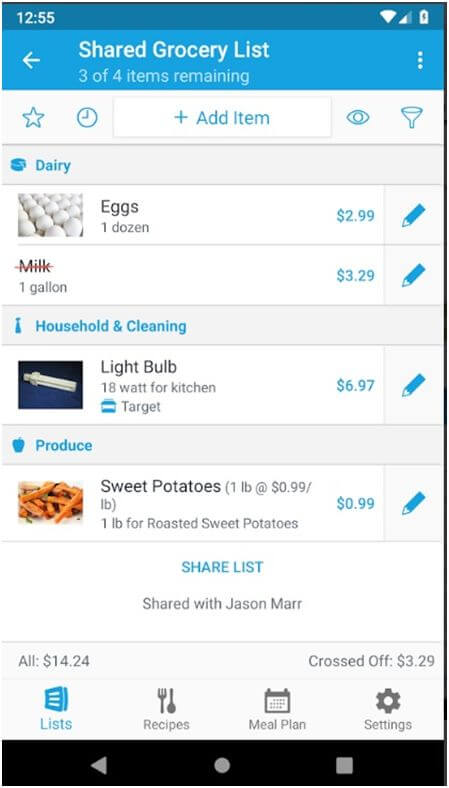 Any List is a handy bit of software that helps you with your daily shopping. This app allows you to create simple shopping lists and share them with your friends and family. Any changes to the list are immediately displayed to other users. This is great for sharing your grocery list duties as each person can buy different items from the same list shared. The means fewer duplicates and missed items when you get some help with the grocery shopping.
You can save your old lists and use them to update the new one. What's more, the app features the option to save ingredients from online recipes automatically.
Download AnyList from Google Play or App Store.
Our Groceries Shopping List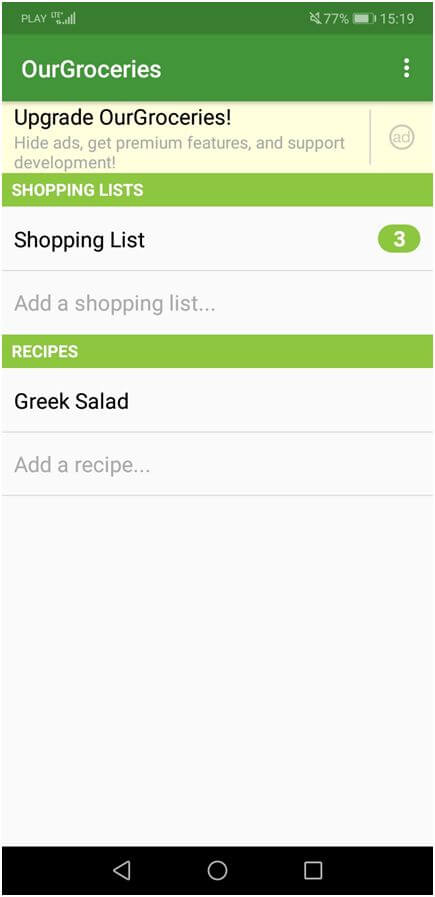 This app is the easiest way to manage family shopping. Each family member can access the app on their own mobile device. This means that all users with access to a shopping list can add items and make adjustments. Everyone can see these changes, including when items have been checked off by another user.
Our Groceries Shopping List provides you with multiple smart features available in the premium version, including the ability to add items to your shopping list by scanning a barcode and adding photos to the items on your list.
Download Our Groceries Shopping List from Google Play or App Store.
Need to Buy – Grocery List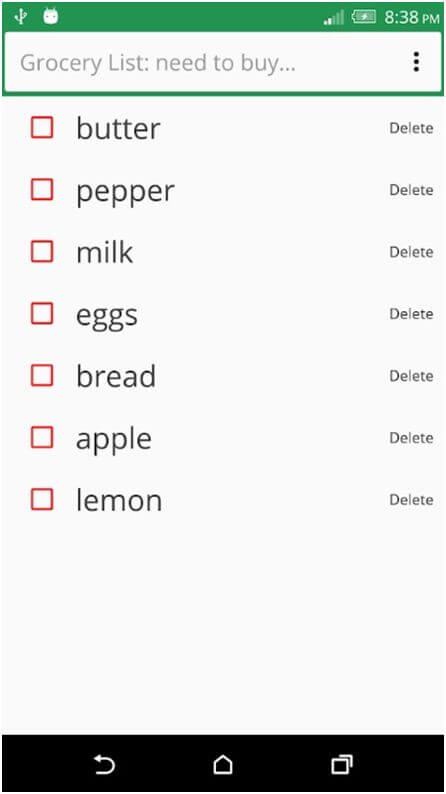 For all the features and gimmicks of the apps above, some of you might be crying out for a bit of simplicity. Thankfully, Need to Buy provides this. It works just like a virtual pen and piece of paper. It's clear and easy to use interface might be no-frills, but it can't be faulted for its functionality.
Download Need to Buy – Grocery List from Google Play or App Store.