Technology has made it effortless for educators to teach, admin to manage, and students to learn. With an online education portal, it has become easy for everyone to collaborate.
Students can learn about their courses and other activities. The admin can maintain their institute related activities. It's easy for educators to conduct online lectures, share ideas, publish documents, and other knowledgeable repositories. Parents can stay informed about their child's education.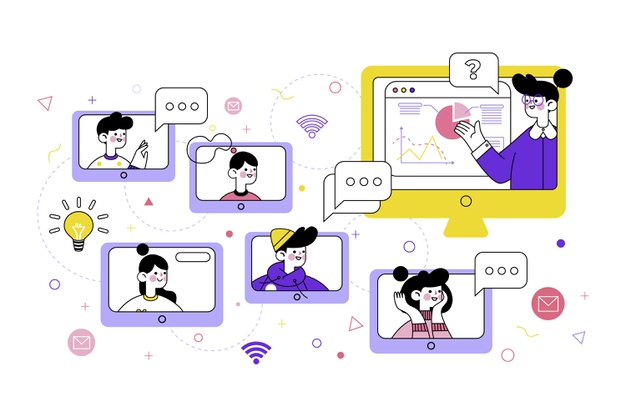 In short, an education portal development has become imperative.
With it, you can replace your in-class lectures with online classes. You can share materials in the form of soft copies, and live links. Be it a pandemic or otherwise, you, your staff, students, and parents can manage all their education operations from anywhere, anytime.
No doubt, online portals offer the best of services and are effective. However, education portal development does have its own challenges. Let's see what they are:
Common Challenges in Education Portal Development and their Solutions
1. Simplicity
Often while going for education portal development, we want to have it all: menus, sub-menus, features, everything that's possible. Moreover, while infusing features, our portal becomes so complex that it becomes difficult to access.
Even finding a simple "Course" section becomes difficult. This should not be the case with your education portal development. Your portal should be straightforward. It should be simple, easy to access, and should share the data based on roles.
You shouldn't hide the information within sub-menus and non-intuitive names. The design should be attractive, and learning how to use the portal should be a cakewalk.
Solution:
See to it that your portal is user-friendly and developed for non-technical users. It should be easy to add/update, share and publish information. For this, ask your education portal development company to include features such as:
Provides users the ability to add and edit content using the WYSIWYG editor. It becomes easy to operate the portal.
To automatically create and populate the pages with news, blogs, case studies, materials, a list of documents, and more.
Creates a schedule, and updates staff about the same. It provides quick viewing of the staff availability.
Organize school events with a few clicks. Manage all the event details and publish them on social media.
To keep everyone, including parents, students, and teachers, on the same page.
Search and Filter Options
For faster availability of the data.
2. Data Handling and Management
It often happens that the teacher makes a change in the curriculum, and it's not reflected on the website. Or maybe parents are unaware of the changes.
This is a major challenge in education portal development that's often overlooked. The online education portal should sync with your website data and reflect the changes in real-time. For instance, a parent portal should present information about their children. Administrators should be able to manage security permissions, data sharing, etc.
The portal must be robust enough to handle and present the data. Frequent crashes, unable to add/edit are the other problems that solution witnesses. Make sure it's not the case with your education portal development.
To avoid this:
Learn about the platform of your portal. Check if the platform you choose is strong enough to handle a huge amount of data.
For data sharing and management, create a customized dashboard. Ensure that it provides information from all the systems. For instance, the admin should know what's going on with teachers, students, parents, and other staff. Every piece of information related to them should be present on the dashboard. Similarly, students should manage their courses, lectures, homework, and attendance from their custom window.
At the same time, the admin should be able to provide data security and role-based accessibility.
In the initial stage, ask end-users to access the portal. Take their feedback and discover what kind of data they want to view on the dashboard, how they want to manage their data, and so on.
3. Development and Features Clarity
A lack of research often creates a problem in the later stage. If you don't know your target audience and the features you need, you may end up with the wrong solution. Or at least the one that lacks the necessary features.
You need to understand that just because a solution offers a vast list of features doesn't mean you need it all, or if it's a perfect fit.
You may ask your development team to integrate the features that won't be suitable for your portal. It doesn't look like a challenge, but it can create a mess during the development stage.
Solution:
The only solution to overcome is research. Talk to your education portal development team. Ask them about the development procedure, discuss your requirements, take suggestions, and then decide.
If you don't understand what a particular feature is or could be, ask the team, research on the internet.
To ensure that education portal development is successful, you can also engage in field research with parents, teachers, and staff. You can ask them about their requirements, and the kind of information they need. This way, you can address the issues that the portal can solve. You will get an idea of the features that you must include.
4. Third-Party Integrations
For your portal to be a success, it must work well with other systems. If you develop it in isolation, it might work well but not the way it should.
Suppose you don't need a virtual classroom feature at present. You skip it, but what if you need it in the future? Or what if you have an existing management system and want to integrate your portal with it?
If your portal doesn't allow integrations, it's a complete failure.
So what can you do about that?
Solution:
Make a list of all the educational systems that your institute uses or the services you might need in the near future. Everything from information management to the help desk should be on the list.
Work with an education portal development company that offers flexible solutions and integrates well with all the systems. During development, ask the team if you can customize the portal, integrate tools if required. Ask for suggestions on what other institutes have done to integrate this kind of system or the solutions available. Which platform is better, what integrations you might require for the future? Ask all of it.
5. Unrealistic Deadlines
In a few cases, where knowledge and information are available, it's apparent to think that everything would be done in one shot. You believe that you have everything required, and now developing it would be simple. So you start setting deadlines. You ask your development team to provide you a solution in a week just because someone else claims it. That's not how it works.
If you try to achieve everything quickly, it may lead to the big bang phenomenon. There are facets to education portal development. So you must go for every stage: UI designing, content aggregation, integration of systems, one by one.
Alternative Option:
Break your entire solution into modules and ask your vendor to provide the time in respect to features/modules.
For example, login – 2 days, and so on. Every developer differs, but you must not set the deadlines individually. Ask your vendor about the estimation.
Always keep your launch a few days after the estimated duration. The reason is bugs and technical glitches.
Make sure the deadline is flexible but keep in touch with the developer at every stage.
6. Inexperienced Partner
The education portal development company you choose is indirectly proportional to the challenges you would face. If the team has experience with the latest technologies, you won't have to worry about the base of the portal. They would make sure it's stable and doesn't crash.
If they have industry-specific knowledge, they would suggest what's best for you.
What if the team doesn't have experience?
You will get a solution but with no guarantee of its functioning. It may or may not be designed according to the current trends. You might need a rework sooner than expected. Last but important, the solution might increase your expenses.
What's the Solution?
A thorough background check!
While partnering with a portal development company,
check their website,
services they provide,
technologies they work on,
client testimonials,
industry knowledge,
ratings and reviews,
read case studies, and
talk to the team
Ask about their development, years of experience, development and testing methods, and cost. Discuss your requirements; ask for suggestions, and after analyzing, partner with the best.
Last but Not Least
Offer a mobile app that integrates with your system and web portal. It would give everyone the privilege to access information from any location and device.
An online education portal development requires a lot of study and planning. At least, it requires a thorough understanding of the development and your own needs. However, if you partner with a vendor that has a proven track record in portal development, then it's easier.
Summary
Education portal development is a great way to adopt smart work. But, it comes with its own set of limitations and challenges. Read more to find out what they are and how to overcome them.
Maulik Shah is the CEO of BiztechCS, a development company. He often takes the front seat in the company's development projects, because he enjoys solving problems through technology. When it comes to writing for any blog, his contribution is priceless. Maulik ensures that his interaction with development is frequent enough, and his industry knowledge is ever-evolving so that he can share it. Despite his packed days, Maulik's door is always open and he is generous with sharing this knowledge and experience.