Is your restaurant sale is down?
Need to improve the growth of your restaurant?
The best way is to improve your takeaway and delivery system.
Keeping up with the development in the retail business, takeaway, and home delivery is also facing rapid growth. Since Covid-19 strikes the industry, food delivery becomes even more important to restaurant operations. So as to increase business growth. The complete procedure of setting up staff for it, taking the receipt, and deliver the order on time is important for restaurant growth.
As per the National Restaurant Association research, almost 41% of individuals aged 18 to 34 and 33% of people of all ages get takeaways or order their food online. Nowadays customers are spending more money on takeaways on regular basis. Online food ordering has been favorited by everyone with the progression of technology. You should effectively utilise innovation and improve your service to give your customers a wonderful experience. Here is a complete guide on how you can improve your restaurant food ordering system.
What is an online food ordering system and how does it work?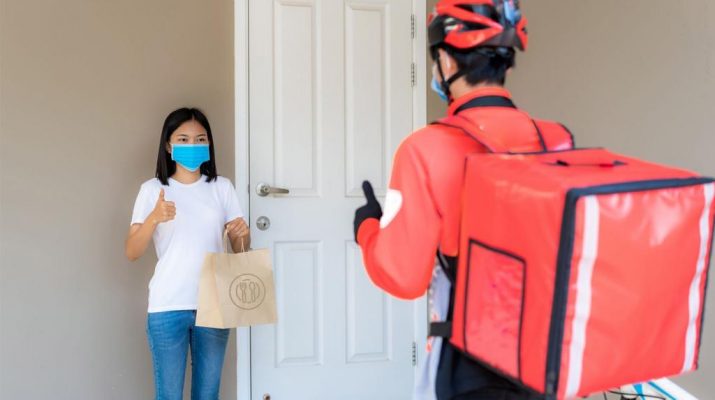 Through an online food ordering system, you can sell your products digitally. It happens without the collaboration of any external portals or without remitting any commission. Online food ordering is the activity of ordering food from a food cooperative or a local restaurant through applications or web pages. Usually, customers search for their favourite restaurants, cuisines and choose takeaway or delivery. Payments can be done by cards or cash. And the restaurant remits a percentage to the online food company.
Key Takeaways:
Technology leads every industry. The trend bug has also affected the restaurant industry with the food ordering system.
Restaurant owners are upgrading their software a level up for ordering and delivery
Still, there is a lot of hesitation to implement the system thinking that online food ordering is complicated
The important characteristics of a restaurant management system
Online restaurant food ordering systems should work in favour of the restaurant owners.
It should not eat away the profit of restaurants
It should easily initiate by non-technical people, not by the software developers
It should be uncomplicated and easy to care for
Above all, it should work just the same for both business owners and food lovers
Significant benefits of an online food ordering system
Having an online presence is vital for restaurants. Because people have been moved from offline food ordering to online since it is completely transparent, easy, and advantageous. It is the time to bid goodbye to the hustle of food ordering.
It is only just one click away
Currently, a lot of peoples are using their smartphones and tablets to place food orders. As per studies around 69 percent of people order food only using a mobile device. Anyone can virtually place an order effortlessly even in stuck traffic, on break, or riding on the bus. Actually, this is far better than waiting until getting home and placing the order over the phone.
It is easy, fast, and comfortable
In brief, your hungry customers choose to order their food online because it is available at their fingertips. Anyone with a smartphone can easily and fastly place their food right from your restaurant. People under 30 age are the main target audience. So Online ordering for restaurants system is the easiest way to entice your most important, and sale-generating target audience.
Online food ordering is available 24/7
Your restaurant probably not open 24/7 but your online ordering system definitely is. So the online food ordering system benefit it makes money even while you sleep. You provide the flexibility for your clients to place the orders at their convenient time even after your business hours. It also helps to scale your orders substantially.
An online menu is easy to manage
It is much cheaper and facile to create and maintain an admirable menu that will compel your customers to order every time they see it. You can easily
Organise daily promotions.
Publicise your food items.
Try-out various placements of your dishes in the menu to see which ones tempt diners the most.
How to double your sales through an online ordering system
Thinking of effective ways to maximise your sales?
It is possible through improving Restaurant's Takeaway and Delivery system. Don't worry just follow the below steps to run a wealthy online ordering and delivery food business.
Use technology for online food ordering
You should make use of the latest technologies to accept and increase the volume of online orders enormously.
Register your restaurant – If you haven't partnered up your restaurant business with the popular online food ordering and delivery portals, it is time to get your restaurant registered. Portals normally charge a reasonable registration fee. By partnering with these platforms, you can improve visibility since you automatically become discoverable to potential customers.
Own a Mobile-optimised website – Having a restaurant website is the first step of branding. It is common that users will Google your restaurant before ordering from it. So make sure that your website is updated with all necessary information such as contact details, menu, and reviews. The order online button should on easily clickable and visible places on your website.
85% of all online orders are placed via mobile. Not everyone will install your restaurant's mobile application so always ensure that your website is mobile optimised for smooth food ordering.
Use an online ordering application – Provide the option of ordering online right from your restaurant's app. It improves the ease and speed of online food ordering. Save your details and most ordered food items in your cart and place an order in just a few clicks.
Enhance your POS system
The POS system is the most powerful tool to expand your business. Your system should have to be tailor-made with the specific needs of your website. In order to improve your food delivery, you need a POS system that can control delivery.
Your restaurant's POS system will help handle:
Operation control
Online ordering
Delivery options
Customer information
Accurate wait timings
Delays are the mood killers in any restaurant management!
By using a proper restaurant management system, you can minimise the order processing time. Moreover, track food orders and deliveries in real-time. Remember to update your menu and online and timings as per the hurry hours. It is advisable to hire separate staff for handling the orders and online schedules. If there is too rush in the restaurant, let your customers know.
Train your staff for top customer service
Outstanding customer service is the vital key. If you fail to provide the best customer service, you might lose plenty of customers. So it is your duty to train your staff in being productive and serving your customers.
Make sure each of your staff getting proper training that goes into the making.
Genuine communication between customers and restaurant
Many restaurant deliveries are late due to the prolonged preparation time and delivery time. It might be difficult to find a customer address. This tiny difficulty can be solved with proper communication with the customers.
If their address seems to be incomplete do make a phone call before taking their order out for delivery. Ask them for any landmark to reach on time. It also makes the customers aware of their orders.
Pack food in branded wrapping
Unlike traditional restaurant habitats, food delivery causes the business to find an applicable solution to reach their dishes to the customers far away while keeping up the quality of food. This brings about investing in temperature-controlled, well-built and branded wrapping materials to keep your food intact and fresh.
What are the best practises to make your customer services preferable?
Since catering great service to customers is mandatory. Good customer service reflects on your delivery service. A responsive, truly listen, trust-building customer service can bring drastic changes to your restaurant sales. The better your customers experience the amiable service and feel valued the better you grow.
Deliver fresh and hot food
If your restaurant provides hot food, the customers will consider it as freshly prepared food. Otherwise, it can be a huge negative impression on your buyers. It can also impact customer detention.
No need to be panic. It can easily solve by monitoring delivery time and make certain that orders reach on time. Be sure that the restaurant should partner with delivery boys with insulated food bags that keep hot and cool foods intact till the time you reach customers. This can have massive results on your restaurant business.
Ensure the safe food delivery
The packaging is the major concern on food delivery. Be careful that food does not get scatter or get befoul in the containers because a messed-up meal is always less appetising and not favourable. So, implement a fine packaging technique for the well delivery. Spill-free containers are the best thing to try out.
Nowadays people are heedful with eco-friendly. Ergo, eco-friendly packaging products are an effective alternative to try on. The overall idea is to provide leak-proof food containers.
Offer special prudence to add-ons
Add-ons are the ever-favourite of any customer. If you provide them on a less amount or you forget to add that it might affect the sale. It will be an extreme disappointment if they order a pizza and not find any chilly flakes or oregano. The customer experience should be fulfilling and convenient so that they order again and again from your restaurant.
Thus make certain that needed napkins, tableware, and condiments are provided with orders.
How online customer concerns and complaints are managed?
The remarkable rule among restaurateurs: 'The customer is right in every case'. Any client issue has to be dealt with seriously. In the digital era, customers post their issues or complaints on Google my business or social media platforms, and regardless of what the concern is, your reply to them should be precise and right away.
Your reply should sound civility and respectful.
Come let us have a look at the bonus tips to handle customer reviews:
Admit the customers' complaint
If customers are not satisfied with the services you provide, allow them to raise their voices and post their genuine reviews. Give uttermost consideration to negative reviews. It shows your openness to listen and help. Thereby the trust remains and customers will surely return to your restaurant.
Right away action
An immediate apology to your customers for their concerns will help to build a strong alliance with customers. Your prime and foremost effort should be towards problem-solving so that your customers reach back to your restaurant.
Present freebie
Freebies are admired by everyone. Even a tiny sweet can win back the customer's trust. If you offer free gifts to them they will feel recognised and begin a productive relationship with the restaurant.
Learn from your customers and ask for criticism
Consistently ask for feedback and reviews online. Ask them to rate your services. Then carefully assess the customer inputs and take appropriate decisions to improve your restaurant's online ordering system.
Therefore improvisations in restaurant online ordering system are the superlative ways to bring about fine regularisation and can entice even more customers. With the emerging technologies, the forthcoming future of restaurant delivery is dazzling. So you may need to cater top-notch services to your loyal clients on food takeaway and delivery.
Amidst this ever-changing market, it is quite difficult to decide the right direction your business should go in. It is assigned to business owners to determine the finest route their business should take. To begin with, is undoubtedly improving the food takeaway and delivery system. Implement it and see how it boosts your sales. Following certain guidelines is mandatory when you want to drive more leads to your restaurant.
Thus, improvisations and welcoming the changes in your food culture are significant methods to bring about a good reputation and can gain more customers and profit. Implementing such guidelines is necessary when you want to build brand awareness and generate more leads for your restaurant.
Hope this guide helps you and your restaurant to gain more sales in the imminent years!
Chris Mcdonald has been the lead news writer at complete connection. His passion for helping people in all aspects of online marketing flows through in the expert industry coverage he provides. Chris is also an author of tech blog Area19delegate. He likes spending his time with family, studying martial arts and plucking fat bass guitar strings.