Elevator. Pitch. Whether you're a seasoned interviewee or brand-new to the process, chances are you've heard plenty about the importance of these two words. In roughly 30 seconds to a minute, it's your opening opportunity to lay out who you are, why you want the gig and why you'll be a difference-maker for the company. Don't get us wrong–it's important, but there's a very real chance the interviewer will have a strong impression of you formulated before you even open your mouth.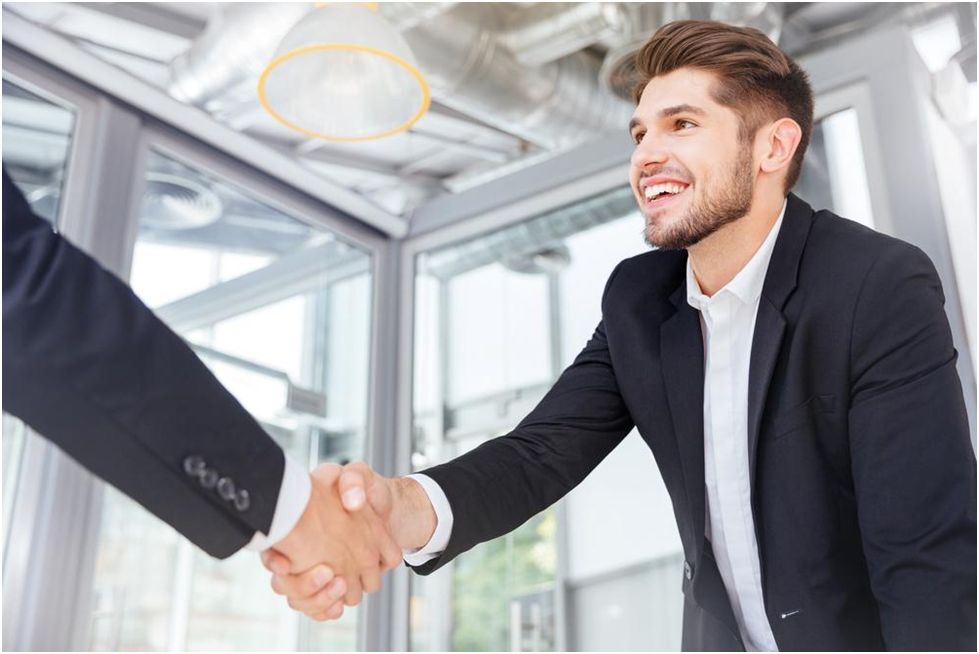 Studies indicate that the meet-and-greet portion of the interviewee-interviewer encounter goes a long way in shaping how things go. The first 10 or 15 seconds—and how put-together you look—says quite a bit about your confidence, demeanor and ability to sell yourself.  We'll leave it to you to master the resume, talking points, industry research, and company culture, but we're here to help in the style department.
1. Good, Neat Hair—
Your hair presents an easy starting point to ace the interview meet-and-greet, so invest in a solid cut a few days beforehand. Oh, and all companies want someone who can prioritize, right? Right. With that in mind, while you may be sweating the interview inside your head, applying some strong-hold hair paste or styling gel will have you looking calm, cool and collected.
2. A Cleanly Shaven Face—
While tidy, well-manicured facial hair is a quality look, we suggest making like the Yankees and going clean-shaven for just about any interview. As we'll remind you later when in doubt, aim for a more conservative overall look that will command respect without distraction. On the distraction front, as you rehearse that perfect elevator pitch, you'd rather not have to worry about nicking your face with a less-than-amazing blade on the morning of the big interview. We're all about mastering shaving with a safety razor to fix this problem.
"A man in a well-tailored suit will always shine brighter than a guy in an off-the-rack suit." – Michael Kors
3. A Well-Tailored Suit—
Mr. Kors couldn't be more on the money with this bit of wisdom. Most guys with role models who embrace the gentlemen lifestyle have probably imparted similar advice. Having at least one sharp suit in your closet is a must for any guy hoping to impress on the job. Here are a few important tips for suiting up before an interview:
i. Yes, you need to wear a suit
When it comes to actually wear the suit, first off, unless you're 100 percent sure the job you're interviewing for is a casual, non-traditional workplace, actually…wear a suit. It communicates that you're serious about the job and not wearing one actually does the opposite. Eliminate that as a potential pitfall.
ii. Go simple and classic
When it comes to selecting the suit, again, think simple and classic. A solid navy, black or dark grey suit is your best bet. If you do go the pinstripe route, go for a thin design that's as simple as it could be.
iii. Whatever you do, have it tailored
When it comes to sizing the suit, actually size the suit. As in, go to a professional tailor, get measured and tailor the suit. The truth is that most guys just aren't off-the-rack size, so a quick purchase probably won't make you feel as sharp as you'd like.
iv. Have a few in your arsenal
Go ahead and bite the bullet and invest in two or three suits you can be 100 percent proud to don. Many of the most popular suit purveyors run deals quite often, so keep an eye out so you're ready to look your absolute best when it matters the most.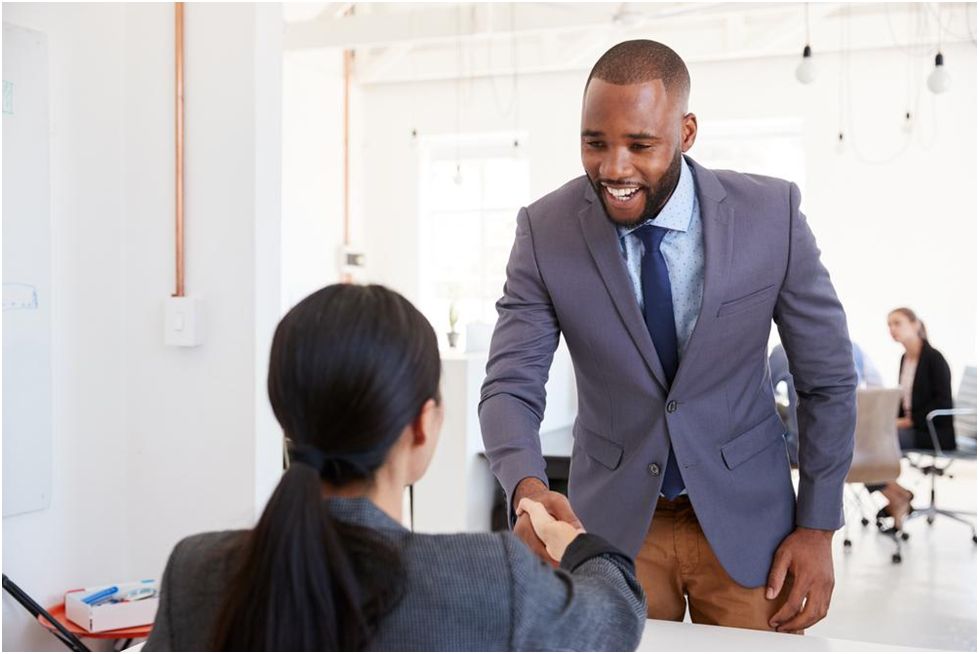 4. A Crisp Dress Shirt—
A white or French blue dress shirt and a solid or striped tie (again, always lean toward more conventional, conservative designs) will make your whole ensemble pop. Taking every detail into account, make sure it's well-ironed or dry-cleaned beforehand so you're not scrambling at the last minute.
5. Nice, Shiny Shoes—
A pair of conventional black or brown dress shoes that are also comfortable will help round out your look and give you a solid base from which to build upon. Take care to ensure the shoes are neat and well-polished, offering a little sheen and razzle-dazzle that'll get you noticed.
6. Matching Accessories—
Literally and figuratively, details matter a lot when it comes to your style essentials and the actual substance you'll offer while answering interview questions. In the interest of further grooming details, adding to your look with a quality belt and add-ons like cufflinks or a sharp watch can take your look over the top. Make an effort to make sure your belt matches your suit, shoes, and socks. When you arrive for the interview, give yourself a solid once-over to have everything perfectly in place for that all-important meet-and-greet.
7. The Know–How to Impress—
Preparation is key, but don't overdo it. Rehearsing answers to likely and potential interview questions is a great way to avoid having that dreaded long, awkward silence with your interviewer. It's also a great way for you to work out your nerves and think about the best ways to frame yourself in the best possible light. Working through hypothetical scenarios, verbally or in your head, is also a terrific way to think long and hard about just how much you want the gig and how good of a fit the company is for you. That said, you don't want to sound like a robot. Allow your personality to shine through while also making it clear you've put in ample thought to the process.
8. Confidence, Confidence, Confidence—
Circling back to the style front, this is exactly why your head-to-toe look takes on such great importance in an interview setting. Even the most typically confident guy is probably going to be at least a tad nervous on interview day, so having a stellar, put-together look can mask some of that lingering doubt. If you want to add a spritz of your favorite cologne to make you feel empowered go with only a spray or two, nothing more. And, it should be a more conservative scent so your future boss can't smell you from across the office.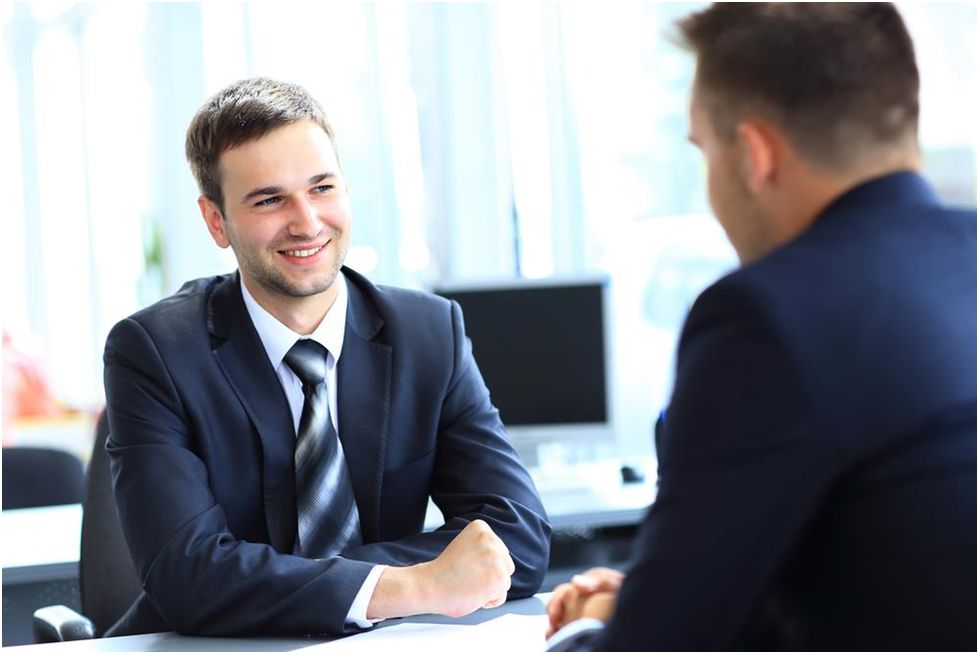 With your hair, face, and wardrobe on point, you'll be in a prime position to ensure you're leaving the employer with the exact impression you're hoping to impart.