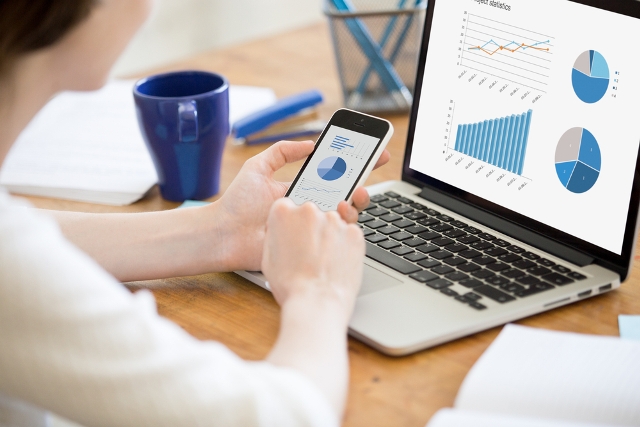 Going from a startup to an enterprise means the workload, responsibilities, projects, and employees increase as well. Meaning, the job just got a whole lot challenging. For entrepreneurs running a global enterprise, a mobile app is a difference between gaining a new contract and ending up on the streets.
Enterprise Mobile Apps are the solution for entrepreneurs, employees, and clients to conveniently manage all projects, meetings, and assigned tasks. These applications are different from the everyday apps used by the average citizen. Enterprise apps can contain tutorials, employee database, assigned task lists, pending and completed projects, and much more.
That said, the requirements for enterprise mobile app development are also different from the traditional mobile app development tactics. The blog will help you understand the types of enterprise app development software, its benefits, and how to choose the best platform for your mobile enterprise app:
Types of Enterprise App Development Software
Enterprise app development can boost work efficiency both within the company walls and outside the office. Employees can easily manage their tasks, meetings, and more from remote locations.
So, before you hire a web and mobile application development company, like Applify Labs, understand the types of enterprise mobile apps:
Enterprise mobile apps made primarily to boost employee productivity have limited features and are ideal for optimizing internal operations only. For example, they can help teams meet deadlines, allow project managers to stay updated on all projects, and more.
Department-level enterprise applications cater to the needs of individual departments within the company, for example, the marketing or finance teams. They can improve workflow, team management, and coordination, as well as help your customers. The apps can keep communication open, allowing consumers to receive quick feedback from the support staff.
For the Whole Organization
Enterprise application development also includes apps that enhance the entire company's operations. Company-level enterprise apps allow flawless inter-department communication and across multiple departments for a seamless workflow. Employees can coordinate with their chiefs and have access to company documents and databases, depending on their position.
Benefits of Enterprise-Level Mobile App Development
With digitalization moving at a fast pace, companies need to automate their operations to boost productivity and stay ahead of the competition. Mobile apps are one way to optimize businesses based on current market trends.
But the question is, how mobile enterprise apps help companies. Here are some of the aspects of business management, where entrepreneurs can see the benefits of enterprise mobile app development:
Data management is an on-going and exhaustive task. Enterprise mobile apps can automate data processing, analysis, error corrections, and verifications, allowing employees to focus their attention on other areas.
Accounting and Transactions/Payments
With an enterprise-level finance app on your mobile, it is super convenient to manage transactions, payment deadlines, notifications, and more. Enterprise mobile app development can integrate many other features of finance management in the mobile app based on company requirements and the purpose of the app.
Enterprise app developers can create mobile apps for supply chain companies with features to control courier's work, manage transportation, and planning. For such businesses, mobile enterprise apps can improve efficiency and productivity.
With a mobile enterprise app, companies can quickly review and edit employee-generated data through a smartphone, improving efficiency by removing the chance of errors.
An enterprise mobile app will automate repetitive tasks,like marketing campaigns, transaction control, anddata processing. It will allow employees to focus on more time-sensitive assignments and eliminate the chance of human error.
How to Choose Enterprise Mobile App Platform
Enterprise mobile app development is a diverse field with various developers having their take on the best approach to designing a mobile enterprise app. But the best enterprise mobile app development platform depends on your requirements, the purpose of your app, features to integrate, platform scalability, and more.
Here are a few parameters to help you judge which platform is the best for you:
When researching enterprise mobile app development platform, make sure it has features to support integration with third-party services, allows scalability, data synchronization, app store deployments, and access control. Furthermore, for push notifications, data storage, and authentication, the platform should also provide extensible back-end and middleware services.
Before you can choose which platform to use for enterprise mobile app development, decide between native, hybrid, or web apps. Native mobile apps are designed mainly for one platform, either Android or iOS, whereas hybrid apps are compatible with both and are a combination of native and web apps. Web apps, however, are built using HTML5 and CSS3.
Cross-Platform Development
Ideally, enterprise mobile apps support multiple OS and device versions to accommodate all employees. When choosing your enterprise mobile app development platform, make sure it allows cross-platform development. Hybrid apps offer a native-like performance on both Android and iOS. Plus, with a single codebase, app development is less time-consuming and inexpensive.
New technologies are emerging every day. If your enterprise app is not compatible with the latest tech, it's sure to become outdated with time. Therefore, scalability is a crucial factor to consider when choosing the enterprise mobile app development platform. Scalability ensures you can upgrade the app and add new features as necessary.
Enterprise mobile apps have private corporate information in the database. So, security is a primary concern when it comes to enterprise collaboration. When choosing the platform, make sure it supports high-end security measures than simple passwords, like biometric locks, voice-recognition, and more.
Next Step: Develop an Enterprise Mobile App!
The best platform for you depends on the company and app requirements, the purpose of the app, and the employees' needs. Choosing the best platform is a challenging aspect of mobile app development.
I hope the article helped you understand the parameters on which to base your decision. When you have an enterprise mobile app development platform, it's time to work with a software development company and bring your app idea to life.
Haziqa Ishtiaq is a Digital Content Producer at Applify Labs, a web and mobile app development company headquartered in West Palm Beach, Florida. She has a passion for writing and has expertise on Blockchain,AI, marketing strategies, and more.