A: Flutter – An overview
Flutter, which was released in 2017 and developed by Google, is an open-source software development kit which is used to develop applications for mobile, web, and desktop from a single codebase. A flutter app runs on Android, iOS, Windows, Mac, Linux, Google Fuchsia and the browser! Flutter uses Dart which is an object-oriented, class-based, garbage-collected language with C-style syntax. Dart can compile to either native code or JavaScript
Some facts about Flutter:
3000+ public apps have been developed on Flutter (not counting the private and internal ones!)
There are about 200 million+ users of Flutter made apps
Flutter is 34th most popular apps available in GitHub
Around 3,00,000 developers use flutter as their first-choice mobile app development stack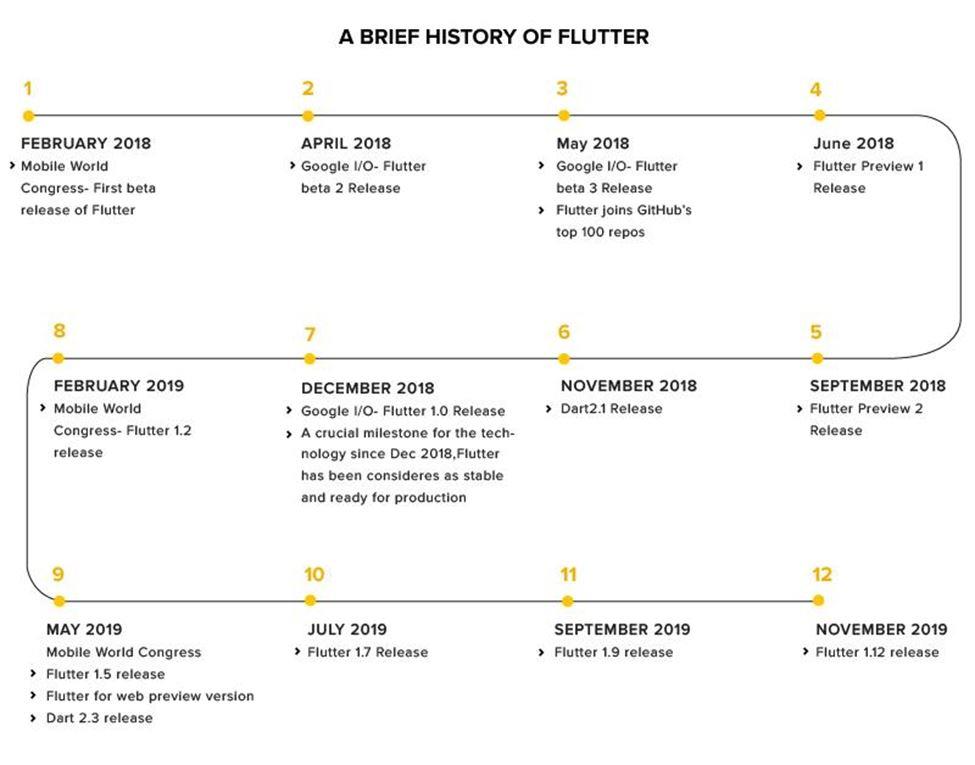 B: Benefits of using Flutter-
1: Single Codebase – faster application development
With a single codebase, developers can build applications for multiple platforms using flutter. You do not have to write the same code twice for iOS and Android platforms, just write once and it will work well on iOS and Android both (and for the web soon enough 🥳).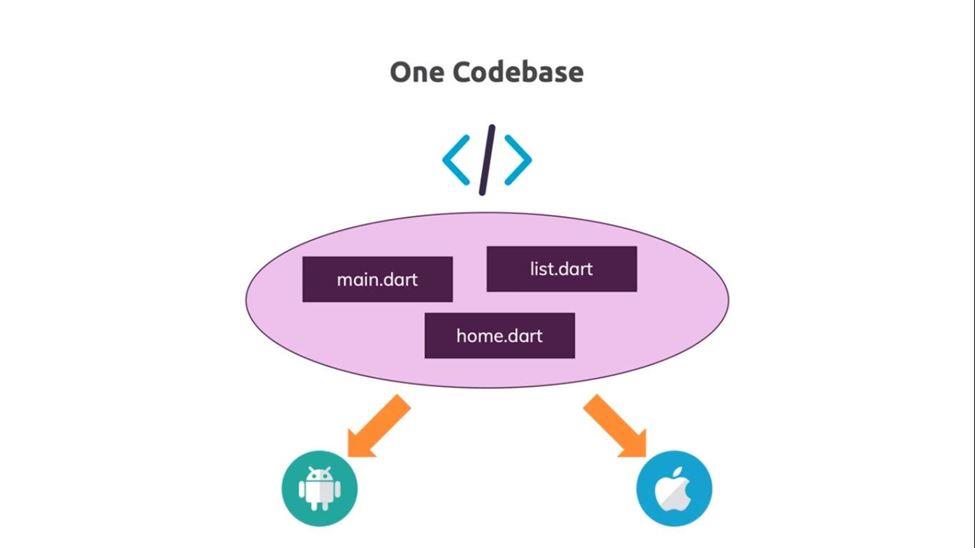 2: Hot Reload- enhanced development speed
A big pain for mobile app developers has been the long wait before they can run and see the changes on a device or emulator.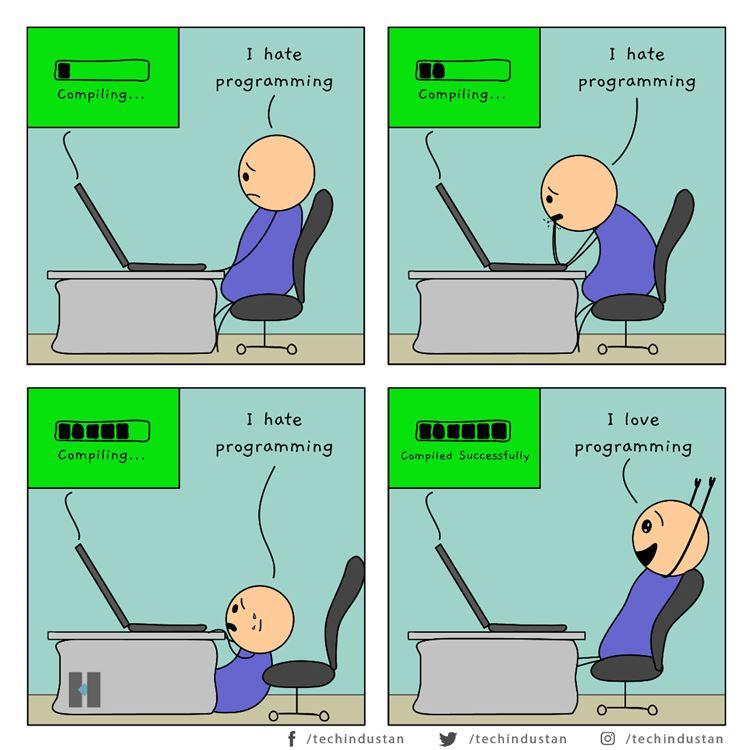 The stateful Hot Reload feature of Flutter helps developers in speeding up the development time of an application. Using Flutter, developers can test their code and check results without losing state in the emulator. The hot reload feature gives developers a near instant feedback loop and allows faster debugging of applications with ideas and code and the changes are reflected instantly.  And this makes application development process several times faster and enjoyable with an improved RoI for the stakeholders!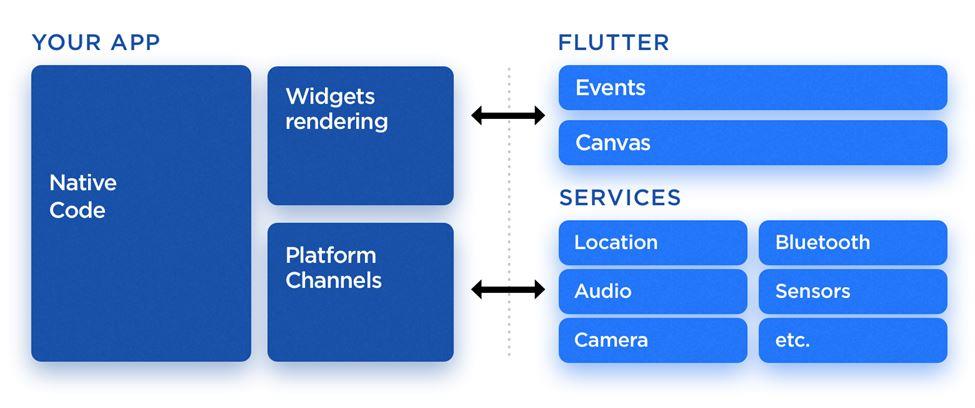 3: Easy customization- Complex customization easily available
Here comes one of the biggest advantages of the Flutter framework is that you have the ability to customize anything you see on the screen, irrespective of how complex it looks to you. Although custom UI is much possible on native platform also but the amount of effort required differs by the order of magnitude. Flutter comes with ready-to-use widgets and a large set of Material and Cupertino widgets which perfectly mimic the behavior of each design language, making customization effortless and simpler.
4: High Performance- saves time and cost
An application developed on Flutter executes fast on any platform. Because it uses a fast, simple, programming language- Dart which can easily be compiled into native code. Flutter and Dart do not use OEM widgets and render their own widgets, leading to faster overall rendering and increased performance. This has allowed the Flutter development team to tune the rendering engine to make it possible to reach 60 FPS. Developing a Cross-platform application using Flutter will ensure that while saving time and cost, you will not be sacrificing performance.
C- Factors that affect mobile app development cost
Flutter framework is becoming popular amongst developers and business owners as it offers compatibility with various platforms, faster delivery, a smoother development experience and various UI widgets and features. This in turn results in lower costs and higher quality. The extent of cost savings from Flutter depends on several factors.  Let us know what are those factors which decide the cost of the Flutter app.
C1: App Design
The App UI/UX is what the users will touch and feel and will make them form an opinion. The more intuitive & freer flowing the design is, the more users would connect with the app at a very personal level. Great design comes at a cost, the UI/UX development will play a vital role in cost estimation of a Flutter based mobile app.
C2: App Category
The number of features always changes from one feature to another. Some applications will have x features, while others will have y features and so on so forth.  Therefore, changing the application features will also change the app development cost.
C3: App Complexity
The more conditions, variations and workflows your application will have, the higher the cost. The complexity of any application can be gauged by features like different screens for anonymous and logged in users, dynamic screens, lists and integrations with other systems.
C4: Functionalities & Integrations
A personalized mobile application with modern-day application development is entirely focused on developing a feature-rich application capable of fulfilling all user requirements. The mobile app development for customer-oriented businesses opens up wide possibilities whether it is a game application or an online store. Capable development teams can use features like in-app linking and search, hardware sensors, multi-touch gestures and push notifications to deliver immersive experiences.
A custom-made mobile application with customer-centric features is the need of the hour for any industry which is not only functional but a joy to use. The cost of application development can be controlled by taking a measured approach towards the quality of UI, the complexity and depth of features that are warranted by the business and assures a minimum return on investment.
D- Do companies use Flutter?
There are many companies which are using Flutter framework as their app development choice. Such as:
Google: Google is one organization which uses Flutter for app development both for internal as well as the public app purposes. Google ads and Google Assistant are some applications by Google which are developed in Flutter.
eBay: For expressive UI to its users, eBay uses Flutter framework to build an application.
Alibaba Group: One of the world largest commodity eCommerce businesses Alibaba uses Flutter to build their app to deliver an expressive UI for their users.
Groupon: Flutter has helped Groupon to speed up their app and provided an easy user interface for users.
New York Times: New York Times developed Games on Flutter using which there has been increased users' interactions.
BMW: With a new and stable release of Flutter 1.9 BMW has started using Flutter to build the application.
NU Bank: NU bank uses Flutter for their Mobile application.
E- Innovative apps that are built using Flutter:
Google Ads (Utility)
The Google Ads app helps users to view campaign stats on Android smartphones and details out real-time alerts and notifications etc.
Hamilton (Android/iOS)
Hamilton is an official application for one of the most famous award-winning Broadway musicals. The application is designed specifically for its large community for keeping them up-to-date for all musical-related news.
Alibaba (eCommerce)
The Alibaba.com eCommerce app which allows users to buy products from suppliers around the world incorporates Flutter to power parts of app.
F- Wrap up:
One of most loved and widely accepted Google's products is Flutter which has emerged as a great boon for both mobile app developers and business owners. Flutter app development helps in delivering unified experience with reduced time, effort and cost.
Choose our consulting services if you are looking to build apps in Flutter and want to be sure that your cross-platform development works smoothly for you and your business.
Manish Gidwani is Co-Founder & Sales Director of Bloom Consulting Services. With extensive management experience in Healthcare, IT Products & Services; Corporate Sales, Business Development, Territory Management and Partner Management; he has managed customers globally with strong focus in ASEAN countries. He specializes in consulting across custom application development and help businesses build Mobile apps faster with flutter app development services.